Dope Out doesn´t think that punk is their lifestyle but I think they have elements of punk in their music. Here´s an interview done with them in april 2015
Please tell me a little bit history of the group?
-At the very beginning, Stoner started to play with Doc 5 years ago. But Dope Out became real when Crash joined the band for the first EP in 2013. And now a brand new badass as Mad Manner came to play drums to put Dope Out for a next level.

Please tell me a little about every member in the group right now, age, family, work, interests and something bad about everyone? Earlier bands?
-Stoner : 28 years old, married, work in a skateshop, tattoos, drugs like him. No one
Crash : 29 years old, single, mecanician, jack daniels, interviews, Headburn
Doc : 30 years old, married, psycho, football, not inked, no one
Mad : 27 years old, divorced, Hacker, Motorbikes, Alcohol loves me, Too many

Can hear both old Therapy? And punk and metal? Am I right? Favorites from the past?
-We're more metal and rock'n'roll than punk but we're still open minded and we take the past to build the future and dope'n'roll

Dope Out are you satisfied with the name? How did it came up? Which is the best bandname you know?
-Wtf is this question?? :)
We wanted something simple to write, to say for french audience and something easy to scream.
Stoner and Crash loves Five Fingers Death Punch for a name
Velvet Revolver for Doc
Machine Head for Mad.

What ´s the best thing with playing live?
-The fans and turn up the volume to 10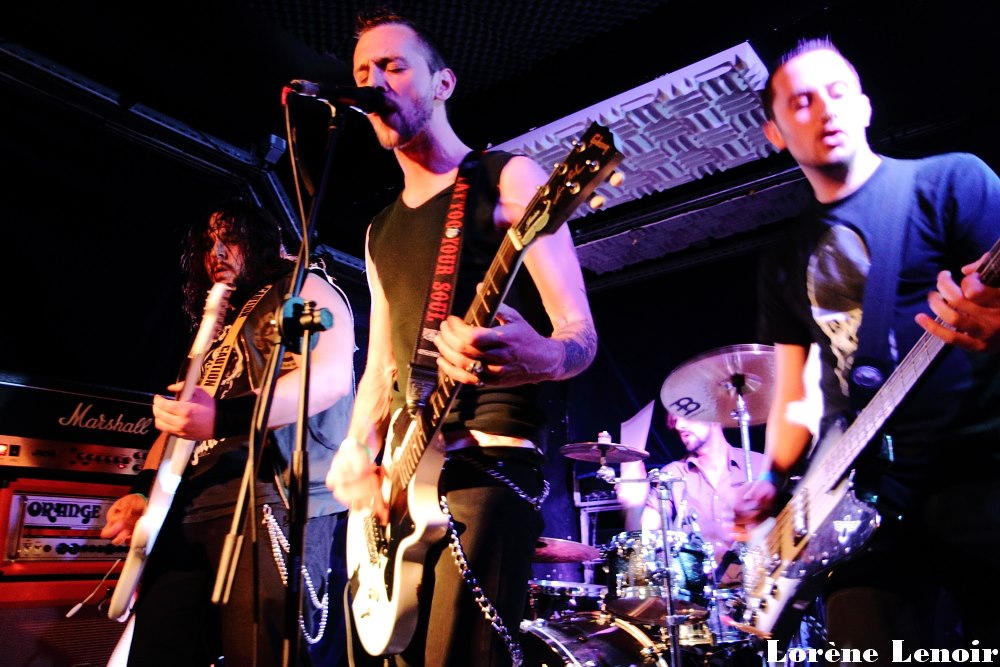 And where is best to play? And the worst place?
-The best place can be Elysée Montmartre in Paris (but it burned some years ago), but there is so many places so it's hard to choose only one.
The worst are the smalls bars where we can't play as loud as we want to.

How is to play this sort of music in France right now?
-Pretty hard to be known... Actually in France, it's easier to play electronic music or French variety...

How would you describe your music in three words?
-« Fuckin' heavy ROCK »

What does punk mean to you, is it only a word or is it a lifestyle?
-It's a lifestyle, but not ours.

How do you see on downloading, mp3 and that stuff?
-The best way to connect us to people all over the world.

How is it to live in France now? Politically?
-We don't care about Politics

Is there any good bands from France now? Is the punkscene big? How is it in your hometown?
-Yes there are, but they are not the most popular. The punk scene is not so big, and we live in Paris, such a cool place with many little bands but we're not really aware about the punk scene.

What do you know about Sweden?
-Ikea and pretty blond girls with long legs :)

Have you heard any good bands from Sweden?
-Hardcore superstar !!!

Your lyrics, who does them and what influences you? Why not in French?
-Stoner write all the lyrics about everyday life, rock'n'roll, girls, personal experiences. He doesn't write in French just because we only listen to american or english bands.

Is there any subject that you never will write anything about?
-Never about politics and/or religion.

Politic and music, does it goes hand in hand?
-It can, but not for us

Best political band/artist?
-Green Day, Les béruriers noirs

Do you think that music(lyrics and so on) can change anyones life, I mean people who listens to music?
-That's why we wrote songs. To help people as other bands helped us before.

Your cover on your CD looks really nice, is it important to have a record cover which shows people which type of music you play? Your favorite recordcover?
-Nowadays, the graphics are as important as the sound.
Stoner and Doc love the recordcover of Apetite for Destruction
Crash and Mad prefere the Iron Maiden recordcovers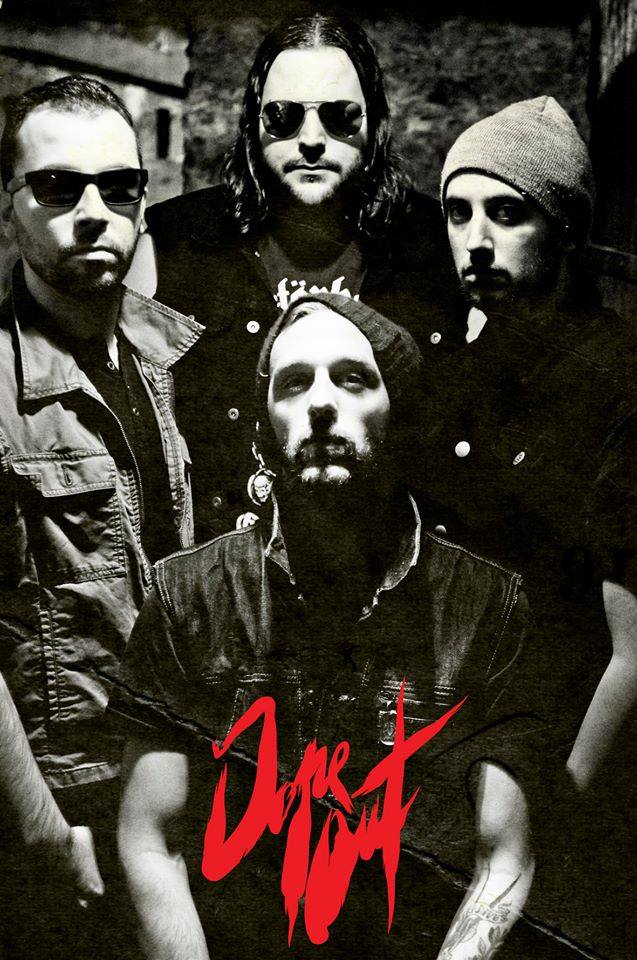 Is it important to get out physical records of your stuff? Why or why not?
-Yes but only during the gigs, and it's a way for us to make our work becoming real

Please tell me a funny thing which have happened during your career and under some gig?
-At the New Morning, Doc forgot to put his volume up during the cover of Breed (Nirvana) but no one cared about it :)

How does your audience look like? Which people do you miss on your concerts? Which is the biggest band you ever have played together with?
-There are young girls, bikers and many friends

Please rank your five favoriterecords, five favoriteconcerts and five most important things in life?
-Records :
Blackbird from Alter Bridge
World on Fire from SMKC
Screaming Bloody Murder from Sum41
Nightmare from Avenged Sevenfold
Black Album from Metallica
Concerts :
Use your illusion from Guns'n'roses
Bullet in a bible from Green Day
Volkerball from Rammstein
Alter Bridge + Halestorm at the Zenith of Paris in 2012
Monsters of Rock 1991
Things :
Sex
Beers
Music
Loyalty
Brotherhood
(it was pretty hard to answer, and maybe tomorrow we can change our minds)

Is it boring with interviews? Is it much interviews??
-It's the only way for us to talk about the band, so we love it (except Crash who just wants to play)

If you could choose five bands from the past and the history and nowadays and both dead and living bands to have a concert together with your band. Which five have you been chosed?
-Led Zeppelin
Guns'n'roses
Motorhead
Alter Bridge
Hardcore Superstar

Is music a good way to get out frustration and become a nice person outside the music??
-For us, music is a kind of therapy, and it's a way to be the person you can't be in everyday life

Which is the most odd question you ever have got in an interview?
-Do you like your band name ? :)

Which is the question you want to have but you never get. Please ask it and answer it?
-This one, and we just answered it

Futureplans for the band?
-A brand new album, a video and many many lives

For yourself?
-To get bucks with our passion

Wisdomword?
-Rainman

Something to add?
-Tack så mycket
We hope the answers will give you satisfaction ;)Keep in touch!