Interview with Rob – Dogsflesh Guitarist…….january 2009

History about the group?
-Dogsflesh were originally formed in 1982 by Rob the guitarist, and after three years playing around the North East and Yorkshire,including supporting The Exploited, Discharge and GBH the band decided to call it a day due to musical differences. In January 2005 the main members of the band began practicing again after a 20 year gap and began touring the UK as headline act and also supporting bands such as The Anti Nowhere League, The Abrasive Wheels, Broken Bones, The Cockney Rejects and The UK Subs, to name just a few. The 4 track EP, Bloody Road To Death was Re-released in May 2005 and that was followed up by a live album which was released in October 2005. Since then the band have never stopped writing and touring, they have played shows in Italy, France, Czech Republic, Slovakia, Austria and in 2007 they headlined the B Stage of the Antifest Festival in Czech Republic and in September 2007 the band embarked on their first tour of USA, which proved to be a big success for the band and their UK82 Music. Further releases included 'The Threat Remains' 4 track EP which was then followed up in September 2007,by the bands first full length album called Vision Of Hell. In October 2008 Unrepentant Records in USA signed the band and have since released the album in USA and Canada, which is also available for download on various sites. As for the future, the band are busy writing material for a new album and will be returning to USA in 2009 and also intend to play more shows in Europe and the UK.

Please tell me a little about every member in the group, age, family, work, interests and something bad about every one?
-Jon – Singer, age 45 who is a single parent looking after 2 children, he works for the local council and his interests are Music, Drinking, Drinking and more Drinking, Smoking, Smoking and more Smoking the bad thing about Jon is that he drinks and smokes to much hahaha, sorry mate!
Rob – Guitarist, age 46 who is married and has 2 kids, he runs a recruitment agency and his interests are playing guitar, going to gigs, playing on his xbox, and he plays golf haha, the main bad thing about him is that he is a control freak and sneaks the occasional joint.
Tim – Bass, aged 45, who is completely single and open to offers, he is a local government officer, so I have to be careful what I write about him, he makes me sensor things about him, his interests are playing bass, going to gigs and other things, the bad thing about Tim is the number of Cold & Bed Sores that he gets!
Greg – Drummer, very young!, single unemployed bum, his interests are drumming, getting very high and very drunk and sleeping with as many girls as he can (lucky bastard), where do I start with his bad points, here are a few, he is un-contactable and is very inconsistent in his drumming hahaha.

How is it to play this sort of music in England nowadays?
-The punk scene in England is very poor and the number of people going to gigs is on the decline, we played a gig in December with The Abrasive Wheels and Broken Bones and only 30 people turned up, which is why we as a band have decided to turn our back on England in 2009 and concentrate on Europe and USA, where there is still a healthy scene.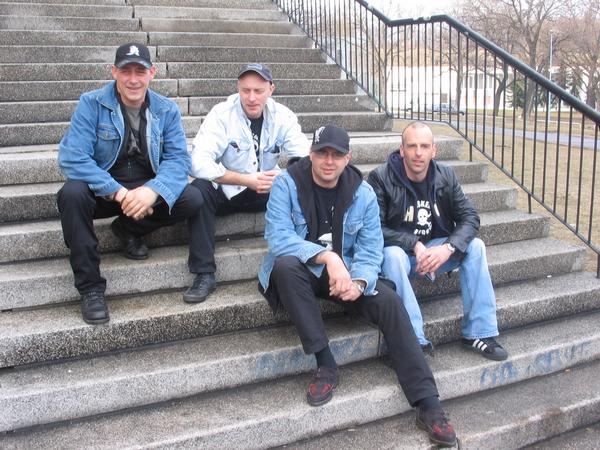 What about the changing of presidents in USA??
-I personally think that change is good and I like what I have seen and heard from him up to now. I wish that we could change our government who are killing the UK. It is quite novel to have a black man in charge of the USA, a bit like when we had our first woman prime minister in Margaret Thatcher and lets be honest he cannot do a worse job than George Bush did, can he?

Dogsflesh, where did that name come from?
-That is a question that we always get asked and the truth of the matter is that I genuinely cannot remember, I guess it came from a drunken, drug fuelled night back in 82.

Have you done anything more than Vision of hell, how can i get it?
-We recorded a 4 track unreleased demo in November 1982 which was followed up by The Bloody Road To Death 4 track EP, which featured the bands anthem,Mad Punx & Psycho Skins. When the band re-formed in 2005, they re-released the Bloody Road to Death EP and also a Live album on their own label, Rock Garden Music, this was followed up by The Threat Remains EP and in September 2007, the album Vision Of Hell was released in UK, again on their own label. The other material is currently only available via mail order and contacting the band direct, either via the website www. dogsflesh. com or through the myspace site www. myspace. com/dogsflesh

Which is the biggest band you have played together with?
-That is a difficult question to answer as what makes a band big, we have played with most of the big UK82 bands including: GBH, Discharge, Anti Nowhere League, Conflict, Broken Bones, The English Dogs, Cockney Rejects, The Business, Vice Squad, UK Subs and The Abrasive Wheels to name a few, but in my opinion the biggest band and the band that had the biggest influence on us was The Exploited and to play some gigs with them in their heyday 1982-1984 was awesome and they are real nice, genuine blokes as well.

What does punk mean to you is it only a word or is it a lifestyle?
-Punk to me is neither of the above, it is an attitude.

I look on the cover of your latest CD, are people afraid of more terrorist attacks in England nowadays?
-I think that since 9/11 and the London underground bombings, people in the UK are a lot more aware and vigilant about the potential threat of terrorism from extremists.

What's the best thing about living in England?
-At this moment in time there is nothing good about living in England, the punk scene is dying a slow death, the economy is in meltdown, unemployment is rising to record levels and we are being taxed to the hilt by this corrupt government who are the worst that have EVER run the country.

You have an unmodern sound, how come, I mean your in the UK82 style, was the music better then?
-Our sound is the same as it was in 1982, as that is the era when we were formed and that is the music we like to play, we are not going to change or deviate from that path like many other bands have done, as there is still a demand for UK82 music especially in parts of Europe and USA and in my opinion music was better then than it is now.

It feels like if you mix a lot of styles in your music but that you always have punk as a ground? What other styles do you like?
-Yeah that is correct, we will always have Punk as a foundation, but we also like a lot of metal music as well.

Are there any good bands in your country nowadays? Any old favourites?
-There are some really good bands around in the UK at the moment, who don't get the opportunity to showcase their music as promoters won't give them a chance. It is like the Punk Festival, Rebellion in the UK, the promoter will NOT give us the opportunity to play there as he doesn't like our music, yet he puts bands on like the Bay City Rollers, Sweet and Chas & Dave at a Punk Festival. As for old favourites they are all back on the road again and recording new material like The Exploited, GBH, Discharge, The English Dogs etc.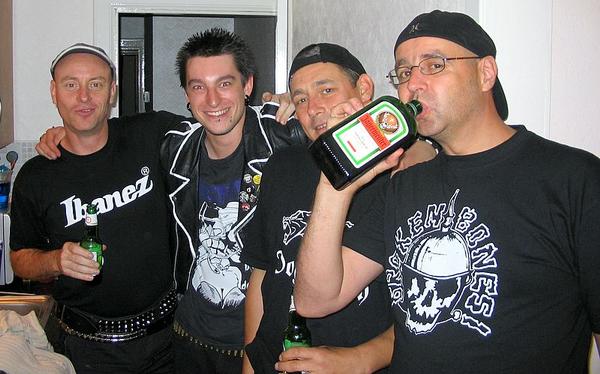 What do you know about Sweden?
-Quite a bit as my EX sister in law was from Gothenburg and she told me how cold it was over there in the winter, and also how expensive it was over there regarding alcohol and that people bought bottles and went round each others houses, I also know that Lars Ulrich is from Sweden(I`m sorry to say that he´s from Denmark/editor) as is Ynggie Malmsteen and EUROPE.

Have you heard any good swedish bands?
-None, other than Metallica who are a quarter Swedish(Danish/editor), and If I am being honest with you, most of the bands that come out of Sweden tend to be Crust punk or Death Metal, which I have no time for, oh just remembered Perkele I think are from Sweden!

Is your record label good, why an american label?
-When we completed the Vision Of Hell album, we flew out to tour USA and the sales of the album were really good, so we decided that we needed a label over there to promote, and distribute it for us. We were in discussions with a number of labels but went with Jim at Unrepentant Records, as he gave us no Bullshit, No false promises just his word that he would push and promote the album for us as best he could and he is doing all of that and more, we cannot speak to highly enough about him or the label and we hope to continue working with them for the foreseeable future. As for why an American label, in the past bands have been signed to a UK label, European label and American label, but with the introduction of sites like iTunes etc, that is no longer required as all music is available via music download sites, so you only need one label now.

Your lyrics, The song Yesterdays heroes, any deeper meaning there?
-Yesterday's Heroes was written about certain bigger named punk bands who have forgotten their roots and where they came from, and how they will only play gigs for massive guarantees and only in certain venues, which just takes the piss about what they started playing punk rock for in the first place. It is also about the Rebellion festival, who allegedly paying certain bands, five figure sums to play at the festival!!!!!!!! Oi Oi
We all know which band that is!

Please rank your five favourite records, five favourite concerts and five most important things in life?
-These are in no particular order
Albums:
Troops Of Tomorrow – The Exploited
Leather Bristles, Studs & Acne – GBH
The Black Album – Metallica
To The Ends Of The Earth – The English Dogs
Killers – Iron Maiden

Concerts:
Iron Maiden
Metallica
Apocalypse Now Tour (Exploited, Vice Squad, Anti Pasti, Discharge 82)
Motley Crue
Motorhead (Bomber Tour)

Life
Family
Health
Sex
Drugs
Rock N Roll

First, last and most expensive record ever bought?
-The first record that I ever got was an album by T.Rex called The Slider, the last CD I bought was by an Australian band called Airbourne and I have never paid any more than the normal price for a record/CD

Most embarrassing record in your collection?
-Barry Manilows greatest hits (Where did that come from??????????)

What do you think about Facebook, My space and all those sites, is it good for a band of your calibre?
-I think that any sites like those mentioned above and others like them are brilliant for bands like us, it gets our music out to people throughout the world who would never have the opportunity of hearing us. It is also a great way of promoting the band, gigs and news, so sites like them can only be a good thing.

Where do you stand when we talk about mp3 and downloading?
-It is the way forward for music sales and it's about time people stopped bitching on about it. The main players that lose out are the international record companies and distribution companies who have lived off their artists for years and that is why they are against it, more profits are now going to the artists, which in my opinion is correct.
Is it good or bad for a band of your size?
-When we signed to Unrepentant Records, one of our stipulations, was that Jim made our music available on downloadable sites, like iTunes, Digstation, CD Baby, Interpunk and others like it, so that we got the best possible opportunity to promote the album and get our music heard throughout the world, so that can only be a good thing for bands of our size.

Future plans for the band?
-Were currently writing new material for the new album and in 2009 we intend to concentrate on playing shows in Europe rather than the UK and were also returning to USA, beyond that who knows?

Future plans for yourself?
-To continue pushing the band as far forward as is possible, to continue writing music and to improve my guitar playing, oh and also improve my Xbox playing and my golf handicap haha.

Wisdomword?
-Make things happen

Something more to add?
-I would just like to thank the Punx and Skins in Sweden and around the world for the support you have given to the band, its greatly appreciated and hopefully we will see some of you in 2009. Stay Punk, Stay Free.

Rob – Dogsflesh Guitarist