Dödsbabs is a really good group that Johan Johansson advised me a few years ago but I have not heard them until now when I got a single sent to me and then made this interview... Danne have been interviewed in April 2019
A little story about the group?
-We started as a coverband where we only played songs from Motvind's first LP. Type some rehearsal and some gig every year or every other. We kept doing that for several years until we felt we wanted to rehearse and play out more continuously and make our own songs.
Tell us a little about every member, age, job, family, band before and band on the side?
-We are a pretty old band. We have aged with the same dignity as a cheaper red wine. Spass singing and playing guitar. Janne guitar. Danne guitar. Peter bass and finally Pär who hits the drums.
The bands has members which have participated in earlier (or are still in some cases) include Hela Huset Skakar, Baiters, Sonic Farm and Farsta.
I can hear very old punk, a little early hard rock and a little proggmusic, I hear right? Was it better before?
-It's probably a good summary. Don't know if it was better before. However, we are better now than before.
Dödsbabs, are you satisfied with the name? The best band name you know besides your own? How did your name come up?
-We are happy with the band name, otherwise we would have changed. Spass and I (Danne) stood one evening at the pub and discussed names of our new band project. I think it was Spass that had been thrown out Dödsbabs and it felt right right away. But why that name picked up I don't remember.
In the category of best band name besides Dödsbabs I put my vote on Dead Gärdestads. Never heard them but it's a name that doesn't leave anyone untouched.
What is the best thing about playing live?
-Is there a lot of people in the audience and that we are experiencing ourselves as tight and good, it is fun to play live.
Where is best to play, where is the worst?
-We want a nice sound on stage and out. We like when there is a bar counter in the room. Well, that's the most important thing. Good deal also of course, we do not pay to play because the owner should be able to get so much money on beer sales from the audience we have taken there. Then if it gets plus minus zero is not that important. Worst are places that offer the opposite of the above.
How is it to play this kind of punk in Sweden today? Is there any advantage of being a little older than many other bands?
-No, no advantage. No downside either. There are so many people in our age who are still playing in raw bands, so it often happens that we play with them. Then it would be fun to play with younger bands too, but unfortunately it happens too rarely.
How would you describe your music in three words?
-Top barrels furious.(Topp tunnor rasande in swedish I don´t know how to translate it)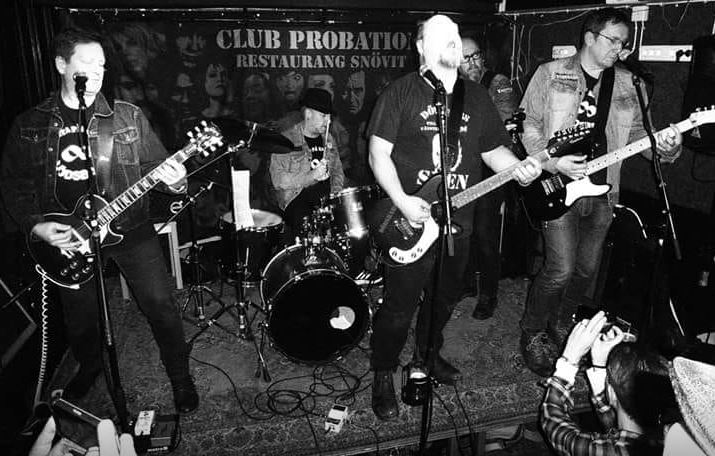 What does punk mean to you, is it just a word or is it a lifestyle?
-I personally have never called me a punk or anything else for that matter. If others have called me for that, I have no problem with it, but myself have never understood the point of putting a label on themselves. It is only to set limits for oneself. For me, punk is "I do what I want". Taking your own initiative, arranging things yourself without the intervention of the authorities, not just waiting for something to happen but instead make sure that it happens. Ultrahuset was the ultimate expression of punk as I see it.
How do you see on download, mp3 and the like?
-No problems with that, but on the other hand, I think it is obvious that those who have plowed down money in a record should also get paid for it.
How do you think it is to live in Sweden today, politically? You call you more left than Sven Wollter (do I have for me) where does this expression come from?
-Sweden has become cold, petty and more selfish. There is really nothing strange about it, it always results when the right wind blows. We had a song called Till vänster om Sven before. Unfortunately, we never managed to get it really good, so it is on ice for now. Say that you´re on the left of Sven is a statement. People shouldn't ponder it. People should be angry on sweidsh democrats or christian democrtas and others who want a society where ethnicity and wealth determine human dignity.
Are there any good bands in Sweden today? In your hometown?
-Yes, a lot that I experience it. Baboon Show, Vrid Upp and Djävulen Möblerar Om for example. Then I know that it has begun to come foreward some bands that contain young abilities, some very young, and that's fun!
Do you play anything outside Sweden?
-We sing in Swedish and put the lyrics in focus a lot so it is difficult to get a non-Swedish speaking audience to understand the thing then maybe. But we did some gigs in Finland last winter and it went pretty well.
Other good bands from abroad?
-A plenty of. We listen to very different music in the band so the list would be long and sprawling.
Your lyrics, what are you influenced by? Never in a language other than Swedish? The texts really touch, are they mostly self-experienced?
-We always write in Swedish. There is no point in writing in any language that is not your own. Investing in breakaway abroad so certainly, but 90% of all Swedish bands singing in English have a least funny accent.
The texts are a mixture between fictitious and self-experienced. We often write about people who for one reason or another have gone down and given up. An underdog perspective simply. To avoid it landing in any social pornography as the prog, we are happy to season it with a little black humor. On the other hand, no one in the band is an alcholic whatsoever, but one must be able to sympathize with the one you write about. We do a figure, give the figure characteristics that do not necessarily have to be our own, but try to find a way to let this figure make itself heard as we would like to make ourselves heard if we were this figure. There you can then put their own opinions or experiences, which we would love to do.
It has happened on some occasions that someone asked "why do you sing about a junkie when you are not a junkie yourself?" I assume that these people are also fully convinced that all the wild west books have been written by real cowboys.
Is there anything you will never write about?
- Not what I can think of.
Politics and music, does it always belong together? Or is it that life is politics?
-Don't always need to belong together. But most things in life are politics in some form, no matter how you twist and turn it around.
Best political band / artist?
-Billy Bragg. The Clash. Dan Berglund.
Do you think music can change someone's life, then I mean lyricss etc?
-The Clash and Ebba Grön changed my life with their texts. I lay at home in the boy's room and read the texts on the inner envelope. My parents gave me food and roof over my head, but it was Joe Strummer who raised me.
Your cover is really cooly on your record, who has done it. Is it important to have a cover that you understand what type of music you play? Was it obvious that you would be in the picture? What is your favorite cover ever?
- It is Mats Bäcker who took the pictures and Spass who got the cover together. Nothing was obvious, but when Mats Bäcker photographed, it would be a direct misconduct not to put the picture on the cover. This is our favorite cover ever!
Is it important to get physical records? Vinyl or CD or both? No thoughts on an LP/FullengthCD? Is there any good record store in your hometown?
-For all that it is fun to give out physical records. To keep a band together, I think it is important to set goals, something to look forward to. It can be a gig or studio time, for example. An empty calendar is fatal for each band. Vinyl obviously felt to us, CD has always felt like a sad format.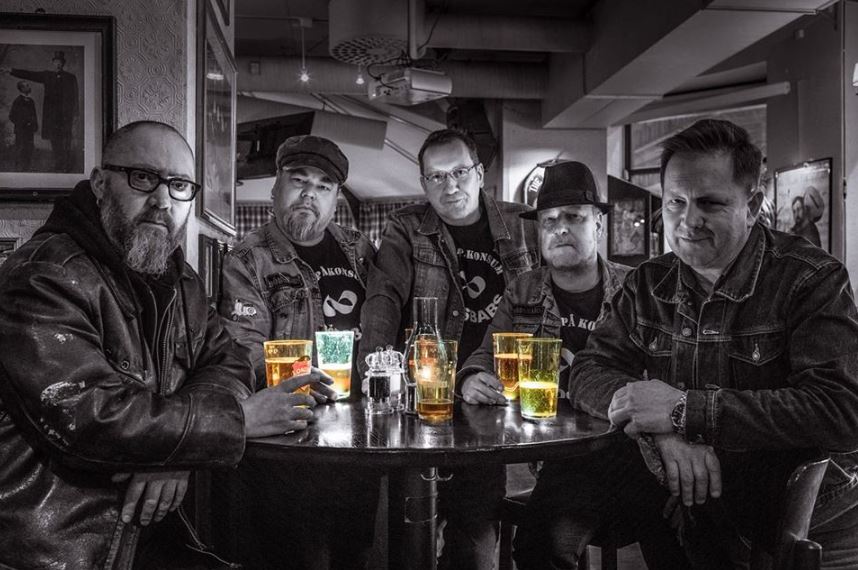 Please tell me something really fun that happened during your career on stage or behind stage etc?
- Can't think of anything right now that stands out, we always have sick fun together.
How does your audience look? Which type of people comes? Are you missing some types of people?
-Our audience is a nice mix of people. Hard to put your finger on. There is everything from 25-year-old angry young man with mohawk and to older lady in bakelite glasses. Just like we really want it!
Is it boring with interviews ??
-No, it's just fun!
If you could choose five bands from the story, dead and alive to have a concert together with your band, which are the dreambands then?
-Now it is not certain that the other members agree with me, but I do not care much about that. I would have liked to see The Clash on stage and The Stooges. Bad Brains had been fun and Dirty Pretty Things. Then it would be quite powerful if the concert was opened with Ludvig Van Beethoven stepping up on stage with his entire orchestra and broke loose with Ödessymfonin.
Is music a great way to get out frustration and become a nicer person? Are you angrier today than you were younger? '
-It's a great way! In any case, to get their frustration through. Everybody needs a valve, somewhere to get the crap out of the week. Music is perfect for that. We are at least as angry as when we were young, though with the age's right, it always risks turning into bitterness. We try to avoid it.
What is the weirdest question you got in an interview?
-We do not usually get interviewed so often, so the answer to that question may be "which is the strangest question you got in an interview".
What is the question you never get, ask it and answer it?
- Instead of always asking the same band year in and year out, we thought about whether you in Dödsbabs are interested in playing at some festivals this summer. Are you?
- Oh, yes!
Future plans for the band?
-We are just recording four new songs that will end up on an ep in the future. Hope for some gigs outside Stockholm, it's always fun.
For yourself?
- Take me through the day.
Words of wisdom?
- There is always room to do something a little, a little worse.
Anything to add?
-Nope.