Dissekerad is a band made up of people from Totalitär, Avskum etc. It took a while to answer the interview... but here it is. July-2022
Tell us the story of Dissekerad? How did you come to meet each other and start playing together?
Poffen and I have known each other since the Hudik era. Andree also played in Makabert Fynd and Pyri and Mattis were kind of neighbors. The band was started at a small birthday party at Mattis' house. We just decided to try doing some songs and see where it led. And so here it was...
Have there been many different members? I know you've played in bands like Avskum, Totaliär, Makabert Fynd, Östermalm?
We've been the same people since the beginning.

I think there are influences from mainly hardcore but some punk too, what do you say? What style would you say yourselves are closest?
I'd say Hardcore but... all of us like lots of kinds of punk so maybe it spreads in the inspiration...
Tell us a bit about the songs....
Svart och vitt . The four-stroke
Speglar sig also called the metal song. For me, it's one of the first new songs written for the LP.
What types of bands do you play with when you're out playing? What's the weirdest band you've had a concert with?
We've played with everybody possible. all from Corrosion of Conformity, Restarts.. Not sure if we played with some weird band.
When we're talking about music, how do you see on punk? Is it just a style of music or a lifestyle? How has that idea changed over the years? More punk or less punk?
It's probably the same now as before, but both musical style and lifestyle.
Dissekerad how did that name come up? No other bands named like that. Have you received any complaints about your name?
Never received any complaint as far as I know. However, people should spell wrong Dissikerad is a common misspelling. Not sure how the name came up. Has for me that it was used in some text. don't think we know 100%.
How else is it that you play this kind of music today, what kind of groups inspire?
I myself like the energy and combination with swinging riffs and D-beats. There are, of course, a lot of bands that inspired (Totalitär Discharge, etc., etc.).

What kind of audience do you draw? Are there any varieties that you are missing?
All sorts of possible I'd say. young, old, synths, hard rockers, punks. Always fun when people show up you haven't seen before.
You've got a pretty lovely sound on your recording, do you do everything yourselves or is there a producer involved?
Inre Strid was recorded by Karl Bylund in a studio in Stockholm (Skandal sthlm) and Mörkret tilltar by Kenko i Strängnäs (Communichaos) . Everything else we have recorded ourselves in the rehearsal room. However, would say that we produced everything ourselves with a little sound help in the studios we recorded.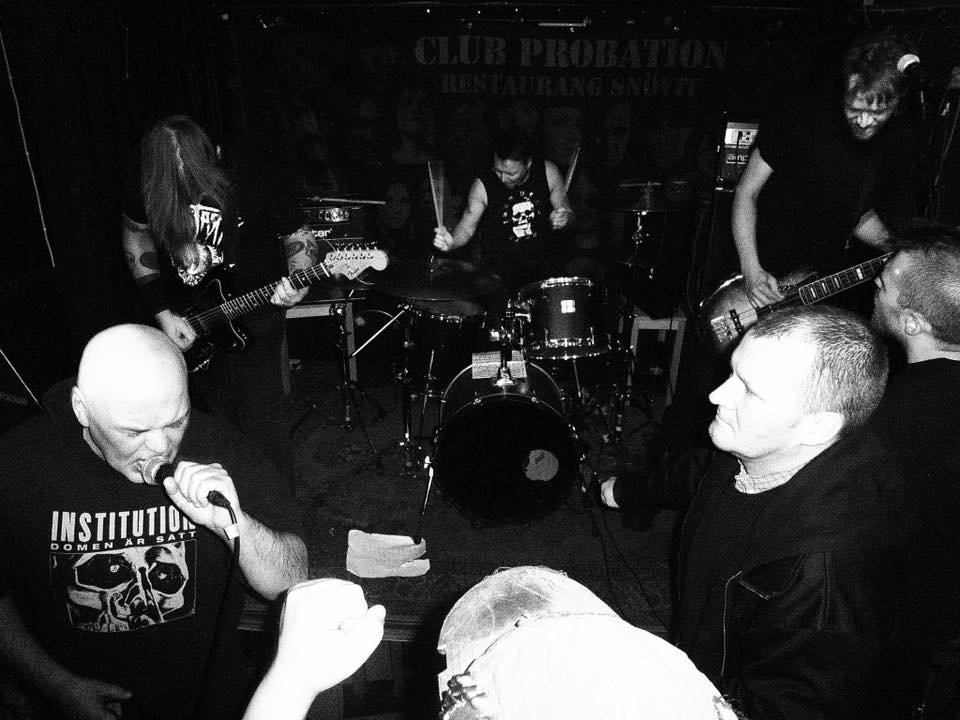 Are there any good political bands that you guys like?
Discharge, Conflict, Crass.. There are lots
Are there any other bands in Sweden that you can recommend?
Which exists today...
Paranoid
Gefyr
Exploatör
Asocial
Mob 47
Engelska översättning.
Any good bands in your hometown?
Here are a few I like:
Axe Rash
Vidro
Anti-Metafor
Wolfbrigade

Is it important to get physical records out do you think?
I only have Inre Strid, how can I get my hands on the other records? Do you have a good record store left in your hometown?
In Stockholm there are a bunch of good shops. Like Trash Palace, Push my buttons, Record hunter. However, order a lot of records online.
Do you buy a lot of records yourself, are you collectors? What is the most expensive record you have?
We all buy records but Poffen probably has the largest collection. I don't have much of an idea of what they're worth in money. There is an idea to register all of them at some point on discogs.
Just releasing music digitally, is that something for you? Does it feel like you would have even released an album/record if you're just released on say Spotify?
Uncertain.. I'd love to have the records I like on vinyl. Sometimes they are just released digitally and I think that feels boring. doesn't feel like a real release.
How else do you think it is to live in Sweden today, politically with the brown-blue mess etc?
The climate is not so fun considering that SD is big and the idiots who support them.
If you made a beer like many other bands do, what would it be called and what kind would it be?
It would be a Spendrups Bright. Sweet tasting low-calorie beer with grooved can that keeps the cold longer. Good and healthy at the same time. The hero of the eightpack.
What's the best thing about playing live?
Get feedback. Meet people. Get free food and drinks. Deny anyone who wants to be on a guest list, Learn new expressions like Curfew, Load in/load out. Listen to drum soundcheck. Loves pukas.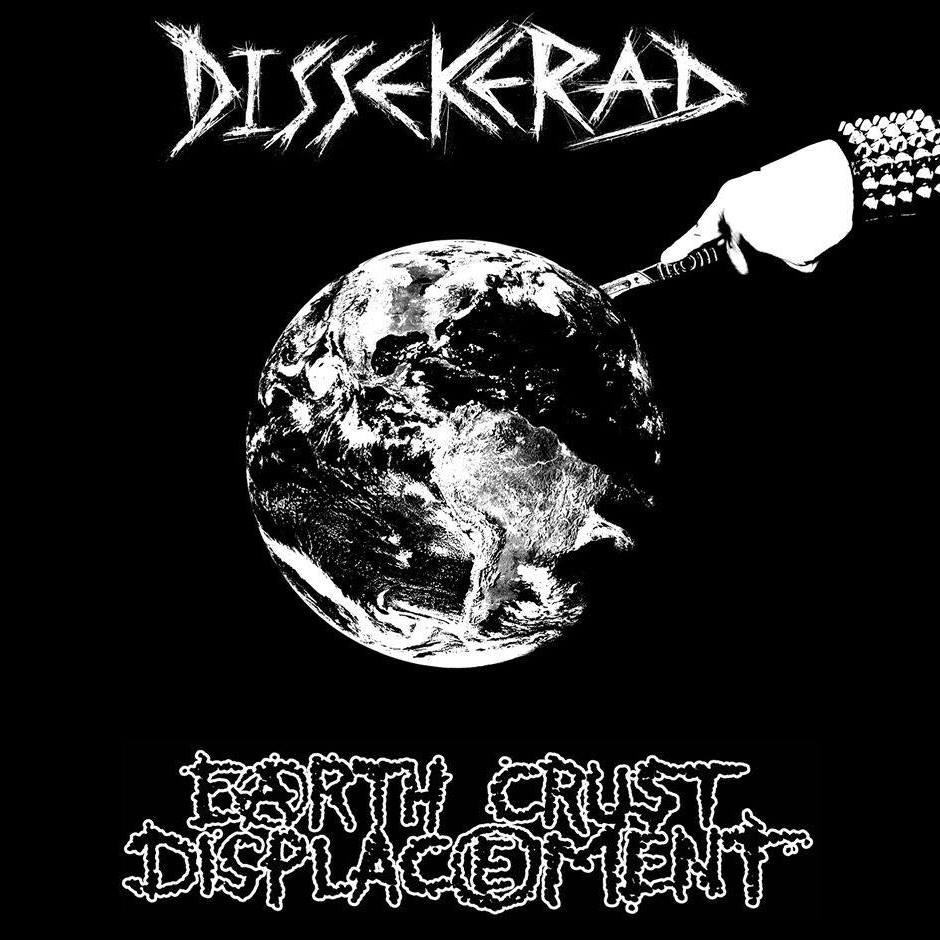 Please rank your five favorite records, your five favorite concerts? The most embarrassing record in your collection?
Owns a lot of embarrassing records. Colt 45 7" may be the worst. Right now, my favorites (punk/HC) are:
Radio Birdman - Radios Appear
Destruct- Echoes of Life
Rat Cage - Screams From The Cage
Warthog – s/t
Impalers – Psychedelic Snutskallar
Bootlicker – s/t
Do you play covers live or songs from your other bands? If so, which ones?
Dissekerad has never done any cover. Smalare än Thord can do it better...
Is there a lot of interviews, is it boring?
It's fun. Not done so many before. On the other hand, English radio interviews can feel a bit embarrassing when the SweEnglish take over.
Future plans for the band?
Right now we're working on 4-band split called Screaming Death (Dissekerad, Rat Cage, Destruct and Scarecrow). Everything is recorded and mastered. Now we're just waiting for some cover and the long record printing process that today takes a devilish time.
We have 2 gigs booked, the Antisocial festival in Stockholm (August) and a gig at Fredagsmangel med Parasit