Disco Volante have maybe not done so many record but they have a really good attitude and they have been support act to Limp Bizkit. Jannicke sent those answers to me and after some computerproblems can we say that the interview was done in the end of april 2004.
History?
-The band was started 2000, Jannicke came into the group in the summer 2001 and we started to play seriously. We had some drummerchanges through the years but now we have found Linus who takes a place in the band. Thereīs a really good biography on www.goatbridge.com ( biografi ) which you can checkout and chose the things you want to have. :)
Please tell me a little about every member, work, interests, family, age and something bad about every one?
-Jannicke H: 25 years old, have three part time jobs.
Pernilla E: 26 years, student. Lives with Sune and Elvis.
Lovisa F: Soon 25 years , unemployed ,lives with Bandit.
Linus R: 24 24 years and works part time, lives on Lindängen and he skates.
Our interests is of course music and thereīs not so much time for something else. Horrible things? No comment, anyway nothing you can put out so all people can see it.He.
Previous bands?
-We have played in different constellations , but nothing worth to mention except that Linus was playing in Children of Fall.
You got a new a drummer, a guy is it, why a guy?
-Man, owman or leguan, whatever. Itīs the scills which counts , everything else is unintersting. WE have never been interested to have some special image or special lineup. We only want to play together with people that have the same opinions, ambitions and musictaste as we have and therefore Linus took a selfwritten place in the band.
Are you tired of hearing that thing with that youīre a girlband all the time or can you understand that reviewers talk about it ?
-Very tired of it. That none understand is hard to believe. We donīt have the energy to dwell on about it again. .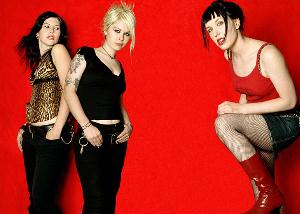 Do you care about reviews?
-Some, but itīs more interesting to see which response you get from the audience. Because a reviewers opinion is only one persons view on the music. But of course weīre happy if we get a good review!
Which is the most peculiar you have got?
-Yours, serious, Ha ha.
I compared you a little with L7, comment? What other bands are you being compared with?
-Itīs the first time we have been compared to L7 so we think itīs a little bit weird. The only similarity is there itīs a lot of chicks in the bands but musically we canīt see any similarities. Other bands we have been compared to is Motörhead, Nashville Pussy, Turbonegro and X-ray Spex and we take as a compliment because itīs good band even if we donīt try to sound like them.
To be a girl in the rockworld, what is good and what is bad with that?
-Mostly shit, because people thinks weīre bad and that we cannot play because of the fact that three of us are girls. We must always maintain for people because the expectations from the people who havenīt heard us is like they are. But , as more as we established us as a band and musicians have we came from that a little..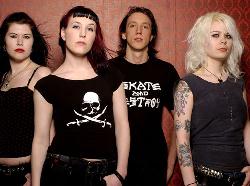 I saw a video with there it was a lot of records in the background, is it someone in the groups collection
-We borrowed the apartment from a guy which is a mad recordcollector. The records you see in the video is only a little part of his collection.
How was it to do a video, was it a strange feeling? ,
-No ,it was fun. It took 13 hours to film everything so of course it was a little bit tiring but most fun. Jannicke get a wound from the shoulederstrap which was scrape her skin.
Have it been shown much?
-Yeah, it have been on ZTV a lot and it have been shown on Musikbyrån also. .
I ahve the single with you from Rebel Nation, have you done anything else?
-Yeah, we have released a vinylsingle on Idle Hand Records and we have been on the compilation Where the bad boys rocks 2. on People like you.
The name Disco Volante feels a little bit misleading, is it that which is the point to be in a way that people donīt think?
-No, we took the name because it was a cool name, nothing else. The name is taken from the Bondfmovie Thunderball. Thereīs a boat in that movie there all mean people is and itīs named Disco Volante..
What does punk mean to you, is it a word or it a lifestyle? ,
-Punk is only a word..All have different definitions of what punk is, so itīs hard to say. Thereīs so many definitions on punk as it punks.
Is it OK to earn money on punk?
-It depends of what you mean with earning money. Of course we want to pay our rent with our music and be able to eat noodles ever evening, but if youīre into punk and think you can cash in a lot of money you can go Chistina Aguilera. Itīs naïve to think that you can earn a lot of money in this scene, itīs very few rock or punkbands who can buy themselves a house. We donīt think itīs wrong to survive on music and then you can discuss grassrootniveau forever
Is there any good bands in Sweden right now? I saw that someone had an Anti-Cimex t-shirt in the video, is that an old favouriteband?
-Henry Fiats Open Sore, Genocide SS, Sorayas, Dixie Buzzards, Skitkids and many other bands that we canīt come up with names right now. Anti-Cimex is good and we know Cliff and he have ben a drummer for us on two gigs so itīs a little tribute to him if you say so.
How do think it is to live in Sweden otherwise?
-Itīs so that our system is better than it is in for example USA, Brasil , if you compare that way. But it doensīsay that is perfct and that nothing isnīt fucked up. Take a on aold thing as that we have a royal family with privileges which is like the king and nobility for many hundred years ago, that we have cops that thinks and beleive that they can do as they want, that itīs fat corrupted politicians with fat parachutes of money, that we shall live in a country which says that they have highest grade of equality-when we not near that and so on. The list can be done long!
No thanks. Bomb Rosenbad, hang the royal family on Hötorget and put the cops in handcuffs. WORD!
How is a good concert with you?
-Much energy and fat riffs. But the publicresponse is always most important. And it can come 30 persons on a gig and it can be fucking good if the ones who are there gives all their energy.
How does your listeners look like, is there any standard templates on them?
-No absolutely not. We have played for everything from Bandidosmembers and to kickers and always got good response, and that we feel is really nice because we donīt try to appeal to one type of people.
What drives you to play music?
-We have always had a music interest and always loved music and to play is really natural for us.
Please rank your five favouriterecords, five favoruiteconcerts and five most important things in life?
-Pernillas five classic records :
* Zeke - "Death Alley"
* Nashville Pussy - "High As Hell"
* Mummies - "Death By Ungabunga"
* Turbonegro - "Apocalypse Dudes"
* Mötley crue - "Shout at the devil"
Jannickes five favoruiteconcerts:
* My Ruin, London 2002
* Nashville Pussy, Roskilde 1999(?)
* L7, Loppen 2001
* Mastodon, Philadelphia 2003
* Today Is The Day, Stengade 2003
Linus most important things:
Everyone that I like, to skate and to play punk, word!
First, latest and most expensive record ever bought?
-Pernillas most expensive: Blues Magoos "Electric comic book" in orginalpress on vinyl for 250 swedish krona.
Jannickes first: Alice Cooper or Transvision Vamp, I donīt know which was first.
Linus latest: Skitkids new 12 "Onna for pleasure"
Then most embarrassing record in the collection?
-JannickeAn old Kylie Minogue skiva.
Pernilla: And old Kim Wilde skiva.
Linus: U2.
The nicest record in the collection?
-Jannicke: Off the bones with Crampsyou get nice 3D-glasses there you can sit and look at the cover with.
Pernilla: Murder city devils "Empty bottles, broken hearts".
Linus: Amebix and Blackflag.
Is it many interviews? Is it boring?
-yeah, a whole lot. But we think itīs fun, especially this one with some odd questions.
Which is the quetsion you never get, but you want to have, please ask it and answer it?
-We have really bad fantasy. So we canīt come up with anything;-)
Futureplans for the band?
-Now we will do some clubgigs and there is some festivals also. A new single comes before the summer plus a video. A fullength will come out this autumn but it isnīt really clear on which label it will come.
And for yourself?
-Pernilla: Come to the gutter
Jannicke: Quit my dayjob.
Linus: Lexus, pittbull andsouthpolejacket, word!
Wisdomword?
-Bomb Rosenbad, hang the royalfamily on Hötorget and put the cops in handcuffs. WORD!
Something to add?
-Lovisa is home and sick, therefor no answers from her. Thanks for an entertaining interview.!