Disconvenience is a group with two girls and one guy and they plays a marvellous type of punkrock which I really like, Fast answers I like too and this is really the group which can do both these things, Check this out and read this one which was written in the middle of September
History?
-It started with that Emma bought a cheap bass and started to try it in her and Richards flat in Stockholm. Rickard had an old guitar which was standing in the closet and he started to play in the same time. It sounded really OK so an amplifier and a drummachine was bought and then we recorded some songs on the computer. It sounded cool and then we moved to Umeå and Nina came with us on drums. She wanted to play guitar but we needed a drummer so she had to be learning the drums.
We started to play on parties and so and it was fun with free beer and groupies, we recorded some demos and burned a CD. In april 2005 we recorded some songs in a studio and we save some money and released on a vinylsingle as the ep War on Wankers, we wanted to go out on tour and we mailed and phoned around a lot and we was surprised when got a 2 week tour with our mates The Vectors. We learn our instruments more and more and the songs is getting tighter and better all the time. The record companys have started to show interest and we will release a CD/LP in an half year or so on a record company here in Umeå.
Have it always been the same members?
-From the beginning it was only Rickard and Emma and then came Nina and so have it been since then.
You have been outside Sweden and played, how was that, please tell me?
-We have been in Denmark, Germany, Holland, Finland and USA. All the gigs outside Sweden have been really good. The one in New York was cool because itīs a cool city and then it was a big party that we played on. On the tour in Europe we go plus in the economic bit and that havenīt we thought
Whatīs the difference with playing outside Sweden if you compare with playing in Sweden?
-Itīs often more fun to play in other countries than in sweden actually. More parties and more go. Itīs more genuine arenas. Itīs a big difference only with going over the Öresundbridge. And then itīs no direct squat-culture in Sweden, which is a shame.
When does your first "real" CD come out? Or do you prefer vinyl?
-In the beginning of 2006 comes a fullength out by a label here in Umeå both on CD and LP. Vinyl is cooler and sounds better.
Whatīs the best/the worst of having two girls in the band?
-Itīs hard to rehearse when they have their monthly period, itīs much more nagging then. Otherwise itīs no difference if you compare with only playing with guys. Some people thinks were more original with the lineup we have, with a girl on drums, bass and not least a girl on vocals and that it what you can hear when you listen to the songs
The pictures is taken from the bands website.
Are you always being compared with girlbands? Can you understand it then? Which band are you being compared with?
-Yeah, it happens, itīs Avengers, X-Ray Spex, Distillers, Vice Squad, Hole, Usch and so on. It feels like reviewers says some band with a girl singing even if we donīt sound like them at all otherwise. I donīt think we have something in common with Hole for example. Weīre not a girlband, as little as Sex Pistols is a boyband.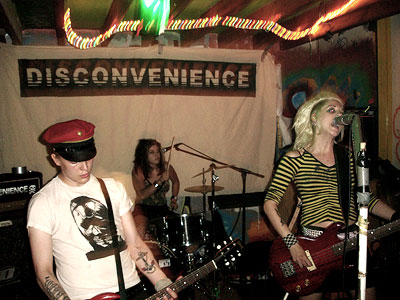 From where comes the name?
-I was sitting and looking in a wordbook and then I saw the word and thought it looked cool.
Is there any good bands in your hometown?
-Yeah, there is some. The favourites right now is Rabid Grannies and The
Vectors.
In Sweden? Outside Sweden?
-Sweden: Fistful, Enemy, Los Asbestos, Kamikatze,HFOS,
Outside Sweden: Motörhead, Gorilla Angreb, No hope for the kids, Partisans,
Observers, Disorder, Fucked Up, Discharge, Varukers, GBH, Adicts, Subhumans, Bones Brigade, Turbonegro, Texas Terri Bomb.. you can go on as long as you want.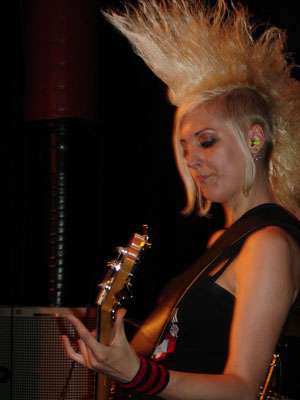 How do you think it is to play this type of punkrock in Sweden?
-Itīs good! Itīs a little bit trendy right now and thatīs good for us. It should be some more good places to play.
How is it to live in Sweden?
-Itīs good, Umeå Punk City is the best city in the world.
Skumdum did a tributesong to Skellefteå AIK; could you imagine to do something like that to something you like/believe in?
-Yeah,we could. I donīt know what it should be. Beer maybe, itīs easier to write songs about things you hate.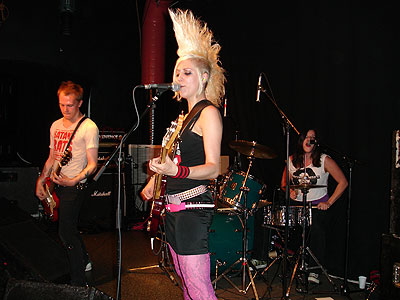 Is it many interviews? Is it boring?
-Itīs some of them and itīs fun!
Which is the question you never get but you want to have?
-Lemmy asks:
Hello, would you like to come with us on a world tour?
What do you want to read about in a zine, is it opinions, interviews or reviews, what is most fun to read?
-Everything is fun to read, if you only notice that thereīs some honest and cool attitude in the things which is written. That itīs written by somebody which burns for the things she/he writes about
Do you have any favouritezine on paper or on the net?
-New Deminzine seems to be good.
How is a good concert with you?
-Much audience, a lot of drunkenness, chaos and a good party after.
Please rank your five favourite records and five favourite concerts?
-RICKARD
Records:
GBH - Leather, bristles, studs & acne
Ramones första och andra
Discharge - Why 12"
Sex Pistols - Never mind the....
Social Distortion - Mommys little monster
Concerts :
Social Distortion, Stockholm 1997
Refused, Umeå 93/94
Avengers - Wasted 2005
Slayer, Hultsfred 1995
Vectors, Rotterdam 2005
EMMA:
Records:
Joy Division - Substance
Ramones första
Partisans - Police Story
Sex Pistols - Never mind the....
Madonna - Like a prayer
Concerts:
Subhumans, Wasted 2004
New Order, Roskilde 2002
Buzzcocks, Stockholm 2003
Vectors, Rotterdam 2005
The Cure, Roskilde 2001
First, latest and most expensive record ever bought?
-RICKARD:
first: Run DMC - tougher than leather
latest: ACDC - Let there be rock
most expensive: Misfits - Beware 12"
EMMA:
first: Madonna - like a prayer
latest: No hope for the kids - Storköbenhavn
most expensive: No special, but I have double of all my Joy Division-records.
Most embarrassing record in your collection?
-Rickard: have no embarrassing records!
Emma: Have some halfembarrassing but nothing which sticks out after I have throw away my Eurodiscocompilations.
What does punk mean to you , is it only a word or is it a lifestyle
-Good music, nice people, nice clothes, good partys, and good atmposphere.
Politic and music, does it go hand in hand?
-Rickard: No
Emma: Yes
Best political band?
-Rickard: Mob 47
Emma: Crucifucks
The futureplans for the band?
-Get out and play a lot. Eventually a minitour in Sweden now autumn 05. Be the biggest band on earth. And play a lot.
And for your self?
-Rickard: Continue with the same things as now til I get bored at them.
Emma: Be good at sewing bondageclothes. Write the historyīs best songs.
Wisdomword?
-Rickard: Nothing have ever get wrong.
Emma: My bode isnīt a temple, itīs a amusement park.
Something to add?
-Thanks of the interview Peter!
How would you describe your own music in three words?
-Best in the world.