Dick Lundberg has been a person I looked forward to, and when he made a version of my dead daughter Sanna's song I was excited. Here is an interview that took a while to complete, but now in June 2018 it is ready.
What are you doing right now, what do you work with musically?
-Much theater music, I'm currently playing the musical of a theater man, Peter Pan, and it's terribly exciting to write directly to a scene. When I write my own songs, I write to listen at home (one of the reasons I play live so rarely), but now I have to think of another way that choreography and dance can be done, etc. I can Do not stop making music, even in the years 2003 to 2009, when I had officially "laid off" I recorded a lot but not so much under my own name.
Any new release right now?
-Yes, really much but I know how I can be that things can last almost a while before I release it. First and foremost, it's "Fy för den lede! Vol. 2" who took two years but just got out, then I'm doing an album with my good friend Michael Nystås to be released during the year; In addition, it's all recordings of theater music that I thought could become discs after a while. Translated a whole lot of songs when we did "The Wizard of Oz", the Broadway Musical from 1903, amazing music by Paul Tietjens. That work should be given out in some way. In 2016 we played "Alice, the Mirror & Wonderland", based on Carroll Lewis books, then I wrote my own music, mostly instrumental, but it was also very successful. Then there are about 15 songs I made for Oliver Twist, also musical. Yes, I could continue ...

You did Session 2016 but it was released only digitally, why only digital? Is it too expensive to make discs and is nobody wanting it (I want it myself)?
-It's at least too expensive for my current economy, and the interest in physical discs is not very big. I get a handful of CD requests for each release, which means that I would get a cost of maybe 10-15 thousand and get back a five hundred and get the basement even more full of discs nobody is interested in. For bigger artists than me it can be good, there is a point to make a small edition some years more, but the CD has its last days and it seems so clear everywhere. Many time you can get a CD on a flea market for two krona and do not even get rid of most. Stores like Åhléns who used to have a fair range of discs now do not even have the top list, because they obviously can not sell - otherwise they would have them. Since it was something everyone bought and had, it has become a special concern. Think most do not even have a CD player at home anymore

Do you buy discs yourself?
-The most discs I buy digitally, like files to download to a computer, but I occasionally do some fleamarket sometimes and makes complement to the CD collection with the things I really want in the shelf. I've realized that it's the music that's important, not if I have it on a piece of plastic or on a hard drive. However, streaming services have ended, I noticed that I did not appreciate music the same way I paid a hundred a month to access ALL. Instead, I've ripped down all my CDs to mp3 and uploaded to a music service that both sells new discs and allows to save their own uploaded music, and so I get all the discs I've bought available, wherever I log in. Smooth and good.

On February 25, 2012, my daughter Sanna chose to take her life and she made a song before called Miss You, you're one of those who chose to try to do your version, why?https://soundcloud.com/dick-lundberg/dick-lundberg-saknar-dig-miss-you
-As you know, I wrote a song called "Hard" (Hårt) because I became so concerned when you posted pictures on Sanna on Facebook every day after her passing away and when you asked the question of making her song, it felt like I was "forced", so not that I felt in any way pressured, but because I was so emotionally involved in her story that I could not doing it. I think that such a thing as this song that she created will live on even though she is somewhere else now.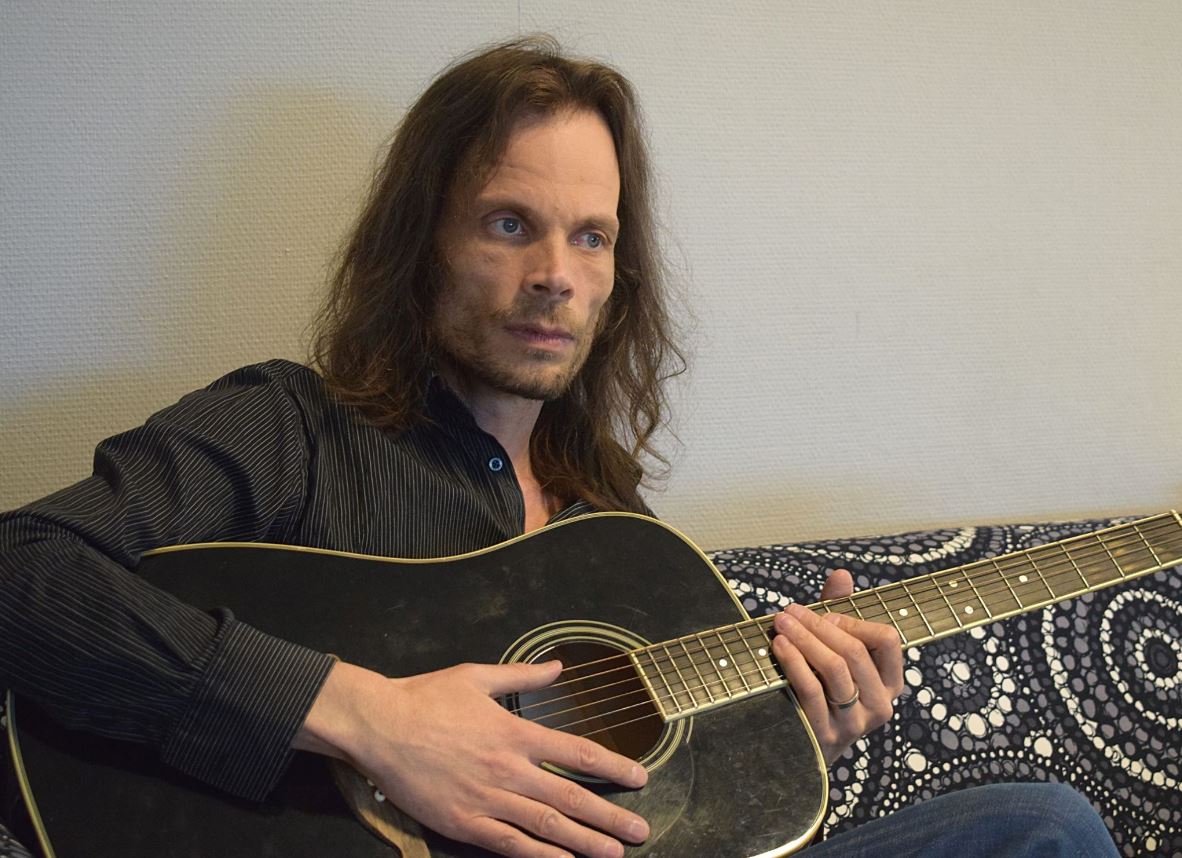 Photos:Emelie Sandberg
Was it hard to do?
-Both. I got two versions of it, a choir version and a YouTube movie with just Sanna, and then I chose to go entirely from the movie and not be affected too much by the arrangement which was made. The film was a little tricky, I suppose the song was new then, so it was not always clear which melody or rhythm Sanna was looking for.
Are you playing a lot nowadays? With band or by yourself?
- Hardly not at all. I've been doing one yearly gig since 2014 and that's enough. Last year I promised to make at least two gigs, and it's kind of a whole tour to be me, haha! Seriously I do not have the time, I live so much for theater right now that it will be too much to simultaneously rehearse, travel around, etc. But if anyone is asking after me I can usually come and lately it has actually happened a bit more often. 2018 may end with three gig made, I'm already had two!

When you play what kind of audience do you have?
-Hard to say because i have so few gigs. Bands like Charta 77 or Mimikry have so badly toured that they have built up an audience relationship, they have their loyal fans who always show up when they go, I do not. A few years ago, I tried to build it, but then I'd been inactive for as long as I had to start over from the beginning. At the same time, I was my own - and others' record company director at the same time as I started a full time job. First I had to put the band on ice, and then I gradually lowered the record company and finally I had to even go down to work. Everything you've heard about burnout can I sign on. Nowadays, I'm a sensitive bastard who manages stress significantly worse than I did before - and then I was stress-sensitive already before. But I try to think positively and focus more on doing stuff in the studio instead. Surprisingly many have hung up and still listen to my records, I have noticed and it's really fun.

Would you like to play Sannas lsong live by the way?
-Of course I could think of it, but it's not likely to get rid of now, I play live so rarely and when I do, I have so many of my own stories I want to tell. But you never know. Should there be more gigs in the future and there were people in the audience who asked for it I would probably try to rehearse it.
Do you still have your "record label"? New artists or is it on ice?
-As I wrote above, it's more or less on ice. I still give out my own discs, but there will be no big pamphlet releases with subsequent tours and so forth. Have a bunch of stuff to get out, then I think I feel "happy" for a few years. But I've said that before, I usually find a hunger again when I least think so. I think I have a bipolarity in me (although I do not have such a diagnosis). I can go into stuff very hard and drive until I die and then I will let go of everything - until I start building again. I just can not stop building, creating projects, even when I'm at the lowest, then I can have a book project, a blog or something else that does not require much energy. Now I'm struggling hard to find a balance in that.

How do you think it's in Sweden today, with all violence, SD (Swedish "democrats"(read former nazi)etc, what should you do about it? What can each individual do?
-Yes, you ... I'm torn between hope and despair. But I think we are in a transitional phase for something new and that is why conservative forces fight the last blood drop to maintain their power, preserve patriarchy and old values, much like really belonging to the 19th century romance. It was for example in the 19th century as such as nationalism grew forth and we began to think about what is "typically Swedish", the nuclear family was celebrated as the most natural thing that existed, though we almost never lived so before, etc. Now that society (at last) begins to grow from romance and we are talking that a family may be two mothers or two dads, that we may not necessarily have to be blonde and blue-eyed and have a dalahäst in the window, it's quite natural that many people look It is a threat to our traditions that the "Swedish entity" is in danger. If you then connect this with gang crime in suburbs it is easy to look like we have an immigration issue, though things do not belong together. Crime and violence should really look at our general public problems, and here a number of alternative journalists do more harm than good, theythey confirm a worldview we should have made up with already 1945 - to the sound of cheers from the conservative forces. Then, of course, we should be aware that people who move here from other countries can also be conservative, of course, from their own perspective. It is the world we are talking about cultural difficulties. But again - it's a general problem we have to solve at a time when major relocations take place, we can not stop, just look at the environmental changes; Soon we have entire cities and maybe even countries that are uninhabitable. There is no solution in backing the tape that some political parties want. Conservatism can never solve problems with other conservatism. On the other hand, there is a solution that we stop seeing each other as enemies and talking to each other as the people we actually are. We sit in the same boat regardless of whether we talk to each other and we also value our values ​​against each other. One problem is that humility is lacking so much, in commentary on Facebook, people can be so extremely unpleasant to each other that I'm really scared of people. In any case, I think we will have a turbulent time with strong high-speed successes, maybe 10-20 years ahead, but then they'll be back and then we'll get something else. I sincerely hope that we do not go to ruin after new concentration camps then.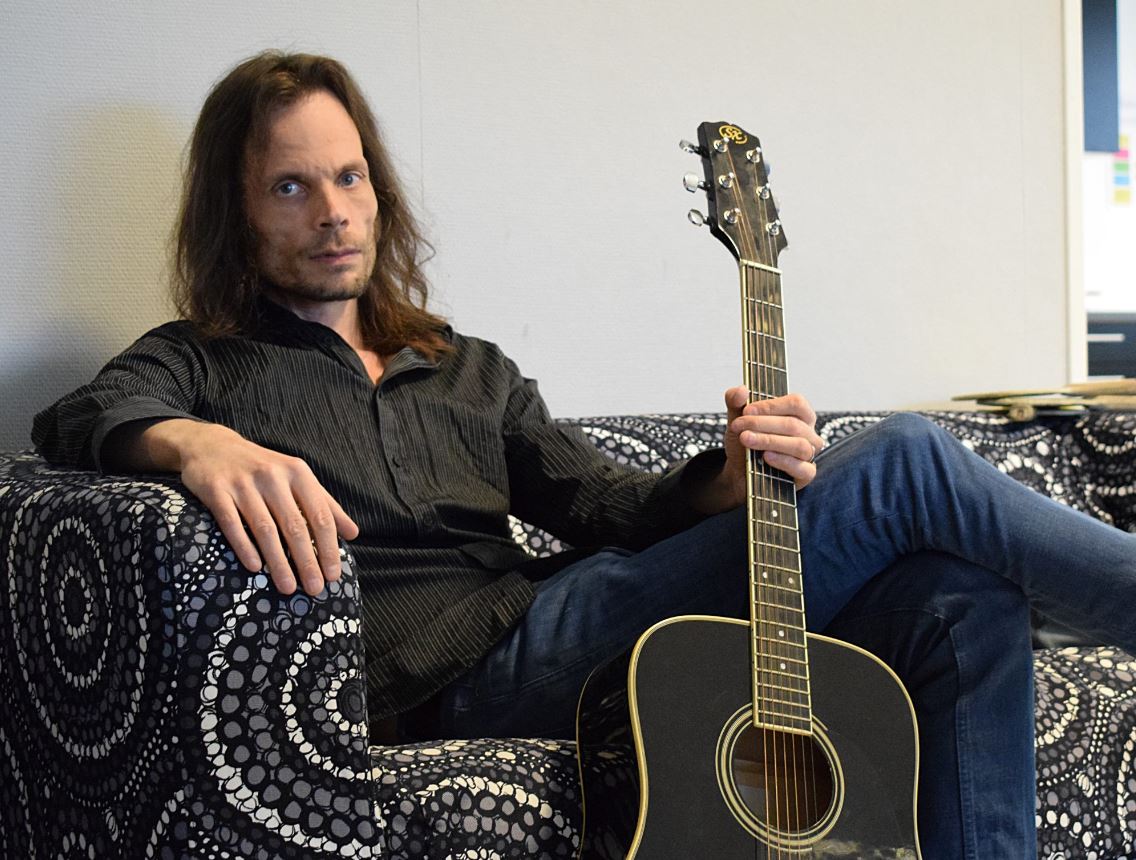 Photos:Emelie Sandberg


Now for something more fun. Are there any new acquaintances in music Sweden that you found that are really good? Or some old ones who are doing well yet?

-Philip Fritz is one of the most vital I've encountered in Swedish music life lately, check him out if you have not already done that. Tove Strength (which is certainly not new to the course anymore) I think is a cool. Zornheym is a relatively new band and the country's best extrememetal right now. Some of the old "foxes" still in my world include Thåström, Johan Johansson, David Shutrick, Staffan Hellstrand, Per Granberg, both solo and with Charta 77. Säkert! I listen a lot too. Yes, I could do a long list, we are very good here in the country.

What else do you listen to today, say five discs that right now mean huge and five that have meant everything to you through the ages?

-Just now (no mutual order)

> Stefan Sundström - 5 dagar i augusti (2010)
> Dick Lundberg - Fy för den lede! Vol. 2 (2018)
> Septicflesh - Codex Omega (2017)
> Ulf Lundell - Skisser (2018)
> Säkert - Däggdjur (2017)

> Through all times (no mutual order):
> Ulf Lundell- Det goda livet (1987)
> Unicorn - A Collection Of Worlds II (1990)
> Frankie Laine - Hell Bent For Leather (1961)
> Johnny Cash - Sings the Ballads Of the True West (1965)
> Journey - Escape (1981)
<![if !supportLineBreakNewLine]>
<![endif]>

You're up to do Sannas song in English too, is not it comfortable to sing in English or what do you think?

-It is not comfortable at singing in English, so I translated it. I'm not adept at understanding and pronouncing it to feel the same as when I sing in Swedish. I translate a lot of theater manuscript from English, so I'm not so bad in english, but it's another thing to formulate and pronounce. It becomes so frustrating not to know how it sounds for someone who has English as a native language that I usually don´t choose it.

Is there anything you can never think about writing about when it comes to texts?

-I do not think so. I thought I would never write a football song, but then I realized I was actually about to do it almost 20 years ago. However, I did not succeed and the song was lying without text until recently. Now it's on the record I made with Misstro under the title "Förrådd" I swore in 2001 not to write more texts about alcohol and that promise I have kept. If it shows such songs on new records, they are written before 2001.
<![if !supportLineBreakNewLine]><![endif]>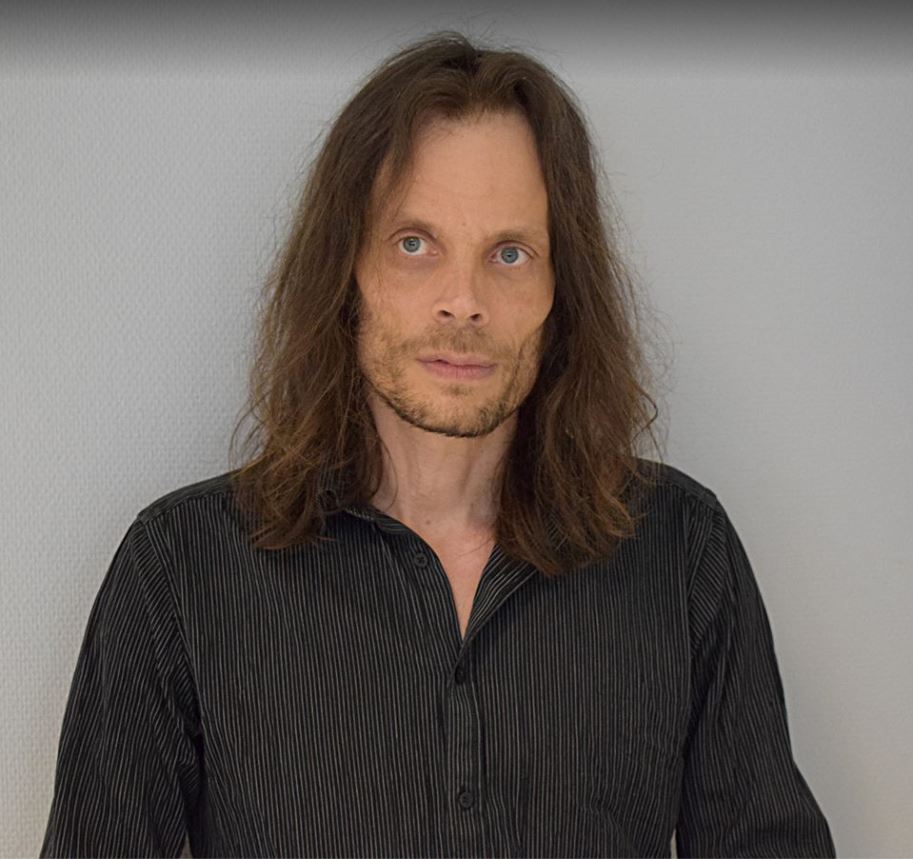 Photos:Emelie Sandberg
The last song you wrote, what was it about and what is it called and when will we hear it?
-The very latest song should have been a thing called "Hey Jason" which certainly started in 2012 but it was completed recently. It's about the feeling of having an intrinsic alto ego that you can not control, maybe it sounds awkward, but I've learned that many people can feel that - sometimes you do things that you really do not want and as you know is not good really . The person in the song asks his alter ego to avoid participating in more destructive projects. (Believe that anyone who tries to quit takes what I mean.) Those of my Facebook friends have actually heard this song via a secret link, but I think your readers can get the same benefit, here it is: https://soundcloud.com/dick-lundberg/hey-jason/s-tSVnK
I do not really know if I have asked you before but are you from the punk from the beginning or how are you? What does punk mean to you, is it just a word or is it a way to "live"?
-I got into the punk"from behind", through visuals with the past in punk like Stefan Sundström and Johan Johansson. Now, perhaps, many would protest when I call Johan singer/songwritert, but that's how I perceived him with "Den gode..." - the tour with Sundström and Demian, the Flum record and all that. Never even heard of KSMB in the early 90's. I grew up with American country music myself, but by a good friend, I was curious about Ulf Lundell sometime towards in the late 80's and was fascinated by the lyrics. From Ulf Lundell did not go so far to other artists who sang in Swedish and so I began to identify with an underground world that was quite large in the 90's, the same world as grown-up artists like Winnerbäck (who also came from punk). So while many others in my genre started punk and then become "nicer" purely musical, I came from the country to the visors to find out that the poles were, in the way, punk with acoustic guitars - and then my interest was also awkward for punk . When I slipped into the Birdnest around 2000, Birdnest and the artists there were more or less legends I had looked at, so it was extremely big for me, while there were people who came from the DIY turn just like me. Think it's the last thing that's punk for me, music from those who do not really have anything but do it anyway. An underground perspective.<![if !supportLineBreakNewLine]>
<![endif]>
Is there be a lot of interviews or is it quiet on that front right now?
-Very calm. I should be well in the true 10th century spirit of appearing as successful , but I'm probably very hidden nowadays. At the same time, it fits me well, I think I ended up just where I was because I wanted it. Every time something has been about to grow up, I've been backing, not so I thought so in the moment, but I think I'll see a pattern like this afterwards. However, it is not impossible that it is a retrofit. Sour said the fox? Maybe, but I know the depth that it really is.
Which question is the question you've never received but really want to have ... .Ask it and answer it?
-Oh, it was hard! Maybe "Why are you so fascinated by Jason (Voorhees)?" Then I would answer that I could feel his exclusion and identify me with his way of breaking apart without having anything to do with it (although I obviously did not kill people). Because I do not really believe in evil, I think evil comes from getting stuck in our own wounded egos and does not understand better than ... use a machete as well. There are many Jason's and many machetes out there right now.

When you make a song, how do you do ... do you have a text ready or do you start with melody etc?
-Often, text and melody grow together, I get a phrase and a melody in my head and then I build it. From time to time I write on the bus and have forgotten the melody when I get home, then I'll do another one afterwards.
Is it harder or easier to write songs today, do you make more demands on yourself today or do they only come to you?
-It's probably something like songs like just coming to me. Most people write themselves, but I am more selective now and take away many ideas. When I was twenty-three I went on everything, good and bad. What I find difficult is to arrange the songs since, dress them in the right suit as well. Tomas / Misstro usually does a great job there, but of course he does not belong to all my gadgets, so often I work alone. I'm especially pleased with "Fy för den lede!" - records that are now out both, think I found an exciting and quite unique tone in them.
If you could choose five artists / bands to have a big concert with you, alive and dead, which five would you have chosen?
-I think I'd just gather Fredrik Johansson & Hundarna, Janne Olofsman with any of his companions, Dag Swanö / Tom Nouga, Unicorn and Mama Viol. Everyone is the ones I know and would like to hang with backstage. (Had I had more than five, I could have pulled together some more.) Unfortunately, Olofsman left us a few years ago, so it will not happen. Now I could have said a lot of great stars that I would have liked to see and see, like Johnny Cash or Waylon Jennings, but I would just be nervous.
Future plans with the music?
-Actually just to continue as I do, a bit in the small like that. I sometimes think I'm going to gig more, but it's not really pushing for it. But, as I said, I have noticed a slight upturn in that lately.

For yourself?
-Would be as whole human as I can. It's a project.
Words of wisdom?
-Identify your own Jason and make up with him.
Something to add?
-Nah, I've already told you enough, I think. :)