Drongos For Europe made me spin around a little because their good old punkrock really made me happy. I was "forced" to do an interview with them and here it is at last. AUGUST-03
Why did you start to play again and please give me the whole history about the group from the beginning and til the end?
-Tommy - The bands first gig was 3rd November 1979, the line up was Tom vocals, Steve Devlin guitar, Nigel Swain bass, Karl Gebhard drums.
After establishing a good local following, the band borrowed some moneyoff local tatooist Tony Lynx and released Adverse Chorus ep DIY style in 1981, only a 1000 copies pressed very rough and ready in both presentation and execution it impressed local indie label Tempest to secure the Drongos a record deal.
Tempest also signed the Varukers, Dead Wretched,and Criminal Class.
The second "Deaths a Career" came out in 1982 quickly followed by "Eternity" the same year. After the collapse of Tempest the Drongos did not release anything until "This Town" in 1990 on Renegade records.
Though never officially splitting up the band were inactive during the late 90's, only to splutter back to life again1999 with the current line up.
The "Wasted" ep released on Intimidation records 2003 (big thanks to Jim)The first Drongo album "Barcode Generation"to be released on Dislocate Records this Summer (thanks to Dave).
-Dek- I met Jock and Ross from GBH on two seperate weekends at a bar in Birmingham and they persuaded me to play again ,telling me that punks all over the World still knew about the Drongos, I didn't 100% believe them but I've since found out its true.
The main reason for playing is just an excuse to hang out with friends, go see bands and generaly fall back in love with my first true love punk rock.
Please tell me something about every member, age, families. interests and something bad about every one?
-TOM - Dek bass guitar vox 40 something two sons married to Lozz.
me Tom vocals -40 something a son and daughter married to Jan
Anton 40 guitar something two sons with long time partner Angie
Kimbo 30 drums something single and looking for someone special.
DEK- something bad, that's easy, Tom talks bollox when he's drunk and can't punch straight after two beers. Anton smokes too much dope and is away with the fairies when were all trying to get things sorted he's on another planet.
Kimbo - has a taste for crusty punk girls and will fancy someone for months without saying something.
me - I'm impatient, have to get things done yesterday, get on everyones nerves and wake everyone up too early when were on tour, fuck if I was them I'd sack me!
Where did the name came from, I know that you have got that question before But I really want to know?
-TOM - The original drummer Karl made up the name of the band, he was determined to have something different he had a strange imagination. Drongo is an Australian term of abuse, an extinct south African Raven. The for Europe bit was added I think we drank a lot of beer that day.
You sent me four records, all burned, are all your records burned or do you do "real" records too? Why or why not?
-Dek - The Barcode Generation album is coming out on Dislocate records any day now, it was supposed to come out on an American label but the guy running it had a few personal tragedies so we had to go with Dislocate who are an excellent UK label.
The Wasted ep is released on vinyl by Intimidation records from Scotland.
The Punk Monster singles collection is released by Data records, I don't think I sent you that one, and the Hope & Glory ep and Live in the USA cd's are waiting for someone to release them.
The two Clash songs we recorded will feature on a Joe Strummer tribute from Mortarhate records in London (Colin from Conflicts label)
Hope and Glory also features on a 25 years of Brum Punk compilation record that I've helped put out with Rich Lard from Dogshit Sandwich, out on Punkshit Records around September time.
Any Swedish labels looking to release our stuff please get in touch.
We burn CD's to sell at gigs to help us finance playing and because were still a DIY band and its a good punk rock way of doing things.
You have done some covers too, Clash for example , have you done some more?
-TOM - Just our tribute to Joe Strummer.
Dek - We generally write our own songs and have no problem doing so, in fact we have enough new material for a new album we plan to record later this year, we also have played live Pretty Vacant, Territorial Pissing by Nirvana, Blitzkreig Bop, and we plan to record Bad Mana by the English Dogs, our friend Stu Pid who sang on that track and wrote the words gave us the go ahead, the English Dogs had previously recorded Deaths a Career by Drongos.
Why do covers and how is a good cover?
-TOM- We tend to cover songs by people who are no longer with us.
Dek - We did the Clash covers for a Strummer tribute record, Territorial just came from jamming in the studio and we loved it, Pretty Vacant we played for a friend cos it was his 30th Birthday and his girlfriend asked us to play it for him, Bad Mana I love, Stu Pid we all love, and I want it played at my funeral, its a great song.
A good cover is something people can get up on stage and join in with, or play along with, it should be your own interpretation of the song though.
Generaly speaking I hate cover bands, but its OK to throw the odd one in now and again.
What´s the difference of playing with the group now if you compare with the beginning, what´s the difference in your thoughts and so on?
-TOM - This time around it seems better as long as we do what Dek tells us to do. No seriously he does a lot for the band, its the background stuff that people don't get to see, he's great at organising things especially the rest of us, thanks Dek.
Dek – We´re just a better band, the line up is the best one ever in terms of friendship, we get along better than we ever did before, were not all fucked up on drugs now, we play because its the thing we all love doing the most, there's nothing better than writing a new Drongo song then playing it live and getting a good reaction.
What´s the best and what´s the worst of being older?
-TOM :Your mind thinks your 21 your body knows different.
Dek - were older and wiser, we know where we fucked up before - but really we have no regrets, were all still good friends, we still friends with ex members of DFE, in fact our old bass player Ezz got up and jammed with us at a gig recently and we had trouble getting him off the stage he enjoyed it so much.
We have so many old punk friends from when we first started out its just the best when we play a gig or go out to our local punk pub, or go to a gig and see so many old faces still around.
10.How does your average fan look like?
TOM - Mainly punks, any age from 14 to 50, its great to see loads of yourg punks at shows to keep the movement going.
Dek - we still have a lot of old gnarley punks and skins come to our gigs, but we're getting a lot of younger kids getting into us lately, this comes from playing so many gigs, playing at the Academy with the Dead Kenedys got us over with a lot of young kids who'd never seen us before, as did touring with Defiance.
We have a lot of girls come to see us compared to other bands, that's because were the best looking punk band in Europe, trouble is we fancy some of the kids Mom's who pick them up after a show.
Do you have good contact with your fans?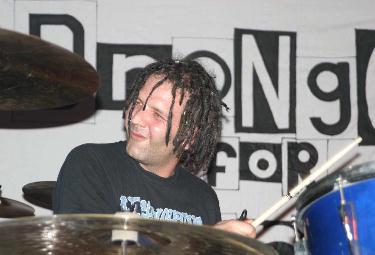 -TOM - Yes, we are fans too, I'm not really into the backstage scene at festivals I watch as many bands as I can and I love talking to people.
Dek - yes, we always hang with them before and after a show, we go to see their bands if they have one, we've given lifts to gigs, we don't act like were any different from them because were not.
Having sex with them is awkward though as my Wife insists on hanging out with us too, she's been around the punk scene for years and consequently I've never had a groupie though I live in hope.
Have you have been outside England many times and played, how was it and where is best to play?
-TOM - Considering how long we have been doing this we have not travelled as much as we should have, the scene in the USA seemed young and vibrant.
Dek - we played our first gig outside the UK in 2002 when we played 4 dates on the US east coast including the New Jersey HITS show.
We're planning on touring in Germany and tHolland in November with Stu -Pids band SENSA YUMA. & Contempt.
We went down a storm in New Jersey, we couldn't believe the reaction we got out there, Philedelphia was really good too.
How is a good gig with Drongos for Europe?
-TOM - Loud, Sweaty, Amongst friends, Beer, Madness, stir it up serve and enjoy.
Dek - A good gig is when we get the crowd going, in a circle pit or moshing or pogoing, there's a place in England called Boston and they have a great punk venue called the Indian Queen where they all go apeshit every time we play there, last time we played there I ended up at the bottom of a pile on of about 10 bodies.
Is there any good bands in England right now?
-TOM - There are loads of good bands old and new, too many to mention really but here's two 17 Stitches and War Against Reason.
Dek - Yes, so many I can't name them all but here's a few - GBH (of course) Skeptix, Criminal Class, Billy Club, Wernt, Varukers, UK Subs and some lesser known ones but really good - Red Flag 77, Dogshit Sandwich, Resistance 77,the Nags, Cupid Stunt, Cracked Actors, 17 Stitches, Intensive Care, Bush Pig, Hardcore, Rotunda, Eastfield, 7 Cycles, Sick on the Bus, War Against Reason, the Narcotix, False Idols, Bickles Cab, Dirge, First Offence, the Ronguns, Poundaflesh, Contempt, Stepford Wives, CS Gas, The Horror, Indicator, Valdez, Bad Blood, Swellbellys (Scots) Dangerfields (Northern Ireland) so many I'm bound to have forgotten someone but the scene really is that good over here, we have the best bands in the World once again except no ones noticed outside of the UK.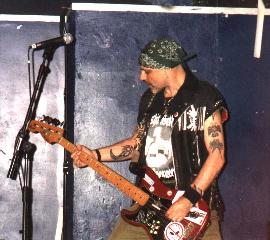 What do you know about Sweden? What is typical swedish?
.TOM - Sven Goran Erikson, my SAAB 900, blondes.
Dek - One of your Vikings stole one of my ancestors pigs! you have good bands and a good football team, pretty women but beer is very expensive and it gets cold in winter.
Typical Swedish? the England football manager.
Have you heard any Swedish bands worth to mention?
-TOM- Turbo Negro.
Dek - I know a lot about Sweden, some of my favourite bands come from over there, Turbonegro,Sahara Hotnights, Backyard Babies, Refused, Bombshell Rocks, Randy, Hardcore Superstar, and from Finland my current favourites WASTED who are a really brilliant punk rock band, I don't know too many underground punk bands though.
You said that you liked my way of doing a webzine, but that you still buy many paperzines, is there any good around right now?
-TOM- One for Dek..
Dek - Yes loads, Maximum Rock n' Roll is still good, Razorcake is better, Fracture over here in the UK is alright, Suspect Device, Gadgie, lots really - Punk Planet, HaGle from Newcastle, Ant Hill,Puke from Beki here in Birmingham, punk rock is alive and kicking.
Is it many interviews? Is it boring?
-TOM- It's just getting time to put pen to paper, it also depends on how hard the questions are.
Dek - If its boring it's your own fault, you should make the most of every opportunity, and be grateful that people are still interested, I'll be grateful until the day I die, to have been able to do what we've done is a gift, success is nothing to do with money it's to do with lasting friendship and having fun 'til we drop.
Which is the question you never get but you want to have, please ask it and answer it?
-TOM - Oh dear, now I'm confused!!
Dek - Q"how can someone so great with so much talent be so humble?" A - "it's a gift!"
Does politic and music goes hand i hand?
-TOM- Nearly all our songs are about society or people, you have to comment on things that are fucked up.
Dek - Yes definitely, you only have to watch the shit on MTV to see what's gone wrong with rock n' roll, thank fuck for real punk.
On the other hand we don't preach like Crass cos we don't have all the answers, but we are very aware and angry and that comes out in our songs, politics is about every day life, it's you and me and we should include that in what we do, May Day is our take on Globalisation which is a big evil.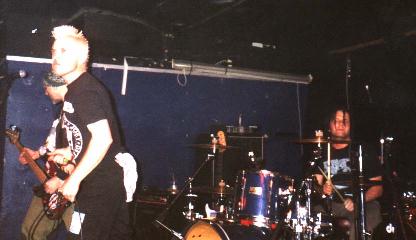 Is there any bands who do good political music?
-TOM - Let Dek answer..
Dek - Pennywise are the most popular band I know who have something good to say, most of the punk bands I mentioned from England have something to say, Dead Kennedy's always did it well, there was a band from England who split recently called Imbalance who had a good take on things, good social commentary, a good band. Defiance from America have something to say. Crass were shit.
If you could choose five bands from now and from the history to have a gig together with you, which five bands would you choose?
-TOM - Varukers, Dead Wretched, Criminal Class, the Ruts, the Adverts.
Dek Now - Rancid, Turbonegro, White Zombie, Killing Joke, Pennywise.
the past - Clash, Avengers, Iggy and the Stooges, Sex Pistols, Faith no More.
Please rank your five favourite records, five best concerts and five most important things in life?
TOM -1- MPLA Tapper Zukie
2 - In a Rut - the Ruts
3 - New Rose - the Damned
4 - Search and Destroy- Iggy & the Stooges
5 - Alternative Ulster - SLF.
Dek - records - 1: Anarchy in the UK - Sex Pistols
2: MPLA - Tapper Zukie
3: White man in Hammersmith - The Clash
4: Bad Mana - English Dogs
5: Passenger - Iggy Pop
TOM -Gigs -the Clash 79
the Adverts 79
the Damned 79
Iggy Pop 1990
Dek - concerts 1: Faith no More @ Edwards no 8 1987. B.ham
2: Sex Pistols @ Barbarellas 76 B.ham
3: The Clash @ Barbarellas 77 B.ham
4: Killing Joke @ Wulfrun Hall 97? Wolverhampton
5: The Damned @ Rebeccas 77 B.ham
TOM important stuff - A lovely Wife
Health
Realising that none of us is perfect
Family
Peace
Dek - important stuff 1: Family, Wife Lozz, sons Lee & Adam
2; Friends /band
3: PUNK ROCK
4: health
5 my erection.
First, last and most expensive record ever bought?
-TOM - First - Street life by Roxy Music, last the False Idols ep
Dek - First - Schools Out - Alice Cooper, last/ most recent - Turbonegro latest, most expensive - don't know.
Idols when you were small?
-TOM - I was a mad Bowie fan.
Dek - Pele, a comic artist called Jack Kirby and Tommy Cooper an English comedian.
When the terrorist attack was and when Blair said that England will be in the Iraqwar, which was your feelings then?
-TOM - Very disappointed that he had total disregard to the views of the people he represents, what its really about is controlling the oil?
Dek - I thought that the shit had hit the fan and that Bush had been given all the excuses he needed to take all the oil the US wants and make out they're the good guys.
I think that Israel, if not behind it were cheering louder than most as it stopped the World from watching their ethnic cleansing in Palestine, it also gave ammunition to Islamic nut cases who hate everything Western and want to turn the World into a medieval nightmare for rockers, women and sex maniacs.
Blair isn't as dumb as he looks, he'll make millions when he leaves office from appreciative American corporations.
Do you care about football( I really do) if you do that which team do you support?
-TOM -I used to prefer playing it, I don't understand the bitterness between some teams, pure hatred sometimes. We all watch womens beach volleyball now, (we are at that age you know!)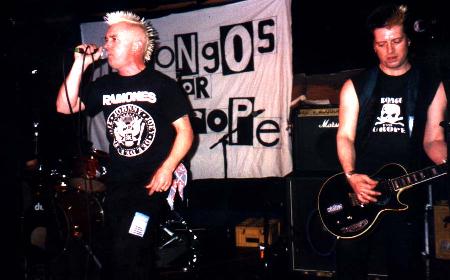 Dek - I used to play Sunday football both with and against Tommy, but now I prefer Womens beach volley ball, football has nothing to do with the working class game I grew up loving, fuck em all.
Is it so much violence on the footballmatches nowadays with hooligans and so on?
TOM - There is usually occasional trouble, though the grounds too many police and cameras. Usually a arranged meeting will take place - they seem to be quite organised nowadays where they can knock shite out of each other without being detected by the law, unfortunately they don't care if anybody else gets caught up in it.
Dek - Football hooligans are closet homosexuals who like touching other men and use violence as an excuse to get spanked, there's still violence and they're still all closet gays, fuck em.
You don't see these wankers starting fights with Hells Angels or going into black ghettos looking for a fight, now that would be tough.
How about racism in England right now? What must we do to the racists?
-TOM -Racists are everywhere its the closet ones that can be more dangerous.
Dek - There are still racists in England, the asylum situation has made things worse over here with even black communities openly racist towards them, things ain´t black and white anymore its a complex issue and I don't think writing a song about it will change things.
I can see the day when we get a far right back lash due to people not using their votes and allowing these far right parties to win elections.
Which is your futureplans as a band?
-TOM- To travel and see as much as we can.
Dek - To record a new album, tour Germany , more gigs over here, real record releases, tour the West Coast of America next year, play the Wasted festivals, go to see as many bands as possible, support our local scene which is really good, gig more in Europe and have fun.
As a human being?
-TOM - To stop talking shite when I'm drunk.
Dek - To be the best person I can, work less and earn more, enjoy life, make the most of every day and love the people who count the most.
Wisdomword?
-TOM- Open your mind.
Dek- Tell people you love them, some friends have died and I wish I could have told them what they meant to me and what effect they've had on my life, but it's hard when your a man to say shit like that, but it's something we should all do more of.
Something more to add?
-TOM Sorry it took me so long to do this, thanks for the positive reviews you gave our stuff, UP THE PUNKS.
Dek yeah, thanx for taking an interest DFE really appreciate it, if we ever get enough money together to make it to Sweden we will.