Destructors was a band which really have an own style and they have split up some times but in some years now have they been called Destructors 666 and here we begin this interview which was done in january 2007 with Allen Adams who sings in the group.
He formed the original Destructors in 1976 and they were also called 6CK 6CK 6CK and the Gestapo before they took the name Destructors. The three years which came after that they performed live 13 times and they recorded a 7-track demo and released a cassette which had the demo and and live/rehearsal songs and it was called The Destructors Kill musik.
In 1979 they broke up and Allen joined The Blanks for a year. One single was released and it was called Northern Ripper.
In 1980 The blanks broke up and from the rest of the band minus lead guitarist they became The Destructors again. Three years later after 2 albums, 4 singles and one 12inch the band broke up 24/9-1983.
Allen Continued as Destructors V and Five go mad in Europe. Then the trash metal band The angels of Malice.
After encouragement by Si Stabler, Ian Glasper, Rebecca Punk Oi Uk he decided to re-release old material and form a new version of the band.
Allen Adams-Lead vocal;: Dave Colton-lead guitar; Steve Rolls – Rhytm guitar; Steve Crosby – bass ; Lee Reynolds – drums
Destructors 666 are the latest incarnation of The Destructors and have been described as Scuzz Garage Punk Rock band.
Previous bands
Allen Adams has previously been in The Destructors, The Blanks, Destructors V, Five Go mad in Europe, The Angels of Malice, Byron and The GDMF´S
Dave Colton was previously in bands like Goblinz, The Name, The Destructors V, Five Go mad in Europe and Angels of Malice. He also plays in a band called Retrolux.
Steve Rolls previously was in the bands The Now and Sudden Sway.
Lee Reynolds is also in the following bands: 925`s and Mesh 29
Steve Crosby was previously in The Jilted Brides and is also in Moosejaw.
666 is not the name of the beast
Allen don´t want to tell us so much about the members and they want keep a bit of mystery about themselves. If you want to glean information go to their website.
The old members is still doing music, Graham Butt is playing in The More I see, Neil Singleton is getting a band together in Auckland NZ. But no one of the other old members plays in a band right now.Andrew Jackson(Blanks/Destructors) is a tailor. Andy McDonald works in a belt factory. Andrew Butles(which still owes me 10 quid) is a postman.
To change the name on the group is something that Allen will continue with. –It's always good idea to keep your main name as a brand. We are changing our name in May to Destructors (6) (6) (6). 666 are not the mark of the beast, 661 is. The jews regarded the romans(what have they ever done for us) as their devil. It refers to Nero and Caligula. It's nice to be compared to such depots(or were they remember the victors always write history and try to paint the enemy worse then they were)
Other bands that Destructors 666 have been compared to is such different names as Blitz, Stooges, Damned, Vixen, Virus, Wratchchild, Tygers of Pan Tang, NOFX and Raven. Allen thinks that a review is just one person´s opinion but that one opinion can make a break of a band.- If the review is honest without an agenda then we take notice of what they say. Nut if it's just someone who is narrow-minded and just would never give you a good review then we ignore it. In the final assessment it's whether the artist is happy with the results. The most peculiar review we have got was in the Zig Zag magazine. There was a guest reviewer from the Comic Strip and he reckoned I had the campest voice he ever heard.
Fullength on it's way in april
They have released some of their old records on Captain Oi but there still some more records to be released and it's Armageddon in Action, Bomb Hanoi Bomb Saigon, Bomb Disneyland(the last 2 posthumuos albums-really bootlegs) Plus there is a lot of unreleased stuff. It all depends on whether Captain Oi wants to release anymore. The punk singles collection is coming out on vinyl in Italy(Pure Records) with extra live tracks. Followed by another album with the original Destructors demo plus a complete live gig. I wonder if there not will be a fullengthalbum son for the group after all these splitsingles and Allen says:- At this moment we are working on the Destructors666 album(Many were killed but few were chosen). Which should be out in april 2007. It will have 15 tracks with new versions from the singles CD´s plus 5 new songs(1970/Stooges) Pavement Pizza song, Voice from Beyond the grave, Baby heart attack and the Valley of the Dolls of the New York Dolls.
The difference of playing today and if you compare with plying in the past is that is no gobbing. Plus that they have acquired a younger indie and rock audience through their splits with Ruined/925´s, Radicus & SUP and he think it's a lot more fun than before.
Allen started as a singer and went on to the bass and now he´s a singer again and he´s have only gone back to the original.:- I can´t replace Neil but I´m just doing my version of The Destructors as if Neil had never joined.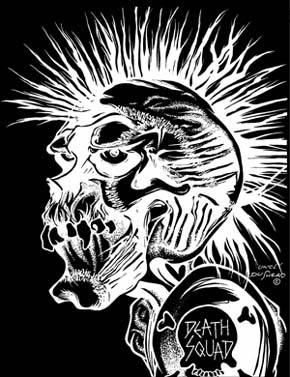 To live in England nowadays is the same as it ever was. The only thing which is different is a that you can get a cheap plumber nowadays(polish). And when I ask him about the government he says: - I can´t wait for the Devil to be pitchforking the antichrist Tony Kitsch and using John Prescot´s blubber to baste the bastard and the wicked witch being burnt for ever on a funeral pyre.
He thinks that politics and music goes hand in hand but he wonders how many people who listens to the lyrics. As the best political bands he mentions Chumbawamba and Levellers and in England there´s a lot of good bands right now as The Ruined, 925´s, Dustins Bar Mitvah and Towers of London. The things he knows about Sweden isn´t so much but he says that our main exports is Iron Ore and he mentions Jönköping, the Baltic Shield, Skagerak and Kattegatt and the Swedish bands he have heard is Hellacopters and Leather Nun.
On the question on what punks mean to him he says:- I think it's more an attitude and a way of thinking.
Ranks Sex Pistols high
His five favouriterecords is Anarchy in the Uk-Sex Pistols, United-Throbbing Gristles, New Rose-The Damned, The faith Healer-Sensational Alex Harvey Band, Roadrunner- Jonathan Richman and the Moderns lovers. His favourite concerts is Throbbing Gristles on ICA London, Sex Pistols on Cromer Pavilion, Southern Death Cult on Retford Porterhouse, Ramones at the Roundhouse and Eddie and the Hot Rods at The Marquee when they played together with Sex Pistols. And the most important things for him is The first single with The Blanks-Northern Ripper, Winning Telly addicts 1995, Playing in Aarhus and Basel with Destructors V, Recording the first Ep with Destructors666, three songs recorded and mixed in 8 hours after 2 1,5 hour-rehearsals. The Re-release of Excersise the demons of youth on Captain Oi but he can´t bring himself to listen to it. 16 tracks recorded in 16 hours. Total cost 125. This was done on 2 consecutive Saturday nights(2300-0700) after drinking in the pub.
The first record he bought was Gary Glitter-Rock n roll Parts 1 & 2 and the latest was Hoodoo Gurus Stoneage romeos and the Most expensive was Throbbing Gristles – 2nd annual report in 1977( it was a lot of money) and the most embarrassing record is Edith Piaf.
They do some covers on stage and it is song like 1969, Kick out the Jams, Psychotic Reaction and Action women.
A band which have been around for so long must have done a lot of interview…is it never boring to be interviewed? – The same questions get boring as you can only keep repeating the same information. But with new recordings there´s something new to say. I never get bored with doing interviews, says Allen.
The question you never get? – Where did the name Destructos come from? It's a part from the dictionary a refuse burning incinerator and partly from the Graham Greene story The Destructors where they destroy an old man´s house from within. We were terrible to start with the hence The Destrcutors kill music.
Have played in Denmark
On the question if there´s a chance to see them in Sweden Allen shakes his head. They have played in Denmark but if the opportunity came along they been here in a flash.. Allen thinks the best places to play is in Europe and in USA.
A good gig with the group is when he remembers the words and the audience is with them.
Allen thinks that Adverts is the best punkband in history and that the most important punksong ever done is Sister Ray by Velvet Underground. Their best song is Flying Saucer men and their most requested one is Bullshit. –That song will hunt me for ever.
All their fans seems to wear black nowadays if you should say something which is special with them. The futureplans for the band is to play more live and keep releasing singles. 6 more this year. In may they have 14 original songs recorded, 7 old Destructors songs and 7 covers recorded. –Not bad for a year and a half. We´ve reset to 1976. When there was no punk uniform. And you record as quickly as possible and get it out as soon as possible. IT WAS QUICK. IT WAS EASY NOW YOU DO IT.
His own futureplans is to complete the 6-year plan he have mapped out fro Destructors666 and to write his punkrockmemoirs "The Gob´s gone hard on my bass cab". His wisdomword is : - Be uncomfortable, be sand, not oil in the machinery of the world.If we stop the earth we´ll all get into space(by being thrown there). Always help other bnnds because when they make it big you get to support them.