Destructors is a long-lived band and most of all they are a band which releases Cd-records that other people change their underwear. Steve was so kind to answer some questions from me in September-2015
Have it been much line-up changes through the years? How long how the line-up today been in the group?
DESTRUCTORS666 are the latest incarnation of THE DESTRUCTORS and have been described as a Scuzz Grunge Garage Punk Rock Band.
(MARK V111) 2006-2007
Allen Adams – lead vocals; Dave Colton – lead guitar; Steve Rolls – Rhythm guitar
Steve Crosby – bass; Lee Reynolds- drums
(MARK 1X) 2007-2008
Allen Adams – lead vocals; Dave Colton – lead guitar; Steve Rolls – Rhythm guitar
Steve Crosby – bass; Rob Baylis - drums
(MARK X) 2008
Allen Adams – lead vocals; Dave Colton – lead guitar; Steve Rolls – Rhythm guitar
Tom Savage – bass; Rob Baylis - drums
(MARK XI) 2008 - 2009
Allen Adams – lead vocals; Dave Colton – lead guitar; Steve Rolls – Rhythm guitar
Ian Stapleton – bass; Rob Baylis - drums
THE DESTRUCTORS
2009 - 2014
Allen Adams – lead vocals; Dave Colton – lead guitar; Steve Rolls – Rhythm guitar
Ian Stapleton – bass; Rob Baylis - drums
2014 - ?
Allen Adams – lead vocals; Dave Colton – lead guitar; Steve Rolls – Rhythm guitar
Ian Stapleton – bass; Tom Savage - drums
So to answer the second part of the question the new line-up has been together for less than a year
Please tell me a little about every member, age, family, work. Interests and something bad about each of you?
AGE FAMILY WORK INTERESTS SOMETHING BAD
ALLEN ADAMS 58 no yes science fiction falls off chairs
DAVE COLTON 58 yes resting dog walking in many cover bands
STEVE ROLLS 57 yes yes surfing likes status quo
IAN STAPLETON ? yes yes motor bikes in a horror band
TOM SAVAGE ? no yes dance music dance music
Any other bands on the side of the DESTRUCTORS?
-Allen has 2 side band projects SKULLTHUGGERY (pirate band) & SUB K & THE SAVAGE (Covers album a la BOWIE's pin ups)
Ian plays with THE RUINED (Horror punk band).
Dave plays in too many covers bands too mention. OK RETROLUX
Tom drums for another band but I don't know its name.
When you do a song, how do you do? Are you doing them together or comes someone to the rehearsal room and show the song?
-The band songwriters demo new songs, put them in our drop box and everyone then learns them. Drum and bass are first done in the studio, then rhythm guitar, followed by vocals. Then lead guitar and backing vocals.
You do a lot of covers, how do you pick them out. Which is your favourite cover to play?
-Everybody gets a chance to pick covers (we've recorded 87 so far). We have quite a back log that we want to do; it all depends upon the project as they are selected to fit in with the subject the CD is about. Favourite cover to play: Teenage Head by the Flamin' Groovies.

You have done a lot of albums, mini cd and so on. Do you all have yourself?
DATE

NUMBER

OLD SONG

COVER SONG

NEW SONG

1: Nov 05 – Feb 06

RF003 Plus ca change de la meme chose

Bullshit (a)

1969 (i)

Existence (1)

Feb 06

Lost 1

Northern Ripper (b)

Psychotic reaction (ii)

Rock'n'roll man (2)

Psycho squirrel (3)

2: Apr-Jun 06

RF666

Fast forward to hell ©

N/A

The neighbour of the beast (4)

3: Jun06-Aug 06

RF004 Sturm unt drang

Trinity (d)

Action women (iii)

S.E.R.B. (5)

4: Aug-Oct 06-

RF005Gott Mitt Uns

AK-47 (e)

Kick out the jams (iv)

Dig my grave (45 rave) (6)

5: Oct 06

RF006 No Parasan

Decadence (f)

Psycho (v)

Flying saucer men (7)

6:Jan-Mar 07

RFA01

Many were killed, few were chosen

N/A

1970 (vi)

The pavement pizza song (8)

Valley of the NY Dolls (9)

Baby Heart attack (10)

Voice from beyond the grave (11)

7: March 07

RF777

N/A

N/A

The Vampire's kiss (12)

Graveyard stomp (13)

8:

RF007 Biberati ut gothi

Forces of law (g)

White light (vii a + b)

White heat

The Axles of evil (14)

9: June - July 07

RFEP1

Sachen lassen mit fremden machten

N/A

Hang onto yourself (viii)

Psychotic Reaction (ix)a

Strange things (15a + b)

The Weirdness (16)

Plan nine from outer space (17)

Ray Gunns (18)

10: September 07

RF008 Caveat Emptor

Electronic Church (h)

(Police State ST) (i)

Teenage Head (x)

TV OD UC (19)

11:November 07

Release April 24th

RF009 Labor Omnia Vincit

Duty unto Death (j)

No Escape (xi)

Warhol/Wilson (20)

No Rules (ST) (8a)

12: January 08

Release June

RF010 Lex Talonis

Agent Orange (k)

Superstars (ST) (l)

Chinese Rocks (xii)

Gun Culture Five and dime (21)

13: May 08

Release 08:08:08

RF888 Ted Rodgers EP

N/A

Slow Death (xiii)

Glam Rock Lip Lock (22)

Silk Subway (23)

14: May/June 08

Release September

RF011 Geistbahn

Cambodia/Khmer Rouge Boogie alt ver V (m a + b)

(Understand ST) (n))

The hand of Law (xiv)

Hey there God dammit (24)

15: March/April 08

Release 31st October

RFEP2 Malleus Malificorum

N/A

The Witch (xv)

Hell raiser (xvi)

Ding Dong the Witch is dead (xvii)

Devil Doll (25)

Possession (26)

Burn the witches (27)

Hex Sex Vex 28)

Witch hunt (29)

16: July/Aug/Sept/Oct 08

Release Dec 08

RFXMAS1

Bah! Humbug EP

N/A

F**k Xmas (xviii)

Good King Wenceslas (xix a + b)

Xmas is here again (ho ho ho) (30)

Punk Rawk Xmas (31)

Just another Xmas song (32)

Xmas B'ah humbug (33)

Merry Christmas and F**k Off (34)

Grotto Worker (35)

17: February 23h 2009

RFC01 This is Peterborough

N/A

N/A

So Angry (36)

18: Nov 08 – Jan 09

March 23 2009

RF012 Deus ex Machina

European Sacrifice (o)

Death Squad (ST) (p)

Diplomatic Immunity (xx)

Burning Bridges (37)

19: Sept2008 – Jan 2009

June 22nd 2009

RFA02

POW! That's KILLMUSIK666:

VOL:1 (revision)

Bullshit2008/ Bulls**t (original) (a a + b)

Trinity 2005 (d)

AK-47 2006 (e)

Decadence 2006 (f)

Forces of Law 2007 (g)

Electronic Church (h)

Agent Orange 2007 (k)

Meaningless Names 2008 (q)

Corpse Gas 2008 ®

Psychotic reaction

(original) (ix)b

Lexicon Devil (xxi)

Existence (1)

Rock'n'roll man (2)

Psycho squirrel (3)

S. E. R. B. (5)

Dig my grave (45 rave) (6)

Axles of evil (14)

Killing Cycle 1 (38)

Scuzz rock Accelerator (39)

Flying Saucer men (7)

20: Jan/Apr 2009

July 23th 2009

RFEP3 Who watches the watchers

Quiznam vigilo

Vigilo

Identity (xxii)

Control me (xxiii)

Thinner Blue Line (40)

CCTV (41)

Rule Nanny Brittania (42)

State Control (43)

I Spy (44)

Rules and regulations (45)

21: Nov 2008 – June 22: 2009

August 10th 2009

RF013 Scheikunde

Nerve Gas (s)

Sewage Worker (t)

ATV (xxiv)

Saturday night (Let's fight) (46)

22: March/April 2009

09:09:09

RF999

Nein! Nein! Nein!

Police State new (u)

Police truck (xxv)

Nasty nasty (xxvii)

Ba****d coppers (xxvi) Emergency (xxviii)

Police Brutality (xxxix)

High speed pursuit (47)

Truncheon Tattoo(48)

Run Pig Run (49)

Roger the Rozzer (50)

Suicide by cop (51)

PCPC Plod (52)

23: Aug /Sept 2009

November27th 2009

RF014 Tormentum Insomniae

Berlin (v)

(Control) (w)

This Perfect Day (40)

Art for Art Garfunkel's sake (53)

24: Oct – Dec 2009

March 18th 2010

RFC02 THIS IS PETERBOROUGH TOO

N/A

N/A

In Absentia (55)

25: December 2009 - February 2010

April 5st 2010

RFPOLICA01

Politika

N/A

Elected (41)

Labour Party (42)

Tory Party (42a)

Politics (32)

Downfall of government (44)

Be careful what you vote for (69)

To vote or not to vote (70)

F**k EU (71)

If We don't stop (72)

Looks like rain (73)

Politics is politics (74)

Revolution time (75)

26: March 2009

June 28th 2010

RF 015 Zengakuren

Religion (x)

(Bomb) (y)

Sonic Reducer (45)

Crash & Burn (76)

27: August 2009- March 2010

August 23rd 2010

RFA003 Dead beat to white heat

N/A

Get me to the World on time (xxxviii)

TV Eye (xxvii)

Blood (58)

End times * (56)

Kent State reprobate (57)

November (AM) (60)

The Ghost of seventy-six (AM) (61)

Headshot deadshot 1963(62)

Selling the American Dream (63)

Ultraviolence (56)

Free Speech for the hard of hearing (64)

Born to Kill/Die for peace (65)

Watch what you vote for ( (66)

Demolition Derby Crash (54)

Hate Song (59)

Communication Breakdown (62)

Killing Cycle 2 (67)

Like a (Car crash) (68)

255 (85)

28: Jan - Feb 2010

10th October 2010

RF101010

Born to Soon (aa)

Saturday night in the city of the dead (46)

Birth school marriage death (47)

Before you die (48)

Right to work (49)

Joker in the pack (77)

Know what I mean (91)

When the chain breaks (92)

Life (aka S**t filled sewer) (93)

Son of a b***h (78)

29: Aug – Sept 2010

31st October 2010

RFHELL1

Helloween (50)

Pinhead (51)

All Hell Breaks Loose (52)

Devil Eye (79)

Demon lover (80)

Highway666 (81)

I wanna dig up Elvis (83)

Vampire Queen of New Orleans (84)

The Blob (86)

Zombie Takeaway (87)

I am the puppet master (94)

Happy Death Day (95)

Don't go down to the cellar (96)

30: 18th April 2010

24th January 2011

RF016 Les fleurs du mal

Neutron Bomb (bb)

(Bombs are metal) (z)

Reality (53)

Third World War (88)

31:

24th March 2011

RFC03 This is Peterborough thrice

N/A

N/A

Selling the American Dream (63)

32:January 2011

May 24th 2011

RFEP4 Media Studies

TV Wars (cc)

Media circus (54)

Media control (55)

Celebrity head (56)

Rant (97)

NME (98)

Your local paper (99)

How much do you want success? (100)

Bangin' the drum (101)

Celebrity Brats (102)

The next big thing (103)

Who gives a toss? (104)

33: March 2011

July 24th 2011

RFSA01

Wohlgafuhl

Lion's share(57)

My Little GoGo Dancer (58)

Trouble Magnet (108)

Clockwork Orange Age (109)

The Atrocity exhibition(110)

Glass Teat(111)

Yes we Can(112)

All Fall Down(115)

Trust me I'm a Scientist(114)

34: May 2011

September 26th 2011

RF017 Je suis radio

Good Guys (dd)

Overdose (ee)

Roadrunner(59)

Trash Man(113)

35: November 11th 2011

RF111111 In Memoria

Soldier boy (ff)

Generals (61)

War Hero (62)

Mud mud and more mud (116)

Bodybags (117)

The trench (118)

Blood and guts (119)

We need you (120)

Misery in me (121)

Death machine (122)

Two minutes noise (123)

36: January 23th 2012

RFA04:POW2

Duty unto Death

Warhol Wilson

Cambodia/Khmer Rouge Boogie

Hey There Goddamit (24)

European sacrifice

Burning bridges

Nerve Gas

Saturday Night (Let's fight)

Berlin

Art for Art Garfunkel's sake

Psyche(59)

Friday on your mind (60)

Tom, Dick & Abdul (89)

Killing Cycle 3 (90)

No English Spoken Here (105)

Never had it so bad (106)

New song (107)

Killing cycle (dub) (38a)

37: March 26th 2012

RF018 C'est la guerre

Dollar is God(gg)

Son of Sam (hh)

We're pretty quick (63)

The greatest hoax on humanity (124)

38: February 2011

May 23rdh 2010

RFEP5 Sex, Drugs & Rock'n'Roll

Sex in Chains (kk)

H Eyes (64)

Drugstore (65)

I Want the Drugs (66)

Spitroast F. C. (125)

Rock'n'Roll Riot (no time to be quiet) (131)

Butt plug, gag & Tit Clamp (132)

Crack Whore (127)

Listen to your heart (128)

King Rock (133)

She's a girl (134)

If every girl was a p**nstar (135)

39: March2012

July 2012

RFSA02 Schwerpunkt

Baby(67)

Dot Dash (68)

I Did it by myself (129)

No future (130)

Atom Heart Brother (125)

Springheel Jack (126)

JSS (136)

Stop the War (138)

My Girlfriend's in a Coma(137)

40: Release September 24th 2012

RF019 Pax Romanus

St. George (ii)

Class war (jj)

Banned from the Pubs (69)

Atom Heart Brother (125)

41: December 12th 2012

RF121212 Ragnarok

Decadence (f)

Hey there (God dammit) (24)

Failures (70)

Final Bloodbath (71)

Dead cities (72)

Doomsday(140)

Waiting for (the end of the world) (144)

One minute (142)

End of the World

War of the Worlds (141)

Good v Evil (143)

The Fianl Battle (145)

42: February 25th 2013

RFC04 Peterborough goes forth

Punishment of luxury (146)

43: April 29th 2013

RF020 Sur la paves la plage

Breakdown (ll)

Penguin War* (kk)

Hey Joe (73)

Modern Day Jonah (147)

44:24th September 2013

RFDES01 The perverse, the sublime and the ridiculous

Duty unto Death (jii)

Forces of Law (gii)

Trinity (d#2)

Electronic Church (hii)

Wild Thing (77)

I wanna be your Dog (78)

Louis Louis (79)

Punk Rock Girl (155)

45:November 25th 2013

RF021 Terrorismo

Punk a'int dead (iii)

All my Friends in NYC (80)

Amphetamine Blues (156)

Urban Terrorist (157)

46: January 13th 2014

RFEP6 New York New York

I've been watching the NY Dolls (new version) (9a)

New York New York (74)

New York City (75)

Vampires of New York (76)

Factory girls (148)

Dead man Walking (149)

NYC75 (150)

Nancy in a bag (151)

Chelsea Hotel (152)

CBGB's (153)

Talking Junk with William Burroughs(154)

47: March 24th 2014

RF131313

Bad Luck Social Distortion (77)

Eleanor Rigby (78)

Lithium (79)

I Hate You (80)

Air of Menace (158)

The Damned (159)

Feed the Death Machine (160)

A Good War (161)

I am the Dark Wave (162)

Look into the Mirror (163)

The price of life (164)

Psychic hits (165)

Bad or Worse (169)

A Day in the Death (170)

48: May 26th 2014

RF022 Divide et Impera

Social Grudge (jjj)

Rosalyn (81)

For Queen & Country (166)

Underneath the Afghani sun (167)

49: July 28 2014

RFEP7 Bierschutzbrillen

Pigeon Pizza Surprise (8a)

Boys from County Hell (82)

All F****d Up (83)

Drunk (84)

John Barleycorn (81)

Whiskey Train (139)

Xmas Spirit (169)

Beer Society (170)

Punk Rock Piss Up (171)

This is England (172)

Don't mind if I do (173)

Drink to forget (174)

Lost Weekend (175)

Who the F**k is John Barleycorn (176)

50: September 19th 2014

RFTAM01 Skullthuggery

Sling it (85)

Fellowship of the Damned (1)

Skull and bones (3)

Ride the wild wind (2)

Blackbeard (4)

Starry Starry sky (5)

I am the captain (6)

Calico Jack (8)

Pirate Moon (9)

Ode to a Wooden Leg (10)

By Nelson's Blood (11)

Dancing with the Dead (12)

51: January 2015

RFSA05 The Destructors Greatest hits and misses

Bombed outta my mind (86)

Violence (87)

NYC Rock'n'Roll history (168)

Jimmy So Vile (136NL)

Devil Doll (25) remix)

Resistence (1) remix

52: 27 April 2015

RFELECT02 Coalition Blues

Revolution Time(75SNW)

This is England (172 INV))

Owe us a living (88)

Vote 4 me (177)

Pleb (178)

If we win (179)

Politics (Same old song) (180)

Politics oh politics (181)

Ukip u lose (182)

Vote (184)

Don't Vote (185)

Freedom's call (183)

53: 11 September 2015

RF023Deus Luna

Societies Morons (kkk)

Release the bats (89)

Up and atom (186)

Gentlemen Jack (187)
Steve, Dave and Allen have all of them.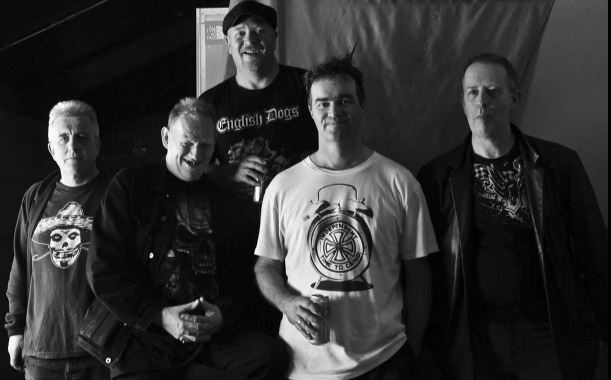 Is it important to get out physical stuff and not only on Spotify etc.?
-It's the physical versions that make us the money to keep putting out music. If we relied on spotify we make hardly anything. This is due to the parasites throughout the internet who think they have the right to let people have our music for free.
How many songs have Destructors up to date?
-The New Destructors (including 666) have altogether released 187 songs but we've written more than that for forthcoming projects.
Not any plans of putting them altogether in a box or something like that?
-I have an idea when we've finished releasing an extremely limited box set. This would contain every CD and one that wasn't available anywhere else. It would come in a beautiful wooden box containing various documents with an embossed number at the top. The band would only get the box to put their CD's in.
How many new songs have you material for?
-I have thousands of lyrics and at the moment have plans for another 25 projects. If they happen then that's OK but due to unforeseen circumstances they don't I'll still be happy with what we have achieved.
Which is the next record release to come?
-Coffin Jukebox from Sub K & the Savage. An album of cover songs plus a couple of surprises. It's a sort of musical journey of my life in the vein of David Bowie's Pin Ups.
How do you choose the bands you split the CD's with?
-Their usually bands that a band member knows and likes or somebody I've seen live who really impressed me. It's a really good deal doing a split cd with us because it costs the band nothing to do it and they get the songs to keep as soon as we break even.
Do you have any dream band to do a split with?
-Well the split thing is coming to an end now but I suppose it was to do one with Steve's old punk band THE NOW. Unfortunately it'll never happen so best to bring it to an end. But I never say never and if a band came along that I was impressed with well hey who knows.
And if you could choose 5 bands to have the best concert ever with, both alive or dead, which five would you choose.
-1: FLAMIN' GROOVIES/RAMONES 1975 London.
2: DAVID BOWIE HAMMERSMITH ODEON
3: SEX PISTOLS surpporting EDDIE & THE HOT RODS MARQUEE LONDON
4: SOUTHERN DEATH CULT RETFORD PORTER HOUSE
5: THROBBING GRISTLE THE LYCEUM LONDON
Five favourite records right now
-1: PUNK 45: VOL 3 PROTO PUNK 1969-76
2: HOLLYWOOD VAMPIRES
3: BACKYARD BABIES – 4OUR BY 4OUR
4: PIL – WHAT THE WORLD NEEDS NOW
5: DEVO – ORPHEUM THEATER BOSTON 17 JULY 1950
The last record you bought? And the most expensive?
-LOU REED – DEALING ON THE BOULEVARD most recent
THROBBING GRISTLE 24 HOURS most expensive
Which of the Destructors is hardest to get hold off? And the most expensive on EBay?
-Electronic Church free with Trees and Flowers fanzine is the hardest to get hold off.
EBay DESTRUCTORS – The Final Testament (Bomb Hanoi, Bomb Saigon, Bomb Disneyland £39.37
For how many years can you go on in this tempo with so many record releases?
-Well as long as I don't think we're repeating ourselves it can go on for several more years. It depends upon a number of factors, financially viable, health or just getting fed up with doing it. As far as musicians go if they want to leave there is always someone waiting in the wing to replace them? Although I must say no one is thinking of leaving at the moment and sometimes I think people who leave actually regret it.
Do you play gigs often?
-No. We're offered a lot but unfortunately due to extra curriculum activities of other band members it's hard to all be available at the same time.
Which countries have you played in? Which and where is the best one?
-Wales, Denmark & Switzerland. Denmark was the best.
Favourite place to play in England and the worst place to play?
-Best: Cambridge, London, & Peterborough Worst: Middlesbrough
Is there any subjects that you will never be singing about?
-Vegetarianism!
Is music a good way to get out your opinions into people's ears, do you have a responsibility to write lyrics which is important and can change the listeners point of view?
-We'll all the lyrics I write are my personal opinions. However they are written in different ways:-
1) Political songs
2) Anti-religion songs
3) Anti-state songs
These are serious and it's up to the listener how they take them.
1) Serial killers
This is just an interest of mine and I've been doing it since Son of Sam.
1) Bodily functions
2) Things I find interesting or ridiculous
All though these can be considered serious there is an underlying sense of humour involved.
The listener should approach every lyric I write and listen to the whole thing before giving their opinion. I think bad reviews can be as revealing as good reviews. I just write what I see around me or what I read or see in the media. Things that make me angry quite often produce the quickest and best lyrics
How is politically in England right now?
-It's all very interesting with the Tory's with a slight majority. The Liberals all but wiped up. The Labour Party has just elected a leader who is unelectable. UKIP are avoiding being the official NO side in the referendum on EU membership. This is so when the NO vote loses UKIP have an excuse to keep going. Plus off course SNP kicking Labour out of Scotland apart from one seat (also 1 Liberal and 1 Tory). This all makes for a very interesting POLITIKA 3 in five year's time.
Have you heard any good Swedish Bands?
-Backyard Babies, Hives, and Bones
What are the future plans for the band?
-Keep putting out recordings and doing the occasional live gig?
For yourself?
-Keep living and hopefully stay in good health.
Something more to add?
-I hope music stays interesting and bands can afford to still have the time to carve out a career. Nowadays the money is all in the gigging and the music is all about getting the gigs. The so called 360 degree contract.
Cheers