Destroy L.A. is a really young band which have been playing since 2005 and they cannot been so old then when they stated. Joey is the one who is have answering these questions in September 2014
Please tell me a little bit history of the group?
*** We started in 2005 outta the ashes of a street punk band we had before called charged out. de wreck didn't want to play anymore after 2 years and then after 2 months he called me up asking if I wanted to sing for a hardcore band and his brother would play bass, so eventually I agreed and the rest is history.***
Please tell me a little about every member in the group right now, age, family, work, interests and something bad about everyone?
*** Joey: 27, Italian, 2 Jobs at The Port Of L.A., Enjoys: Skateboarding, Offroading, and Fabrication.***
*** De Wreck: 26, Irish/Samoan, Pool Cleaner, Enjoys the same as me Including Motorcycles***
*** Miles: 21, Jewish/?, Construction, Enjoys: Skateboarding, and Surfing.***
*** Johnny: 23?, Hispanic, Not Sure About His Job and Hobbies.***
Destroy L.A. How did the name came up and why a destructive name like this?
***It Means Skateboard and Surfing UNITY in Los Angeles..............pick up your boards and GOOO.***
You have some different influences, mostly 80´s hardcore from USA I think, am I right? Favorites from then
*** Yes, we have influences from all around the world but most of our style is American Hardcore. Bands Like : Negative Approach, Koro, Minutemen, Hated Youth, Big Boys, Youth Of Today, Dr Know, e.t.c.***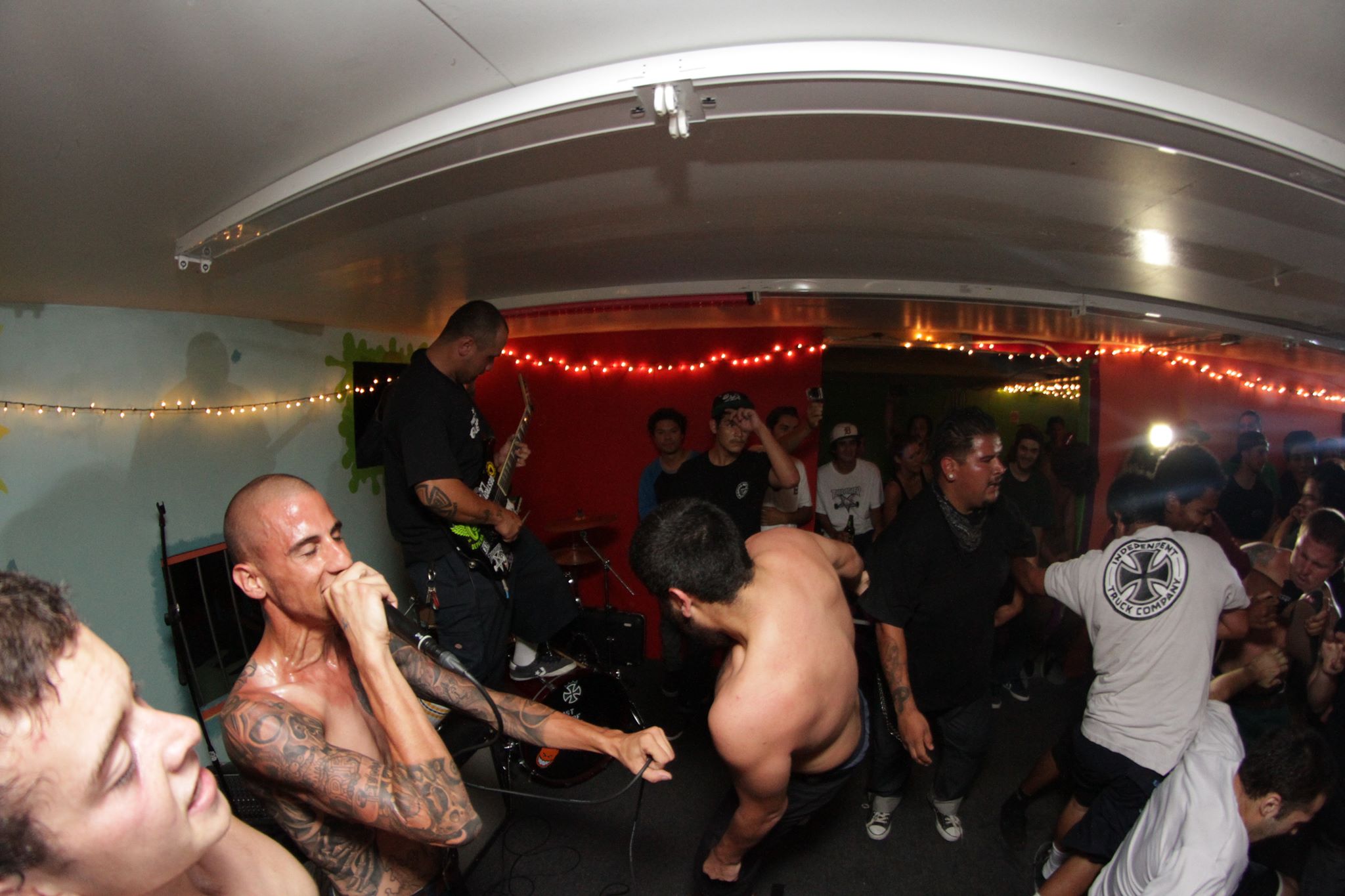 What´s the best thing with playing live?
*** Seeing The Crowds Reaction and Response Too The Music.***
And where is best to play?
***In Our Hometown Of San Pedro Of Course.***
How is it to play this sort of music in USA? Is it hard to get gigs?
*** Kind Of, The All Ages Shows are a little harder to come by, but the 21+ shows are easy to get.***
How would you describe your music in three words?
*** Loud, Fast, Hard.***
What does punk mean to you, is it only a word or is it a lifestyle?
*** Too Me, it means being yourself. Simple As That.***
How do you see on downloading, mp3 and that stuff?
*** I Don't Understand This Question.***
How is it to live in USA now? Politically?
*** Its Hard Living in America, Especially If you're in any of it´s 2 major cities Being Los Angeles, or New York, people think we have it easier here when we don't, our governments all screwed up, the police kill anything, and gangs own this entire country let alone the world, but we deal with it, this is where we were born and we shall accept it, I have tattoo on my leg love your country, hate your government, which means no matter where ur from on this planet, love your country and support it, just never ever trust the government.***
Is there any good bands from USA now?
*** YES, check out some of our local allies: The Neckties, L.L.D., Set On Right, The Alter Boys, and The Imposters.***
What do you know about Sweden?
*** Well I've always been into hardcore from around the world, and the Swedish had some bad ass Bands. One of my favorite musical scenes definitely.***
Have you heard any good bands from Sweden?
*** YES: Anti Cimex, Moderat Likvidation, Black Uniforms, Asta Kask, Wolfpack, and G-anx Are some great Swedish Bands.***
Your lyrics, who does them and what influences you?
*** I Joey D do all my own lyrics and my influences are just the problems we deal with today on planet earth, like our ancestors they had Ronald Reagan, now we have Obama.***
Could you write a song about anything or is it any subject you never will touch with your lyrics?
*** I Guess I could but unless the song has a purpose or true meaning I wont really care ta put my full effort into writing lyrics for it.***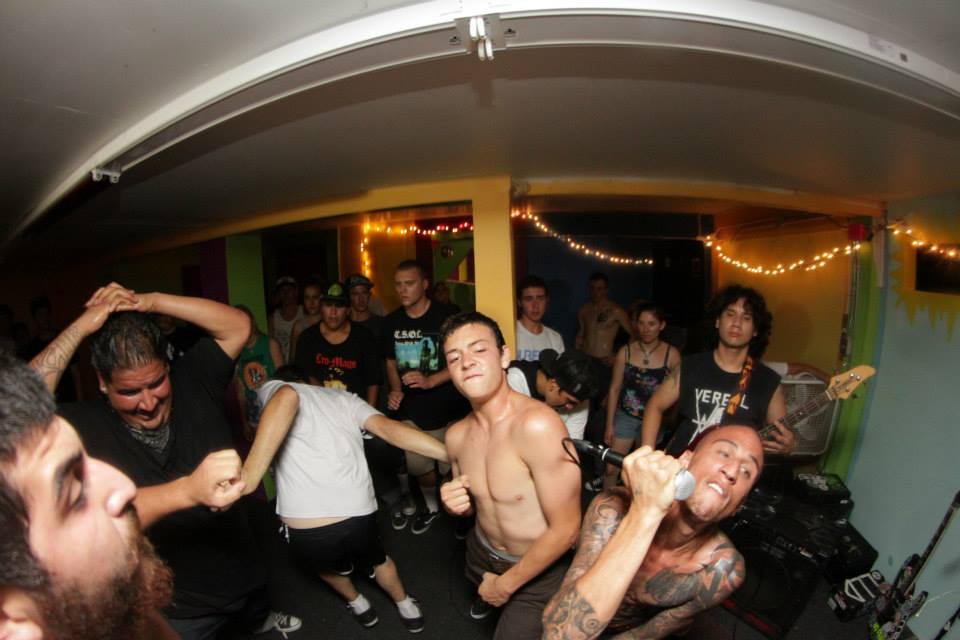 Politics and music, does it goes hand in hand?
*** ANYTHING THAT MAKES MONEY GOES HAND IN HAND WITH POLITICS.***
Best political band/artist?
*** Behind Enemy Lines From Pennsylvania............ex Members Of Aus Rotten.***
Do you think that music(lyrics and so on) can change anyones life, I mean people who listens to music?
*** Hell Yea It Can, Music Is a Feeling That Can Either Ride With Ya, Or Be Kicked Right Out The Car Door Instantly, Some Songs Hit Me Inside So Much That They Inspire Me Too Keeps There Views And Ideas Alive Through My Band.***
First last and most expensive record ever bought?
*** ANTI-CIMEX: Absolute Country Of Sweden Original 12''= $120 American.***
Can you imagine yourself doing a tribute song to a special football team, animal rights or any political party? Or have you already done this?
*** Hahah, Probably Not, the Most we do is dedicate a song too someone of something for a birthday or whatever.***
Please tell me a funny thing which have happened during your career and under some gig?
*** We played a 3 day desert festival back in 2008 and some members got so drunk they ended up walking around the area butt naked ahaha.***
How does your audience look like? Which people do you miss on your concerts?
*** Most of the audience is our buddies, as long as the music is still going and people are enjoying it, that's all I care about, weve played local shows too small and huge crowds.***
Please rank your five favoriterecords, five favoriteconcerts and five most important things in life?
*** I cant name my favorite records or concerts, between both theres just way too many ta choose. But As oppose too the most important things in life, that's a tough one but I'd have too say: Be Youself, Work Hard, Change For The Better, Help Others, and Have Fun.***
Is it boring with interviews? Which is the most stupid question you ever have got??
*** Haha, Im Not Sure, I've Only Been in a few interviews and they all seem to be the same asking the same questions.***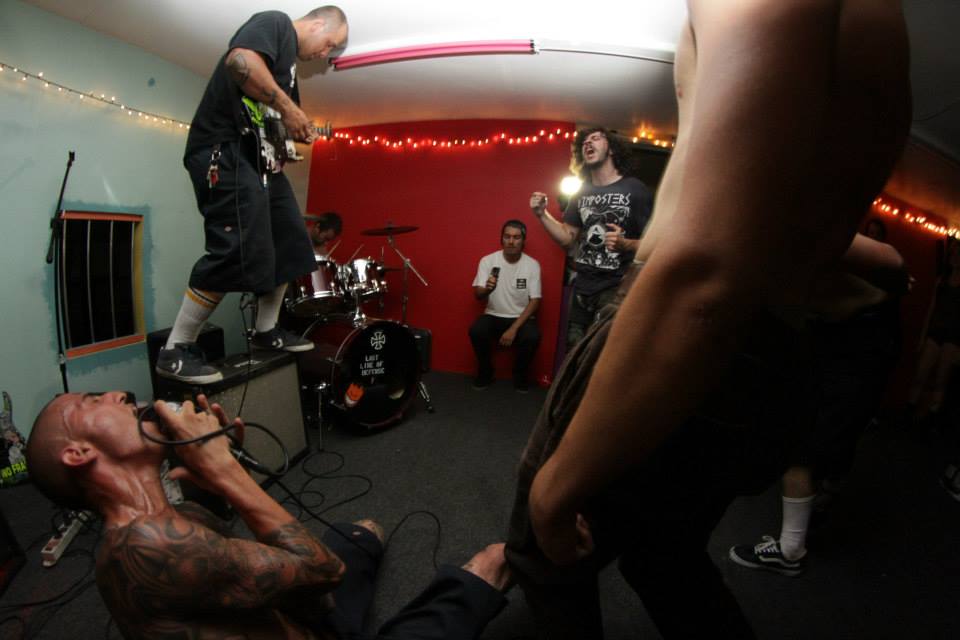 Do you understand that reviewers always compare bands to other bands? Is that disturbing when you try to something own?
*** EVERYONE compares bands, including myself, its ok ta compare others too others, or say they suck, or love em, it's your opinion.***
Futureplans for the band?
***KEEP THE LOS ANGELES HARDCORE SCENE ALIVE.***
For yourself?
*** To Keep My Head On Straight and Stay Focused Mentally, Physically, and Musically.***
Wisdomword?
*** Seek a Rose Along The Way, Just Beware Of There Thorns.***
Something to add?
*** BE STRONG PLANET EARTH, LIVE YOUR LIFE AND PUSH THE BULLSHIT ASIDE.***