DeRita Sisters is a band which have released a lot of records… They have a very nice sound and they sent me a double CD to listen to and I really enjoyed it. And I enjoying this interview done with them too in april 2015.
Please tell me a little bit history of the group?
-Mark: I formed the band in 1992 with my friend Jay Smith. He left the band in 2002 and I continued on with new people. It was more of a project and less of a working band. It was just a hobby. We enjoyed fucking around in the studio and kept making records for the hell of it. We had no way to sell them so we just gave them away to fanzines, magazines, college radio stations, etc. and that's how we started building a following. We released four albums before we played a single gig. The band was based in Los Angeles until I moved up north to Santa Barbara. In 2014 Jay Smith rejoined us on stage for two songs for the first time in 12 years. I'd say we're more of a studio band than live band. We were already older when we started so we didn't have the luxury of jumping in a van to go tour 200 days of the year. Around 1994 we started getting interest from German record labels which started a career of sorts for us in Germany. We released our first record in Germany on Incognito Records called UNITED STATES OF THE WORLD and followed that with three records for HIGH SOCIETY INTERNATIONAL, one with PLASTIC BOMB and three more for TRASH 2001, all German labels.
Please tell me a little about every member in the group right now, age, family, work, interests and something bad about everyone? Earlier bands?
-Rob:….bass…51…work in the UK Parliament…punk obsessive…the Derita Sisters are my family…and I can't say a single bad thing about them…I prefer to slag them off behind their backs…I've been in too many bands to mention, but I will anyway…Chester, Sperm Wails, Cynical Culture, Sewers of the Strand…the list is endless, and pointless.
Ant: 37. single, no kids, went to private boys school, hates toffs. video camera operator/editor. Played guitar in grunge bands as a teenager. Saw a local ad in a music shop for punk drummer required… Stayed friends with Rob. Didn't play any music at all from 2005 till 2012. Still get nervous playing live.
Mark: Currently the band is Rob Chester on bass from London. Rob has a long pedigree of playing in punk and post-punk bands in London since the late 70s. Rob works for British Parliament and is a huge record collector. Anthony "Ant" Oxmall plays drums. He is from Cambridge, England. Ant is the youngest member and has a more contemporary style than our earlier drummers. He works as a videographer for the motorcycle racing industry. Franky DeRita aka Frank Lukrawka is a long-time associate of The DeRita Sisters. He's the lead guitarist. He played with us from 2000-2003 and rejoined in 2012. Frank is from Hamburg, Germany and fronts his own band Weekly Carouse a band we toured with seven or eight times. When Jay Smith had to leave, Frank just jumped in and played with both bands. And then there's me. Like all punk bands these days I'm the only original member, but then again, the band has just kept evolving over the years and the band today bears no resemblance to the band from 1992. I live in Santa Barbara, make documentary films and I'm a single dad to a six year old boy named Harvey.
I can hear both NOFX and earlier bands? Am I right? Favorites from the past?
Mark: I had to laugh at this question. Yes, with Frank in the band you will hear NOFX as it's his favorite band of all time. I hate them. Haha! But I welcome the contemporary sound Frank (and Ant) bring to the group. A band has to evolve and move forward. Rob and I are old school, 1977 fans. We came up with The Ramones, Clash, Sex Pistols, Damned, etc. The other guys had different influences. One of my favorite songs that Frank wrote is "77 SUCKS!" It's really funny. But Rob and I go back even further. We like a lot of really obscure bands that predated punk. I love Krautrock for example and we both love 60s garage rock.
Rob: Noah Fecks? Aren't they like the Monkees…I like all the punk bands Mark hates…which means I like just about every punk band ever…I'm an old man so am more at home with 76-79 stuff…new bands confuse me.
Ant - Favorite Bands: Derita Sisters, UK Subs, Rollins, Fugazi, Nine Inch Nails
De Rita Sisters are you satisfied with the name? How did it came up? I have some record with DErITA Sisters and Junior? Which is the best bandname you know?
-Mark: It's a long story and a very inside joke. We never thought we'd become a legitimate band and be stuck with the name for 23 years. But once we started making records we started creating an identity so it would have been foolish to change the name. If you know anything about the old American comedy team The Three Stooges, it's a very obscure reference to them. In the 1960s The Three Stooges reformed for children's TV shows and movies. It was just Moe and Larry. Curly, the fat guy with no hair had died earlier on. So they got a new fat guy with no hair that looked like Curly. His name was Joe DeRita and they renamed him Curly Joe. When Joe DeRita was a child, he had a vaudeville act in the 1920s with his mother and sisters. The act was called The DeRita Sisters and Junior. Curly Joe was junior. We chose the name because Joe DeRita wasn't funny. Most people hated the new lineup of The Three Stooges. We were a terrible band and thought it was an appropriate name. Joe DeRita was still alive at the time and lived down the street from me. We would visit him from time to time and even told him about the band. He thought we were idiots. Anyway, after awhile, we dropped the "and Junior" and just became The DeRita Sisters. Lots of people expect a girl band and they are sadly disappointed.
Rob: I'm just the bass whore and had no say in it….
Ant: Derita Sisters is the best name i know….
What´s the best thing with playing live?
-Mark: Well for me I never liked playing live in California because no one ever came to the shows. When we started playing in Germany it was a lot of fun because we always had an appreciative audience. I enjoyed people coming down to the front of the stage, singing along, getting shitfaced drunk and coming on stage and singing with us, chatting and drinking with us after the show, etc. And we also got paid, they gave us good food and a place to sleep. We were treated like rock stars even though we weren't. It's a much different atmosphere in Europe. You don't have to work as hard to have a good time.
Rob: Totally the four hours spent sitting in a shitty bar after we've sound checked, waiting to play. Having to listen to other shitty bands….and arguing over the set list…and trying to make your two free cheap beers last.
Ant: the excitement, enjoyment of playing with other musicians, no one in this band takes themselves seriously, all nice people, there's no egos or bullying (I've experienced that in bands in the past)
And where is best to play? And the worst place?
-Mark: Well I answered that a little already. Europe in general is the best place for a small band to play. Germany especially. They love music over there, all kinds, all genres and there's millions of little venues to play. We've played The Rebellion Festival in England twice and will play there again this year and that's always amazing though places like London are pretty much like Los Angeles. If you're not part of the current trend, nobody cares. Los Angeles is the worst place on earth to play.
Rob: Always fun to play somewhere new…the worst place is anywhere that books us a part of a "new band" night…where you share the bill with a funk band, a metal band and a man with a dancing dog
Ant: best - Dingy little pubs packed with rowdy people
Worst - empty sports/concert halls...
How is to play this sort of music in USA right now?
-Mark: There's no market for it at all. You'll see some diehard kids trying to keep some sort of scene going but even then you won't get too many people going to shows. Punk is all but dead here, the youth have their own musical heroes, they don't want to see a bunch of old guys reliving their past.
Rob: Well I'm from London…we seemed to go down well in the States…the punk scene is pretty healthy in the UK…just a shame there's nowhere to play…most of the good venues who'd put on punk bands have closed down…
Ant: Fun, but no money, same as everywhere.
How would you describe your music in three words?
-I just called it punk because I didn't really know how else to market it. It never fit any definition of what punk is now. Punk become very homogenized and regimented. You had to sound a certain way, look a certain way and we never fit that mold. Back in 77, none of the bands sounded the same. It was just an attitude. Start a band, make some noise. Punk was just a label made up by the press. It's pretty meaningless. I just think of us as a novelty rock band. If you look at so-called punks today, they all have beards, wear trucker hats and hoodies, short pants and Converse shoes. The original punks had style and a good sense of fashion. I hate labels. We make fun of punk rock quite a lot in our lyrics.
Rob: Ramones. Second, Album.
Ant: Surf punk grunge
What does punk mean to you, is it only a word or is it a lifestyle?
-Mark: As I said, the only punk that meant anything to me was from 1976-79. Punk rock existed in a certain time and place which is now gone forever. When Pete Shelley grew a beard it was over for me. I liked some of the early 80s hardcore coming from the UK but after that I was done. For me the word simply meant that anyone could start a band and have fun. It was never a lifestyle to me. When I think of punk as a lifestyle I think of these dirty street kids begging for money pissed up on beer and speed and smoking cigarettes. They really aren't much different than hippies. I liked the music but I was never a "punk" whatever that means. I never had anything to prove. Punk became very predictable and boring after awhile. How many songs about drinking and politics can you write?
Rob: Well it changed my life and got me into music and playing in bands….I guess you either "get" punk or you don't…and if you do get it, it stays with you for life. Punk is what you decide it is…there are no rules or it wouldn't be punk…most of all punk isn't about is giving pretentious explanations of what punk is!
Ant: It's just a type of music.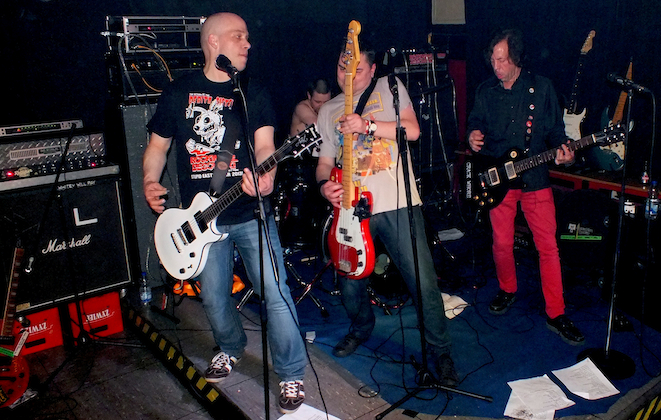 How do you see on downloading, mp3 and that stuff?
-Mark: I love it. It took me three years to convert nearly 4000 cds to my hard drive. I got rid of all of them. I hate CDs. They get scratched, the cases break, they sound shitty. Now I have 60,000 songs on a little hard drive I can listen to for the rest of my life. Downloading is getting better every day. It's how things are and I hate listening to people who aren't forward thinking. Vinyl was cool when I was growing up but I don't care about it anymore. I still have a lot of my vinyl collection. It was cool looking at the sleeves and artwork but I don't have space for all that stuff anymore. I love the fact you can set up your computer like a jukebox and listen to whatever you want. Streaming will be the next big thing of course.
Rob: The way forward…I love vinyl…it looks, sounds and feels better…but what's the point of making records if nobody can play them…then again I've still got a turn-table and still don't play my records much….
How is it to live in USA now? Politically?
-Mark: Well it's good and bad like any other country. We have a lot of problems with conservatives and their backward thinking ideology. The religious right worries me. I'm a freethinker, a liberal, an atheist and hearing these old white guys and their Victorian era politics really annoys me. But I try to ignore it. It's too easy to get caught up in it. I like where I live and I like to travel when I can. I really like visiting Europe but you guys have your issues too. There's no place that's better than any other place.
Is there any good bands from USA now? Is the punkscene big? How is it in your hometown?
-Mark: There's no punk scene anywhere in the USA really. You might be lead to believe there is, but there isn't. People put on punk shows and maybe ten people show up. It's a labor of love for people who live in the past. 35 year old bands reunite for one last shot and maybe a few people come to see them. Santa Barbara is a tiny city with two venues. We mostly get indy rock and hip-hop. That's what the kids like so let them have it. Venues close down all the time in the USA because people in general don't support live music here like they do in Europe. That's why so many American bands go tour Europe. Good USA bands? I wouldn't really know. I'm 57 years old and don't keep current. There's no good NEW punk bands if that's what you mean. Punk has run it's course for sure. Most American bands these days play very effeminate soft-rock and wear beards and flip-flops. There's no rock and roll at all as far as I can tell. We recently played with A Pretty Mess. I thought they were great. The Bombpops from LA are very good. Murderland also from LA are awesome. The last "new" band I liked from here was The Thermals.
What do you know about Sweden?
-Mark: ABBA, Death Metal and some really good rock and roll bands like The Peepshows, Backyard Babies, Hellacopters, Nomads, International Noise Conspiracy, Hives, etc. Some of the best rock and roll ever has come from Sweden. And hot naked women of course.
Rob: The Swedish maternity and paternity leave is one of the longest and most generous in the world, allowing the father and mother to take a shared total of 480 days (16 months) off at 77.6% of their salary and when the number of chlamydia cases in young Swedish people doubled in one year, it was decided that condom ambulances would be on standby three days a week, waiting for calls from those caught in a promising situation, but without protection. But apart from that virtually nothing.
Ant: Ghostrider (crazy swedish motobike rider)
Have you heard any good bands from Sweden?
-Mark: Yes. See above. The Sounds were good too. It seems like Sweden took the idea of early 70s American rock and roll and just kicked it up to eleven. I've never been to Sweden but I'd love to come over and hear some real rock and roll.
Rob: Are Ebba Grön still going??
Your lyrics, who does them and what influences you? The lyrics 77 sucks and We hate Punk, what about them?
-Mark: Historically I've been the main lyric writer, but in the early days Jay Smith wrote about half of the songs we did. With the new lineup we've got contributions from Rob and Frank who are both great songwriters and it all seems to work when we play together. Frank wrote "77 Sucks" because he's a fan of later punk and hated all the early bands. I think it's funny. He hates the stuff I like and I hate the stuff he likes, but we can laugh about it. I wrote "I Hate Punk Rock" because I hate what it became. These days it's like a private club. It doesn't have any of the thrill it did in the beginning. It's not dangerous anymore. It's either silly pop stuff or it's boring political ranting. And now you've got the vegans and vegetarians and animal rights aspects thrown in and guys with beards, it's really become more like the hippie movement of the late 60s. I write very cynical lyrics full of sarcasm. I never knew why the Germans liked us because they surely didn't understand the true meaning of the lyrics. Haha.
Is there any subject that you never will write anything about?
-Mark: No, we've covered it all. Rape, murder, fucked up sexual practices, shitting, farting, child molesting. We've made fun of everything there is. But we've done it in a gentle way. We aren't angry, we present the songs in a funny way.
Rob: The joys of being a successful band and gorging ourselves on coke and groupies….we stick to subjects we know about….that's why there are lots of songs about wanking
Politic and music, does it go hand in hand?
-Mark: Not for me. I don't care about it. There's a place for it I suppose but there's bands out there that are designed for it. I would rather make fun of politics. It's more interesting because at the end of the day nobody cares.
Rob: As long as politics are in a loving relationship there's no reason why they shouldn't hold hands…but if things look like they're going to go further they should ring a Swedish condom ambulance.
Best political band/artist?
-Mark: Conflict. Discharge. Varukers.
Rob: Got to be Sub-Atomic Wasteland, early 80's UK band who recorded one single on the SKUM label in 81. They decided that singing about state control and the evils of war and capitalism weren't enough. They wanted to actually help bring about its downfall. So they split up the band, the drummer became a High Court Judge, the guitarist became a stockbroker and the bass player became a general in the army. They are slowly destroying the system from then inside. The singer reformed the band with a new line up and they're playing the Rebellion Festival this year.
Do you think that music(lyrics and so on) can change anyones life, I mean people who listens to music?
-Mark: Sure. Probably at an early age. The Ramones changed my life. Like they did with many people. They showed you could have limited ability and make a band and have fun and maybe get popular. If they could do it, anyone could. And they weren't the smartest people in the world, let's face it.
Rob: How many psychiatrists does it take to change a lightbulb? One. But the lightbulb must really want to change…which I think sums it up!
Ant: Possibly. In that it can give you a release. It can affect your mood.
Your cover on your CD looks really nice, is it important to have a record cover which shows people which type of music you play? Your favorite recordcover?
-Mark: A record cover is your opportunity to expand the music with visuals. It's very important to have a good cover. Since the new record LEGENDS NEVER DIE is the first record of new material we've done in ten years, I thought it would be good just to have a band photo on the cover to re-establish us. We've never done that before. The rest of the package was just minimal. I just went with the one bold image. In the past we've had some incredibly funny record covers. I got into graphic design just to make DeRita Sisters record covers. The back cover of Syllagomania shows the famous picture of the Buddhist monk that set himself on fire to protest the Viet Nam war. It was on the cover of a Rage Against The Machine record. We used the same picture but composited in the band roasting marshmallows and hot dogs over this burning man. It was pretty fucked up. The original cover for The Great Satan showed the World Trade Center on fire after 9-11 with an American flag waving in the front. The flag had an image of Satan on it. The record label wouldn't release it, they didn't think it was funny so we had to elimate the background of the World Trade Center. We've done some fucked up shit but it's all in the name of humor.
Rob: Well I'm shallow enough to buy records on the strength of their sleeves…the sleeves are often better than the records. Best sleeve? Never Mind the Bollocks – so simple, yet so effective. Best single sleeve? Got to be Sub-Atomic Wasteland's "You Die Today, We All Die Tomorrow" ep.
Is it important to get out physical records of your stuff? Why or why not? No record label?
-Mark: Not anymore. CDs are dead. Vinyl is expensive to produce. Many bands like us are simply giving away free downloads of their latest records and will hope to make money from ticket and t-shirt sales at gigs. There's no distributors or labels anymore. Any band can record their own record at home and distribute it themselves online. It's the wave of the future. Record stores are closing every day, there's no place to sell product anymore unless you're on a major label.
Rob: Out of sheer egoism I like to put out as much stuff as possible…it's something to show your grandchildren, although as all the Derita Sisters are gay that doesn't apply…
Ant: The songs are free, so it's just another form of distribution. some people want it, some people don't, so it's best to have the option for those that do.
Please tell me a funny thing which have happened during your career and under some gig?
-Mark: Having drunk naked Germans on stage with us singing along with our song STOP ME BEFORE I FUCK AGAIN which we wrote 15 years before The Dwarves version.
Rob: There I an English act called The Dear Rita Sisters. It's three girls who dress up like Rita Hayworth and sing Big Band hits of the 40's. so thanks to a mix up the Derita Sisters got booked to play a show at a home for World War II veterans! We managed to bluff our way through it somehow and it was one of our best gigs!
Ant: Not funny, but a group of Nazi skinheads crashed a gig in Czech and started a big fight. The police tear gassed the venue.
Accidentally shaking hands with a Nazi at the Dolls Hut in Anaheim. - Didn't realise… felt repugnant afterwards.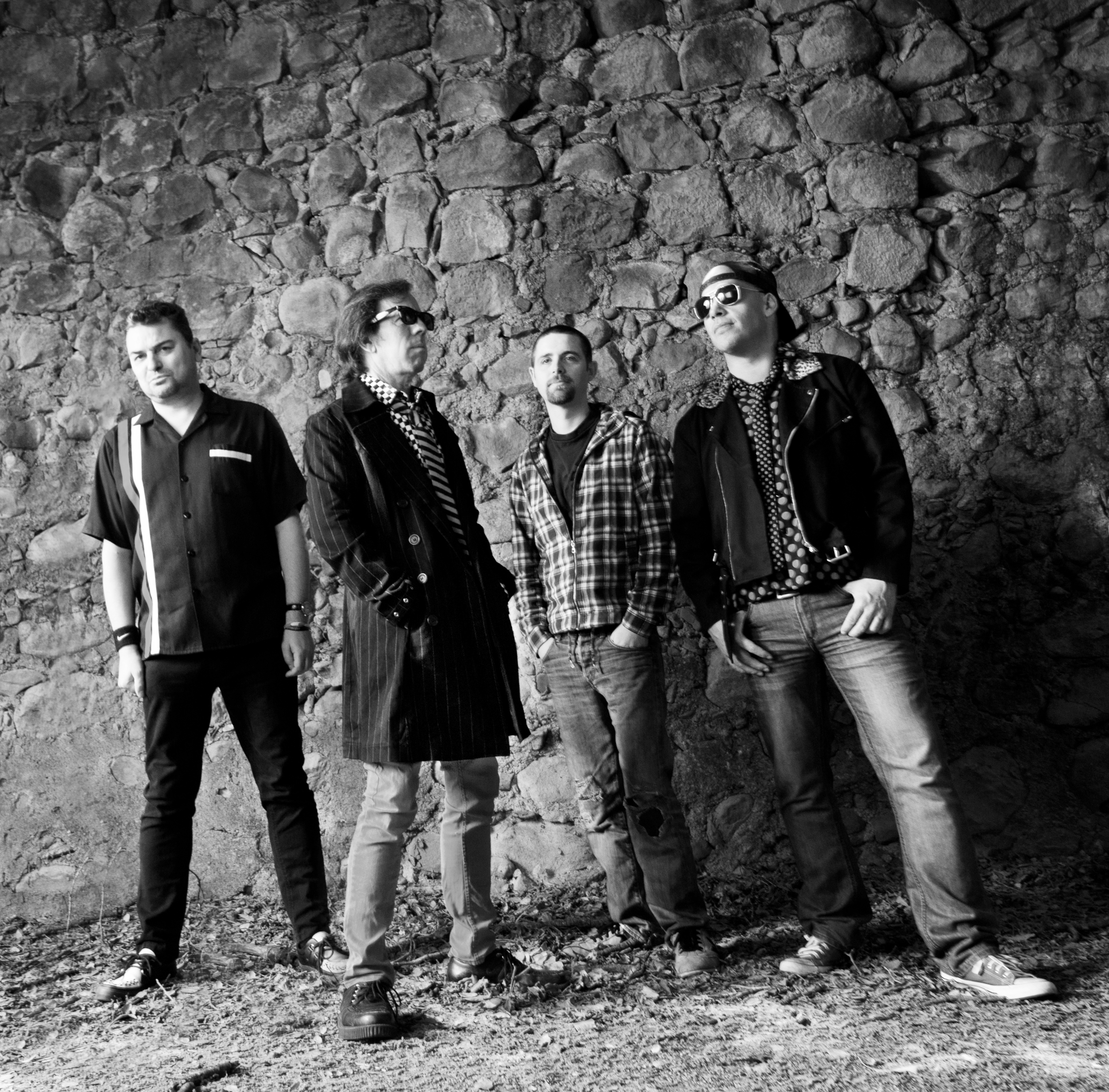 How does your audience look like? Which people do you miss on your concerts? Which is the biggest band you ever have played together with?
-Mark: Well we've played at Rebellion festival twice and will do so again this year so we will have played with all the big names in punkrock. We once became the backing band for Monkey, singer of the Adicts when he did a solo project. We played three shows as Monkey's Midlife Crisis and we opened for the newly reformed Dead Kennedys. Their first show without Jello Biafra. We've played with TSOL, Jughead's Revenge, U.S. Bombs, The Stitches, The Skulls, The Ataris, etc. The fans in the USA don't look like anything. Scruffy kids, students. I miss hot young girls at the shows. Punk rock usually generates a sausage fest if you know what I mean.
Ant: Audience is random, a mixture of young and old punks and pissed people.
Please rank your five favoriterecords, five favoriteconcerts and five most important things in life?
-Mark: These favorite lists are hard. Five favorite records in no particular order. Glad All Over by The Dave Clark Five. Space Ritual by Hawkwind. Fullham Fallout by The Lurkers. The first album by The Clash. Anything by The Fall. Favorite concerts is hard because I go back to the 1960s. Jefferson Airplane in 1969. Hawkwind in 1974. David Bowie in 1976. Buzzcocks in 1979. XTC in 1978. So many great concerts it's hard to list them. Five most important things in life? My son, Diet Coke, Asian and Middle Eastern food, movies and music.
Rob: For fucks sake! It changes week by week…1. Stranglers first album. Ramones first album, Buzzcocks first album. Saints second album. Sex Pistols only album 2. Stranglers in Southend 2015, Buzzcocks in London 1979, Cockney Rejects at the 100 Club last Friday, The Tubes when they played a tiny pub in London, Sub-Atomic Wasteland at Harrow Working Men's Club 1980. 3. The four fingers and one thumb on my right hand…
Ant: most important things: being vegan, motorbikes.
Is it boring with interviews? Is it much interviews??
-Mark: We've done hundreds of interviews in the last 23 years. I enjoy them. It gives me a chance to be famous for fifteen minutes.
Rob: Sorry? What was the question? I dropped off to sleep there…I'm just grateful someone cares
Ant: It's fun, but we don't get asked that often as we are a small band.
If you could choose five bands from the past and the history and nowadays and both dead and living bands to have a concert together with your band. Which five have you been chosed?
-Mark: Ramones, Buzzcocks, The original lineup of The Lurkers, MC5, the original Stooges. That's a hard one.
Rob: George Formby, Sex Pistols, Lenny Bruce, 50's Elvis and Sub-Atomic Wasteland
Ant: UK Subs, Vangelis
Is music a good way to get out frustration and become a nice person outside the music??
-Mark: No. For me music it's an outlet for me to be another person. An alter ego. After I get off stage I'm back to my old self. Like being an actor. I don't live through music, it's just something I've always enjoyed doing as a hobby rather than a profession.
Rob: If it's a hobby then like all hobbies it's a release from the routine of life. If you're a cunt, then you're still a cunt, but a cunt in a band…which makes you a double cunt..
Ant: You should be nice anyway. But its good fun to play.
Which is the most odd question you ever have got in an interview?
-Mark: Who has the biggest dick in the band? (Probably Rob but I haven't seen them all)
Rob: When we played the Veterans Home we got interviewed for their newsletter…and got asked where we found our dresses…??
Which is the question you want to have but you never get. Please ask it and answer it?
-Mark: Did you ever get laid on tour? No.
Rob: "can I book your band?"...I'd be too shocked to reply
Futureplans for the band?
-Mark: I always say the next gig could be the last. It's harder and harder for me to carry on. I'm getting old, I'm a single dad and have a lot of responsibilities and less and less time for music. The band is based in England now and it's hard to find time to come over and it costs a lot of money. But we'll keep going until it ends. We've already started writing songs for another album. Recording is always easy and fun. I'd rather record than play live anyway.
Ant: release an album every year, do a short tour every year. Keep playing until we are dead.
For yourself?
-Mark: Be a dad, travel, make films.
Rob: To get to the end of this questionnaire before I die
Ant: Find some work. build an eco shack to live in. plant some trees. grow long hair.
Wisdomword?
-Mark: Your Giant Beard Is NOT punk rock!
Rob: There is no justice – it's just us….(copyright Terry Pratchett.)
Frank: Nobody Cares!
Something to add?
-Mark: Our latest album LEGENDS NEVER DIE is available for a free download at CDBABY.COM. There you also find a 50 song greatest hits download called GOOD RIDDANCE TO BAD RUBBISH and a recent live album from 2012 called THE DERITA SISTERS DON'T LOVE YOU ANYMORE all for free downloads. Go get them.
Rob: Just a pinch of cayenne pepper…but not too much and only at the final stage of cooking
Ant: The things you own end up owning you.