Defiance sounds tough, looks tough, but are they so tough always, please look after in this interview and see what you think. It was done in the beginning of December 2004.
A little history of the group?
-(PLEASE CHECK OUT HISTORY PAGE AND INCLUDE WHAT YOU SEE RELEVENT)
Please tell me a little about every member, age, family, bands beside Defiance, bands before and something bad about every one?
-WE ARE ALL AROUND THE SAME AGE ME AND BRIAN ARE 33,KYLE IS 30 AND OUR NEW GUITARIST QUENTYN IS 35. BRIAN IS THE ONLY ONE THAT HAS A KID HE HAS A SON THAT IS 8 YEARS OLD.
I think you´re getting better for every album I have heard, many bands became worser and worser, why do you think it so?
-I THINK BANDS TRY TOO HARD TO PROGRESS AND GET BETTER WE JUST STICK TO WHAT WE KNOW AND PLAY WHAT WE LIKE TO PLAY EACH RECORD IS DIFFERENT BUT THERE ARE CERTAIN THINGS THAT STAY THE SAME WITH EACH RELEASE.
In the old song Rip off you give the bands Green Day, Rancid and so on some shit, what do you think about Green Days new political stuff?
-I DONT THINK THAT ANY MILLIONARE CAN HAVE A REALISTIC VIEW OF WORKING CLASS POLITICS, OR ANY SENSE OF REVOLUTIONARY SENSIBILTY. BUT THEN AGAIN I HATE GREEN DAY SO I AM NOT REALLY THE PERSON TO ASK.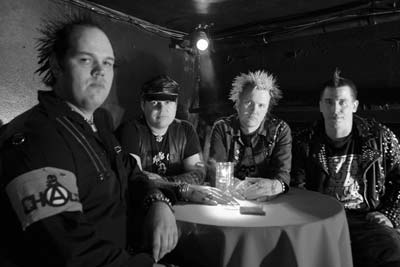 Can music change anyones life? What about all the artists which going against Bush, is it only for their own career or what do you think?
-I THINK MUSIC CAN INSPIRE PEOPLES LIVES AND VIEW OF POLITICS AND TO A CERTAIN DEGREE IN THAT SENSE INSPIRE SOCIAL CHANGE. I DON'T REALLY SEE THAT BEING ANTI BUSH IS DOING ANYBODY ANY GOOD MONETARILY..I THINK OR AT LEAST HOPE THAT THE PEOPLE WHO ARE STANDING UP AGAINST GEORGE BUSH ARE BEING GENUINE..I DONT SEE HOW IT COULDN'T BE I MEAN THE BUSH ADMINISTRATION IS DOING SO MANY THINGS HERE IN THE U.S AS WELL AS WORLDWIDE THAT ARE JUST COMPLETELY DESTRUCTIVE TO HUMANKIND WORLDWIDE.
Politics and music , does it goes hand in hand?
-FOR US I WOULD HAVE TO SAY SO.
Which/Who is the best political writer and then I mean in music?
-I DONT KNOW I WRITE MOST OF THE LYRICS AND WE ALL WRITE THE MUSIC TOGETHER.
What does punk mean to you, is it only a word or is it a lifestyle?
-FOR ME PUNK IS A LIFESTYLE.
You look very punkish(as many of the other bands on Punkcore), is it important to show who you are in this way?
-I THINK THAT IT'S IMPORTANT TO LOOK THE PART PLUS WE'VE ALL DRESSED LIKE THAT FOR SO LONG I REALLY DONT THINK TO MUCH ABOUT IT ANYMORE.
How does your audience look like, is it the same or is it ordinary people or which type of people come to your concerts?
-IT'' S MOSTLY SPIKEY PUNK KIDS BUT THERE ARE ALL SORTS THAT SHOW UP.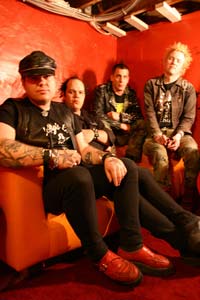 Why a Menace cover on the new CD, you have done Angelic Upstartscover also, have you done anything more?
-WE ALL LIKE THE SONG AND THOUGHT IT WOULD GO WELL WITH THE SONGS ON THE NEW RECORD.
WE'VE DONE CLASH,MOTORHEAD,SEX AIDS AS WELL.
What does a cover good, is it to do it as it sounds before or is it to do it completely different?
-WE TRY TO KEEP THE SONG AS CLOSE TO HOW IT WAS WRITTEN BUT WE ALSO TRY TO THROW OUR SOUND IN AS WELL.
What do you know about Sweden? What is typical swedish?
-I USUALLY THINK OF THE EARLY SWEDISH BANDS WHEN I THINK OF SWEDEN THE DISCHARGE INFLUENCED SPIKEY HAIRED BANDS LIKE ANTI CIMEX AND MODERAT LIKVIDATION,AND LATER STUUF LIKE WOLFPACK AND DRILLER KILLER.
How is it to be on Punkcore? What´s the best and what´s the worst?
-WE HAVE A REALLY GOOD WORKING RELATIONSHIP WITH PUNKCORE THERE REALLY HASN'T BEEN ANY BAD EXPERIENCES FOR US.
In Last Night you sound a little like Chron gen and in many other songs you sound a little like english punkbands, why do you sound english and not american, is/was the english punk better?
-WE ALL GREW UP LISTENING MOSTLY TO ENGLISH PUNK THAT'S JUST WHERE OUR INFLUENCE LAYS.
THERE ARE SO MANY GREAT BANDS FROM BOTH COUNTRIES I COULDN'T SAY WHICH IS BETTER THEY ARE JUST DIFFERENT.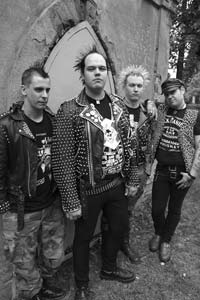 It feels like if you go back more and more in time musically for every record you do, comment on that?
-WE JUST PLAY WHAT WE LIKE.
How is it to live in USA today, are people afraid of more terroristattacks or what?
-I THINK FOR THE MOST PART THE BUSH ADMINISTRATION WANTS TO KEEP US ALL AFRAID OF THESE TYPES OF ATTACKS. IT IS MUCH EASIER TO CONTROL PEOPLE WHEN THEY ARE AFRAID.
Is there going to be any more terroristattack of the type which was on 11th of september 2001?
-I GUESS WE'LL ALL SEE WONT WE.
How did you react when it was?
-I THOUGHT IT WAS HORRIBLE AS DID EVERYONE ELSE.
Please rank your five favouriterecords, five favouriteconcerts and five most important things in life?
-IN NO PARTICULAR ORDER.
COCKNEY REJECTS- GREATEST HITS VOLUME 1
CONFLICT-INCREASE THE PRESSURE
PARTISANS-TIME WAS RIGHT
SEX PISTOLS-BOLLLOCKS
CLASH-S/T
First, last and most expensive record ever bought?
-$45 KILLJOYS EP
Most embarrassing record in your collection?
-NONE
The record you bought just for the cover but you get so disappointed when you listened to it?
-CARNAGE
Is it many interviews, is it boring? Which is the best interview you ever have done?
-IT JUST KINDA SEEMS LIKE YOU ANSWER THE SAME QUESTIONS OVER AND OVER AGAIN BUT IT'S IMPORTANT.
How much do you sell of your records?
-MILLIONS
Futureplans for the band?
-WE ARE IN THE PROCESS OF BOOKING A CANADIAN/FULL U.S TOUR AS WELL AS WORKING ON A EUROPEAN TOUR LATER IN 2005.WE HAVE JUST STARTED WRITING NEW SONG FOR ANOTHER LP HOPEFULLY TO BE OUT IN LATE 2005.
Wisdomword?
-PINEJOLLY
Something to add?
-THANKS ALOT TO PETER FOR THE INTERVIEW AND THE INTEREST HOPEFULLY WE'LL BE BACK TO EUROPE THIS YEAR.CHEERS UP THE PUNKS.
DEFIANCE-PORTLAND 2004
EMAIL:PDXPUNKS@AOL.COM
WEBSITE:
http://www.defiance-punks.com/
DEFIANCE
1951 W. BURNSIDE
NUMBER 1654
PORTLAND, OREGON
97209 USA