Deathskulls started to play 2003 and now I have got a hold of them in augst 2007. They sent me a very good CD……and now an interview.
When and why did you start to play?
-We formed the Deathskulls in the summer of 2003. We all wanted to be in a band playing old school hardcore.

Please tell me a little about every member in the band, age, family, interests, work and something bad about every one? Both new and old members? What do they do nowadays?
-Ok, we'll start with me. I'm Niki Nailbomb and I play drums in the Deathskulls. I'm 24 and live in Southend with my fiancé and my cat. My interests include hardcore/punk music and I have a season ticket for Southend United. I tend to piss the band off on tour as I worry about things too much and moan a lot. I work for Fords in Dagenham engine plant.
On guitar is Mad John he is 28 and lives in Southend too. He has son called Ozzy who is six. As well as a love for Hardcore music John is well into Hip hop and loves Black Sabbath. Johns well laid back andworks as an electrician.
On bass is Lovely Aaron who is 21. He joined about a year ago and has just moved to Southend as well. He lives with his girlfriend Alice and works at a Fiat Tractor Plant in Basildon. His interests include music and running Never Healed Records. Aaron helps the scene out alot but he gets on my nerves!
Old members include Mark who played bass and left early 2006 due to work commitments and Dave Skull left us after the Tour of Sweden due to him being 41 years old and retiring from Punk Rock.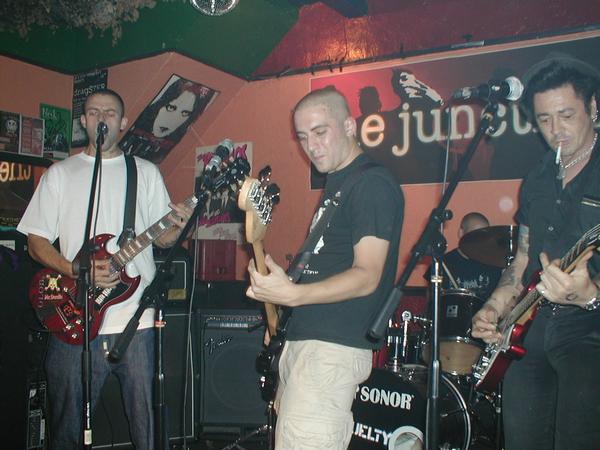 You really sound the old english way? Wonderful? Howcome?
-We are influced alot by the 80's style hardcore and punk. We think that is what sounds the best!

What does punk mean to you? Is it only a music style or is it a lifestyle?
Definitely a lifestyle. We have all grown up with punk rock and consider it as a part of us. Having been to Europe on tours meeting other punks you see that the essence of punk is the same everywhere and that it is a true community.

My review on your record sounds like this, what about it?
DEATHSKULLS-THE REAL DEAL(CD-REJECTED RECORDS REJ 1000040) So niiiice to hear som classic punkrock in the same spirit as UK Subs/Exploited and that type of bands. Deathskulls plays fast hardcore in the same style as those groups and right now I feel really irritated so it feels really good with a record like this. You cannot get so long chance to paus between the songs but I..m really satisfied with that. English punk which I always have liked and I notice after this that I still like it very much. It..s maybe nostalgia but then it..s fucking nice nostalgia.(EIGHT) 3/8-07
Thats a wicked review, thanks. We play music we like and believe in - if others like it - all the better. So far we have had a good response from people with regards to this new album.

Is there any good bands around?
-Where do I start!? There is Injury Time from London and Abandon Ship from Brighton. We recently played some gigs with Nothing In return who are also from Southend and we agree with everyone who saw them that they are an excellent band. Get Fucking Dead from Southend and Black Radio from Essex are also cool.

What do you know about Sweden?
-Well, we know Alice Aarons girlfriend comes from Sweden and that Ikea does too! Apart from that we did a short tour in November 2006. Due to dodgy planning we didn't get to see much of the Country but we all thought the gigs played and people we met where well cool.

Have you heard any good Swedish bands?
-I like some old school Swedish bands like Mob 47, Totalitar and Avskum. We have also played with Bruce Banner who are wicked and The Rats. When I was in Ex-catherdra we played with a band called Blisterhead who were ok.

Is it a good label you..re on?
-We aren't really on a label as we have had several releases put out on many different labels.

How would you describe your music in three words?
-Fuck you Punk.

Which type of people comes to your concerts?
-We are pretty lucky in the fact that people from both the Punk and the Hardcore scene accept us.
<![if !supportLineBreakNewLine]>
<![endif]>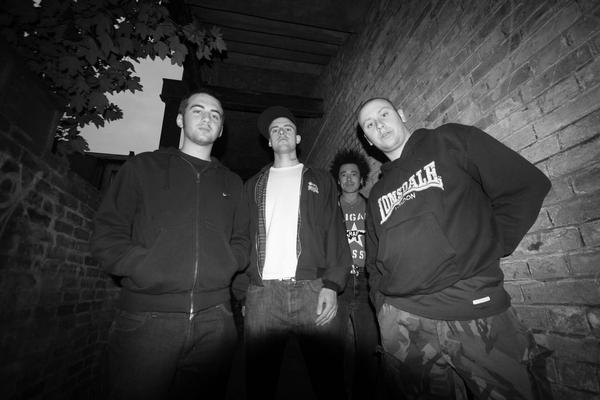 <![if !supportLineBreakNewLine]><![endif]>
Which type of people do you miss on your concerts?
-Don't really miss anyone. Everyone has there own taste if they don't wanna see us it's up to them!

When you do a song, which is most important, is it to have a good lyrics, a good melody or to have a refrain that people remembers?
-Bit of it all.

Politics and music, does it go hand in hand?
-Yes. Music is THE way to get your message across. You may not always be right but it will always get heard.

Best political band/artist?
-Inner Terrestrials. Definitely. Wicked.

Please rank your five favourite records, five favourite concerts and five most important things in life?
-Knuckledust - Time won't heal this. The Restarts - Slumworld. Circle Jerks - Group sex. Peter and the Test tube babies - Pissed and Proud. Negative Approach - Total Recall.
Concerts - The Pogues at Brixton. Rancid at Norwich. Olho De Gato at Disneyland squat in Holland. Knuckledust 10 year anniversary at the 12 bar in London. The Filaments.
Music. Football. Cider. Being Happy. Family.

First, last and most expensive record ever bought?
-First - Nevermind the Bollox. Recent - The Process, a Scottish Hardcore band. Expensive - £25.00 First pressing of Buzzcocks Spiral scratch 7" EP.

Most embarrassing record in your collection?
-Europe - the Final Countdown LP. I bloody Love them though.

The record you bought just for the cover....and became so disappointed on??
-Can't remember the Name and can't be bothered to look for it but it was some Christian Hardcore band. The cover looked really good but I only played it once.

How is it to live in your homecountry otherwise, I mean politically?
-As in any society, any country and any era you will have people who are content and people who are not - with the current political climate. I think the majority of the population are very apathetic at the moment.

What do you think about the government?
-Personally I think Tony Blair made a complete hash of our Country. He even made a Hash of his own Party. We now have a Premier and only time will tell if he does anything for the greater good.

Is England taking to much responsible in the world and war here and there?
-Yes.

I understand that you being compared to other bands, which are those bands?
-Usually Negative Approach and Poison Idea type of bands.

Do you care about reviews? Which do you trust the most, the good or the bad ones?
-IT's always a boost when you get a good review. At the end of the day we just go out and play music we like.

Which are the most peculiar you have got?
-Not really had a peculiar review!

Which is the biggest audience you have played for? The amount of people I mean?
-Also at a squat party in London we played for 400/500 people.

Which is the biggest band you have been a support act to and which is the biggest one you have had as a support act?
-Desmond Dekker, Murphy's Law. The Varukers. Stza Crack from Leftover Crack.

Futureplans for the band?
-We have 2 split 7" out in the near future and we all hope to be out in Europe next year.

For yourself as a human being?
-Get Married to my mistress.

Wisdomword?
-Stay cool.

Something to add?
-Thanks for the opportunity. Stay cool and stay Punk blah blah blah. Cheers.