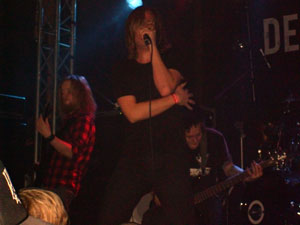 As You Drown, Sticky Fingers 090910
Samma kväll som jag såg bandet "Despite" fick jag också höra det för mig tidigare okända bandet "As you drown", som består av fem rätt unga killar från Borås (om jag inte är felinformerad). Här var det bra mycket mer ös på scenen än förstnämnda band. Tung och ösig dödsmetall levererades även här och det lät faktiskt riktigt bra, även om nämnda genre inte är den del av rock'n'rollen jag oftast lyssnar till. Sångaren Henrik imponerade nog mest, han kändes mycket närvarande och scenvan. Det var lite Howlin' Pelle över honom och hans rörelser över scenen, även om inget i övrigt på något vis alls påminde om nämnde Pelle och The Hives. Publiken var det bra mycket mer fart på nu också, även om Henrik kastade ur sig frågan "Är ni på någon jävla bio eller? Kom igen nu!" Publiken är inte sen att svara och jag kunde inte annat än le stort för det är en härlig syn att se headbangarna tillgivet ge svar på tal. Det låter som sagt bra, mycket tack vare rejäla trummor, stark bas och ruggigt mycket ös. Måste tyvärr dock erkänna att jag inte kan bedöma några texter, för säga vad man vill om growling – den må vara meditativ för mina öron men den är inte den mest artikulationsvänliga sångtekniken, men Henrik utförde det galant! Kort sagt ett kul band med en sångare med grym star quality!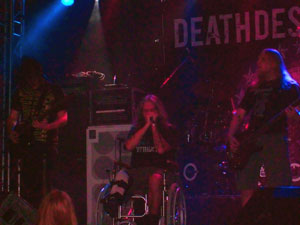 Despite Sticky, Fingers 090910
Jag var på Sticky denna kväll för ett helt annat band, men fick nöjet att även lyssna till Göteborgsbandet Despite. Eftersom detta var en helt ny bekantskap för mig så hade jag inga som helst förväntningar. Bandet rockar death metal rakt upp och ner och det låter helt okej. Musiken är tung och skön och sången en meditativ growling – jag står mest och ler nöjt. Spelningen i helhet sammanfattar jag med ett ord: Hängivet! Sångaren Alex äntrar scenen med skadat ben och genomför spelningen sittandes i en rullstol (allt på grund av en Triumph som slog tillbaka när den skulle kickas igång.. Aj!). Gitarristen Timmy meddelar efter första låten att det är hans gitarr som borde sitta i rullstolen istället, fast det tog sig nog rätt bra ändå tycker jag. Hade dock önskat
höra mer av basen, men det gör jag i stort sett alltid. Bandets "sjätte medlem" Annie, publikstartaren, kämpade på bra framför scenen men publiken ville sig inte riktigt – kanske bidrog rullstolen till en viss försiktighet? När så bandet tackade för sig och Alex lade mikrofonen i rullstolsfickan så log jag stort igen – Hängivet var ordet!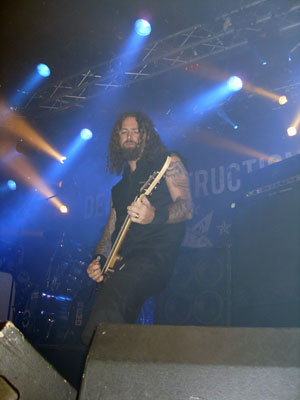 Death Destruction, Sticky Fingers 090910
Så var det äntligen dags för mig att se detta band live. Ett band jag hört några låtar av och än mer gott om. Jag var klart positivt inställd och min förväntan var att få höra något riktigt tungt och bra. Jag blev inte besviken. Klart är ju att bandet knappast är några nybörjare, då det består av 2 delar Evergrey, 1 del Hammerfall och 1 del Dead by April. Men i mina öron finns inte många spår av nämnda band, vilket i detta sammanhang är ett mycket gott betyg! Sångaren Jimmie Strimell är inte bara en ruggigt duktig sångare, han vet också hur en publik ska kickas igång och efterlyser både lite "mer headbanging" och frågar "Var är moshpiten då?" Varefter några tappra försöker bilda önskad "pit" och visst headbangas det, även om de flesta i publiken mest nöjt och lite försiktigt gungar med i musiken. Det är faktiskt omöjligt att stå still, för det här är riktigt tungt och skönt! Mest tilltalande är att de nöjt sig med en gitarr, en bas och trummor, vilket är min absoluta favorituppsättning av ett rockband. Nämnas ska också att Jonas Ekdahl hanterar trummorna riktigt njutbart och det är nog den främsta anledningen till att jag gillar deras musik. Jag lyssnar mer än gärna mer till detta band - Death Destruction rockar rejält tungt och jag gillar det!
Vicky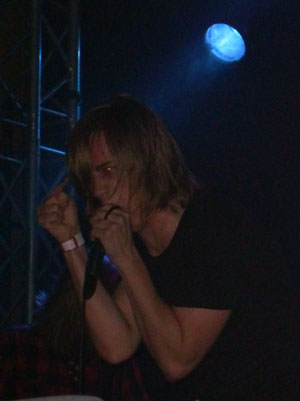 As You Drown, Sticky Fingers 090910
The same night that I saw the band "Despite" I also had the opportunity to hear the to me earlier unknown band "As You Drown", who are five young guys from Borås (if I'm correctly informed). Now there were much more life on stage compared to the band mentioned above. Heavy and fast death metal and it all sounded really good, even though this genre of rock'n'roll isn't my number one choice. The singer Henrik was the one that impressed me the most, he felt really present and comfortable on stage. He sort of reminded me of "Howlin' Pelle" in his way of moving on stage, even though nothing at all in anyway reminded of the mentioned Pelle and The Hives. The audience was also much more "awake" now, even if Henrik shouted out the question: "Are you watching some fuckin' movie or what? Come on now!" The respond from the audience came to no hesitation and I couldn't do anything but deliver a huge smile, because there's just a lovely sight to se the "headbangers" give such an affectionate response. As I said it all sounded good, much because of the great drums, strong base and a performance that really was alive! Unfortunately I have to confess that I can't form an opinion about the lyrics, I mean.. say whatever you want about growling – My ears can find it very meditative but it's not the most articulate-friendly singing technique, but Henrik performed it very gallant! In not so many words that I've already used I can sum it up to: A fun band with a singer who has a high grade of star quality!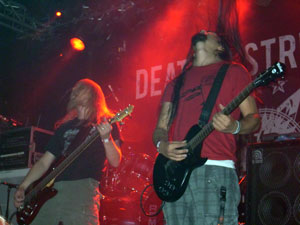 Despite, Sticky Fingers 090910
I was at Sticky this night to see another band, but was also given the pleasure to listen to the band Despite from Gothenburg. Since this was a totally new acquaintance to me, I had absolutely no expectations at all. The band is rockin' death metal straight on and it sounds completely okay. The music is pleasantly heavy together with meditative growling – I find my self mostly standing there with a satisfied smile. The concert is best described with one word: Devotion! The singer Alex is "boarding" the stage with a wounded leg and is doin' the hole show in a wheelchair (all because of a Triumph which kicked back when it was to be started…Ouch!). The guitar player Timmy announces, after the first song, that he think it should be his guitar in the wheelchair instead of Alex.. But I think that it all came to a good end anyway. My only wish was to hear more from the base, but I always want that. The bands´ "sixth member" Annie, the "wake up the crowd"-person, was working hard in front of the stage but the audience kept still and cool – Maybe it was the wheelchair who created a spirit of cautiousness in the little crowd? However, when the last song was over and the band said their thanks, Alex just put the microphone in the pocket of the wheelchair and I again had a big smile of joy – Devotion was the word!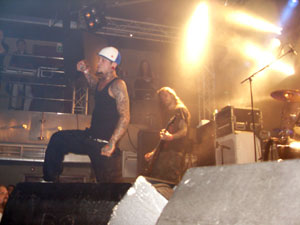 Death Destruction, Sticky Fingers 090910
So finally it was time for me to see this band live. A band I've heard a couple of songs from and even more great comments about. I was clearly in a positive mood for this and my expectations were to hear something really heavy and good. I wasn't disappointed. Clearly the band is not made up by a bunch of beginners, containing 2 parts Evergrey, 1 part Hammerfall and 1 part Dead By April. But in my ears there weren't many traces from the just mentioned bands, which in this situation is a very good grade! The singer Jimmie Strimell isn't just a really great singer, he also know just how to start up the audience and asks for both "more headbanging" and says "So where's the moshpit then?" From this a handful of plucky metal people are trying to form the whished for "pit", and yes there are headbanging goin' on even though the majority of the people there mostly are sort of carefully swinging their bodies pleasantly to the music. I find it impossible to stand still, because this is really heavy and good! Most attracting to me is the fact that the band has settled with just one guitar, one base and drums, for me this is the ultimate line up for a rockband. Mention to be is also that Jonas Ekdahl is handling the drums in a really enjoyable way, which I think is the most important reason to why I like their music. I really want to hear more from this band – Death Destruction is rockin' really heavy and I like it!
Vicky