Nizze from Dead Pollys sent me their first album and a small taster from the upcoming album. Really good music as usual when Nizze is involved. October-2018

PH

OTO:PERNILLA LARDING

A little story about the group?

-Dead Pollys started in 2012 and I wanted to continue where Rummies (formerly Mansic) had stopped. The goal was to do that with people I did not know before. The first version of Dead Pollys became more rock with a little folk-feeling. It did not feel completely "me", so after the first EP, when Juba stepped in as a bassist, it started to be "punk" again.

Tell us a little about each member, age, job, family, band before and band next to it? I know you've had SIC, Mansic, and been in Sighstens Grannar?

-Nizze (me): has played in Sighsten's Grannar, SIC and Mansic, but also in some other small bands such as Nepente. Sometimes I'm doing dirty little punk singer/songwriter in a project called Eldinger. I live with my partner Pernilla and a son Loke who lives with me part time (also he's Clash-crazy which is lovely) and I have three grown daughters and a couple with grandchildren. I work withIT and do a bit of design and build web.

Juba: Age: Old enough to know better, young enough to not care. Girlfriend+ daughter Band before: Sir Reg, Darxtar, Pseudo Sun. Band on the side: Banshee Rebels (Irish cover), Achilleus (progressive, psychdelical rock, etc.).

Martin: 50 years old, wife, three daughters and a bonus son. Work as a consultant with sustainability and social entrepreneurship. Has most played in coverband in the last 15 years. Before that, various short-lived rock bands. Also plays drums in the soul-cover band The Main Thing.

I can hear a lot of streetpunk, some folkrock and some 77-punk, am I right? Was it better sooner?

-I have to say no, it was not better before. But I love the 77-punk and it simply appeals to me. Like streetpunk. It's a bit of what I'm "and" it's a good reflection in the music of course.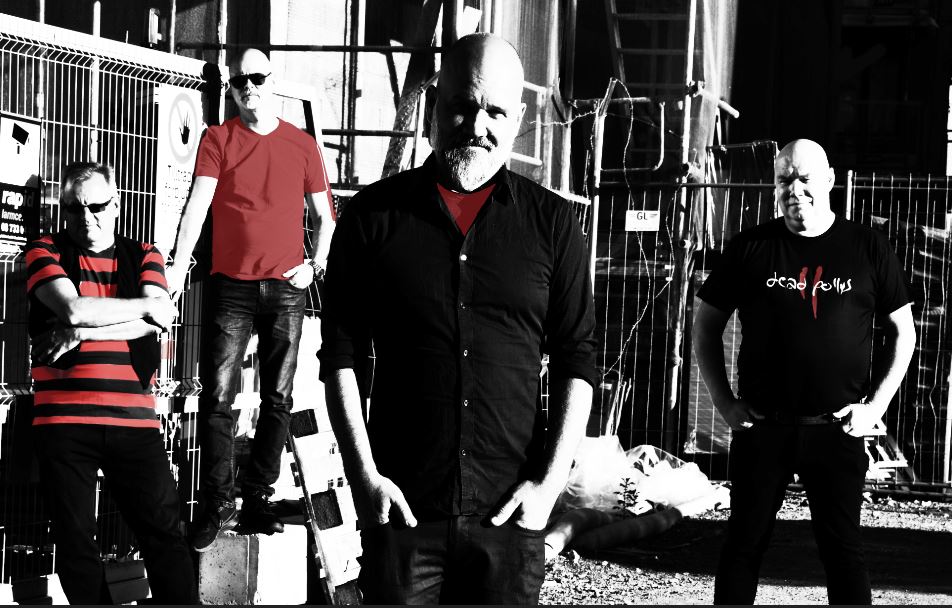 Dead Pollys, are you satisfied with the name? Thinking about Monty Python, but where does it come from ?! If the best band name had not been taken,which would you have chosen? I mean which is the best band name?
-Hehe, yes people usually connect to Monty Python and that's okay, because I like their craziness. The name comes from my mind that there would be more kelt-punk from the beginning. Polly, as a variant of Molly. There are so damn many "Molly bands", so it went away. Death is very definitive. If you're dead then you are ... yes, dead. It's impossible to get away ... so Dead Pollys. Yes, fan, I think the name works well.
The Clash is the best name, but that's enough because of what they meant to me and not for the name itself. I liked SIC, but that was not me who came up with that.
What's the best thing about playing live?
-"One can spit your frustration with beautiful people, both those in the band and in the audience.
Where is the best to play, where is the worst?
-Difficult. Sweden is difficult. It rarely come people, but we may not attract the Swedish audience. The best for me is the half-big club in Poland or old East Germany. Damn how good it will be.
How is it to play this kind of punk in Sweden today ??
-Tricky. We get so much better response in both Europe and the United States.
How would you describe your music in three words ??
-Classical real punk.
Vad betyder punk för er, är det bara ett ord eller är det en livsstil?
-Det är ett mindset tycker jag. Attityd. Det var nog mer en livsstil förr. Jag älskar att punken är så tillåtande. Du kan lira som en kratta, men ha kul som fan ändå. Efter tag kanske du lär dig.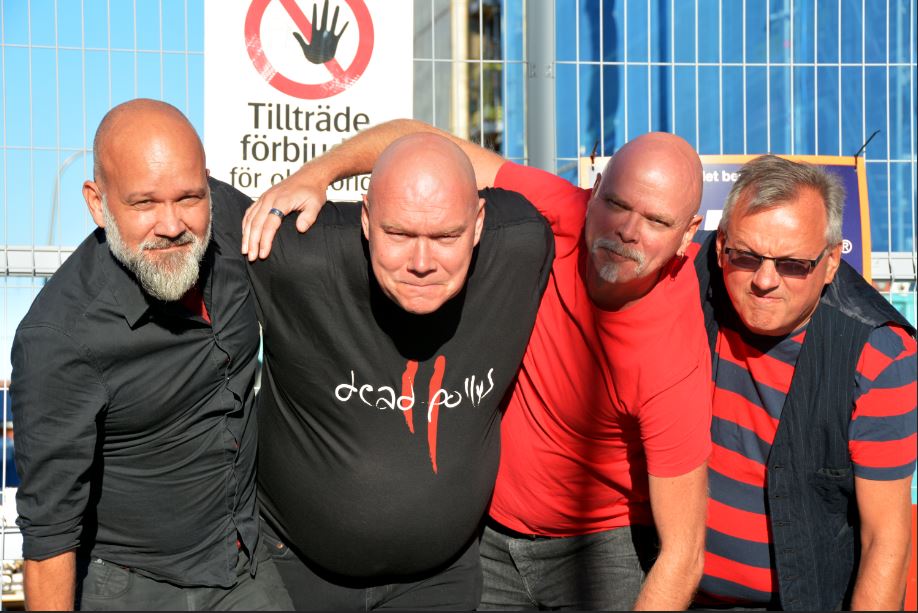 Hur ser ni på nedladdning, mp3 och liknande?
-Saker förändras. Det är ju guld för DIY-scenen och man kan få chansen att höra skitcoola band från länder man inte ens visste fanns.
How do you think it's to live in Sweden today, politically? SD? KD? Did you vote?
-I'm at the left as a hell! Hardly any SD or KD, the new record contains a clear anti-SD song, "Jimmie Jimmie". It seems to be shit with the whole normalization of racism and nazification that is taking place all over the world.
Are there any good bands in Sweden today? In your home town?
-Yes, very good crap there. Belta53 is good and fun to watch because they are sometimes completely "off" and find on strange gadgets and it is "punk", Smash It Up is really good and DLK of course. I'm not much for trallpunk, but they do their race and do it good. Systemkollaps is really good, and so we have EPA, Psykbryt ... and so on. So there are many good bands.
Do you play anything outside Sweden?
-We have been touring the United States on the east coast with Down By Law and London. We are planning a European tour with the help of Schoelcke in Germany for 2019 right now.
Other good bands from abroad?
-Ohoo ... so much. There are so many. The Clash, Stiff Little Fingers, Ramones, The Boys, Damned, Rezillos, Vibrators, but also a little Dropkick Murphy's or why not Pouges or Flogging Molly. I know that the other boys listen to even more music that spans far beyond punk. Good music is good music, simply.
Your texts, what are you influenced by? Never in Swedish? Marching Boots is about what?
-It calls it poster-punk and sometimes it suffices. We are influenced enough by things we dislike, and then it becomes political sometimes. Marching Boots is about how the nazification increases and how the brownies' opinions are normalized and get more and more space. It is also about ordinary people who, in frustration, choose a racist / fascist alternative without actually understand it.
Is there anything you will never write about?
-No, not what I'm can come up with. It's all about HOW you write it rather than WHAT. Personal pursuit of ordinary people is not our thing, so it's not so much chance we write that way.
Politics and music, do you always belong? You do not seem to have much leftovers for religious fanatics and leaders at all?
-No, it does not always belong and must not be done. But to me personally, the music is multicolored. First, it's only music that makes me feel damn good, but it's also a platform where I can say what I think is fucked up.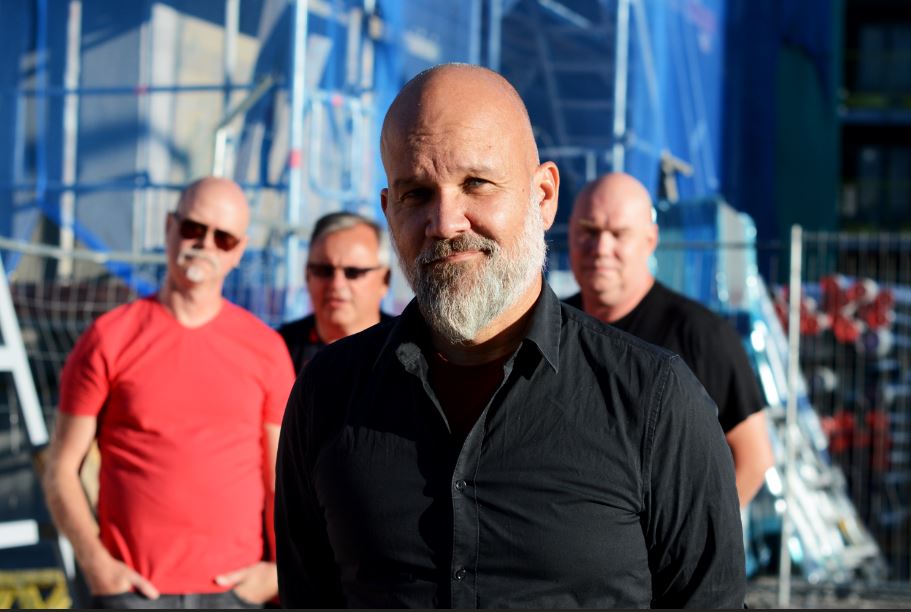 Best political band/artist?
-The Clash, again. As you understand they have meant a lot to me.
Do you think music can change someone's life, then I mean lyrics etc?
-To a very high degree. You are inspired by well-written texts. Get pissed off. Happy. Good and bad, maybe.
Your cover is really good on your CD, who has done it. Is it important to have a cover so you understand what kind of music you play? What is your favoritecover all the time? ...
-Thanks, I'm (Nizze) did the cover. Yes, I think it's important with all forms of graphical communication. Cover, photos, logos, etc. It's a bit like the first time you meet. But, it does not always have to reflect the music, just the feeling you want to awaken.
Is it important to get out physical discs? Vinyl or CD or both ? Is there any good record store in your vicinity?
-No, so important isn´t it. But á hell so much more fun. Pet Sounds is in town and right near me.
Please tell me something really fun that happened during your career on stage or behind stage etc?
-Uh-oh. Do not get me going. You could book an entire week of anecdotes from our tours. Dead Pollys in the US driving towards traffic in the middle of the night after we lost a little bit between two gig. Or how about Mansic who is pulled on the rope of a crowded car of nuns in Poland. The guitar I received (!) Of some Americans on Long Island in the midst of our gig. They came up on stage and gave me a Captain America guitar (available as video on Youtube). We'll probably stop here. You can get an entire article with similar stories.
How is your audience looking like? Which type of people comes? Do you miss any kind of people?
- A little older (not like us maybe) who like old school. I would love to see more young people on the gigs. Who have the energy to run around in a really beautiful moshpit.
Please rank five favorite discs, five favorite concerts?
-Juba's Favorite Discs: Hawkwind - Space Ritual, Deep Purple - Made In Japan, Help Yourself - The Return Of Ken Whaley, Pink Floyd - Wish You Were Here From The Graaf Generator - Godbluff.
Juba's favorite concerts: Gillan - Draken Stockholm 1982 ?, Hawkwind - Hammersmith Odeon London 1984, UFO - Stockholm 1997 ?, Man - Jönköping 1998, Bang - Geronimo Stockholm 2017.
Martin's five records: Ramones-Ramones, Queens of the Stone Age-Songs for the Deaf, Refused-The shape of punk to come, Radiohead-OK Computer, Pink Floyd-Wish you were here
Martine's Fave Concerts: John Mellencamp 1987, Massive Attack 2016, Jungle 2016, IAM 2016, Radiohead 2017
Nizze's Favorite Records: The Clash - The Clash, The Stiff Little Finger - Hanx, The Clash - London Calling, The Ruts - The Peel Session Album, 999 -999
Nizze's favorite concerts: Joe Strummer and The Mescaleros - Hultsfred 99, Buzzcocks - Melody (Year?), Stiff Little Fingers - Kraken 2018, GBH - Jönköping sometime in the 90s, Dropkick Murphys - Fryshuset Club (Year?)
Is it boring with interviews ??
-No, hell, that's pretty fun. Then I ccould "talk". And so it's a way to appreciate what you've been up to when answering a lot of shady questions.
If you could choose five bands from history, dead and alive to have a concert with your band, what are the dreambands then?
-Juba had wanted to share Stage with Band I'd liked to see: Jimi Hendrix, Led Zeppelin, The Clash, Captain Beyond, Pink Fairies.
Martin had wanted to share the scene with AND see: Joy Division, Clash, T Rex, Nick Drake, Radiohead.
Nizze had wanted to share with: The Clash, Stiff Little Fingers, Ramones, Dropkick Murphy's and Cornelis Vreeswijk
Is music a great way to get frustration and become a nicer person? Are you angrier today than you were young punks?
-Yes, it's a nice way to get out of frustration and maybe you get a little bit better then. No, not more angry, I'd say as angry as then. But, I may not spit out everything in the same way today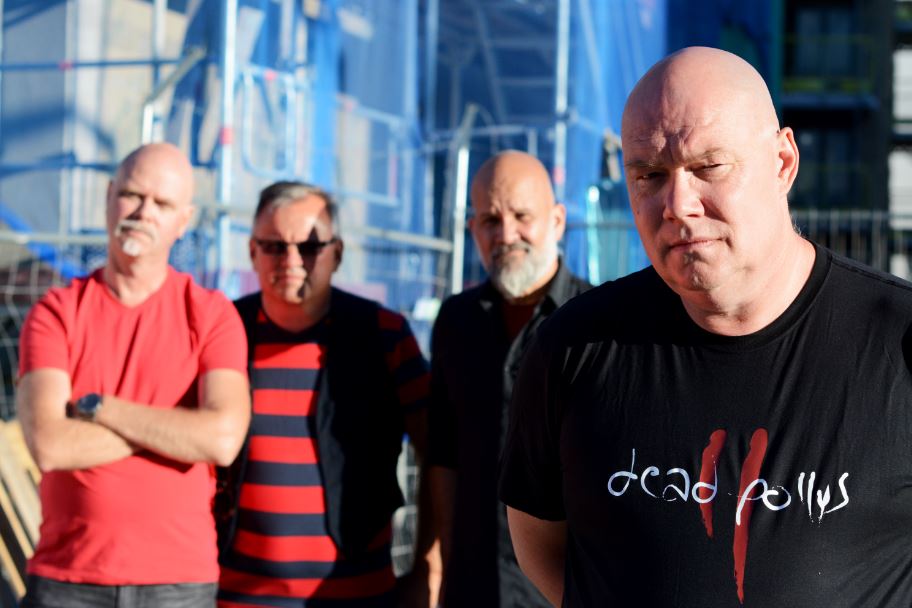 What is the strangest question you received in an interview?
-It must be the question of the strangest question I have received.
What is the question you never get, ask it and answer it?
-How come that you are play so much throughout the world? Yes, I do not know, maybe because we think it's so damn fun to play live ...
Future plans for the band?
-Tour March 2019 and a new record - Strummerland - on Too Loud Records. I hope we get the chance to play a bit more often and that the Swedish audience will discover us.
For yourself?
-To try to change some crap so I do not die young.
Words of wisdom?
- "When it's cold, it's just cold!" Also a quote from Not Alone on the upcoming record Strummerland. People have become even more damn self-centered, which is why all nazis have come. We have to take care of each other, we are not alone!
Something to add?
-Yes, a big damn thank you to all who stand up for Dead Pollys and believe in us! Can I send hellos to my family? Hi Loke! Hi Pernilla!
Mats has not responded to some of the questions because now he is sadly downbed...cheer on you brother