Dead on a Friday have a name which you remember. Dave and Jessen meet each other four years ago and started the band. Dave send a record to me and then an interview…all of this happened in September-october 2006.
History?
-Dave: Me and Jessen met about four years ago after he answered my flyer at a local guitar store in Queens, NY to start a band. We started gigging and recording right away, but went through two drummers and a lot of stops and starts before we had our current solid line-up, which includes Nick on drums.

Please tell me a little about every member: age, family, work, interests and something bad about everyone?
-Dave:
Age - 24
Family - two parents and a sister
Work - freelance artist and teacher
Interests - bagels
Something bad - I have too many bad qualities to name, but my therapist says I should focus on the positive
Nick:
Age - 26
Family - parents, little sister
Work – nope, don't care much for it, I am a slacker
Interests - sports, smoke, and beer
Jessen:
Age – 26
Family – a mom and a few friends
Work – correcting spelling mistakes
Interests – rollerblading and video games
Something bad – I forget more stuff than I learn

My review of your record is like this:
DEAD ON A FRIDAY - SOMETHING´S WRONG (MINI-CD)
I always think that's more difficult when it's not so many songs what you're going to hear when you decide what you think about a group. Three guys, which really works on and even if they have a lineup similar to The Jam, but you can't you say that they sound like them precisely. DOAF plays really fast melodic punk but not in the same way as Bad Religion and those groups, this is more difficult to describe in some way. The thing that hit me is that the five songs have their own style in all the traditional punking. As a Lemonheads on speed, maybe. (SEVEN) 22/9-06
What (do you think) about it?
-Jessen: Oh wow, I don't think we've ever been compared to the Lemonheads. Right on.

Are there any other bands you're being compared with?
-Dave: Bad Religion, Face to Face, Pennywise, Bouncing Souls, Social D but of course to a lesser capacity.
Nick: MxPx

Do you care about reviews?
-Dave: I think its interesting so hear what people think about us; even if its negative. You can learn something from it.

You have a new cd coming....please tell me about it, how's it sound?
-Dave: The new cd will be our first full length: until this point we have only released ep's and singles because of line-up changes and other roadblocks. Now that the line up and general climate of the band has stabilized, we have the time and energy to focus on a big project. The new cd will basically be a collection of our best recorded material from the past four years and a large portion of our current live set. I think it will kick major ass!

How would you describe your music in three words?
-Dave: Fast, melodic, punk!
Nick: In-your-face
Jessen: Lacking in irony.

How is it to live in your home country?
-Jessen: The USA is a big place and it is very different depending on where you live, but I like New York City: it's like a small country.
Dave: Well it's got its problems, but I generally like it...though I've never been out of the country, so I really don't know what it would be like to live anywhere else.
Nick: It's cool, the US rules hahaha

What about the government?
-Dave: Oy vey.
Nick: Don't really care.
Jessen: No one has believed or trusted America for 40 years. Eventually people around the world are going to get tired of being lied to.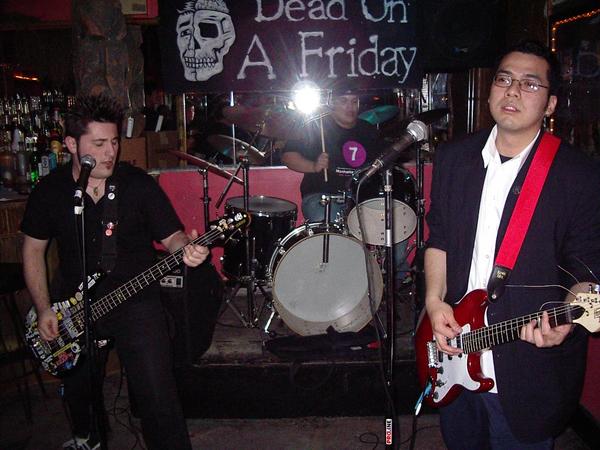 Do you think that music and politics goes hand in hand?
-Dave: Punk music and politics have historically gone hand in hand, just because of the subversive, rebellious nature of the medium. However, music is certainly an amazing art form that can be about anything, from the President to your favourite pair of shoes.

Best political band?
-Dave: Well Jessen recently convinced me it was the Clash, so I'll go with them, though I think Bad Religion writes about politics very poetically.

Are there any good bands in your home country now?
-Dave: Sure!

What do you know about Sweden?
-Dave: Very little, unfortunately; I apologize for my global ignorance. I do know that someone from Sweden was nice enough to write to us!
Nick: Hot maids that say "Yah".
Jessen: Long periods with and without sunlight.

Have you heard any good Swedish bands?
-Jessen: Komeda is a fantastic band. Their record "What Makes It Go?" is one of the most infectious pop albums I've ever heard.
Dave: Never heard any Swedish bands, period. Any recommendations?

What does punk mean to you: is it only a word or is it a lifestyle?
-Dave: To me, punk represents the innate ability in human beings to constantly question life and wonder why things are the way they are.

Please rank your five favourite records, five favourite concerts and five most important things in life?
-Dave:
Records:
Bad Religion - No Control
Misfits - Static Age
Bouncing Souls - S/T
Rancid - …And Out Come the Wolves
Bad Religion- Process of Belief
Concerts:
Bad Religion
Bouncing Souls
They Might Be Giants
The Methadones
Sick Of It All.
Life:
Mental and Physical Health, family, creativity, friends, and knowledge I guess.

Nick:
Records
Shutdown - Against All Odds
No Redeeming Social Value - Rocks the Party
MxPx - Life in General
Bouncing Souls - Maniacal Laughter
Operation Ivy - Only On
Concerts
Bouncing Souls
MxPx
Pietasters
No Redeeming Social Value
NOFX
Life:
Smoke, cigs and some beer and I am happy.

First, last and most expensive record ever bought?
-Dave:
First record - I think Nirvana "In Utero".
Last record - Mike Ness "Cheating at Solitare"
Most expensive - I get all my shit used cuz I'm poor: I don't think I've ever spent more than 15 bucks on an album.
Nick:
First record - Guns 'N Roses, Appetite for Destruction
Last - Punk o rama #7
Expensive – Warzone, Dont Forget the Struggle, Dont Forget the Streets/Open Your Eyes double album
Jessen:
First Record – Meat Loaf - Bat Out of Hell II
Last – The Rapture - Pieces of the People We Love
Most Expensive – Green Day - Radio Daze (bootleg)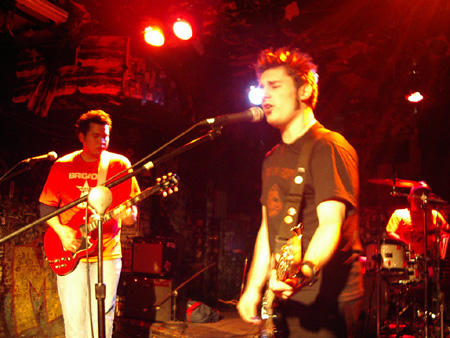 Most embarrassing record in your collection?
Dave:
Currently: Probably the Cranberries, Greatest Hits
Nick:
Haha, Dave you queer. I would go with 2 the extreme, by Vanilla Ice
Jessen: Meat Loaf – Bat Out of Hell II.

You have released your record yourself? Is it any label now?
-Dave: All our records are self-released at the moment.

Have you done anything more than Something's Wrong? If you have, how can I get it?
-Dave: We did another EP called "So Much Fun", and a single called "It Ain't a Party Till You Leave It". They're all out of print now, I believe.

Is it many interviews? Is it boring?
-Jessen: We haven't done many interviews.
Dave: It's all good.

Which is the question you never get, please ask it and answer it?
-Dave:
Question: Are you a super stud?
Answer: Yes. Yes I am.

Is it any chance to see you in Sweden soon?
-Dave: Sure, wanna pay for us????
Jessen: I think what Dave means is, one of these days we'll hopefully tour all of Europe, including Sweden.

Where is the best place to play?
-Dave: The crowd makes the show, so it doesn't matter what venue it is.
Nick: Back in the day the best place was Castle Heights.
Jessen: I like playing this bar in the Lower East Side called Niagara. Good times there.

How is a good gig with you?
-Dave: Again, good crowd, good gig. Money is nice, also.
Jessen: It's always nice when the amps work.

The name where does it comes from?
Dave: Came from the idea of describing our hometown of Queens, NY. And it
sounds tougher than it actually is.

The best band in punk history?
-Dave: My personal fave is Bad Religion.
Nick: I guess I would say the Souls
Jessen: The Clash.

The most important punk song?
-Dave: I don't think I can choose just one.

Future plans for the band?
Dave: More gigs, tours, finish record, make millions.

For yourself?
-Dave: I'm just trying to look straight ahead.
Nick: Chillin'

Wisdom words?
-Dave: I like this boxing analogy: It doesn't matter how many times you go down to the mat, its how many times you get back up.
Nick: "the only thing more important than winning is breathing" - george steinbrenner

Something to add?
Nick:
Dave likes balls
Jessen wears a scarf in the middle of summer
Nick is the best
Jessen:
Dave likes balls
It's not a scarf, it's a shemagh
Bender is great
Dave: Well, looks like I like balls. Thanks for the interview!