Dead End Lane plays a really powerful punkrock with elements from many good influences but they have in any case an own style. Here they have managed to do a really long interview with me…or me with them. June-2015.
Please tell me a little bit history of the group?
T-Dead End Lane started when I (The Salacious T/guitarist) started the band in college. I met our singer Erin Demise at work about 7-8 years later after taking some time off playing and quickly found out we had a lot of similar interests in music. It was cool, because we introduced ourselves to different bands like Balzac, the Distillers, and some other female and psychobilly bands. The first song we played together was Dotted With Hearts by the Horrorpops and a few other Misfits songs. We went through a few preliminary lineups and eventually settled in about 2010/2011 playing out consistently locally and a few regional shows. Now we have my best friend Colin on bass, which is amazing, and the true talents of Anthony on drums for about a year!!! Great lineup and we're doing more and will be doing more than we ever have.
Erin: I don't know if we have enough room to list the entire history (lol), but Tyler formed the group, obtained my services as a singer/screamer and then our current line up consists of Colin on the bass and Anthony on drums. Both do back up vocals/screams, as well. Colin and Tyler have been best friends since the prehistoric ages and he's an outstanding performer and great guy. We met Anthony when he was drumming for Ghost Division, a hardcore punk band from the DC/Virginia area in the states. We asked him to play for us because he was an amazing drummer and very chill. The lineup on Domestically Dead includes our good friends and former band mates Matt (bass) and Joe (drums). There's also a track that includes our previous drummer and good friend, Kameron.
Please tell me a little about every member in the group right now, age, family, work, interests and something bad about everyone? Earlier bands?
-T-I have always been in Dead End Lane and I've dabbled into other bands when I was younger, but the only other band I've played in is the Snallygasters in the late 2000s. I played bass for them and they were an old school/Oi! band from Baltimore. We played some regional shows and it was a lot of fun. I was just too busy to stay for more than a year while I was working and also in grad school. The main writer/guitarist was Mikey Stilts was from Spit Fires United, a really prominent local DC band back in the 90s/early 2000s if you've heard of them. My interests are music, working out, the band/shows, nutrition, writing, and chilling with my friends-leisure, drinking, sports, music.
Erin: 29 is the age I want to be for this interview, but I'm older... I'm married to a red headed Italian (Tyler) and have a ridiculously cute Bombay rescue cat named Sonoma. I do trompe'loeil oil paintings, like to draw and am a karaoke junkie. Something bad about me? When I was 5, I stole two fried marbles from my grandmother's house. My mother drove an hour back for me to return them to her and I had to apologize at length. Stealing is wrong, even if it's two marbles from your grandmother.
Colin is a post-hardcore fiend. I feel like the sore thumb of the band but hopefully can bring some weird ideas to Dead End Lane. I'm also in the screamy punk band Pandas as lead vocals. Big fan of the Blood Brothers, Retox, and Tom Waits.
Anthony is the drummer. He didn't have time to respond due to work, but he's the young one of the group, extremely talented, and was previously in Ghost Division. He also used to have a beard and was part of the beard brothers with Colin and is an amazing artist and will help out with artwork, designs, and merch.
I can hear much Social Distortion, No Doubt, Vice Squad and some psychobilly here in your music? Am I right? Favorites from the past?
-T-Erin is a big No Doubt fan and I like their early stuff and we're big Social D fans as well. The interesting thing about our music is that as the main music writer and a few of the early lyrics as well, my goal was to be a really good punk band and have a lot of versatility. Never writing the same song twice, but having a great punk foundation. From what you hear, that's a solid collection of punk from the core, but many variances and that's what I like. I love horror punk too and am a huge Misfits fan, but I love Rancid, Minor Threat, the Nekromantix, and even Doo Wop. With the Misfits though, they're a punk/hardcore band from the core and I'm glad some people hear them in us, but they usually say you can hear the influence but you're different, which is great because I never wanted to copy them or any other punk band.
Erin: Thank you-I grew up on Social D and No Doubt. I like psychobilly, too, so it's cool that you caught onto that. I lived with my grandparents and parents and mostly listened to doo-wop when I was younger because of them. So, oddly enough, doo-wop music and singers like Roy Orbison, Patsy Cline and Connie Francis are my favorite vocalists. Oh and then there's Brody Dalle and Shirley Manson, the two coolest chicks on earth...
Dead End Lane are you satisfied with the name? How did it came up? Which is the best band name you know?
-T-I came up with the band name. It was something I birthed from a combination of my writings-music, lyrics, and ideas I had for movies, books, etc. I wanted something bold and dark, but not too over the top or cliché. For it's meaning, Dead End Lane is the melody, but with aggression, and variance, all coated with a dark overtone and was a lyric I wrote that magnified this. It's also a song I want to write for the band, but just haven't come up with the perfect riff yet. It's about Judgment Day. You're an angel or demon, you are judged, and you go down Archangel style. No doubts about it. Some might prefer one or the other and you can't be anything that you aren't. It's stark, intense, and open for interpretation. It's funny because I feel a band name just takes on the personality of the band with so many names out there that are just picked out of the sky or not congruent to the style of the band at all. It was just something I liked and thought it would go well with being easy to remember and marketability in combination of my writing.
Erin: Ha- I'm not. I have an accent so people always think I'm saying I sing in a band called "Dead And Lame". So I just need to develop a new accent, I guess.
What´s the best thing with playing live?
-T-The thrill and adrenaline of the intensity of our music and being able to let loose while connecting with the energy and desires of the audience. I love going to shows, dancing, throwing dropkicks, circle pits, the works. Just total liberation to the music that drives the satiating desires of emotions. The only thing better is being able to be on stage doing it. The ultimate high and also knowing that you wrote and contributed to what everyone hears and appreciates. The artistic and inner-thoughts all out in one vivacious and accomplished state traveling from member to member, band to audience, and band to other bands/like-minded bands that you meet on route to any success for all is just a amazing feeling.
Erin: The connection you can make with the people you're playing in front of.
Colin-The blood, sweat and tears.
And where is best to play? And the worst place?
-T-My favorite place to play is the Otto Bar in Baltimore, MD. There's a lot of great venues in Baltimore, but that's my favorite. Worst-not sure. Any place that is not set up, too much about screwing people, or people who are only in it for themselves are places I avoid, but I can't think of any place in particular.
Erin: We've been fortunate and played a lot of very cool shows in many different places- larger concert venues in the states on the east coast, house shows, churches, even bonfires in cornfields. For me, the best place to play is just with my band. We'll make it work...
Colin-Best place to play: Metro Gallery.
How is to play this sort of music in USA right now? Which types of bands do you have concerts together with?
-T-Underground music is thriving in the USA right now and it's beginning to finally bleed into more larger independent scales and touching mainstream. Hardcore is huge now and punk and pop punk are gaining steam again. Horror punk is also really making its mark, which is great, but nowhere near as big as hardcore. That's a really good scene. You'll hear some alternative here and there and ska is sort of in the middle of a 3rd wave as well. We'll play with anyone good. We love punk shows and horror shows are also great for us. Hardcore, some post hardcore, ska/reggae, punk, pop punk, street, even S&M punk, we'll do it all. Bands: Terror Inc., By The Graveyard Tree, Professional Victim, Idle Gossip, Sonic Creeps, Summer's End, the Primitives, Bullets, Hand In Hand, Evokatones, and so many more.
Erin: People seem receptive, but it's not everyone's cup of tea, I'd imagine just like with everything else in life. We've met a lot of great bands who we have become friends with and play with often in the states in the hardcore and punk scenes. We've also had the opportunity to share the stage with the Adicts, the Misfits, the Business, Marky Ramone, Michale Graves, Juicehead, Calabrese and Agent Orange.
Colin- In reference to my other band, lots more people seem receptive to DEL. That being said, aggressive, loud, and visceral music seems to be much more common place these days, at least in Baltimore.
How would you describe your music in three words?
-T-Realistic answer: Punk, Hardcore, Horror
Fun answer: Melodic, Aggressive, Out-of-control-stage-show (Erin is a banshee on stage and I and others play with wireless guitars/bass)
Erin: "What was that?"
Colin- Frantic, Reckless, Surging.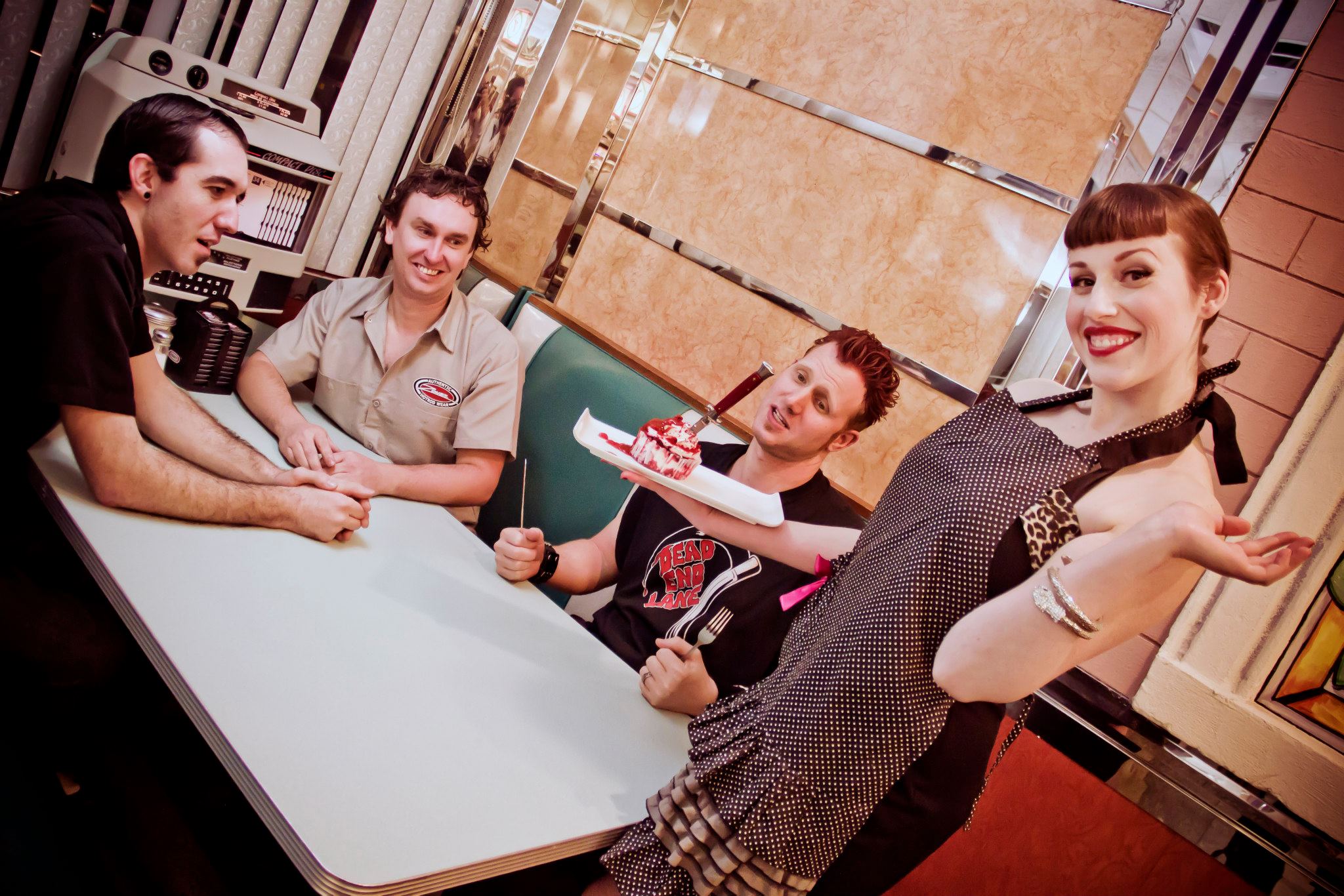 What does punk mean to you, is it only a word or is it a lifestyle?
-T-Great question. Punk is a lifestyle to me. It's a take no shit mentality in which you don't care what others think of you and you do, say, think, and act the way you want to. That's how I think we all should be. It will make the world a better place. I never get how others think you need to think exactly like them, or they're always right, or you need to be controlled. Who cares what I think, what my hair looks like, how I act in public, and how people express themselves as long as I'm acting fairly morally appropriate (no killing, stealing, or assaulting/harassment).
Erin: I'll let the boys answer this one in greater detail... I don't consider myself any adjectives other than "Erin". I'm too complicated lol. Ok, so I lied- I guess "complicated' would be the other adjective.
Colin- Anything honest, uncompromising, and loud.
How do you see on downloading, mp3 and that stuff?
-T-Music should be accessible, but only if the band allows it. A free download on their page, so here, do it if they allow it, but it's a business and a lot of bands struggle to make ends meet or are simply entitled to you buying their product. No other business is like this. Bands have been screwed over for years with bad pop music, a lot of major labels that don't work for the band, and ripping off everyone under the sun. There's so many outlets for bands to be popular and people will listen to anything. I can't comprehend how people think it's okay to steal a band's music that they wrote, paid for, and depend on, especially the independent bands that are less fortunate or given less opportunities as pop bands/pop music.
Colin- Embrace the digital future. More people than ever are hearing more and more diverse music, and this is very good. Any physical media at this point is being seen more as a complete artifact then just a means to an end to hear the music one likes. I feel that's why vinyl has become so popular again. You can download the songs and still have a very decorative piece to have on display at home.
How is it to live in USA now? Politically?
-T-Strange and very polarizing. Political parties are at their worst in my opinion. Campaign financing and corporations have really influenced elections, media, and self interests that have certain parties being anything but democratic. Worst part is, the world has become more a liberal socially, but elections rarely focus on these issues and sometimes what people want doesn't get passed. It's a cluster and there's some serious problems that we need to solve. On the other hand, we've drastically improved the economy, employment, the stock market, health care, and green energy is making strides. There's always been so many great things about the US including opportunities, nightlife, freedom, and so many great cities. The underlining issue of politics are fairly murky right now and hopefully we can change the grandiloquence of the politics from bombastic outrageousness at times, to fixing certain things and really making this country a complete country and flourish even more than we have for years. Last thing though, social media is great, but out of control here. Everyone has an opinion and too many people take offense to everything.
Colin- Politics in the US right now are so focused on one side against the other, with both those sides profiting by them being the only two voices. It's too bad that in the end most of the people are not divided on the big issues of corruption, war, surveillance, etc., but are hung up on a couple key issues on either side. If there could be a commonality in these issues now, then all of us could hash out the more bipartisan issues afterwards.
Are there any good bands from USA now? Is the punkscene big? How is it in your hometown?
-T-There's a lot of great bands nationally and locally. The punk scene is growing. It took a bit of a stab in the late 2000s until about a year ago. There's a lot of pop punk, but the true punk bands are slowly coming up. There's a lot of variances and branches, but true punk is the best in my opinion. Things veer towards hardcore, pop punk, horror, horror rock, ska, and metalcore/noise/black metal. Punk has a decent spot in Baltimore. It's a punk town. It's not huge right now with the many variances a bit more popular, but punk is huge at the base of Baltimore. It's an edgy town with many differences in class, but is a fast-paced town with the need for letting loose, aggression, and comradery, so punk fits right in.
Colin- War on Women is the best band in Baltimore right now. If you haven't heard them, remedy that.
What do you know about Sweden?
-T-It's up north, blonde hair, and banks!!! Not much!!! Seems like a place I would want to visit for sure though, seems intriguing and I like to travel-hopefully with the band one day.
Erin: That I get lost in Ikea :)
Colin- If Sweden can make bands as good as Refused, you guys are good in my book.
Have you heard any good bands from Sweden?
-T-Some. Love Millencolin. Colin and I saw them at Warped Tour in 2000 and the pit was crazy. Much more intense than I would have expected. We looked like we have gone through a whore mill after that one. A huge fan of their first few albums. Like Driller Killer and The Rudeboys too.
Erin: Dancing Queen.... young and sweet only seventeen....my mother used to play them for me all the time growing up. I was an Abba and Thriller baby.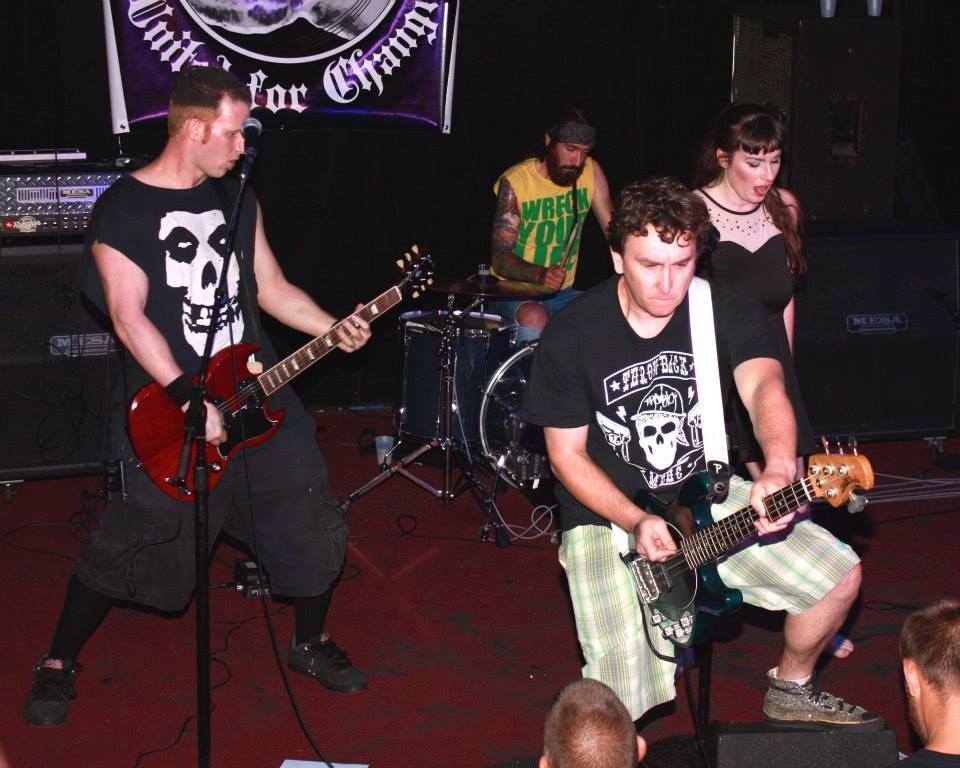 Your lyrics, who does them and what influences you?
-T-I wrote originally wrote all the lyrics, but then as Erin started singing, she started contributing and her first few songs were Killing You, Natural Born Sinners, and Black Widow, so it didn't take long to hand them over to her!!! Plus, as a singer, it was best for her to contribute, as everyone should if the band is at its best talent-wise and production-wise. There's a few songs that her and I will work on here and there where I add a lyric or chorus, but mostly all her. Colin and Anthony will also occasionally come up with where they think a good vocal part or idea will go, but she's all over it. As far as my first few lyrics though, my influences were a combination of what I liked. Punk, gothic, horror, gothic humor like Sheila. Basically, I love symbolism, imagery, and stuff that will just emphatically hit you in the face. There's also times where I'll write about a subject or actor/figure I find really appealing or interesting.
Erin: I write a majority of the songs now, but always look for input from my band mates. I typically write about whatever is on my mind. Melody comes easier to me than lyrics, in all honesty.
Is there any subject that you never will write anything about?
-T-I don't think I will ever write about the Middle East or other countries/regions. I just don't see it happening. I'm not about throwing around things about there or other cultures.
Erin: I never say never...
Politic and music, does it go hand in hand? Which is your most political song?
-T-Sure. For us, not too much. I'm very politically opinionated and have studied it in school. Unless it's something abhorrently disgusting, I probably won't have too many songs that are political and sometimes it's just too topical for what I want to have as a song. I think socially is where we hit the nail on the head and occasionally through in how politics of society piggybacks on that. We certainly could write about politics down the line. Given Erin writes the lyrics now, my take it a bit moot though.
Erin: I think for a lot of bands it does, but honestly the songs I have put lyrics to are not very politically driven. They are more about society as a whole... and my observations. Of all the songs we have, I'd say Killing You is the most political song- it's about abortion.
Best political band/artist?
-T-Band-Dead Kennedys. Artist-the late, great George Carlin. TV-Bill Maher.
Colin- Either War on Women, Fugazi, or Blood Brothers. All real good.
Do you think that music (lyrics and so on) can change anyone's life, I mean people who listens to music?
-T-Definitely and I think it already has many times. People want to experience things and have influences no matter if they're on the bottom, or green, or at the top, or have the most experience. Melodies, breakdowns, lyrics, talent, chanting, messages, we all want it and to experience it. I think some moderation is always needed, but people are influenced from something usually outside of their own experiences at times and music is certainly my biggest influence.
Erin: I believe so. In writing our second album (which we're recording now) there's a very strong theme about overcoming adversity and anxiety and finding your inner strength.
Colin- Yes
Your cover on your CD looks really nice, is it important to have a record cover which shows people which type of music you play? Your favorite record cover? Who does your covers…
-T-Thank you!!! For our first/only album, we had a bit of theme and wanted our image on the cover just so people knew who were we, what we looked like, and I would like to think some of us are attractive. We thought it was important and I think people love images. We had a few different ideas and some of us have strong features or creativity. Domestically Dead is a song off the album and the cover went hand in hand with that and an idea we thought we could pull off. Punk, dark, us, but also with great sarcasm. Perfecto. I don't think it's always necessary to have us on the cover, but the cover is fairly important. You want it to be cool, it is a representation of the band, and should be marketable. My favorite cover is ours!!! In all seriousness, I can't think of anything that is my favorite off the top of my head!!!
Erin: Thank you! My friend Talia was the photographer for our CD and Matt and I worked for several sleepless nights on designing the insert and cover based on the band's ideas and concept. Our cover does match one of the songs on the record, but I honestly don't think it's necessary to have a cover that reveals the type of music you play... I'm a big fan of surprising people. Anthony has been working on designing the album for our next cover- he's very talented and I'm super excited to see that when it's finished.
Is it important to get out physical records of your stuff? Why or why not?
-T-I definitely think so. I still use CDs and it's easier to pop in a CD then a playlist at times. I enjoy the artwork and reading the lyrics/credits, or whatever is included. I love doing that for other bands and want anyone buying our CD to have that opportunity as well.
Colin- I don't know about the rest of the band but I would highly suggest a vinyl pressing in the near future. If people are going to buy physical media, the majority are going to want vinyl.
Please tell me a funny thing which have happened during your career and under some gig?
-T-One time our old bassist Matt had a custom hollow-body bass that he took to get signed by the headliner, who was Michale Graves singing for Marky Ramone. He got some really awesome signatures over the years on it. They were really impressed and started playing it too. I went back with him for a second go-round given I thought that was awesome. When we went, Marky yelled, who it is, come on in. We come in and it appears no one is in there. We look around and it's just him sleeping on a black couch, dressed all in black, with a black leather jacket on him as a blanket and he's basically asleep. We were like, shit. We dropped off some merch and then ran out of there. A funny thing on stage for us was recently we played with this really awesome S&M punk band GASH from Philly. We go on after them and in the middle of our set, we switch to a clean song that gets distorted halfway through. Someone spilled water backstage so my footswitch was wet and I didn't have it plugged it initially. I go to plug it in and the two females from the band, the singer and the domme, are backstage and see me and they go, no, you're not done. At least one more. One more. They thought I was packing up. Erin and I told them we had a few more. As soon as I start playing, they come crawling on all fours onto the stage and start mashing up, biting, and trying to tickle Erin. It was priceless. It was also ironic given it was our only slow song and we had a video that is basically eye level with it all going down.
Erin: I danced so hard once that my skirt fell off. I was wearing those spandex gym pants underneath though as "leggings", so fortunately it wasn't a big deal. I've also successfully tripped Matt at the Agent Orange show three times with my microphone cord on one single song.
How does your audience look like? Which people do you miss on your concerts? Which is the biggest band you ever have played together with?
-T-Our audience is pretty punk. We have some horror kids, who are punks, but some have a bit more black. Hardcore kids, ska kids, a great mix of punk. Not sure who we're missing, except trying to always get more people from more states to have us play and see us!!! Biggest band we have played with is the Misfits.
Erin-We've had the honor of playing with both the Misfits and the Adicts before. Our audience varies based on the type of show it is and when and where. I always have fun interacting with the audience. I like to connect with people.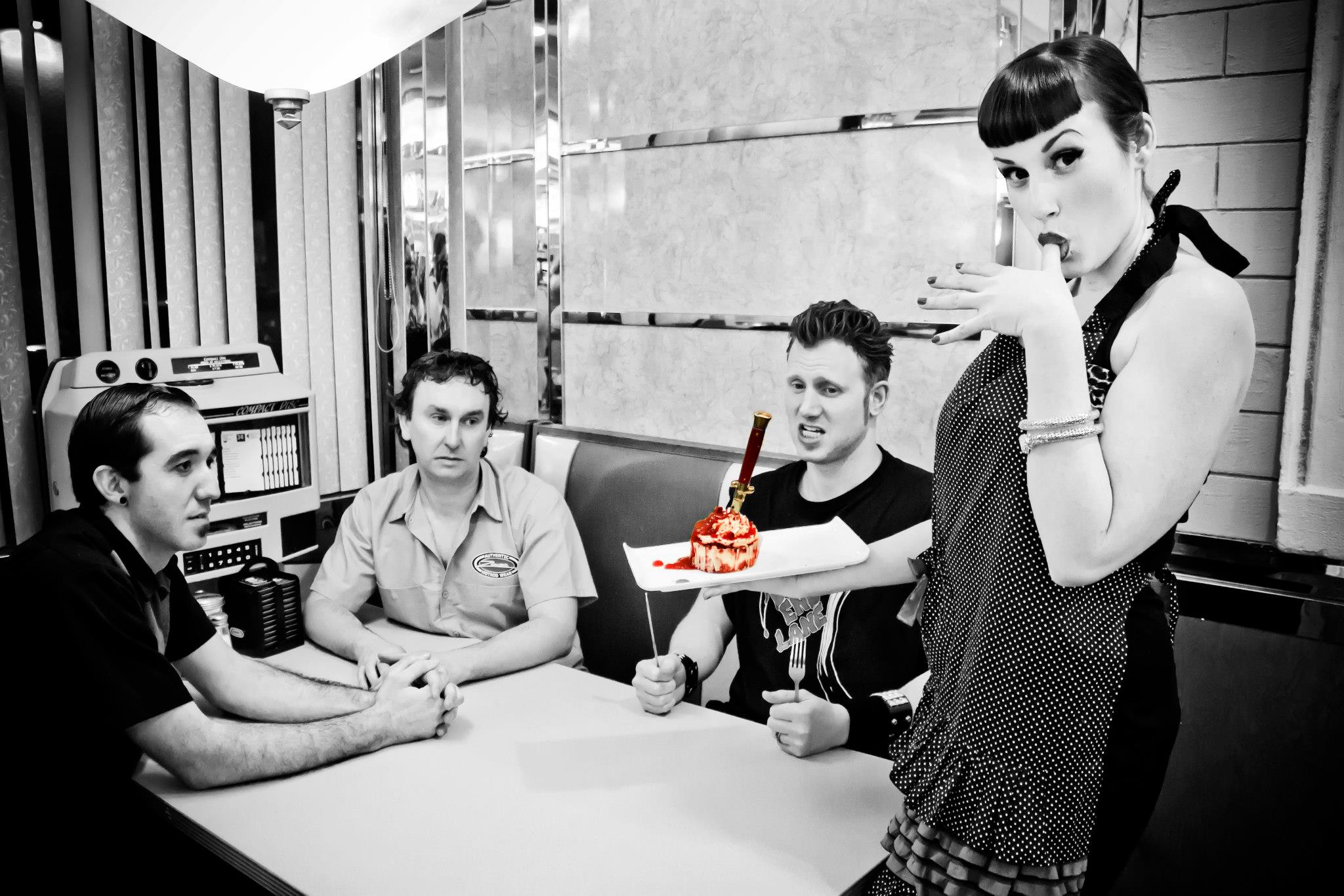 Please rank your five favorite records, five favorite concerts and five most important things in life?
-T-Records: Misfits-Static Age, Balzac-Deep Teenagers From Outer Space, Operation Ivy-Energy, Offspring-Smash, Dion-Presenting Dion and the Belmonts.
Concerts-Danzig and Doyle 3/2/05 in Philly, Rancid 8/2006 at the Blackcat in DC, Warped Tour 1998 in VA, Rancid at the Capital Ballroom in 9/2000, and Agnostic Front, Dropkick Murphys, and US Bombs at the 3/1998 at the Capital Ballroom in DC.
Life-be yourself, be honest, work your ass off, cherish your friends and only keep the good ones, and strive to do what you love and experience it with as many people as possible.
Erin: I'll do five favorite things in life.... 1) Humor. 2) Honest people 3) Root beer 4) friends and family 5) art in general- I feel like music is my left arm and painting is my right. And those things aren't in order. Typically, root beer comes after family and friends...
Is it boring with interviews? Is it much interviews??
-T-Never. Love interviews. We've had some and at least I greatly enjoy them. I love speaking, writing, expressing my thoughts, and will gladly talk to anyone interested in the band.
Erin: I love interviews!! I'm not sure how many people love my interviews, but it is appreciated to be asked these questions and given the opportunity to answer- thank you!
If you could choose five bands from the past and the history and nowadays and both dead and living bands to have a concert together with your band. Which five have you been chosen?
-T-The Misfits, Rancid, Elvis, Wendy O'Williams, and Balzac.
Erin: I would love to perform with the Distillers, Garbage, Blondie, the Misfits again and while not a musician, I'd love for Lucille Ball to come out and do comedy as an opening act. Perhaps with George Carlin!?
Is music a good way to get out frustration and become a nice person outside the music??
-T-Sure. Either or is fine too, but anything you get out of music is a positive. So many outlets and daily emotions in every day life.
Erin: YES! Singing is very therapeutic for me.
Colin- I use music that way. It seems to work for me. Perhaps it's not so much cathartic as it is empowering to take control of the stage, the sound, etc. It is very fulfilling for me, but I can only speak for myself. Everyone who creates something does it out of their own personal drives to do so.
Which is the most odd question you ever have got in an interview?
-T-Can't think of anything too weird.
Erin: I'm not really sure that there's been too odd of a question ever asked. I'm a pretty random person. I like questions, even when they are random.
Which is the question you want to have but you never get. Please ask it and answer it?
-T-Which band we hate. I hate the Beatles. I just love saying it. I really don't like them, but I think everyone always gets asked who they like or if they like them and a majority of people say they like them. So I will make it a point to say I hate them, they didn't influence me, and I think they were just a poppy band that got lucky, a drug band later in the drug culture, in the right place at the right time, and they can't sing on key.
Erin: I guess I would like to answer why I actually got into singing- my grandfather loved it. He was always playing cassette tapes and blasting them from downstairs. In his spare time, he would always read the paper and have music on in the background... he just had thousands of tapes... it was his life. He had a true love for music and it makes me feel very close to him to this day, even though he has passed.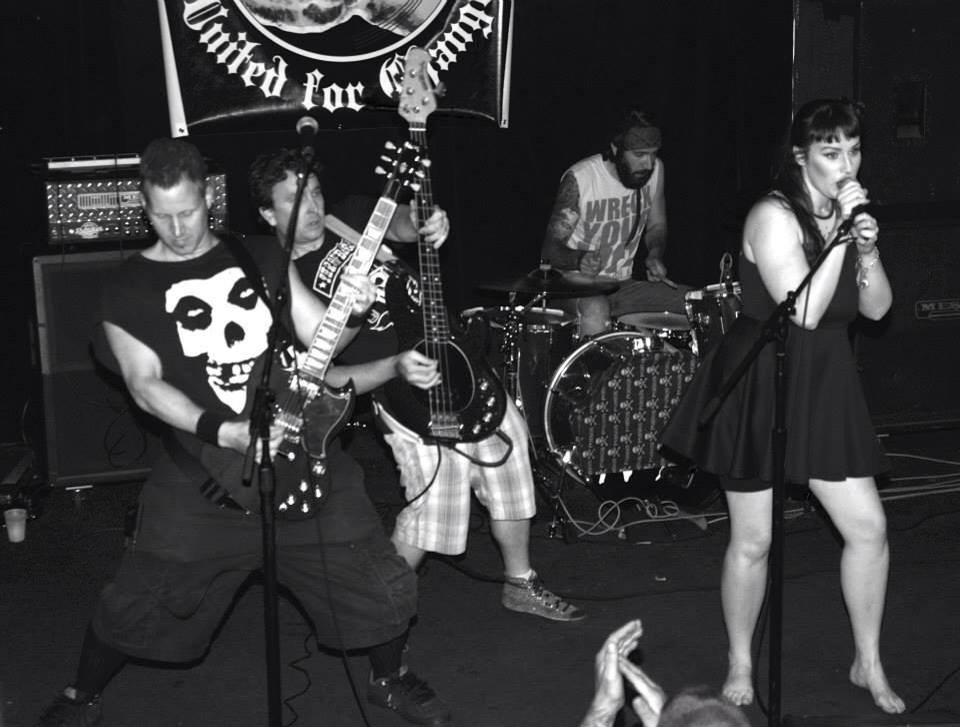 Future plans for the band?
-T-We have another album in the works. Just recorded half of it this weekend and if you want to review that one, just let us know!!! Really good songs on this one and with our new lineup for about a year now. Lots more vocal parts, more defined sound, and a great mix of really melodic punk and hardcore with Erin's special touch on many of these. We also want to tour. I want to tour 4 weeks/year. Not sure how much we can, but I'll push for whatever we can. A label would be cool if it happens, but whatever. Just making more ground, making new friends, and coming up with bigger and better shows!!!
For yourself?
-T-My life is very complete and my priority is music, my wife, who is the singer, so great for me, and my friends. I want to keep playing, writing, and doing any other collaborations with people to make my mark on life, get out my artistic thoughts, and take it places.
Wisdomword?
-T-You can do anything you want, you just have to try and at times, work your ass off, work your ass off even harder, and never quit. Be innovative in every way. Be respectful to those in general, but mainly the ones who actually deserve your respect.
Colin- Innovate.
Something to add?
-T-Thank you so much for contacting us and the review and interview. I love talking anything music, having someone take interest in what we're doing, and being able to express my thoughts that hopefully resonate in some way for others. I'll plug the magazine for sure and always remain very loyal to those that I come in contact with. Thanks to anyone who's taken interest in us. Thanks to everyone who's helped us along the way. Best of luck with your now 30 plus years of doing this and look out for more Dead End Lane!!!
Erin: Just my appreciation of you taking an interest in our band, Peter, and for your time in setting up the interview, listening to our record, and featuring us in your magazine- thank you so much.