DANZIG, MELDRUM den 25 november 2003, Trädgår'n, Göteborg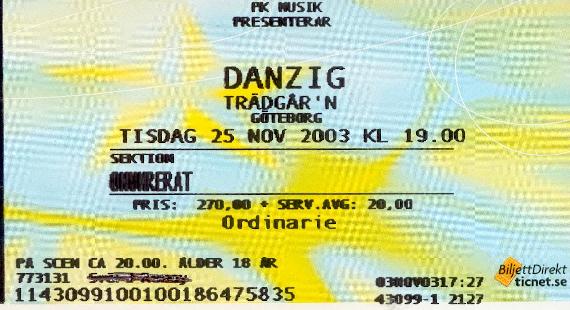 Me neighbour have bought two tickets to this concert and his wife would go with him but she don´t like Danzig so I took the ticket instead. This is nothing I regret precisly and I felt a little happy when I went into town to see the wellbuilt Danzig.
When we came to Trägårn it was a long que outside but we went soon into the place and bought ourselves some refreshments and hang our clothes in the closet.
We found a good place on the "platform" there we saw very good. I have heard that it would be two support acts, Meldrum and Zyklon but now it was only Meldrum. Three girls and one guy which really played. The female vocalist Moa was a reincarnation of Steven Tyler, Muck Jagger and Tina Turner and it looked like she "walked" some miles during the concert. Really good musicans and their heavy music was swinging really good sometimes. A cover of some Aeromsith song was done in a heavy style. Some punky mixed music sometimes didn´t make the thing something worser and they did a really good concert.
The whole time between the concerts we heard a voice that said that we don´t can´t take any photos on the group and that was a little bit boring, a little divathing or what?
After some waiting it came out four big guys(maybe not Danzig himself if you think about length). The basist looked as he plays the guitar because he haven´t the special style of playing bass as we´re used to see. The drummers heavy drums did so it felt like it was ringing in my pocket and that the vibrator on my mobile phone was giving me a call.
The guitarist looked a little bit stiff in the beginning of the concert but after some songs he began to jump around and he was really worth seeing. Beer was thrown here and there, and the band throwed it on the audience and vice versa so it was a wet concert. And now to our big little man Glen which is a really odd scenepersonality I must say and his voice is really good and if you compare to the supportact his voice is really strong and we hear it better. I got the three songs which I like the most as Twist of Cain, Long way back from hell and Mother. What pressure it was when Mother came. Unfortunately no Misfits song because I thought they would do one and so did surely some in the audience thought too because it was a very mixed audience with everything from crustpunks to really longhaired "real" heavymetal freaks. A really nice evening was it anyway and it still rings in my ears.