Hey Peter!
Here are our final answers to your questions :) We did all of them together, so there are maybe some complete different answers, because everyone of us has its one thoughts and ideas to many of the themes you asked!
So here is the answers from Dagger in Hand and they we´re done in December 2017.
Please tell me a little bit history of the group?
- Started in summer 2015 as 5-piece with female vocalist (Linda) and our todays singer David as bass player
- Directly started to write own music with big influences from 90's NY Hardcore like Terror, Madball, Agnostic Front, etc.
- First songs "My friend called Icarus" , "The Night" & "The Game"
- David moves back to Main Vocals, Linda fired
- Dagger in Hand as Bandname
- First gig at Art Can Robert, Rastatt with Trapped, Dismember 187 & Mental Cruelty as a 4-piece without bass player (late 2015)
- New Bass Player Carsten joins us -> line up complete
- First 9 songs ready
- Gigs at Mannheim, bad Durkheim,...
- Split ep "Paraiyar" (with trapped) recorded, mixed and mastered in april 2016 at Minorfatdiner studios
- Gigs at Offenburg, Karlsruhe, Frankfurt, Rastatt, Bad Dürkheim, Landau
- New songs and a new style gets worked out: more variety, more metal, more groove, less traditional hardcore (big influences of early Sepultura, Suicide Silence, 90's Deathmetal)
- 1st edition of our own festival "Neckbreakerfest" at January 17
- First complete own EP "Bullet in Mind" recorded, mixed and mastered in march 2017
- Gigs at Stuttgart, Landau, Karlsruhe, Weinheim, etc., first bigger festival (Fallen Fortress Open Air 2017)
- 2nd Edition of Neckbreakerfest ready for January 18
Please tell me a little about every member in the group right now, age, family, work, interests and something bad about everyone? Earlier bands? Other bands on the side?
-Vocals: David Schmidt, 25, fresh married, student as teacher in chemistry and physics,veggieboy, interests in: travelling; cooking; camping; music; bass playing, the bands Hardcore kid
Rhythm Guitar: Simon Schmidt, 28, engaged, social worker, brother of David, house and camper - owner, passionate about: travelling; camping; drinking; partying; Jägermeister, the bands Partyboy
Lead Guitar: Alexander Caspar, 27, student in mechanical engineering, worships music, especially Prog (King Crimson, Zappa, Dream Theater,...), loves Death & old Sepultura, too much hair for hardcore, too much motivation for hardcore, the bands Drill sergeant and Biggest critic,but also its Riffmaster, interests in all types of music, travelling, cooking, partying, guitar, aircrafts. Also plays guitar in 60's & 70's Rock Tribute Band "Mind Trip". Played drums in earlier time.
Bass Guitar: Carsten Krebs, 28, studied sound engineer, clichéd bassplayer with interests in music production, sound, and recording. Used to play in Ska Punk Band "No Matter How" & Alternative Rock Group "Noise Story". The bands Producer and expert in sound.
Drums: Johannes Weiner, 25, model - bauer, playing drums for 13 years, knows the schmidts since being a child and making music with them, groovemonster!!!, mediamaster (desgins our teaser, posters, operates all our song platforms,...) interests in: drinking, smoking, travelling, all sorts of music, partying and sleeping... The bands Sloth
I can hear much different influences but mostly hardcore but I see that you like a lot of metalstuff on your Facebook etc? Favorites from the past?
-We all got very different influences on our musical background and interest in different styles.
While David, Simon and Hannes mostly listen to hardcore, I am the Prog-/ Metalhead and Carsten is more or less the Rock and Punk listener of the band.
Our biggest influences when writing songs and riffs are the following:
Obituary, Cavalera conspiracy, Slipknot, Suicide silence, Obey the brave, Parkway drive, Slayer, Sepultura and Municipal waste
Dagger in hand are you satisfied with the name? How did it came up? You weren't afraid that some other band would be named like this?, Which is the best bandname you know?
-We love our name! I always listened to the Slayer track "Altars of sacrifice" worshipping the lyrics and one of the very accentuated parts is "High priest awaiting dagger in hand
Spilling the pure virgin blood Satan's slaughter, ceremonial death Answer his every command"! And we always wanted a conceptual connection between lyrics, songs and the bandname! The Dagger symbolizes a tool to poke the people to think about what is wrong in everydays life! Make the people think about the social injustices and give them the chance to act in a different way. it symbolizes the start of a thinking process, everybody listening to our music should do!
Best Bandnames of alltime: Violator, Slayer, Excrementory Grindfuckers :):):):)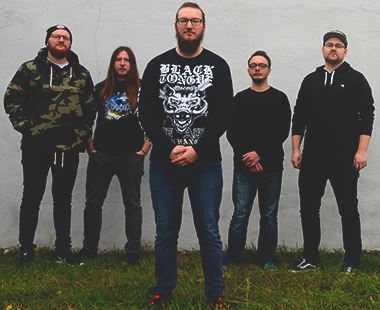 What´s the best thing with playing live?
-The Party, the people to talk to, the energy, the feeling
And where is best to play? And the worst place?
-Best: Clubshow with partying crowd
worst: already had it :):):):):):):)
How is to play this sort of music in Germany right now? Which types of bands do you have concerts together with?
-Difficult, because of the difficult scene at the moment. You've got the oldschool hardcore fans, and the new school (post hardcore) people divided and bitchin bout each other, which makes it almost impossible to unite all people to party together. And the scene in general is not that big and there are many many bands.
How would you describe your music in three words?
-Power, Diverse, Different
What does punk mean to you, is it only a word or is it a lifestyle?
-It's an attitude! Punk for us means deviation from the norm and not always going the right and easy way, but thinking and asking about any questions in life.
How do you see on downloading, mp3 and that stuff?
-Small bands like us need every advertise they can get, so we need people to download our songs and listen to them, but in general it's always better to get any physical copy of your favourite music (Cd,...)
How is it to live in Germany right now? Politically? Fascists?
-It is one of the wealthiest country on earth, so we really are not in the position to moun, but of course we got big political movements which are not always positive. Since Germany got the big immigrations the fascist scene grows bigger and really gets more attention from many people too lazy to think.
Many many people are just unhappy because of social injustices and it's easy for them to think the immigrants are to be blamed for that. All we can do is to lighten up people's minds to make them think in new directions and become more tolerant. All in all we really live in an open minded country and that should stay the way it is!!!
Is there any good bands from Germany now? Is the punkscene/hardcorescene big? How is it in your hometown?
-Rammstein, Ahab, Obscura, GWLT, AYS, Tausend Löwen unter Feinden, All Fucked Up, ....
The Scene is not that big as in other countries. Our hometown has a small venue to make concerts (Neckbreakerfest...), but it's hard to get it filled with people like to listen to heavier music.
What do you know about Sweden?
-Beautiful Women, beautiful landscape and cities, good political and social health, tasty meatballs :):):):), so many great, legendary bands!!!
Have you heard any good bands from Sweden?
-There are so many!!!! Hypocrisy, Sabaton, Yngwie, Arch Enemy, Carcass, In Flames, Abba, Amon Amarth, Hammerfall, Candlemass, Dark Funeral, Adept,.........
Your lyrics, who does them and what influences you? Is it easier to do lyrics now or was its easier to do it when you was younger?
-David and Myself write all lyrics. No we both think it is easier today, because you are more open minded and clearer in your attitude and statements.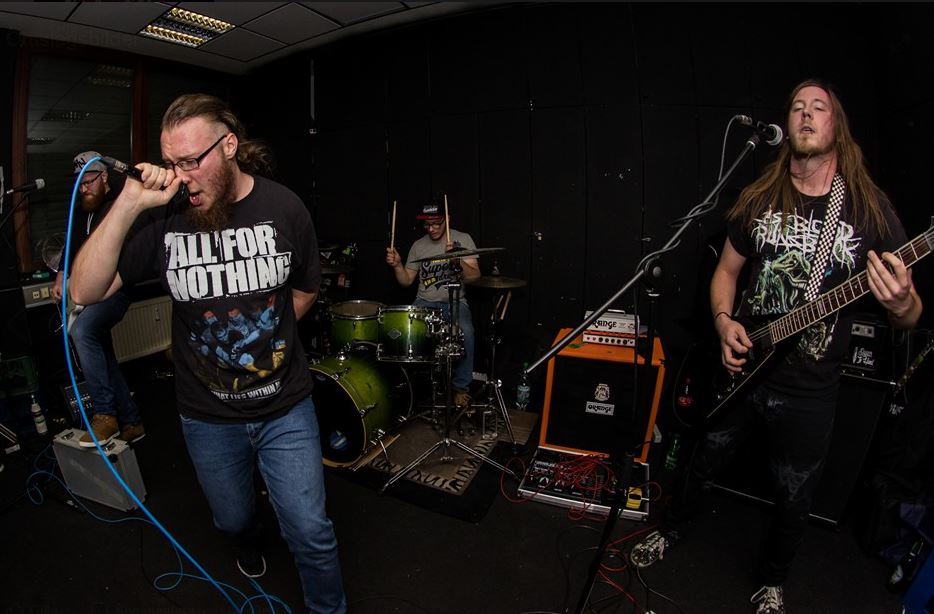 Is there any subject that you never will write anything about??
-We clearly dissociate from being machos or any homophobic shit! We hate all kind of poser shit!
Politic and music, does it goes hand in hand? Which is your most political song?
-Yes, the political thinking goes deep into the music! It's all about attitude! Most Political Song: Working Class Hero
Best political band/artist?
-Stray from the Past
Do you think that music(lyrics and so on) can change anyones life, I mean people who listens to music?
-We hope and would like to!
Your cover on your CD looks really nice, is it important to have a record cover which shows people which type of music you play? Your favorite recordcover? Who does your covers? And do you have any good recordstores in your hometown? Have you done anything more than the split with Trapped and Bullet in Hand?
-Yes it's part of our concept! The cover fits with the lyrics, the lyrics are our inner thoughts, the cover shows the thoughts in one strong picture!
Favourite Cover: Rage against the Machine (The burning priest)
Our Coverartwork (including all pictures) is all done by my girlfriend Natascha Hahn!
We don't have any good record store in our hometown, and no we don't have anything more than the two ep's.
Is it important to get out physical records of your stuff? Why or why not? Vinyl, CD, cassette, what do you prefer if you could choose whatever ?
-Yes, we think it should be the purpose of every band getting a physical record released! For us it is a part of being professional and it makes us proud!
We choose everything, because all formats got their own charm!
Please tell me a funny thing which have happened during your career and under some gig?
- Drummer is so drunk, he falls of the stage
- Bassplayer always destroys footpedals of guitarists with his huge feet
How does your audience look like? Which people do you miss on your concerts? Which is the biggest band you ever have played together with?
-Mixed up ages, genders and styles :)
We miss more people who are open minded to any sort of music without bitchin about the style or genre. People who are there for just the joy of music and a live concert.
Biggest Bands: Billy the Kid, Betraying the Martyrs, Polar
Please rank your five favoriterecords, five favoriteconcerts and five most important things in life?
-Everybody chose one of each!
Records: Thy Art is Murder - Hate, Parkway Drive - Deep Blue, Alter Bridge - One Day Remains, Walls of Jericho - The American Dream, Cavalera Conspiracy - Psychosis
Concerts: Rammstein, Xibalba, Rise of the Northstar, Motörhead, Iron Maiden, Dream Theater
First, last and most expensive record ever bought?
-First: Slipknot - Slipknot (1999)
Last: Cavalera Conspiracy - Psychosis
Is it boring with interviews? Is it much interviews??
-No + No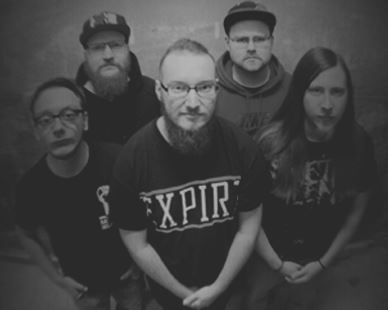 If you could choose five bands from the past and the history and nowadays and both dead and living bands to have a concert together with your band. Which five have you been chosen?
1) System of a Down
2) Sepultura (Classic Line Up)
3) Nirvana
4) Parkway Drive
5) Rise Against
Is music a good way to get out frustration and become a nicer person outside the music??
-Yes of course! It helps you to get through the day and through your positive and negative moments in life! It is part of your thinking :)
Which is the most odd question you ever have got in an interview?
-None
Which is the question you want to have but you never get. Please ask it and answer it?
-Question:What are your lyrics really about?
Answers:
-to make people think and question the everyday life
-humanity
-critical self analysis
-psychology
-the gift to be a good person in life
Futureplans for the band?
-Full length Album with touring and a bigger range of gigs, maybe a festival away from home
For yourself?
-Success in family & work, stay healthy, stay strong and mentally balanced
Wisdomword?
-KNOWLEDGE IS POWER
Something to add?
-As some other band already told the world: We who are not as Others!
Neckbreakerfest Teaser: https://www.youtube.com/watch?v=8i-KCREItGg
Spotify: https://open.spotify.com/artist/0aszmklSA8ptn82pCxGI3F