Hey! Thanks for having me here, I am Charas and I am the lead singer of The Crimson Ghost and i will be answering all of your questions, I am very happy to be here also because my great grandmother was Swedish. July 2023. This writes the singer from Italian Crimson Ghost and here we go.
Please tell me a little about the story of Crimson Ghost?
-The Crimson Ghost were formed in 2012 by a group of friend who shared a passion of horrors movies and music, and since then it became our passion project and we kept growing since then.
Please tell me a little about every member, age, work, previous bands etc?
-Von Satan our guitarist is 44 years old and work as a sales director in a sport article shop, his previous bands were: My Blake and Barabba both bands had metal/rock influences.
Helleremita our bassist is 31 years old and work in Tesla as a Mechanical designer, his pervious bands were: Belza and Punkabbuskers both were HC Punk bands.
Werewolf Hostile our drummer is 29 years old and he teach drums in schools, previous bands were: Cornoltis (a demented rock band) Nemesis Inferi (a metal band).
Charas Evildead is 43 years old and she work in a clean service agency, her previous bands were:
No Strange (Punk HC band), Ass in flames (Stoner rock band), Candle Nation Sick (Garage Punk)
The name Crimson Ghost, where did it came from and you already know that were a band called Crimson Ghosts I presume?
-Yes we knew about them, we are actually friends with the band in Germany. The name Crimson Ghost is a tribute to a mini-series from the 1946 it was a spy-horror themed story, which I advise you to check out!
You come from Italy, how is it to live there nowadays, racists and politics overall?
-Italy is great we love our food and culture but it's not very easy to live in, life is expensive, work is not paid that well and police and politicians sucks but we keep resisting, always anti-fascist.
When you do your lyrics, what are they about, anytime political or is politics nothing to have in music? Only in English…never in italian?
-When I write the lyrics I always think about horror's theme stories or movies, usually we don't talk about politics per se but we do talk about social standings. In my opinion if you don't do heavy political music it's better to stick to your own genre and lyrics alike.
How would you describe your own music in three words for those who haven´t heard you? Of course there is some horrorpunkstyle but mostly punkrock with a slight touch of metal I think?
-Well you just described our style in your question, indeed we have horror punk and metal influences.
If I have to describe our music is electric, spooky and fast with adrenaline.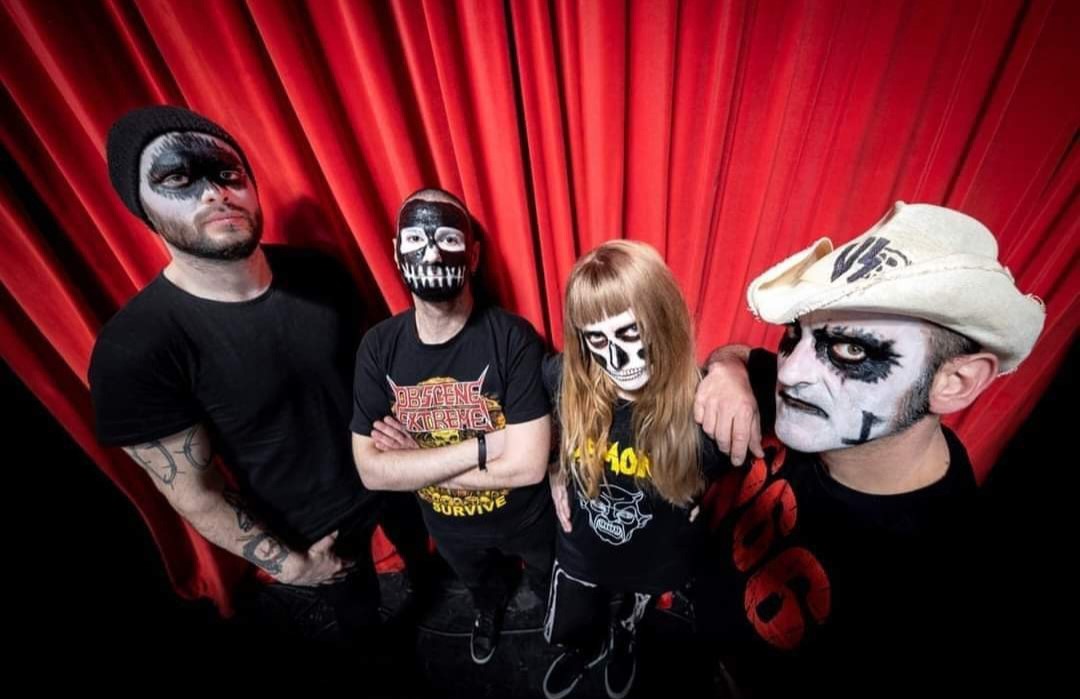 Is there any there groups you have being compared to? Is it bad or good to be compared?
-If I have to be honest no, not yet at least I am proud to be original but there is nothing wrong to be compared to other groups
Have you done anything more than the CD? Curtains of fear?
-Yes, our first Album was "Tits & Bones" in 2018 only in CD format and you can also find it on all music online platforms and BANDCAMP. On the 1st of July 2022 the EP "The Curse of Mummy/Destroy to Create" in music tapes (Orange Limited Edition)
Not any thought of a vinyl?
-Yes we were thinking about it, our next album will be in vinyl.
Can you feel that you have done a record if you would release it only digitally?
-Yes, digital is the way
When you listen to music, what is your favourite way to listen to music, Spotify, vinyl, CD or what do you prefer?
-Personally my favorite way is LP, vinyl format is classic and it sounds the best. But I don't see any issues listening music in other formats such as Spotify and other platforms.
Do you buy much records yourself?
-Yes I still buy merch especially vinyl and t-shirts.
Is there any good record shops left in your hometown?
-Yes only 1 remains and it's called "Bergamo Musica" and it has a big selection of CD and merch.
Any good bands from your town and in Italy overall?
-Yes there are quite a few bands I recommend in Italy: GoGoPonies, Motel Transylvania check them out!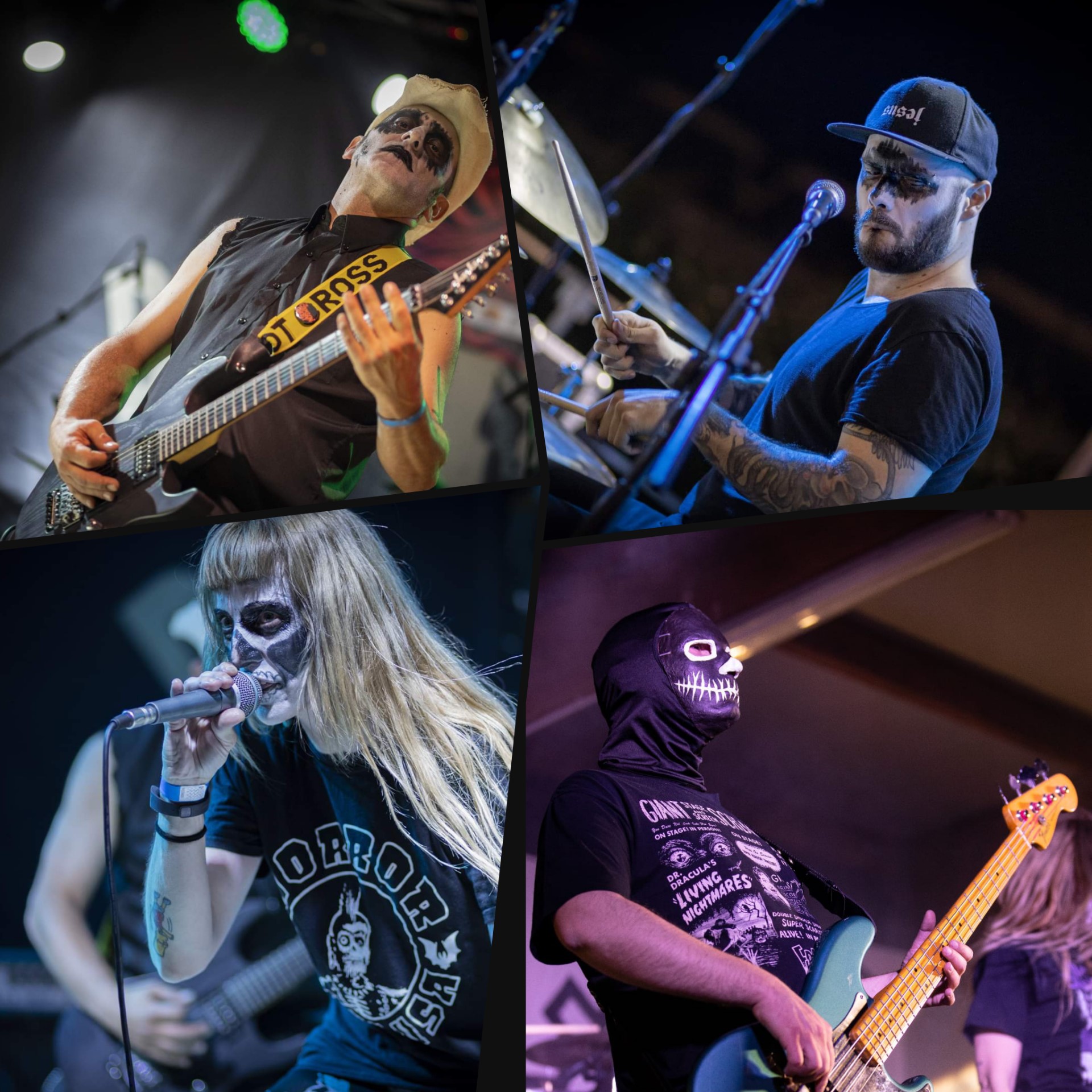 What does punk mean to you, is it only a musicstyle, a word or is it a style of living?
-I don't like labels in 2023 I love punk I live punk but that it's not the only thing that defy me, you can be punk even if you don't dress like one, freedom of choice.
Tell me a little about the following song and what they´re about? Who did them and tell me a little about the story?
<![if !supportLists]> a) <![endif]> Lost in the dark
<![if !supportLists]> b) <![endif]> Under his eyes
<![if !supportLists]> c) <![endif]> The curse of Mummy
-I write all the lyrics myself (Charas) but the music pieces are written by Von Satan and all together we adapt them together. The lyrics about lost in the dark talk about Darkness and feeling good being in the dark of the night and to free your demons. Under his eyes it's a tribute to a TV series "The handmaid tale"
The Curse of Mummy as the title suggest talk about the famous cult movie the Curse of Mummy, check the movie out!
Are you selling any merch on your gigs, do people buy it? What sells best?
-Yes of course we sell merch in our gigs, we sell T-shirt, CDS, patches, and Stickers etc.… but our best seller are our T-shirts!
Which is your own favoritesong among your own songs? And which song is the people choice?
-My personal favorite song is "Werewolf in Blood" and the public love "Lost in the Dark" but also enjoy a lot "Werewolf in Blood"
When you do songs, is it one in the group who does them or how do you compose a song?
-As mentioned earlier I compose the lyrics (Charas) and Von Satan write the music and then we all brainstorm together to fix the songs it's always a group effort.
Please rank your five favorite records?
-My top 5 picks are (was really hard to pick):
Live Undead Slayer
Overkill Motorhead
Walk Among Us Misfits
Astrocreep 2000 White Zombie
Rumors Fleedwood Mac
Do you care about reviews? Which is the most peculiar you ever had, with this band or any other band you have been to?
-Yes we care about reviews, we had lots especially in the last album, fortunately we didn't had any weird or troll reviews (for now) all the reviews were really nice and with a nice feedback.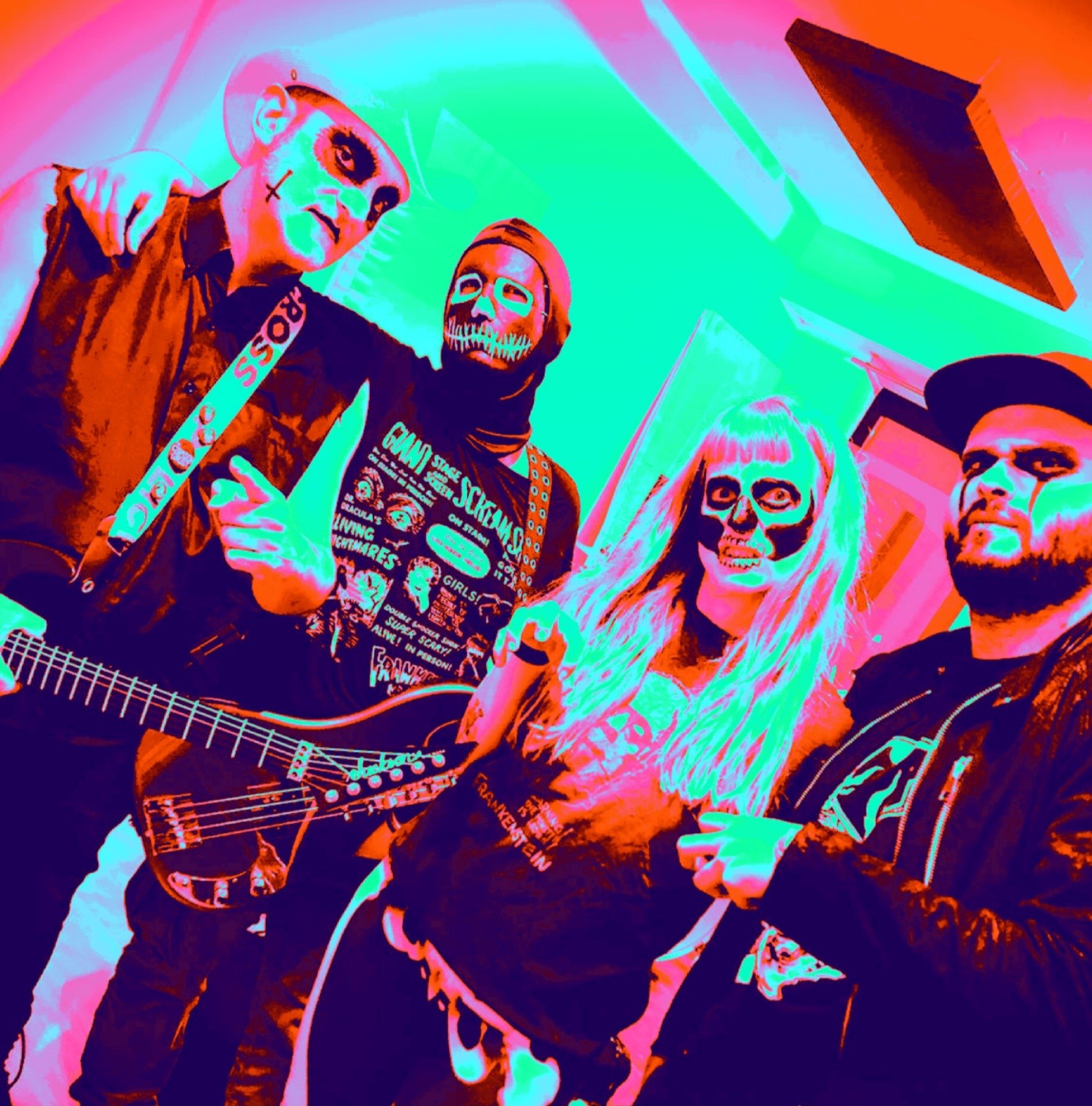 If you could choose five bands from the past and the history and nowadays and both dead and living bands to have a concert together with your band. Which five have you been chosen?
-What a funny question, if I had to pick probably would be:
Motorhead for sure
Misfits
Screaming Lord Sutch
Black Sabbath
Faith No More
Is music a good way to get out frustration and become a nicer person outside the music?
-Yes definitely, music helps a lot to escape the bullshit of life, and I think thanks to music you can become a better person since you can express yourself to the fullest.
Have anyone of all your fans done something really crazy when you have played live, ? Have done any tattoos or something like that?
-Well not really except one dude actually undressed while we were playing, but I suppose anything can happen in lives.
Any good Swedish bands you like?
-Yes, our group love Swedish bands like: Arch Enemy, Hellacopters, Hardcore Superstar, Entombed.
Is it boring with interviews? Is it much interviews? What do you prefer Telephoneinterviews, face to face or as this one via e-mail?
-No its fun being interviewed, we do prefer either face to face or even e-mails.
Futureplans for the band?
-We are planning a tour in EU and also recording new songs and we hope maybe a Swedish festival contact us for a gig!
Futureplans for yourself?
-My future plans would be to travel the world with my band, would be great if it could be a fulltime job.
Wisdomword?
-No matter your social status or your age everyone can play music to achieve their dream in their own way.
Something more to add?
-Please keep supporting us! We love all our fans and keep shaking your bones!