November-06
Hi this is THE CRIMES after what feels like ages. Here is our inteview. We're sorry for the delay. We would like to recieve a link where the interview can be seen. Once again, thanks for your interest. We hope to here/see you. Bye bye,
THE CRIMES

History?
-Holgo: Me and King Sven decided to form a band in late 1999. We had two ads in a recordstore and in a magazine. That was when we met Marcy and our first
drummer Ole. We recorded our first record which came out on Halb7 records, Germany and played a couple of shows. Our first concert was in March 2000.
Ole made a runner 2 years later and we got introduced to a new drummer Consigliere Bud. We recorded our second record "Nobody cries forever" in our rehearsal room. It came out in Japan on Revel Yell Music. We're kind of a do-it-yourself band, from the recordings in our us really listens to them carefully - interesting. How did you find out we're not 20 anymore ???? Ha ha ha, but thanks for the review anyway. We all like the fact that our music contains different styles and still has a raw punchy energy. That makes the record more interesting to
listen to.
Bud: I still can't make out the centerpiece of that review, but I really appreciate it.
Sven: The review sounds good! I like good reviews. But very bad reviews could also be very funny!!!

Is there any other bands you´re being compared with?
-Holgo: We receive a lot of reviews where we get compared with the Hives. I don't know, thats probably only because we're wearing suits, too. Our music
is a little more raw than theirs and more based on early punk rock.
Bud: Some (nice) people had said that we would sound like The Sonics.
Sven: I started to cry when I heard that! I love The Sonics!!! Some people say we also sound like the Devil Dogs. That's also great! But I think we just have a little bit of these both bands into The Crimes.

Do you care about reviews?
-Holgo: Yes sure. I like to read all of them, the good the bad and the ugly.
Sven: Sure! But we don't care about that when we're writing new songs. Reviews will not change our music/style.

You have influences from many different styles, are you so unlike each other musically?
-Holgo: Yes, I guess that must be the reason. We all got our focus on differend kind of music. I'm probably more into 70's punk rock and indie pop (sometimes). King Sven listens to a lot of minimalistic garage rock n roll trash. Bud likes a lot of jazz music and Marcy is very much into melodic uptempo punk. But we all love rock n roll music from the 50's up to now (more or less). From early rock n roll to punk, mod, beat, early ska& reggae, glam and so on and so on. Every era of music is worth to have an eye/ear on.
Bud: Don't forget Slayer! And Miles Davis' exemplary and overaching "Directions in Music"...

How would you describe your music in three words?
-Sven: Raw, wild & sexy!
Holgo: fuckin ***** hot (fill in a phrase that fits for you).
Bud: I like it!

How is it to live in Germany?
-Holgo: I never lived anywhere else. So what can I say? Let's say it could be worse, it's ok. I like Germanys landscape from the mountains to the seas. It's got some nice corners. But I'm worlds away from any proud national feelings.
Bud: In fact and considering other countries around, a quite lovely one to live in, I might say.
Sven: I love Hamburg! I think I'll never move away from here!

What about the government?
-Holgo: It seems like the government is not really able to face the problems of the country like unemployment. The taxes are getting higher and in the same way people get more and more frustrated. Thats a dangerous mixture and pushes people in the arms of right wing parties. But I have the hope those right wing cunts will fade as soon as they proofed they're political
knowledge ain't worth a fuck. I hope that will be very soon!
Bud: I think in near future our whole society can go up in flames if there will be no changes in the political directions. That means, without encouriging any accurate reforms we are badly off (or at least getting further ripped off by state more than ever, at last for nothing...).

Do you think that music and politics goes hand in hand?
-Holgo: I'm not sure, there's been so many bands singin' about politics without saying anything new or important. It's hard to face a political statement in 3 verses and a refrain without sounding cheap. And if you have something really important to say you should tell it to the people without covering it under two distorted loud guitars. Guitars are no weapons anymore. Even Tony Blair was in a rock band. On the other hand if you feel like shouting about something political - go for it, every heart is a revolutionary cell!
Bud: I don't care a fig for it. In Germany there are still (old) critical songwriters, like perhaps Wolf Biermann, similar to U.S. political folk singers in the early 60ties. A man with his guitar, singing about grievance.
But I really don't know if these guys can reach anyone or anything with their music today. I rather guess, not. On the other hand I believe that, in a sense, a simple rock/pop song without obvious political ambitions can be a hymn for a next generation of youth to change the situation in a country. Just remind all our ex-East-German fellows, who once pulled down the "Mauer" in 1989, hearing Scorpions "Winds of Change" in their heads, ha.

Best political band?
-Sven: To me the best political band are still the Dead Kennedys. But I don't care about the "new" Dead Kennedys without Jello Biafra. There are a lot of good political bands and artists. But I don't like it if someone tells me what I have to do or not.
Holgo: Probably Billy Bragg. I guess he really want's people to understand what he's singing about. The International Noise Conspiracy are good too. But they look a little too stylish and trendy. I'm not sure if peoople really listen to them because of their political lyrics or just because they are sooooo hip dressed.
Bud: At the moment, for me the best political band is The Movement from Copenhagen/Denmark (greetings to Lukas and the boys, cheers!), because of their authentic "class war unity 100 % anti-facist"-thing besides of the fabulous music they do . As I've heard, society in Denmark has a more and more upcoming problem with fucking neonazis. So it's good to hear a voice against that bloody shitheads...
Is there any good bands in your homecountry now?
-Holgo: Sure there are loads of every kind of music.

What do you know about Sweden?
-Sven: I've never been in Sweden. But I've heard that Sweden has the most beautiful girls in the world. I've also heard that the most of the movies in TV are not translated in Swedish. I think that's the reason why the Swedish people are very good in the English language. Sweden also has a very good social system. That's what I've also heard!
Holgo: Not too much. I've been to Stockholm last december. A wonderful city with tons of good looking people. So good it was almost hurting. Ha ha
ha... I had a great time and met a lot of friends.
Bud: I've been visiting Sweden for a few times, especially the towns of Malmö, Lund and Stockholm (great jazzclubs!) and the east coast up to Finland. It was always a pleasure to be in this country, except when I once had a little borderline control by swedish customs, carrying a bag of bottles filled with fine whiskey to bring in, ha! By the way, a good old
friend of mine, Martin, moved back from Germany to Stockholm some years ago. Hope to see him next year during summer to have a little sailing trip, again... Best thing to say about Sweden for me are: a Sauna (located at harbours).

Have you heard any good swedish bands?
-Holgo: There seem to be some great bands in every single shithole in sweden. I wonder where they all come from.
Bud: Sure, people can't obviously and rightly go without of them.
Sven: Sweden has lots of cool bands. My faves are Psychotic Youth!

What does punk mean to you, is it only a word or is it a lifestyle?
-Sven: Punk means to me to do what you want without hurting anyone else. I like the idea of being against the mainstream and being active like playing in a band, running a fanzine, label, mailorder, organizing shows, Punk is not a lifestyle to me, more an attitude. Thinking helps!
Holgo: I loved and still love the energy of the music it seemed to fit perfect for the soundtrack of my late teenage years/early twenties. Even if it was 10 years after its actual heydays. I also like the idea of the do it yourself spirit. Form a band, organize a concert for yourself and your friends, get around and get creative.
But I don't like that religious talk about punk. Like punk was this and punk was that. Everybody seems to have his own philosophy about it. After reading a poster where a band discribed their music as "punk rock style", a friend of mine once said "thats bad, punk rock wasn't a style it was a movement!" I think he was right. And thats what I feel about it too.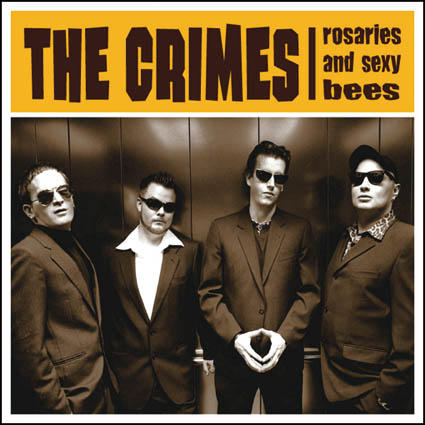 Please rank your five favourite records, five favourite concerts and five most important things in life?
-Holgo: Records: 1. London Calling (The Clash) 2. Radios Appear (Radio Birdman), 3. DGeneration (Dgeneration), 4. Rust never sleeps/Live rust (Neil Young) 5. Ziggy Stardust/Diamond dogs (David Bowie) to name but a few.... If you ask me tomorrow I will name you 5 others
Sven: 1. The Sonics ˆ Here are the Sonics, 2. Devil Dogs ˆ We 3 Kings, 3. Ramones ˆ It's alive, 4. Elvis Presley ˆ My own hit compilation, 5. Geno Washington & the Ram Jam Band ˆ Live in the sixties (3 CD set)
Bud: Records - 1. Miles Davis - Seven Steps to heaven; 2. Slayer - Reign in blood; 3. Run DMC - Raising hell; 4. Beatles - Revolver; 5. Richard Wagner - Tannhäuser (as conducted by Sir George Solti). Concerts - are mostly great, anyhow.
First, last and most expensive record ever bought?
-Sven: I can't remember my first self bought record. I think it was a Blondie or Smokie 7‰. The last record I've bought was the new New York Doll album. The most expensive recors I've bought was a original The Ventures ˆ Slaughter on 10th Ave. 7‰. I payed 15 US Dollars for it.
Holgo: The first vinyl I bought was "Live killers" from Queen The last records I bought were "Kiss of death" from Motörhead and "Zeno Beach" from Radio Birdman.
I once paid 30 Euros for a copy of Joe Strummers Global A Go Go, because I wanted the vinyl version not the cd. But most of my records were not really expensive when I bought them. Meanwhile they are probably worth a lot more.
Bud: My first own-bought vinyl was a shitty NY-breakdance-compilation (I was at the age of 12...), but then hopefully followed by several rock and heavy
metal now-classics. The whole Jazz and 60ties-Pop/Rock universe luckily appeared to me by my father's record cabinet, long before.
The last bought records were Slayer - Illusion of Christ; Mando Diao - Ode to Ochrasy; Bobby Womack/J.J.Johnson - Across 110th street (Soundtrack); Motörhead - Kiss of Death.
Past year I spend 42 EUR on an original vinyl of Deep Purples's "Live in London 1974" because I've lost the parent I owned once, somehow...

Most embarrassing record in your collection?
-Holgo: I sold all my embarrassing records but I still have the second Marillion record (Fugazi) at home hahaha.... probably more because of the
cover artwork than because of the the music.
Sven: I also sold all my bad records & CDs. I'm not a crazy collector. But I still owe "Mrs. Millers Greatest Hits‰. The album came out in the seventies. At this time Mrs. Miller was about 70 years old. She sings "A hard days night‰, "Downtown‰,∑ in a very bizarre way!

You´re on a japanese label, is it a good label? Why not an european label?
-Sven: We've sent out more than 30 demo cds to different german and european labels without being sucsessfull. The labels which release traditional Punk Rock said we sound to much like Garagepunk. The Garagepunk labels said we sound to punky! What a shit! So we found Mune of "Revel Yell Music‰ who released "Nobody cries forever‰ in Japan. He is a very nice guy does a very good job. But the album is very hard to get here in germany. I don't know how it is in Sweden. So if there's someone who is interested to release it in Europe, contact us!!!
Bud: It's a very pleasant label. And we got this sleeve with japanese writings around the CDs which I know from expensive imported Jazz record editions I once bought. I'm proud of it.

Have you done anything more than Nobody cries forever? If you have how can i get it?
-Holgo: Our first longplayer (Rosaries And Sexy Bees) came out on a small german punk label on vinyl.
The record is almost sold out. We sell some copies on our concerts and on our homepage www.thecrimes.de We have a split single with hamburgs no1 punk dinosaurs Razors and a couple of songs on different compilations. BUT WERE STILL LOOKING FOR LABELS TO RELEASE OUR RECORDS (BOTH OF THEM!) EVERYWHERE ON THIS PLANET! Contact us.
Is it many interviews? Is it boring?
-Holgo: No, not too many so it's not boring so far.
Sven: It could be more! It's nice to see that someone is interested in The Crimes.

Which is the question you never get, please ask it and answer it?
-Holgo: Question Why is such a good looking talented bass god on the road with these 3 morons? Answer: Thanks, it's simply because I love them.
Bud: Question - "Why is your drum sound such a fantastic one?" Answer -
"It's because I proudly play an old ROGERS drum set, build in 1965, great set", (Thank you).
Sven: No idea! I'm always open for strange (stupid) questions!!!!

Is it any chance to see you in Sweden soon?
-Holgo: I met Tobba from Zorch Production/Sweden
http://profile.myspace.com/index.cfm?fuseaction=user.viewprofile&friendid=90
699723 . Were in contact and he seems to have some plans. But its too early to talk about it.
Bud: I really hope so.
Sven: If Sweden wants us to see ˆ we're ready to come!

Where is the best place to play?
-Holgo: I like the bigger cities like Berlin, Hamburg and Cologne. But then again south Germany seems to have a big potential and there are loads of interested listeners who are probably not as fed up with all those concerts everyday as the kids in the bigger cities are. Kassel by the way was always a good place to play for us. I would love to go on tour in Spain.... one day.
Bud: Germany is a good country to travel with a band when the good clubs are sheduled. But I still don't know, where the best places in Scandinavia are, so we can hopefully check out by next opportunity.

How is a good gig with you?
-Holgo: The fun starts with renting a car and puttting our stufff in the van at noon. The sun shines and we're all in a good mood, driving to the venue without screaming and shouting at each other. We're arriving in time and the friendly promoter welcomes us with some drinks and great food. The owner of the club is happy that we turned up at all. Soundcheck is short and effective - sounds great. Much more people turn up than expected and they buy all our merchandising. We play an awesome gig and the crowd goes crazy, screaming and dancing. After 5 encores we have a wonderfull party with a lot of fans in the backstageroom. The promoter is so happy with the whole evening that he wants to take over our management. (but we're sorry - no way, man!). We get much more money than we did expect because the promoter is still fascinated. The next day we wake up without the usual hangover. We drive home happily without screaming and shouting at each other.
Actually that doesn't happen very often to us.
Sven: Exactly! There's nothing more to say!!! Being on the road with The Crimes is always a big fun!!! I love it!!!

The name where does it comes from? (yeah it´s a boring question but it´s interesting)?
-Holgo: First of all, it's just a name and has no deeper meaning. I came up with it and we all liked it. Its important for us that the name of the band is "THE" CRIMES (mind the article). We don't want to be mistaken with 70's punk band Crime from the USA.

Futureplans for the band?
-Holgo: We keep rolling on... Plans are made for more concerts next year and we will also start to record our next album in early 2007. Keep yourself informed on www.thecrimes.de
Bud: Going on producing good music.

For yourself?
-Holgo: Yes I have some plans but thats a complete different story. Family business ha ha ha...
Bud: Finally getting into the business I once chosen.
Sven: Just surviving!

Wisdomword?
-Sven: Stay sexy!
Holgo: Never let anybody in the whole world tell you you're not sexy. Don't forget, its all about pretending. Keep your head above the water!