A streetpunkgroup is always interesting to interview and the english group Crashed Out and here they come in 2009 first interview. Chris answers my questions here.
You started the group way back in time, have you been active all the time?
-Yes the band formed in 1995 split up about 2000 and started again in 2001 with new line up new attitude and more commitment.
Please tell me a little about every member, age, family, interests, work and something bad about every one?
-Chris Wright (vocals) joined band in 2001 owner of Viking Tattoo studio, ex boxer with 70-56 record. Aged 39 has 2 daughters and lives with long long time girlfriend. Chris has nothing bad about him at all!!!
Lee Wright (guitar) started band at the age of 15 also is a tattoo artist and works at Viking Tattoo studio. Lee is 30 years young has 2 sons and is married for just over 1 year. Lee is very very picky on what he eats!
Geordie Brown (bass) Joined band about 1996 Geordie works in the Building industry he lives with his girlfriend and has 2 kids a son and a daughter. Geordie is always tired when on the road he also cannot handle his booze!
Johnny Hallings (drums) Johnny is the young pup of the band aged only 19, he lives at home with his parents and is an apprentice Electrician. Johnny has a terrible habit of snoring!
Have it been many changes in the line up through the times?
-The band reformed in 2001 with new line up Lee and Geordie were original members and Chris and Decca Wade (drums) joined Decca is and ex original member of Angelic Upstarts and recorded 2 albums with Crashed out . Decca called it a day in 2006, we had a couple of stand in drummers until Johnny joined us in 2008. so we have had a few drummers over the years and 2 singers.
Do you have any bands beside of Crashed Out?
-Chris sang for Angelic Upstarts while Mensi was ill that was in 2007, Lee also played for Upstarts in 2005-2006
You have played with a lot of big bands as Misfits, Undertones, Damned etc? Which have been most fun to play together with?
-To tell you the truth its the smaller bands that are more fun, some of the bigger bands have there head up there own arses and seem to forget where they came from, not all are like that though but some really are i'll not name them. Bad Manners are a great bunch of fellas and we have recently toured with Toxpack from Berlin they are great people and we had a right good time with them. Also Stage Bottles and Upstarts were good to be around. The Briefs from the USA were cool we had a good time with them I even tattooed the guitarist.
And you have played concerts together with psychobilly/rockabillybands too? Does that audience like you?
-We always seem to win crowds over in the end, when we play at home our crowd is totally mixed with folk from all walks of life its great. Street rock n roll is for everyone (except miserable emos)
Otherwise, is it mostly skins and punks who comes to your concerts?
-As above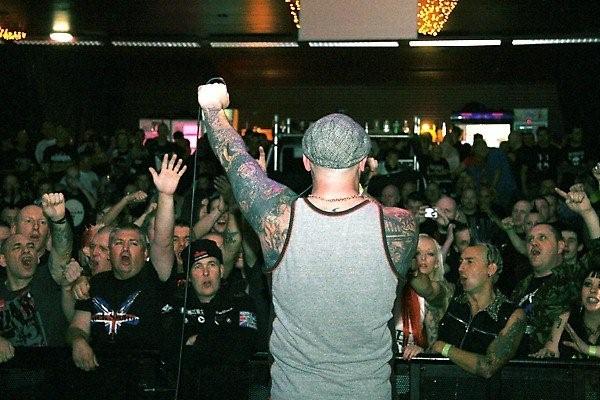 In the beginning of oi/street music so was it a lot of racism, have it calmed down a little or?
-WE never experienced any of that shit at our gigs thank god,
Why do many street/oi bands this facination for A clockwork orange do you think?
-Not sure really ? Probably because it was banned for years and became a cult movie. Once something is banned people are gonna rebel want to see it and support it??? Something like that i reckon. Dont know really. It wasn't a very good film after all was it!
Hooliganproblems , how is it with that nowadays in England?
-Dont hear much about it really, some of my mates are into football but I never took an interest in it I never even been to a football match in my life!!! Ha ha my sport was boxing one man on one man. (hope that don't sound too gay?) ha ha ha
Do you have any favourite football team?
-Newcastle United only because its my home city and my mates support it. So I do, it keeps them happy!!!!
I have only This is our music, pearls before... and the live-Cd you sent to me? What have you done otherwise and how can I get them?
-We also have: 'Here now and real' (1998) 'Back for more' (2001) 'Workingclass aggression' a best of cd (2003) 'The one and only' a best of cd (2006) We also have a split single with The Templars and have appeared on loads of comps all over the world.
You have a tattoostudio, is it so in England too that many years ago so was it only "odd people" who made a tattoo but nowadays so have every one a tattoo somewhere on their body(here in Sweden is it so)?
-Yes I own Viking Tattoo Studio here in Jarrow my home town the shop has been open now for 13 years. I have been tattooing now for around 23 years. Yes loads more people are getting tattooed which is great but the down side is loads want to become tattooists! Most have not got a clue about the art they have watched Miami Ink on TV and think hey that looks cool I want to do it!! So we have loads of scratchers starting up fucking people up and we have to put it right its shit but that's the way it is nowadays. It just makes me up my game plan and produce far superior work. It dose not affect my trade but I hate seeing the art I love being disrespected by fuck-wits!
Olga from Toy Dolls will produce your next CD, howcome?
-Olga is a good mate he loves Crashed Out and we done the backing vocals on his last album when we said we were working on a new album he offered to produce it for us so we said hell yeah! Olga also played on the song Freakshow off the Pearls Before Swine album.
Where do you stand when we talk about downloading and mp3?
-It don't affect us really cos we are not a big band, in fact its good for us that even more people will get to hear our stuff.
I can understand big bands being pissed off about it but what can they do about it? Nothing.
I still prefer to buy albums and have originals
How is to live in England nowadays? I mean politically?
-Bad at the moment with the world recession in my part of the world people are losing their jobs everyday. So everybody is watching what they spend its like it was in the 80s we are going back to square one, I think we should do a new version of 2,000,000 voices!
Do you think that it will be some change in the world with Barack Obama?
-I think he will shake up America, hopefully for the better? Who knows who really knows who pulls the strings.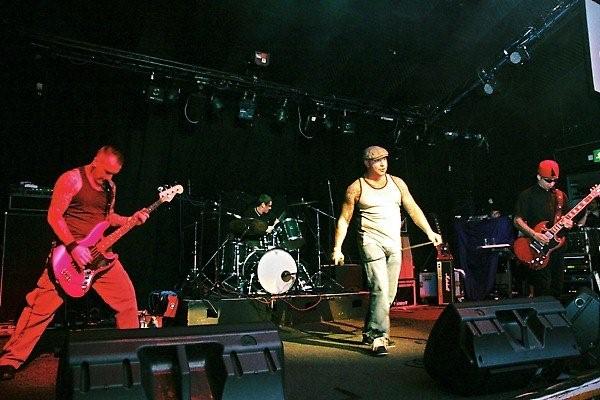 Please rank your five favourite records, five favourite concerts and five most important things in life?
-Sex Pistols Never mind the bollocks, Angelic Upstarts 2,000,000 Voices, Iron Maiden Powerslave, The Clash London Calling, AC/DC Highway to hell,
Sex Pistols Finsbury park 1999 (I think) Iron Maiden Donnington park 2000, Guns n Roses Gateshead 1997, Rancid Brighton 2005 (us supporting) The Dickies Newcastle 2008 (us supporting)
My family, my mates, tattooing, my band, my motorbike,
First, and most expensive record ever bought?
-First bought was Alvin stardust Koo ca choo (ha ha ha) most expensive was Pink Floyd collection i bought in the US for $60
The most embarrassing record in your collection?
-Alvin stardust Koo ca choo
Many old punk have came up in age, is it pathetique that punks go on?
-Of course it isn't if you enjoy the music and want to have a say then why the hell stop!!!
It hasn't stopped Mick Jagger AC/DC or Lemmy, Some of the best bands I have ever saw live have been old bands that have been around for over 30 years. Punkrock is supposed to be about doing things that you want so if you like it do it thats punk not saying oh I´m now 45 so I must now stay at home for the rest of my life and listen to Bing Crosby fuck that!
Which is the oldest punk that you know?
-Everyones favourite old punk the legend that is Charlie Harper
What does punk mean to you, is it only a word or is it a lifestyle?
-I suppose it is a lifestyle, I have always been a bit of a rebel, never took to well to authority which got me in trouble when I was younger. I have always done things my own way hence the studio the band etc. Punk rock should be about having a say and not taking shit from anyone, do what you wanna do. (to an extent ha ha) These days for me its about going out with the band playing making people happy and making them think.
What do you know about Sweden?
-You got lush women! And its cold.
Have you heard any swedish bands that you like?
-Sorry I have not
Futureplans for the band?
-Get this fucking album released, and to keep playing around the world blowing peoples minds with our punk rock n roll show.
For yourself?
-Make sure my kids have a damn good life.
To keep busy in studio and with the band, work more tattoo conventions ride my bike more, Learn to kayak
Party harder!!!
Wisdomword?
-You get one life live it! Stay free!
Something to add?
-Cheers for the interest in Crashed Out anybody out there want to get in touch please do we are always interested in what you got to say. Cheers to you all Chris x