Iain is a member in the really good group Control and he also runs Mainstage Merch where he sells t-shirts and other stuff related to punk. Go in there and buy some stuff so he can get some food for the day ;-) october-2014
Please tell me a little bit history of the group?
-We started in 2008 and wanted to try offer something a little different to the scene, we think we are achieving this as the band have been attracting huge praise from some of the biggest names in the scene who see bands everywhere and all the time and Charlie Harper of the UK SUBS and Lars from Rancid both told us we have one of the best albums in the last 10 years with Punk Rock Ruined My Life.
Please tell me a little about every member in the group right now, age, family, work, interests and something bad about everyone?
-We are aged in our 20's, 30's and 40's and all just love playing rock & roll, having a few beers and travelling round the world carrying our message. I like football and keeping fit, Shifty loves racing fast cars, Ryan like drinking and getting tattoos and Stitch also like getting tattooed and drinking like a fish. We do not play drunk though, that is to celebrate after the show. We all have kids except Ryan and only Stitch is works for anyone else, we all do our own things. I run Mainstage Merch which supplies a lot of the best bands in the scenes t-shirts etc, Shifty restores classic cars and Ryan is a beer tester.

You have some different ages in the band it seems like, what´s the difference for you older in the group to play today if you compare with when you started to play??
-Today is far better when it comes to the amount of trouble at shows, as there is very little if any at all but I would not swap me and Shifty's times playing back in the day for anything as it makes us the people we are.

Your influences are a little bit older stuff I think? Sham 69 is a big influence? Am I right??
-We grew up listening to all sorts of great punk and oi! and rock & roll which I think you can hear as our music has a little bit of everything in there. No, Sham69 were not a big infuence but they did write some great songs. We have played some shows with the proper Sham 69 with Jimmy Pursey recently and there are still superb, as class is permanent and in many ways as these bands get older they y become better musicians.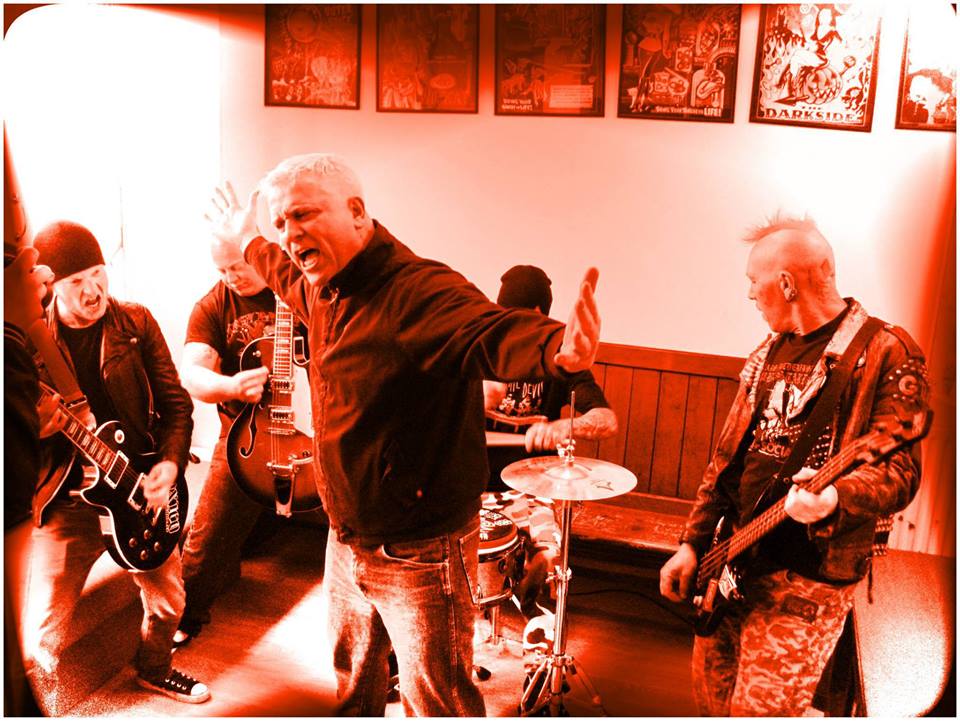 What´s the best thing with playing live?
-Travelling sometimes for 15 hours on an aeroplane and when you get to the show there are 15 year old kids to 50 year old guys who know every word of your songs. Also people coming up to show you their Control tattoos, that is totally amazing and makes you realise that our music and message means something to them.

And where is best to play?
-We have no favourite place to play as even in the past 12 months we have played Sweden, Norway, Holland, France, Germany, Scotland, England, Ireland, Wales, USA, Belgium and next up is Russia. In the past year we play at least 2 weekends every month as well as doing two tours.

How is it to play this sort of music in England? Is the scene big? Does a festival like Rebellion do much for this type of music?
-The scene in the UK is the best it has been in 20 years and recently we started to headline all the same venues as the established bands like The Business, UK SUBS, Anti Nowhere League etc and have filled the venues every time, proving the scene is alive and well and getting stronger.
How would you describe your music in three words?
-Power, Passion, Real
What does punk mean to you, is it only a word or is it a lifestyle?
-You are asking the wrong guy! My only form of income is from playing in the band and running a punk rock webstore so yes, I am poor but happy and when I wrote the song 'Punk Rock Ruined My Life' which became the album title, it was a true story about my life. I had a very well paid job when we were offered the chance to start touring the world with the Dropkick Murphys and I gave up the job and went touring as you only live once and it was something I needed to do. Anyone who thinks it is glamorous and makes you rich could not be more wrong. We played supporting Dropkick Murphys across the USA to thousands of people every night and our pay was $50, yes $50. We also had to pay their guitarist $50 to drive us so do the maths. Do you know something though, they could have got bands to tour with them for free with record companies giving them thousands to take their bands on tour so it was very nice of them to take us along at all and we really appreciate it as if we had done it alone we would have been playing to two men and a dog most nights so it was a fabulous opportunity. They may have been being making $20,000 plus a day most days but they totally deserved it as they attracted huge crowds and at the same time proving their is a massive audience for punk rock out there if your product is good enough. After just one tour( we have since done around 250 shows in the USA) I had the bug, so we became a touring band. This was with Beerzone.
How do you see on downloading, mp3 and that stuff?
-Records don't sell in the numbers they used to, although each of our 3 albums have sold thousands, so if a kid downloads and likes the music, then there is a chance he will turn up at the show and support you in this way so that is the best you can really hope for.
How is it to live in England now? Politically?
-England has many great people living there but it seems a very unhappy place to be after 30 years of terrible governments and massive mistakes and seems to be getting worse and worse.
Is there any good bands from England now? How is it in your hometown?
-There are load of great bands in the UK including No Thrills, Murdaball, Foreign Legion, Panic Attak, Epic Problem, Gimp Fist, Crashed Out, Argy Bargy to name but a few.

What do you know about Sweden?
-Sexy women, not very good football sides( I am scottish ha ha), beautiful country, good beer, fresh air and a hell of a lot better than the UK at present.

Have you heard any good bands from Sweden?
-I only really know Perkele who seem very popular and On The Job who are great guys and a very good band.

Your lyrics, who does them and what influences you?
-I write them all and it is about things in our every day lives.
Is there any subject that you never will write anything about?
-If something affects us, we will write about it.

Politic and music, does it goes hand in hand?
-It seems to destroy every good music scene with all these clowns automatically labelling your band right wing or left wing if you do not come out and say "we are this, or we are that". We are a working class protest punk band who try deliver a message of defiance to authority when they make stupid rules that affect our lives. Nothing more, and nothing less.
Best political band/artist?
-Dead Kennedys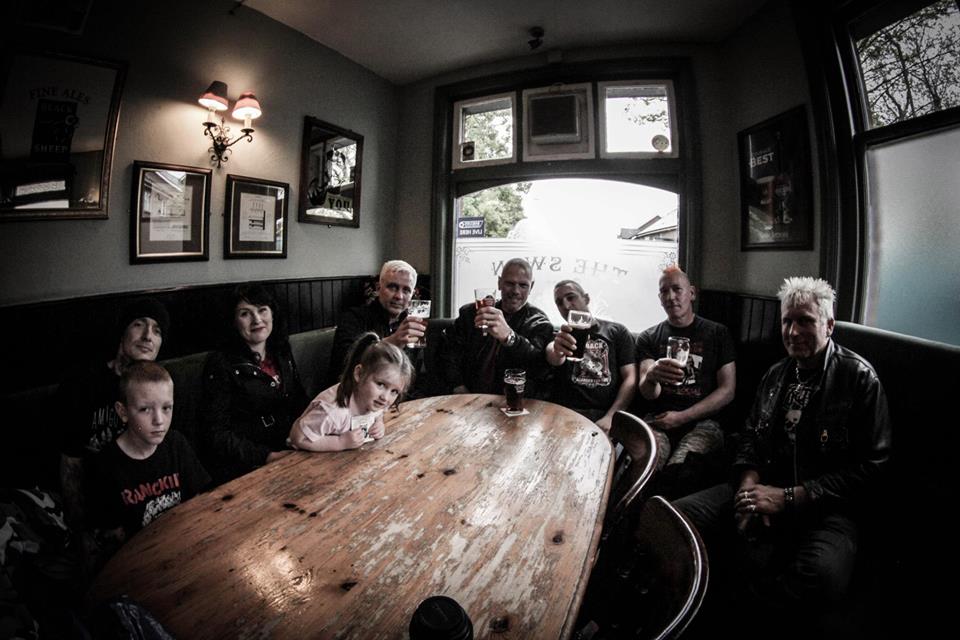 Do you think that music(lyrics and so on) can change anyones life, I mean people who listens to music?
-I think music can give you hope, make you feel you belong to something, stop you feeling sad and lonely and give you strength to pull yourself together and try make something of yourself when things are looking bad. We see bands who now cover some of our songs and they tell us it was bands like us that made them pick up and learn instruments and start a band. This makes us feel very proud as it means we mean something to people and if we can start a band, anyone can!
Have you thought of doing a tribute song to a football team or so? Are you interested of football, if you care which team?
-Not really to be honest, I love football but am the only guy in the band who likes it at all. They are all proper rock & rollers, and I let the side down ha ha! The mighty St.Mirren in the Scottish Premier League as also supported by Lars Frederiksen and Captain Sensible.

Randale is that a good label? When does your next record arrive?
-Diana is a very hard worker and a very nice person who is very business minded so she believes in what she is doing and works very hard to try get her band's music to as many places as possible. <![if !supportLineBreakNewLine]>
<![endif]>
We joined Randale after having the label very highly recommended to us by very influential people as I am a very loyal person so felt guilty leaving Contra/Step-1 and Longshot but Diana was very, very keen to work with us and despite Contra being great guys,getting them to do anything in a hurry is almost impossible but I love them all but when I want something done, it has to be done right away, especially when your records sell so many copies.
Within one month of Ballad of the Working Man coming out on Randale, she was on the email asking if we would do another album with her as soon as possible, so I take it she was pleased with the sales!

Please tell me a funny thing which have happened during your career and under some gig?
-There have been so many crazy things that have happened as over the years we have played hundreds of shows but the most crazy has to be being tear-gassed on stage and then being shot at.
How does your audience look like? Which people do you miss on your concerts?
-We are fortunate as we get punks, skins, casuals, bikers, scooter boys and all sorts at our gigs as our music seems to appeal across a whole range of different scenes and we are always approached to be told "I don't usually like punk but you guys are great", now that has to be a very good sign.
Please rank your five favoriterecords, five favoriteconcerts and five most important things in life?
-California Uber Alles - Dead Kennedys
Step Down - Sick of it All
Dead Cities - Exploited
Another Dead American - Lars & The Bastards
Skinhead on the MBTA - DKM
Melbourne - Australia
Glasgow - Scotland
Amsterdam - Netherlands
Bristol - England
San Francisco - USA

Your children
your health
your happiness
your family
freedom
Is it boring with interviews? Which is the most stupid question you ever have got??
-The most stupid question ever was "we know you only do it for the money...." What a f'ing retard!
Is there any new songs on its way? How do they sound?
Yes, we are in the middle of rehearsing the material which will be the 4th album which we will release with Randale again.
Future plans for the band?
-To keep playing all over Europe and the world and to get our music message to as many people as possible. We are not one of the trendy bands who look the part and are loved by kids, we just let our music do the talking and it takes a lot longer this way but cream will always rise in the end so the more we are ignored, the stronger and more determined we become as we fully believe we have something wrong getting out to the masses. They just have to give us a listen.

For yourself?
-Try build up Mainstage Merch, keep writing songs but most importantly try make sure my children and family are happy, healthy and secure.( I better stop this punk rock nonsense and get a real job then ha ha!)

Wisdomword?
-If you are reading this and like what we have to say, check us out at www.hooliganrocknroll.com and if you want to get your hands on any of our music and merch if you like what you hear online, www.mainstagemerch.com
If you like any of UK SUBS, Bishops Green, The Damned, Cock Sparrer, Noi!se, Rancid, The Old Firm Casuals, The Business, Last Resort, Argy Bargy, Harrington Saints, Crashed Out, Lars & The Bastards then you really need to check the website out, www.mainstagemerch.com
You know it makes sense

Something to add?
-Can I go now please as loads of work to do? ha ha!
Many thanks Peter and hope you like the answers, keep up the great work and thanks for your interest.