Confession is a new swedish punkband and here Adam which is the singer in the band tried to answer some questions to this interview. They have precisely released a mini-CD which is released as a real record and not a burned record, very nice. Check this group out….august 2005.
History?
-Tommy contacted me and asked if I wanted to rehearsal and record some songs with him and the rest of the band. I think it was Johan and Tommys idea to do this. We rehearsed 11 songs last summer and recorded them. 3 of them is on our demo. We had some gigs and we did a new recording which result in our ep.

Please tell me a little about every member, age, work, interests, family and something bad about every one?
-Adam Nilsson, age 25 years, family in Småland, lives with my girlfriend in Stockholm, like to play Tv-games and to play punkrock.
Johan Ottosson, age 26 years, lives in Småland, likes punk and my peeps!
Niklas Joelsson, age 22 years, lives in Småland, girlfriend, likes karaoke!
Martin Nilsson, age 2 years, lives in Småland, works as a carpenter, like beer, punk and poetry.
Tommy Tifft, age 23, works in Malmö, study and works at Glassfabriken, likes days of our lives, wrestling and Kris Kristoferson.
<![if !supportLineBreakNewLine]>

<![endif]>
Why did you start the group?
-Just to play punkrock!

Why this sort of music?
-Everyone in the band have always bee punks. It would be unnatural to play something else. .
I think you have much influences from 77-punk, comment? Is that something you listen to
-Yeah, that´s the music that I and Johan have grown up with. Both the Swedish and the English punk. I don´t know how to play anything else. I think it can be heard also in the songs which goes more to HC that we´re a 77-punkband in our style
<![if !supportLineBreakNewLine]>
<![endif]>
Favoruitepunkgroup through all times?
-Adam – The Clash – It feels like a boring answerbut it´s som simple. I think there´s some atmosphere over everything they´ve done. And it feels like they´re the ground to all good punkrock. I mean the lyrics was superb and the music was really inpredictable, which feels really pure and punk. Maybe something we who plays today will learn something from.!
The most important punksong ever done?
-It must be "Anarchy in the U.K" Fjodor from Ebba said in some interview that this is the ultimate rocksong and it feels so…. …
<![if !supportLineBreakNewLine]>
<![endif]>
Is there any good bands in your hometown?
-Oskarshamn then?.... yeah …. The Parttimers, Somebuddies and of course Smalltown. And thsoe who read this who haven´t heard Backpockets sometime must try to get their 7-single or their old demos…they kicked ass!
In Sweden?
-Check out Ticking Bombs from Fagersta and Mockingbirds from Sölvesborg. Total Egon plays again too! There´s alot of good punk in Sweden. Dims Rebellion and Twopointeight is fucking good too!
<![if !supportLineBreakNewLine]>

<![endif]>
How do you think it is to live in Sweden then, and then I mean politically?
-Sweden is really Ok if you compare with other plays in the world. I had surely falling through if it haven´t been for our social care.(I must admit this I´m sad to say)
Music and politics, does it goes hand in hand?
-The punk have always felt like a opposite pole against politics and then it´s politic in that. And if I hadn´t said so so couldn´t we have anything to play "against". I mean that for me punk is a channel there I can say whatever I want without care about what somebody else will think about it. And when it touches political question it´s politic. I don´t udnerstand what to sing/write about otherwise. What does unpolitical punkbands writes about? Which punkband is unpolitical?
<![if !supportLineBreakNewLine]>
<![endif]>
The best political group?
-Crass and Propagandhi
<![if !supportLineBreakNewLine]>
<![endif]>
From where do you get inspiration from when you do lyrics?
-I usually write down lyrics when I'm on a toilet somewhere. You know you have been going around and thought about something and only write it down on a paper. Other lyrics you maybe put some more time on at home. But I like the streetpoetrysongs better. I have never thought that "hmmm now I should do a lyric about that or that". I mean it´s a feeling you often describe. Inspiration comes from everywhere around which touches me inn some way. Positive and negative.
<![if !supportLineBreakNewLine]>
<![endif]>
You did a real record and not a homeburned, how come? Was it expensive?
-It haven´t felt like a real release otherwise. And we is really satisfied with the record and we think it´s worth to release.It cosed us 17 swedish krona/record and we produced 1000(Martin took a bankloan) www.pregal.com
<![if !supportLineBreakNewLine]>
<![endif]>
You think also to do a fullengthrecord, when will it come?
-As soon as we have rehersed and recorded so many songs so it´s enough. W haven´t the wolrd longest songs on the Ep and it´s a thought that the fullength will be more like one style . It will take the time it take. The most important is that we´re satisfied with it. We will surely do a split or two before that!
<![if !supportLineBreakNewLine]>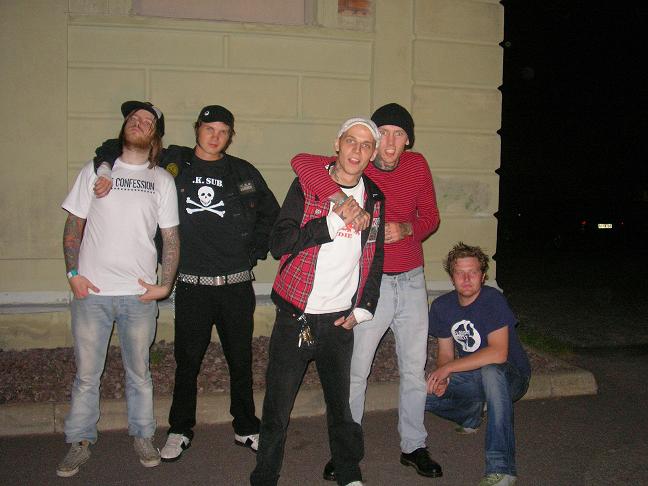 <![endif]>
What does punk mean to you, is it a lifestyle or is it only a word?
-Lifestyle. Punk is meaning a fucking lot to us so it´s hard to describe. I don´t know where we have been if we haven´t put our clothes together with safety pins in our youth. I listen to a lot of other music too but it feels like if you always land in punk anyway.
Please rank your five favourite records, five favourite concerts and five most important things in life?
-Favouriterecords=
ADAM:
Ksmb – "Rika barn leka bäst"
Ebba grön – "We are only in it for the drugs"
Strindbergs- "Bombpartyt"
Clash – "London Calling"
Bob Dylan – "Blond on blond" ( shit I want to write some more, there´s a lot of good records))
Favouriteconcerts =
Total Egon on Augustibuller 2003.
Lars Winnerbäck acoustic on Hultsfred Festival when he still was good
Strindbergs – Acoustic on Stacken(kompledigt)
Stry – also acoustic on Stacken
Backpockets – Reunion on Parkfestivalen 2005
Five important things=
Family, work, band, friends, David Brent
First, last and most expensive record ever bought?
-The first one was a cassette with Jerry Lee Lewis. The latest– Bruce Springsteen – Devils and dust. The most expensive– I got cheated on a Ramones 7 which costed 200 krona once but it was sorted out that it was not an original. That´s the most expensive one. I have paid some hundred krona for an Operation Ivy bootleg. But it was a long time since I put a lot of money on record. I like the music but I´m not a collector!
The most embarrassing record in your collection?
-Absolut reggae
The best record to have sex to?
-A 3rpm record with Discharge played on 45rpm.
The record with the nicest cover?
-Ahh. Hard question. I like cover of Anti-rock with Ebba Grön and The Freewheelin Bob Dylan.,
To be a relative new band, is it positive or negative?
-Only positive. We have done a lot in one year. We feel no pressure.
Is it many gigs?
-Yeah, if you think about that we live Stockholm/Malmö/Småland so is it really much.
Which type of people comes to your concerts?
-I don´t know if somebody except our mates comes.. Haha. Maybe people who have heard our song on the net. .
Futureplans for the band if you don´t think about the fullengthrecord?
-We´ll try to set up a tour. Everything is in the planningstadium.
And for yourself?
-Go and work every day and to play with Confession in the weekends.
<![if !supportLineBreakNewLine]>
<![endif]>
Wisdomword?
-You can only be working class in two ways! You work or you can be born into it. So highclass youth- tough to be leftwing-mama pays….. -……….. Fuck Off!
Something to add? -
Good zine and thanks for the interview. Keep your eyes open for Tommys other bans Sista Skeunden ( www.sistasekunden.tk )! And….take care of each other.