Compact Pussycat is a band which contains four women which plays a mix of metal and punk and they do it fucking good. Helen was so kind that she answered a lot of questions from me. It took a while but here´s the answers finally. October-2006

History?
-Wow, that's a long one!
Compact Pussycat first formed in 1993 with Jenny (guitar), Helen (bass), Ella (drums) and Christine (vocals). During that time 6 songs were recorded, two of which were used on Noisebox releases. This led to being played by John Peel and heard all over the world - well, they were heard on the World Service by someone in East Berlin, their first oversees fan. They were gigging regularly in Norwich and then spread further afield to play the likes of The Bull & Gate and The Marquee Club in London and supported Blaggers ITA in Cambridge. In 1995, the band split: Christine left for the USA, Ella went travelling, Helen joined The Pitkins and Jenny formed Burned Dahlia. On to 2004: After a chance meeting at a party, Jenny, Ella and Helen got together for the first time in 9 years to reform Compact Pussycat, recruited Alix and relaunched themselves on the Norwich live scene. Between September 2004 and August 2006 Compact Pussycat have played 27 gigs in the UK, mainly in the Norwich area but also Ipswich, Leicester and Cambridge. The gigs have included supporting The Damned, The Skulls, Red Flag 77, The Ballistics, Semtex and Goober Patrol. 12 songs have been recorded and released on 3 EP's, two of which are still available directly from the band.
Please tell me a little about every member, age, family, work, interésts and something bad about every one?
Jenny – Aged 35, antiques dealer, likes black & white classic films, horror films, guitars, going to gigs and young men! Has a new addition to household by the name of Zeus, a 14 week old kitten.
Alix – Aged 22, visual merchandiser, loves books, horror films (especially Japanese) and games. Ambition to win a Darwin Award, but not too soon.
Helen – Age 33, qualified Chartered Accountant (I know it sounds dull!!!, can that count as my bad thing?), single, own home, car and teeth. I'm the token indie kid of the band who loves stuff like Blur, Muse, The Fratellis, 90's grunge and loads of other stuff that has a decent tune. Apart from music I love Formula One (and most other car racing), have a healthy interest in football and support Gillingham FC.
Ella –
Our collective bad thing is we have a habit of going into a rant, especially after drinking, which bores the crap out of people.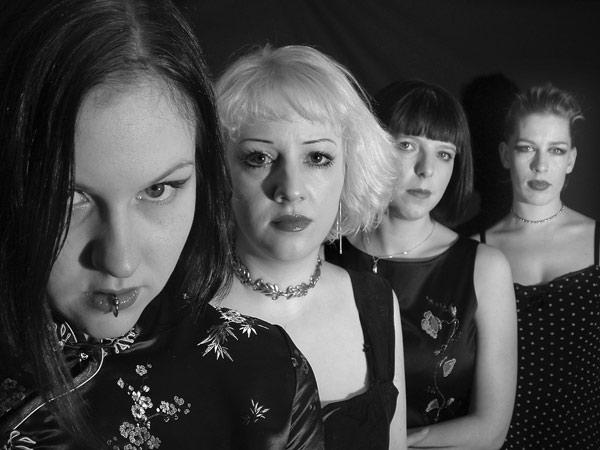 My review of your record is like this COMPACT PUSSYCAT-BANG!(MINI-CD) Compact Pusscyat comes from Norwich in England and they´re really good. Why couldn´t they be that you can wonder. Musically they sound like a mix of Girlschool and Vice Squad just to compare with something but they have an own style anyway in everything they do and they´re really hard to take after and they sound really energic in every song. You can understand that they are somewhere between punk and the English heavy metal and I can imagine that their audience is really mixed. I listens to the record many times and it grows for every time and the only thing you can complain on is that it is only 4 songs long.(SEVEN) 11/9-06
What about it?
-Glad you like it. Interesting reference to heavy metal, that's a first for us.
Is there any other bands you´re being compared with?
-Different people compare us to whatever their references are and can range from old school punk like Siouxsie and the Banshees through to the 1990's riot girl stuff. Most people tend to have problems in putting us on a category,

Do you care about reviews?
-I'd like to say no, but we got rather aerated when there was a review that focused on our old singer's size and completely forgot to mention the music. It was the worst sexist crap we'd ever come across and made sure our singer never saw it, it was personal and very hurtful.
Compact Pussycat, where did the name come from? Is it many complains on the name?
-This is a simple one – The Compact Pussycat is Penelope Pitstop's car in the Wacky Races.

What´s the best and the worst with being girls in the front in a punkband or is it a guy in the band or how is it?
-We are an all girl band and love it. We had a male drummer stand in for a couple of months when Ella had her baby and quite frankly it didn't work. Can't imagine trying that one again. The best thing is we're friends and we don't think we have the same ego issues that some men have. The worst thing is we can all have PMT at the same time!

How is it to live in England today?
-Probably like most of Europe, it has it's good and bad points. It's getting pretty expensive here, but when you compare the lifestyle to many other countries in the world, it's pretty good.
Are people afraid of new terrorist attacks?
-We've lived with terrorist attacks from the IRA for most of our lives, the terrorists are now called by a different name. Oh and willing to blow themselves up without warning. The worst thing is that this time it's because we are so affiliated with America and separated from Europe. The English people were not behind the war in general and as always it's the innocent people who have to pay.
Do you think that music and politics goes hand in hand?
-Sometimes.
Best political band?
-All – The Dead Kennedys.
Most bands have some kind of politics included as you can only really write about things you care about. Politics doesn't have to be world affairs, but can be observations of what is going on around you.
Is there any good bands in your homecountry now?
-Tons. The last couple of years has seen a resurgence of decent guitar music getting proper coverage in the media. Our recommendations are:
Jenny – Placebo
Alix – 65 Days of Static
Helen – The Fratellis
Ella – Muse
What do you know about Sweden?
-Not enough! The obvious stuff like Abba, Ikea and Volvo.

Have you heard any good swedish bands?
-The Cardigans
The Hives
Lordi
Isn't Jose Gonzales Swedish?
What does punk mean to you, is it only a word or is it a lifestyle?
-It was a lifestyle, but has been somewhat diluted. It is more of an attitude and thinking against the grain.
Please rank your five favourite records, five favourite concerts and five
most important things in life?
-Blimey, this is difficult!
Jenny – Stab Your Back (The Damned), Every Me & Every You (Placebo), Wighing (Flock of Seagulls), Space Oddity (Bowie), Asteroid (Killing Joke).
The Skulls (Ipswich), Visual Offence (Marquee), Killing Joke (Waterfront), Placebo (Brixton Academy), Damned (UEA).
Friends, happiness, knowing when to shut up, having a roof over my head, beer/vodka.
Alix – Teaches of Peaches (Peaches), Blink 182 (Blink 182), Substance (Joy Division), Everybody Hates You (Combi Christ), Bikini Bandits Kill Kill Kill (Bong Ra).
Bong Ra (Hog in Armour), 65 Days of Static (Waterfront), Combi Christ (Bradford Uni), Placebo (UEA), Drop Kick Murphies (UEA)
Skin, gin, sex, jam & hammer.
Helen – Kings of the Wild Frontier (Adam and the Ants, it was the first record I ever bought); Rage Against the Machine (eponymous album); Nevermind (Nirvana); American Idiot (Green Day); Best of Blur (coz I can't decide which album I like the best!).
Inxs at the London Arena in 1990 (my first big gig); The Levellers at Glastonbury in 1994/5?; The Damned at the Waterfront in 2004 (we played too and it was a total high); JJ72 at the UEA in 2001; Ride in Cambridge in 1991.
Friends, family, loyalty, love, security.

First, last and most expensive record ever bought?
-Jenny – First - Lust For Life, Iggy Pop; Last - Killing Joke; most expensive - no idea
Alix – First – So Tough, St Etienne; Last – Stereotype Heroin Hooker, Bong-Ra; most expensive - no idea either.
Helen – First - Kings of the Wild Frontier, Adam & the Ants; Last – Empire, Kasabian, most expensive - Creepin' Up the Backstairs limited edition pink 7", The Fratellis (bought on Ebay for £17).
Ella – First - Moonlight Shadow, Mike Oldfield; last – Blue Orchid, White Stripes; most expensive – another no idea.
Most embarrassing record in your collection?
-We all own some cheesy stuff, but we are out and proud! Although Helen has some dodgy tape left behind by an ex-boyfriend called Elvis Sings Christmas, it is truly awful!

Is Bang an official release or is it a demo? You released it for yourself? Not any label?
-It is an official release by us!!!
Have you done anything more than Bang? If you have how can i get it?
-Check It Out EP is still available by contacting the band either on MySpace www.myspace/compactpussycat.com, by email compactpussycatkicksass@yahoo.co.uk or by coming to our gigs. There are previews of all of our songs on our website under music www.compacatpussycat.co.uk and Two Way Mirror on MySpace is on Check It Out.

Is it many interviews? Is it boring?
-We've done a couple, but this is the longest (it's taken 4 hours to get this far)!

Which is the question you never get, please ask it and answer it?
-Would you like a drink? Yes please.

Is it any chance to see you in Sweden soon?
-Probably not unless some nice promoter wants to put us on and pay for the airfare!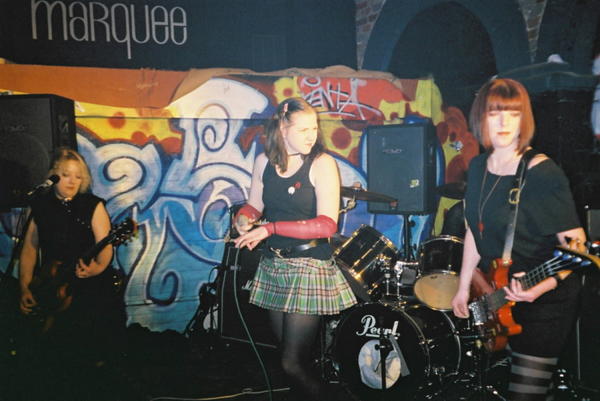 Where is the best place to play?
-Best place we've played so far is The Waterfront in Norwich (better venue than some of the more famous ones).
Would like to play Wembley on opening night, not likely though boo!

How is a good gig with you?
-One with no technical hitches and the crowd are really into it.

You´re somewhere between metal and punk it feels like, is it many different type of people on your concerts?
-Absolutely and all ages too, from 17 to over 50. Metal? Really?
Futureplans for the band?
-Keep on enjoying what we do and take it as it comes.
For yourself?
-Yes.
Wisdomword?
-Alix – Badgers
Helen – But aren't owls wiser?
Alix – Yes, but badgers have distinguished hair!
Something to add?
-Love us, come to our gigs, buy our CDs and become a Compact Pussycat minion!