The german punkrockband Combat 77 is a new band which I never have heard but I become really happy when I hear them. I did an interview with them in January 2009.:

History about the group?
-We are from Lower Saxony / Germany and got together in 2007. Our members have formerly played or still play in bands like "Riot Company", "Annex5", "No Time Left" and "Vendetta". In 2008 our first album "100% Oi!" was released by Sunny Bastards (CD) and Contra Records (LP).
Please tell me a little about every member in the group, age, family, work, interests and something bad about every one?
-Kirsten is our singer, she works as a freelancer; Dole (30) is currently studying and working; Noppi (25) is in the stock management business; Hannes (25) is a stone cutter and Björn (41) works as a computer system administrator. We all love drinking beer and having fun, so there´s basically nothing negative about us that you should know.
How is it to play this sort of music in Germany nowadays?
-Good, the "punks and skins unity" – scene has become stronger again, and there are always a lot of great festivals to play like "Total Oi", "Oi" the meeting", "Endless Summer" etc.
Are you only sing in English, ever any thoughts in singing in German??
-Our singer originally comes from Canada, so it's natural she sings in English.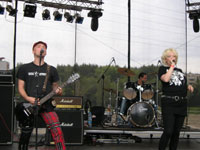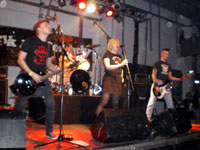 Combat 77, where did that name come from?
-It´s a mixture of punk and skinhead slogans, "Combat" stands for skinhead and "77" for punk rock.
Have you done anything more than 100% oi how can i get it?
-We only released a demo cd with 4 songs which sold out completely. Maybe it will be repressed as a 4 way split CD in the near future.
Which is the biggest band you have played together with?
-Hard to tell, maybe it was the "Misfits" on Subculture Fest in Prague.
What does punk mean to you is it only a word or is it a lifetstyle?
-Definitely a lifestyle!
Who have done the drawing on 100% oi?
-A talented guy from Spain called Javi. He also did a lot of gig posters for venues before and the artwork for the "Annex5" – Sex Rag CD which was also released on Sunny Bastards.
What's the best of living in Germany?
-The beer is quite cheap!
You don't have the typicial oi sound and it feels like you mix a lot of punkstyles?
-Maybe because we have a female voice. In terms of music, our basic orientation are old 80s England bands Cockney Rejects, Cock Sparrer, Adicts and Vice Squad.
Sunny bastards, does it seems to be a good label?
-Yeah, they support us a lot and gave us a very fair record deal.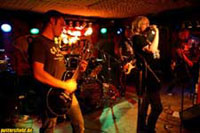 Is there any good bands in your country nowadays? Any old favourites?
-Sure, in our hometown Hannover, for example, you have great oi! bands like "Guts´n´Glory" or "Lion Shield". Old time favourites are "Stosstrupp", "Die Alliierten" and "Canalterror".
What do you know about Sweden?
-Cold temperatures, expensive beer, but very nice cities and people.
Have you heard any good swedish bands?
-Of course: "Asta Kask", "Perkele", "Radio 69", "No Fun at All", "Voice of a Generation", "59 Times the Pain" and a lot of the early "Really Fast" compilations.
The chewing gum under the boots, does it have any special meaning?
-As there are so many "normal" boot motives already, we wanted to add something specific.
Oibands have often been taken as rascistband, how do you see on that?
-Oi! has nothing to do with racism, it´s a punks and skins unity thing and has nothing to do with any extreme politics.
Please rank your five favourite records, five favourite concerts and five most important things in life?
-Adicts – "Songs of Praise", Cock Sparrer – "Shock Troops", Social Distortion – "White Light", Generators – "Winter of Discontent", Angry Samoans – "Back from Samoa".
Adicts, Cock Sparrer, Social Distortion, Exploited, Condemned 84
Health, friendship, beer, family, freedom of speech.
First, last and most expensive record ever bought?
-AC/DC, No Fun at All, Negative Approach 7"
Most embarrassing record in your collection?
-The Radiolas
What do you think about Facebook, My space and all those stuff, is it good for a band of your caliber?
-MySpace is a great promotion tool for bands in general, it helps a lot with getting into contact, without it, a lot of gigs, especially in foreign countries, wouldn´t have taken place, and a lot of people wouldn´t have known of gigs without it.
Where do you stand when we talk about mp3 and downloading?
-Good tool for spreading music, too, as long as the bands and labels can manage to get back their album production costs.
Is it good or bad for a band of your size?
-Good for spreading, bad for sales.
Futureplans for the band?
-We will do a two weeks´tour in China in February 2009, then play some festival gigs like on the "Total Oi"" in May and maybe do a tour in Wales later this year.
Futureplans for yourself?
-Stay healthy and content.
Wisdomword?
-Don´t let yourself be fooled by any political bullshit.
Something more to add?
-Thanks for the interview. Visit our website at www.combat77.com Cheers and Prost!