Please tell me a little bit history of the group?
After doing a long break from the stage since 2001 when I parted ways with my ex-band "FORGE", I've been involved in many projects as studio recording, arrangements and experiencing diverse styles of music. The wish to go back on stage was each year stronger, so I finally decided to start a new band and write songs. Not long after I met my old friend Philippe (ex- AMOK) and proposed him to join the project. We quickly had a lot of feeling playing together and that created the core of the band.
The band with his initial line-up, hits the stage for the first time the 11th of November 2011 in Geneva/CH as support for SAVIOURS (USA). The project was already on process since a bit more than a year and half.
Unfortunately since we started we did not had a lot of chance and our line-up has been changed twice, today we are back to the root with our former drummer Bastien, we have a new bass player Albert, and a new singer Mathieu, he sings also in an awesome death-grind band called KESS'KHTAK.
Today, we are again ready to assault the stage as in our early days and working hard on new stuff to release our first full length record.
Please tell me a little about every member in the group right now, age, family, work, interests and something bad about everyone?
The majority of the members have kids and families. Our ages are between 28 and 45. We all have full or half time jobs to be able to feed ourselves and families but we do all have a common motivation : MUSIC
Colossus fall how did the name came up??
We wanted something that could be related to our music, "big, intense and strong". We wanted COLOSSUS but this name was already taken, after talking, joking and laughing about it we finally came to COLOSSUS FALL that sounded good to us.
I can imagine that you´re fucking good live, is it so?
Ask the fans ! They have the right answer, but I can already tell you, the stage is the place where we prefer to be. J
What´s the best thing with playing live?
It's this adrenaline that gets in you, when you're on stage, and the fact to share in direct your music with the audience and have an exchange with the crowd is just awesome.
And where is best to play?
There is good places anywhere. But playing outdoor is always amazing.
How is it to play this sort of music in Switzerland?
We are very lucky in Switzerland to have great bands with a lot quality and people who really tries to move and make evolve this scene. For sure that kind of music only talks to a few people
How would you describe your music in three words?
Wide – Strong - Uncommon
What does punk mean to you, is it only a word or is it a lifestyle?
A life style and a way of thinking.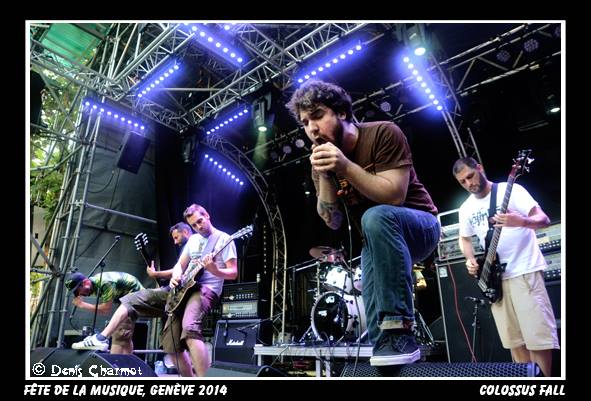 How do you see on downloading, mp3 and that stuff?
To me it's a very good thing, it allows and gives a chance to your band to be discovered by people worldwide and not only locally. There is always a polemic saying that due to that, bands are no more selling as in the past. I think you're more talking about illegals downloads and all that stuff. There are bands like "Met…..ca" who are against this and say this should be prohibited. I don't think we have to worry too much for such bands when we know how much they get paid for one gig and all the merchandising they sell. If they are known so well in the world it's probably also and a small part is coming from that, so they should be rather thankful for that.
Finally if we see that relating to the past years, this has always been the same, we had cassettes, minidiscs and the people was already doing "illegal copies". To me it's not a problem, in fact it allows to spread your music.
We also put on free download our discography time to time.
How is it to live in Switzerland now? Politically?
I think it would be preferable not to answer, the space in this interview would be not enough to talk about that subject, but corrupted as all this world. And even more nowadays.
.Is there any good bands from Switzerland? Do you listen anything to the old bands like Indigesti., Wretched etc?
For sure there is really good bands. Switzerland might be small in size, but what it lacks in size, it's more than makes up for, in terms of metal bands. Some of them marked the past and are still a reference and world known like Coroner, Celtic Frost, Krokus, Samael, Knut and many mores….. Nowadays, there are bands like the killers of Mumakil, Coilguns, ….
What do you know about Sweden? Don´t mix your country up together with Sweden as everybody else do ;-)
Yes it's true, there is a lot of people who mix it. Except the fact that It's much more in the north from us, it seems to be a really nice country with great metal bands. Personally, I still did not had the chance to visit it. Who knows, maybe once we'll have the opportunity to tour with COLOSSSUS FALL ??? Would be great J
Have you heard any good bands from Sweden?
Yes for sure, the list is long, there are a lot of them in various genres like Messhuggah, Entombed, Katatonia, Opeth, At the Gates, and probably my preferred one and really not to forget Breach.
Your lyrics, who does them and what influences you?
This part belongs to our singer. The subjects are mostly facts that affects us in our lives
Do you do any covers when you play live, which(if you do) ?
Yes, time to time we just like to play a song here and there in our set just to share a nice moment with the public. We've done "Murder" from Breach, "Breed to Breathe" from Napalm Death, "Blood and Thunder" from Mastodon.
Politics and musics, does it goes hand in hand?
Politics is for politicians. But if you're known enough, you can probably have an influence on people.
Best political band/artist?
No comment
Do you think that music(lyrics and so on) and change anyones life)I mean people who listens to music)?
People who listen to same music have similar ways of thinking and recognize themselves in this
Have you done anything more than these two records? If you have how can I get it?
As from now, this is what we have with COLOSSUS FALL, but there is more to come soon.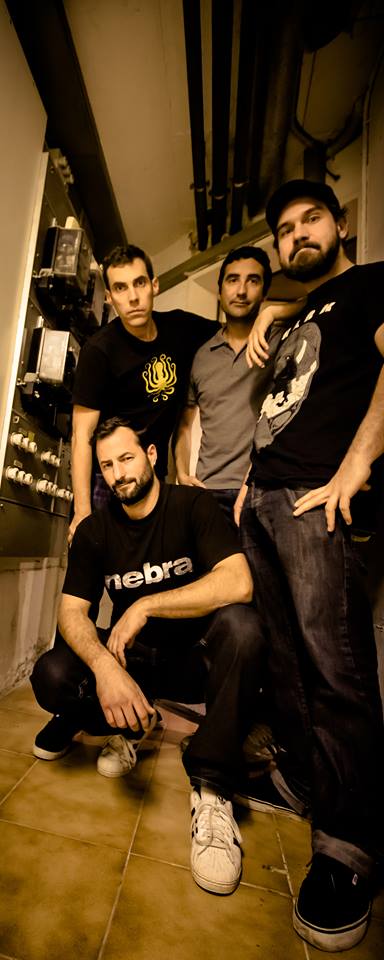 Is it important to release your records as "real" records?? Which labels have released your record?
Yes it is ! Some fans and listeners like to have a physical copy for their collection with an artwork and package. A bit like when we were younger, we use to buy 33 rpm vinyl records. It was so good to have this piece, something you can touch with all the lyrics inside.
Our first EP is totally DIY and we had no label for it. The split vinyl is a collaboration with our friends, the band GACYS THREADS from Ireland and we were very lucky to have 4 labels helping us to release it : Savour Your Scene – Ireland, Incrediblenoise Records – Germany, Black Lake Records – Scotland and Left Hand – France. We are very blessed they could help us for this release.
Please tell me a funny thing which have happened during your career and under some gig?
We had to play in a Metal Festival in France, we did the soundcheck around 14H30 pm and had to play around midnight. So we've been waiting and drinking all day long. When we went on stage we couldn't see our hands. This has been our worst gig ever, since that we've learn the lesson J
How does your audience look like? Which people do you miss on your concerts?
This can change depending the venue, but nice people who enjoy listening to heavy stuff. Who we miss,
Please rank your five favoriterecords, five favoriteconcerts and five most important things in life?
Records ?
There is too many good ones but to name some : Botch – We are the Romans, Keelhaul – 360, Breach – It's me God or Venom, Messhuggah – Destroy Erase Improve, Dillinger Escape Plan – Calculating Inifinity……………but I could mention so many mores.
Concerts ?
There is way too many. But just to mention one that marked our memories, here in Geneva but long ago when Breach and Neurosis played @ l'Usine/CH. That night smashed so many of us, real too good.
In life ?
Family, friends, music, all that feeds us spiritualy or physicaly, respect.
I compare you a little with bands like Burst, Hatebreed, comment on that? Other bands you have been compared to?
Very honored to be compared to Hatebreed or Burst, some people accociatied us also a bit to Dilinger Escape Plan for some parts.
No thoughts of singing in your own language? Have you ever done that?
No.
Futureplans for the band?
Yes, in the upcoming months we'd like to release a full length album and be able to tour as much as possible.
For yourself?
Take care of my family and do music as much as I can.
Wisdomword?
Be yourself !
Something to add?
Book us in Sweden !!! J