Mårten plays drums and he have a part in the label Beat Butchers, He answered my questions I had about one of the best swedishsinging groups in Sweden today. In august 2004 this took part.
Whatīs the difference between Coca Carola now today and when you started(when was it?)?
-Itīs half new members. Curre and me have been since the strat, Winberg came 91 och Bävern 94. We started to play 1986. Nowadays Winberg do the biggest part of the music, earlier Curre did a big part of the music. Itīs still most of Curres lyrics. I think weīre a better band today. And we habve played a lot of live and weīre really good live. Winberg and Mellberg do the backgroundvocals really good today and then we have more structure nowadays even if it isnīt noticed by anyone. When we started we only did what we did and played when we got somewhere to play. Now we maybe decide that we shall do a record, it will be released then and then, we will a special number of gigs and so on. Often small plans about different projects..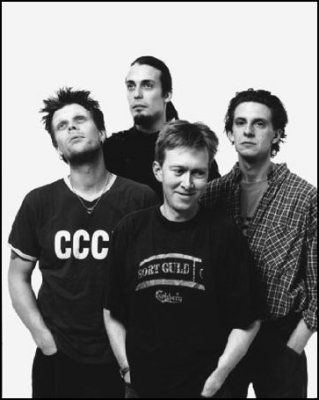 The new record, are you satisfied with it?
-Iīm very satisfied with it: As always there some things I wanted to have different but weīre four who decides and then it many compromises and then thinks Mister Borg who recorded it a lot of things. But we have agreed about the most this time. Itīs fun that we have taken some different voices and instruments this time, those things we plan but often it doesnīt be that way. I think itīs good rive in the songs and many good songs
From where comes the titles?
-We have almost always difficulties to come up with a title to the records and this time wasnīt anything else. We use to list all suggestions on the wall in our rehearsal room , the most of them are really bad and then the panic comes with cover and all those things. This time we said that this must be the title when weīre in a meeting with Fabbe who have done the cover. It comesīfrom a singtitle.
Is it important to have a good title and a nice cover on a record?
-The title isnīt so important for me, but itīs really fun if you come upw tih some good title. The cover I think is more important. But itīs too little with the CD-style. It was more fun with LP-records. The cover to the new record have a little bit more serious touch than we have had before and thatīs only positive.
Which band, company makes the nicest covers?
-Joy Division and Factory records of course but that was a while ago. Smiths which I never have liked do also nice covers I think. Itīs more difficult with CD.s and the most of them are really boring. I use to sit on the tube and wondering over the fantasylost.
To sing in swedish, was it only a thing you could do or is there any thought in english?
-We tried foregin languages once 90-91 when we did the single C/C but it doesnīt went on so well. WE did it much to check out if we could play abroad. We got some askings about tours but in the same time our original guitarist went from the band and then we decided to sing in Swedish instead. Now in the later years when we have been abroad we have singed in Swedish, and it have worked out fine. The donīt understand anything but they like the melodies.
Do you have any other bands besides of Coca?
-No, Curre did the Krymplingsthing and itīs possible that they do something more but otherwise itīs no bands on the side
Please tell me a little about every member, age, work, family, interests and something bad about every one?
-I Mårten is the oldest in the band, I work as a kitchen master in a hotel. I have the label Beat Butchers together with a mate and Iīm living together with a girl since 6 years. The most of my spare time goes to music, sports and movierelated things. Itīs sick how much it is to fix with things with thing involving Coca Carola except the songwriting. And then some labelstuff even if we have a low profile right now. Something bad about me will not be told and not about the other ones either..
Winberg is also living together with a girl and he have two children and he study hard and he works on his old work as a music teacher.The most of his time goes to music in some way. He studies, have guitarlessons, do Cocasongs, help youngsters in Åkersberga to organise bands and so on. And then he have a house and a family to take care about. Heīs also very sportinterested.
Curre is some months younger than me and he have 4 children and heīs married. Heīs a allroundman who can everything I would say. He have thousands of things in his mind and hands and the telephone is ringing all the time when we rehearsal. He can never say no to someone who ask him about things. He is like Winberg and me very interested in sports
Mellberg heīs the youngest in the league and he works a janitor, when he is free itīs much the pub, billiard, computers and dvd which is the thing for him. He like to play board games also.
Which advice would you give to a new band, what shall they think about and what shall they think about?
-Only to do their thing and keep on doing it. I have never understand the thing to start a band to be a success and if you donīt get a success they let the band go in the grave. No, rehearse and test your way foreward, make your own gigs and record things in your rehearsalroom which makes things easier and cheaper and that have been so much cheaper. I think they must look up for to think that theyīre more than others, all gigs is worth the same.
Beat Butchers isnīt as active as you were before, why not?
-We do not cope with it but we donīt knwo what we will do either. When we begin to lesser things it felt as we got too much demos from bands with too much rockstardreams and they donīt understand that is D.I.Y. I and Jojo have always had the label as an hobby and weīre not earn any money on it and weīre still really much into the punkideals which made us start 20 years ago.
Which is the dreamband to release on Beat Butchers?
-I donīt really know, to mention a specific band is hard but thereīs so many. But it have been fun to release a really swinging punkband with members which only have immigrantbackground. The Swedish scene have almost always been done by people who are born here. A really angry hiphopband had been fun.
Which is the best record you have released this far?
-My shyness forbid me to say all Coca Carolas records and then in the eight place comes…
I like much of the things that we have released even if I donīt listen to is so often. 23 Tills debutsingle. Tuk Tuk Rallys Luftballong and Hans och Gretas album to mention som highpoints. Best is difficult to pick out.
You have been outside Sweden and played also, where have you been and where is best?
-We have been to Norway, Germany, Poland and Russia and played. Russia is in an own class I think but maybe so that most peculiar is the best. We did 4 gigs in three different cities,we went by train and bus. And we lived with people except in Moskva where is was a hotel(which we paid of course). In Moskva came Dagens Nyheters reporter and interviewed us, he only shaked his head when we telled him how we have went around and where we have been. Not strongly recommended if he would say what he thought.
But otherwise we havenīt met "number one chef mafia" in a bar in Smolensk. Which wasnīt so nice said some people who was more sober than me. No good food in the whole journey, a lot of vodka and beer with some curious food as raw onion or drought fish and we was taken care of by supernice people which made this trip to an unforgettable journey. Polen was also good because then we let fans/mates buy themselves into the bus we went with. It was a really god week of vacation/touring in a sunny Poland. But for me it was really much doing before the tour, and the to be the tourmanager to my lads and in the same time everything should work out good for our guests. But I will really want to do it again. Both in Poland and in Russia it was a lot of people who have heard us before we came, really fun. Norway and Germany was also fun but itīs more like home and I like when things are different.
What do you think about living in Sweden? And then I mean politically
-I think it is much which isnīt so good in Sweden as the sales of healthcare, school and the collective traffic. I donīt understand why we donīt can pay these things together. Is it really necessary that it must be someone whoīs earning money on everything? I want to see a really big drive to the left but it must wait. But when we compare with other countries we have it really good but if we see the difference between the ones that have money, work and white skin versus the people that donīt have seems to be more and more. That we must be so damn afraid for people from other countries is embarrassing and that women and men is very far to have the same payment is really peculiar. .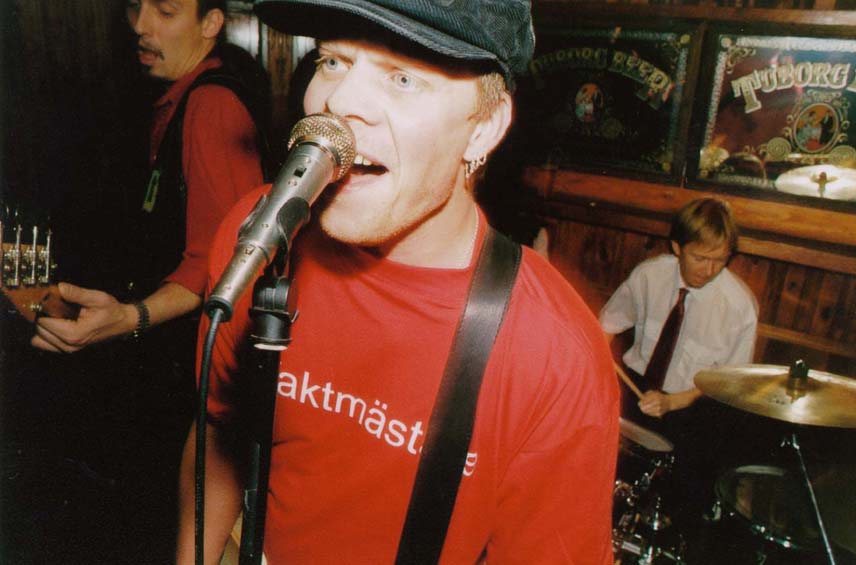 Is there any good bands in Sweden right now?
-yeah, thereīs a lot of bands but I must come up with them now..
Entombed, Soundtrack of our.., Troublemakers, Shout out louds and Looptroop
To mention some.
Please rank your five favourite records, five favourite concerts and five most important things in life?
-These rankings are always fun and difficult, I change now and then.. but top 5 right now is..
skivor:
Damned - Damned damned damned
Iggy and the Stooges - Raw Power
Sort Sol - Glamourpuss
Ebba - We`re only in it for..
Mega City four - Terrible sorry bob
Concerts:
Ksmb – The last concert on Kameraspalatsetdid really weak records but live they was unbelievable
Dead Kennedys - Underground in Sthlm (the Monday gig with Trekant as supprot act, Saturday wasnīt so good
Ebba & Dag Vag - Rock Palais in Sthlm on Turister i tillvaron tour
Black Grape - Gino in Sthlm (marevllous partyswing )
Or maybe should Blur on Palladium, Wannadies on Vita huset or Stiff
in Göta lejon be here..
Important things:
To be healthy, live with someone I love, work with something you donīt puke on, have friends that I trust and have money to food.
First, latest and most expensive record ever bought?
-I donīt remember if it was an Ebba or Bitch Boys which came first, Patti Smithīs new is the latest and the most expensive I think is a Clash or Iggy bootleg for about 200 swedish krona, but it was a long time ago since I bought a bootleg so in todays money itīs maybe 400.
I started to buy own records really late, I listened to my big brothers records when the punk came. Iggy, Alice Cooper and New York Dolls and plus that I sat and listened to the radio. But records was so much more cheap before so was the thing that I havenīt so much money then. You can almost say that my musictaste have been in these style all the time even if some hiphop and pop have come to the punk. I think that even if you can listen to new things and styles so are you really characterized by the things you explored in your early teenage, it never goes away.
Most embarrasing record in your collection?
-I ainīt ashamed to anyone of the records in my collection actually, but I regret that I sold my Rude Kids LP many years ago. The only record I have sold actually.
Can music change anyones life? Give me an example?
-Itīs hard to know, but I think so or I want to think so. Now when many artists in USA mobilize to get the youth to registrate and vote away uncle Bush you can say that it can change peopleīs life in the future. And then I donīt know which type of people I have been if the punk come and put their claws in me. But the most of my life and mates have their grownup in a mix of the things which happened between the 70īs and the 80īs. Values and so on.
What does punk mean to you? Is it only a word or is it a lifestyle? –Lifestyle is maybe to say too much but for me it stands for something positive and an idea that nothing is impossible. But in the same time I think it feels really dumb and sit here and talk about punk here and there.
Please describe your music in three words?
-Energy, seriousness, happiness.
What is most important to you when you do music, is it to have a good lyrics, a good For me, the music. mej musiken
Which style of people is coming to your concerts?
-An odd mix of all ages and styles. T depends on which place we play and which town we are. We have never have a special punkaudience I think. That we have been on the road for a very long time and have done about 400 concerts have done so that we have been in many odd occasions. It can be something for some really drunk overallstudents and the next evening on a youth recreation center with shy but curios 13-years old people
Where do you stand when weīre talking about mp3īs, do you think that all music will be free in the future?
-I donīt think it will totally free but I think that the devolpmetn with I-tunes will go and and everything else which have good alternatives there you pay a little sum of money for every song. I think itīs Ok to download and I do it a little myself. Of course I became a little bit angry if I see that someone have been put out a lot of songs we have done because weīre only amateurs but for me it doesnīt matter. Because in the en dit should be more fans anyway. We must do more cheaper recordings not to go back with money. .
Futureplans for the band?
-Nothing special actually, now have we soon done our 20 gigs this summer together with the release of the record. Winberg will be having very little time to go out and play in the future so we donīt know what to do. Curre have always much to do also.
For yourself?
-Nothing here either, start work on Monday after a long summervacation. It feels very hard to go to work again. Itīs an Ok work but sometimes it gets too much and heavy with a lot of responsiblility. And donīt talk about when the christmasdinners is coming… Maybe I will go and study in the evenings, try to bwol better, start to play football ?
Wisdomword?
-I have nothing
Something to add?
-Run to the store and buy Kryp din jävel then is your day saved