ALL
PICTURES:ROINE LUNDSTRÖM
roinefoto.se
City Saints have done a mastodon work and it is a double LP with a Swedish and an English record. Really good and City Saints sail up as one of Sweden's best punk bands. December 2022
The new record is a complex work, how did the thoughts go with releasing a double album?
GABBE: The point from the beginning was really to release an English album. But after "På svenska", we got a taste for writing in the mother tongue. In parallel with this, we also wrote English songs and the result was a Swedish-English double album.
Carl: We discussed which way to go after "På svenska", if we should do songs in Swedish or in English next time or if we should simply mix. It occurs to me that we first talked about making one page in Swedish and one page in English. At the same time, the dream has always been to release a double album. Because we had so many good songs, we did that.
STEFAN: Actually, it's not that complex, just twice as much work. There were many and long hours in the studio.
I like the Swedish songs best, I understood that you (Stefan) also do it ... Is it Swedish that applies in the future?
STEFAN: Absolutely not, City Saints are bigger out in Europe than in Sweden, so we will continue to write and record in both languages. The reason why I personally prefer Swedish is that it is easier to write more resourceful texts, and you can play a little more with words.
Gabbe: No, I think songs are about more than what language it's written in. The melody, the music and the drive etc. A good song is a good song regardless of language, I think. Writing lyrics in Swedish is really fun but it's leaning towards an English album next time.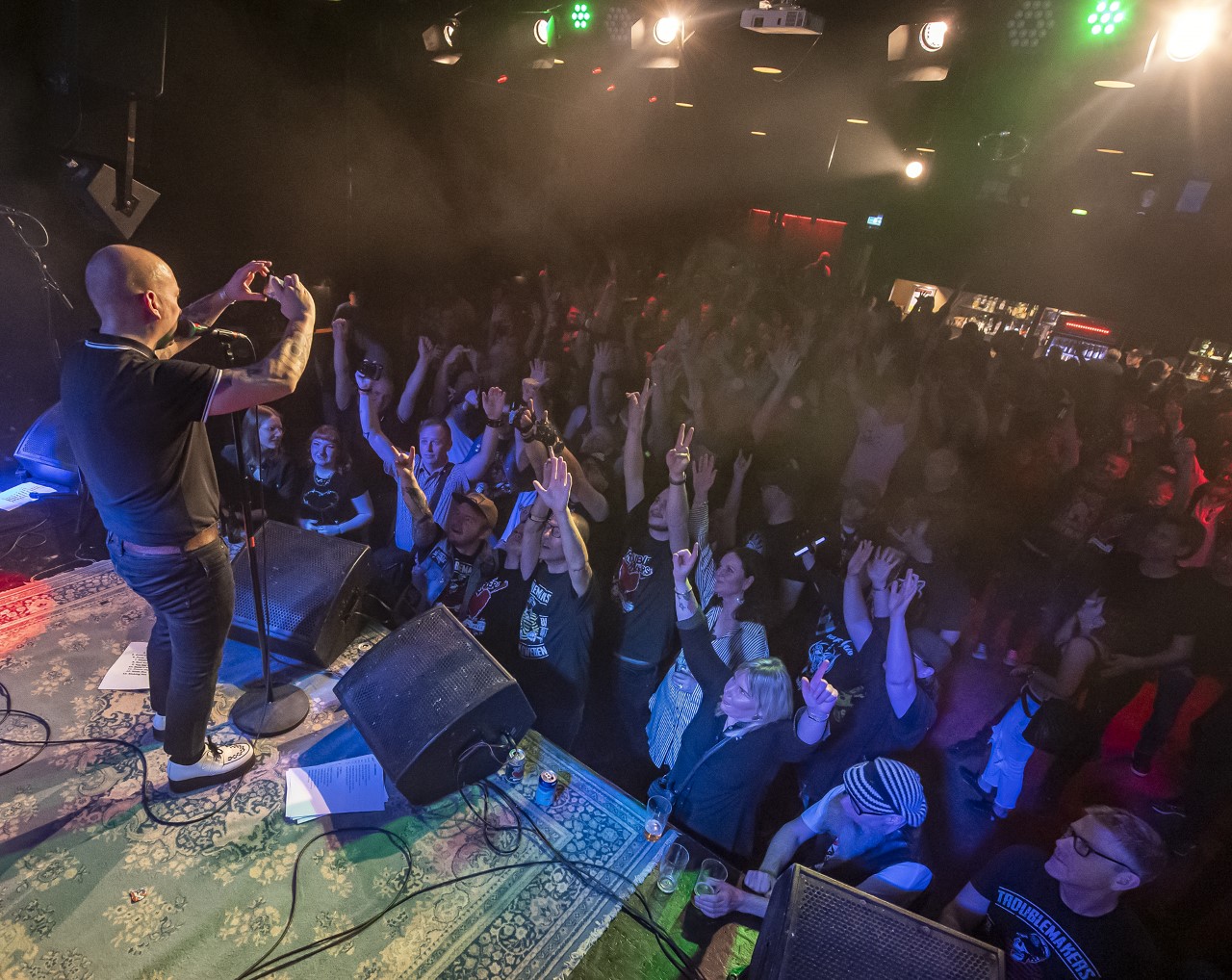 Have there been many member changes since the start of the band? Who are the members now, tell us a little about every man?
Gabbe: We've changed drummers a few times but the rest is intact. The members are: Stefan Johansson (vocals) Gabriel Aadland (guitar) Carl Linnaeus (bass) Robbin Larsson (drums) I've been playing guitar since I was 13 and very quickly started writing songs. Much hasn't changed since then. Still playing guitar and writing songs.
Carl: The only thing we've changed is drummers. Jonsson was involved from the start in 2012 to 2014. Tommy Olsson took over and managed to record a single with "United we stand" and a cover of "I fought the law" on before he quit. He also managed to record an unreleased Motörhead cover in "I won't pay your price". Superb Robbin Larsson joined towards the end of 2015 and since then we have had our most stable set-up. Me, Stefan and Gabbe have been playing together since Chillihounds in 2005. 17 years!
Getting older and still being a punk(soon to be 60 years old myself) isn't that just pathetic? How do you feel about this... How old have you gotten?
STEFAN: It depends on how you see it. Is a punk at heart, but doesn't look like a punk. I've turned 45 and I don't care what people look like. As long as you feel comfortable with yourself
Gabbe: No, there's nothing pathetic about it. You are what you are and feel what you feel regardless of age. I am 45 years old.
Stefan also plays in Outsiders who play Ramones in Swedish. How did you come up with that idea? The album was really good... When will the vinyl version arrive?
STEFAN: It started with me and Crippa wanting to do something together. So we talked for a long time about what we wanted to do. Since both love the Ramones, we took the easy way out and formed a tribute band. But it didn't feel funny or particularly arousing to just to do covers. So I simply picked out a bunch of songs that were translatable, and that's the way it is. Should add that it's Paul Schöning on guitar and Thomas Karlsson from Professional Againsters on drums, both equally big Ramones lovers as me and Crippa. The vinyl is coming this spring
City Saints have played a lot abroad, where is the best to play... In which country do I mean?
STEFAN: In Germany, there are always a lot of people, even if you play in the countryside. England is also fun. But since we released På Svenska, it has become more here at home, which is fantastic fun
Gabbe: Germany is hard to top. Good organizers, lovely and enthusiastic people.
Carl: Germany. There's never a fuss there.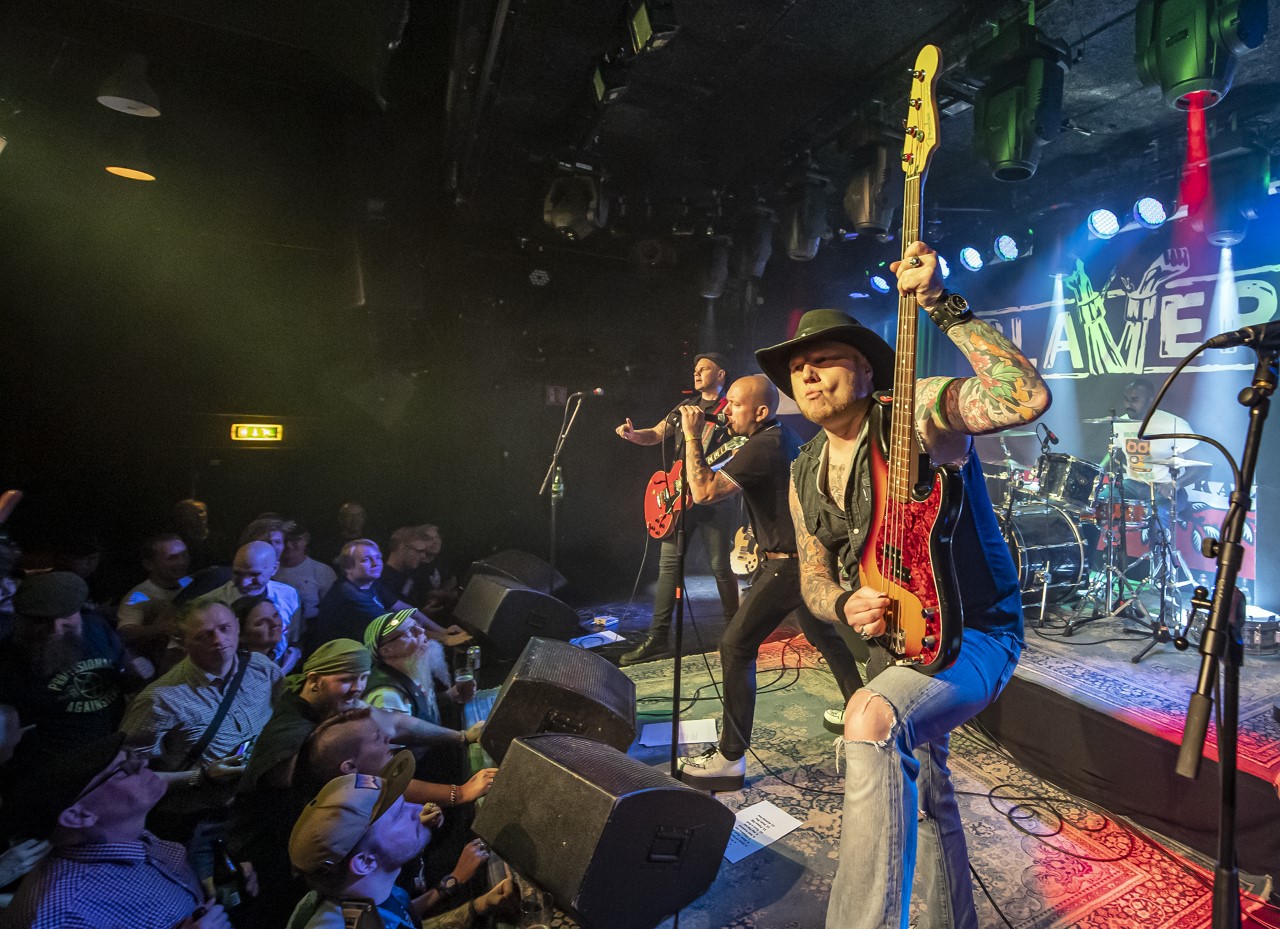 When you play live, what do you think is your strength?
Gabbe: We know each other well musically and therefore find it easy to follow each other's "signals" live.
Carl: That you never really know what's going to happen. It is full of nerve in what we do and it is thus always a genuine live experience. And because we have the best audience in the world, they give us extra energy and thus the songs extra energy.
STEFAN: Energy and joy
What's the weirdest band you've ever shared the stage with besides at festivals?
STEFAN: Probably haven't shared the stage with some weird band as far as I can remember.
Gabbe: An eight-man ska band that was dressed up as monkeys and they did monkey sounds backstage. Can't remember what they were called. Could it have been "Monkey business" maybe? Can't remember.
Who writes the lyrics for City Saints, is that something you will never write about?
STEFAN: It's me and Gabriel who share the writing. And personally, I'll probably never write a buttery hard rock lyric about brides and sex. Like Mötley Crue and stuff like that rubbish
Gabbe: Me and Stefan. Well. Nothing is taboo so seen, but lyrics about rape and starvation are perhaps not suitable as lyrics to our music.
Mixing in politics and opinions, is it good or bad?
STEFAN: Both. What I think doesn't really matter. And music must not become a catalyst for one's own opinions. Then it can become very dangerous.
Gabbe: It all depends on how you do it. If it's finesse and ulterior motive, there's a lot you can write about. But writing about politics can get a little plump at times. We have made some texts on the subject.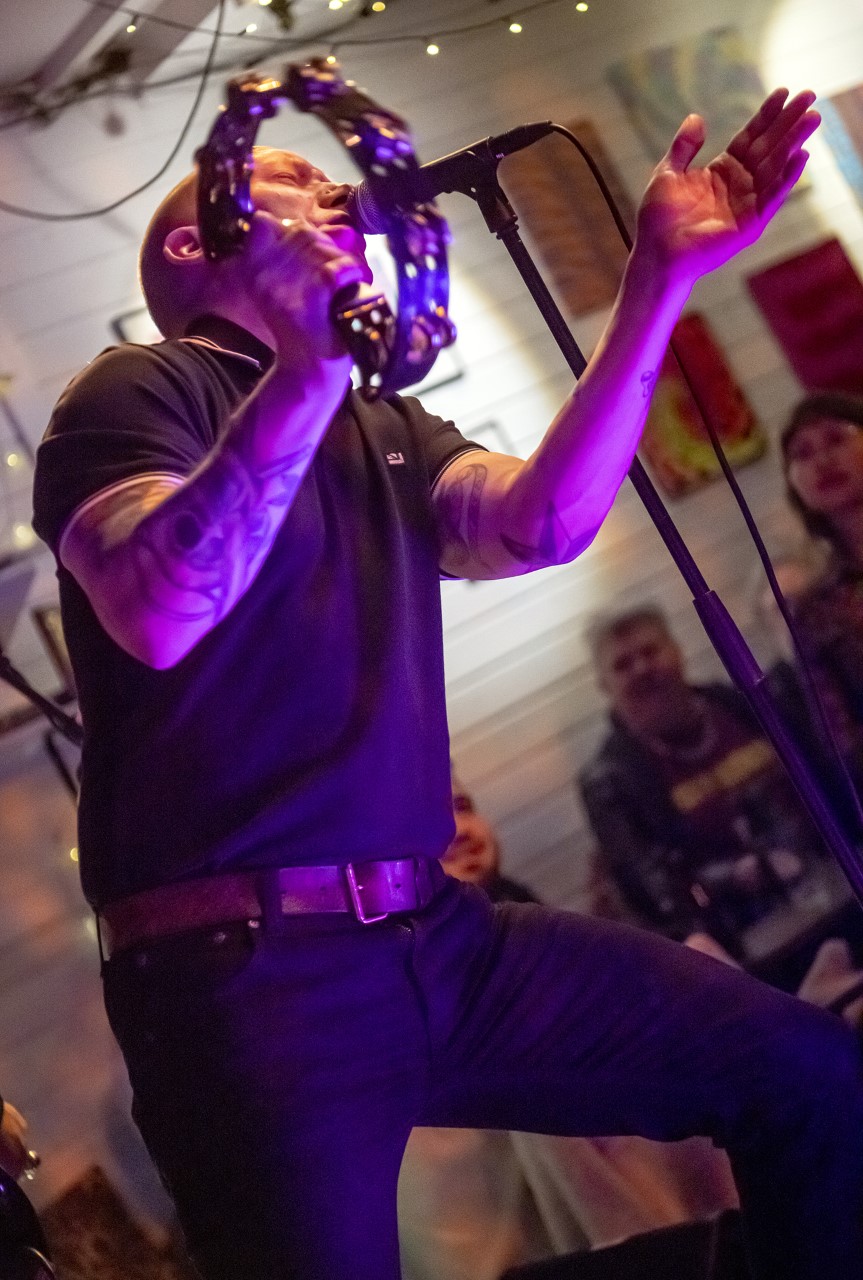 Now when SD and the other blue parties have come to power, does that make punk grow do you think?
STEFAN: Absolutely. In any case, it will be more noticeable in the texts in the future. But we have ourselves to blame.
Gabbe: I don't think punk cares what's on the cards at the moment. But surely there is a need among many to raise their voice and go against.
Are you surprised that people have changed their minds about what they voted for since the election?
STEFAN: Avoids talking politics to people, but it's easy to be hindsight.
Gabbe: I think we have too much faith in politicians. Politicians are a bunch of ass hats you can't trust. Perhaps you shouldn't be shocked that they stand and promise and promise before elections and then don't keep what they said. Nothing new.
How do you think it is to live in Sweden?
STEFAN: We're doing well compared to a lot of other countries, so we're not going to complain.
Gabbe: It's cold.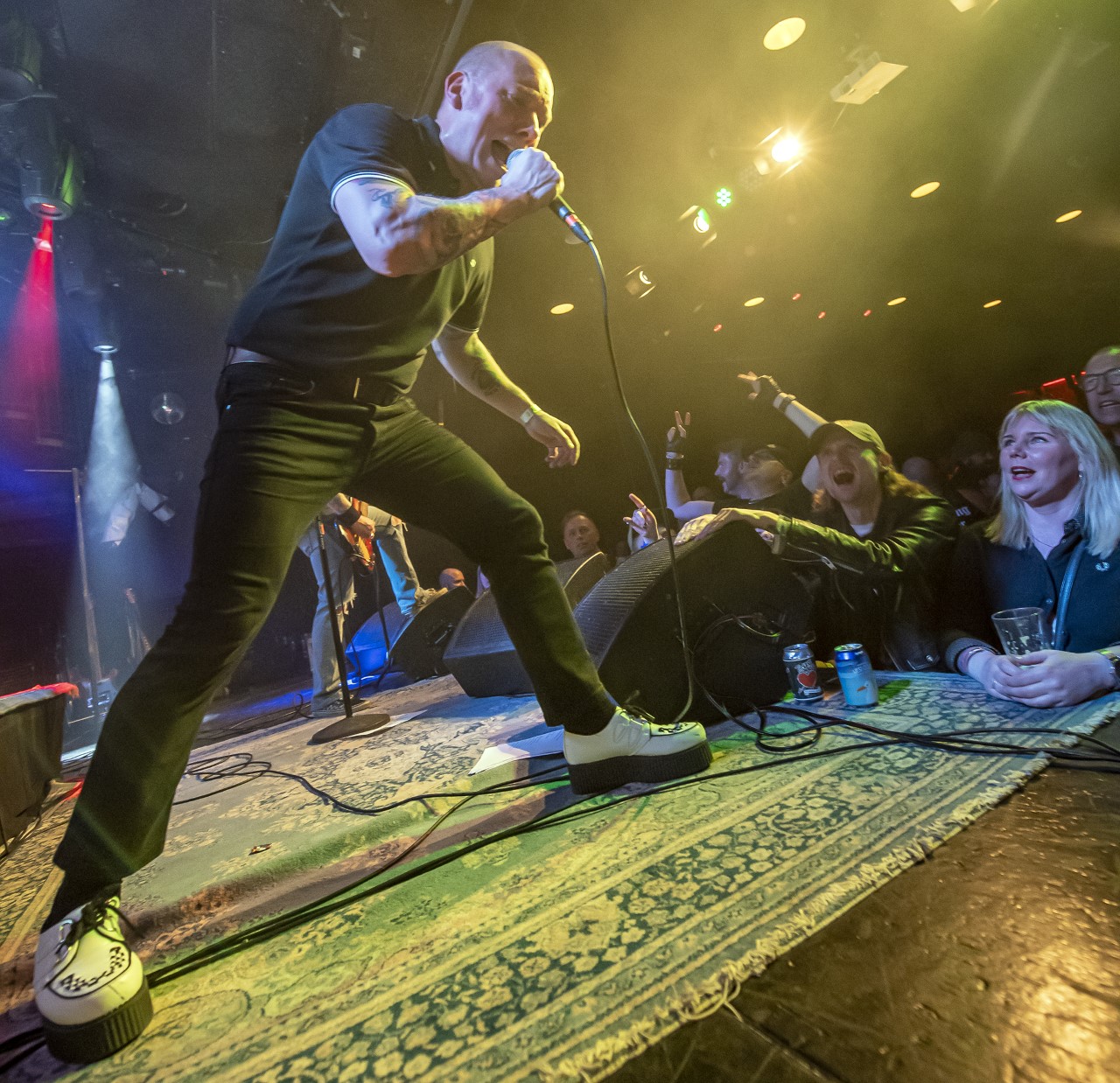 An important question , favorite style when it comes to beer variety? A City Saints-beer maybe? What would it be called in that case?
Gabbe: There are many good beers but a really cold and humming ipa is hard to beat. Well, that would have been fun. Have actually talked about it and I have a suggested name, "Having a glass for the working class".
STEFAN: There are a lot of favorites, and now that winter is here, stouts are the order of the day. But my top among breweries is Stigbergets, O/O, Beerium and Sierra Nevada
Carl: I've gone lap around and come back to the fact that lager is still the best. We've discussed a City Saints beer a little lightly. That would be a dream.
When you're out touring, what's the record you have to have with you?
STEFAN: Eddie Meduza is always in the car
Gabbe: We mix some when we're out. Not only punk and rock'n'roll but sometimes it can be good to play a little Simon & Garfunkel or Cat Stevens eg.
Carl: Eddie Meduza has a tendency to spin. Preferably "Garage taper".
Do you buy a lot of records yourself? Favorite format?
STEFAN: I've started collecting vinyl again and have bought a hundred in the last few months. But nowadays it's mostly "must" albums. Rarely buy a "new" record. If you don't want to support other bands
Gabbe: Way too few. Doesn't have very good sound in my turntable combined with bad economy.
Carl: Of course. Just vinyl.
Have you made any records that have become really expensive on EBay, Tradera?
STEFAN: Not that I know. Have some punk singles that can certainly give a few bucks
Gabbe: Not that I know but am damn unbothered about money.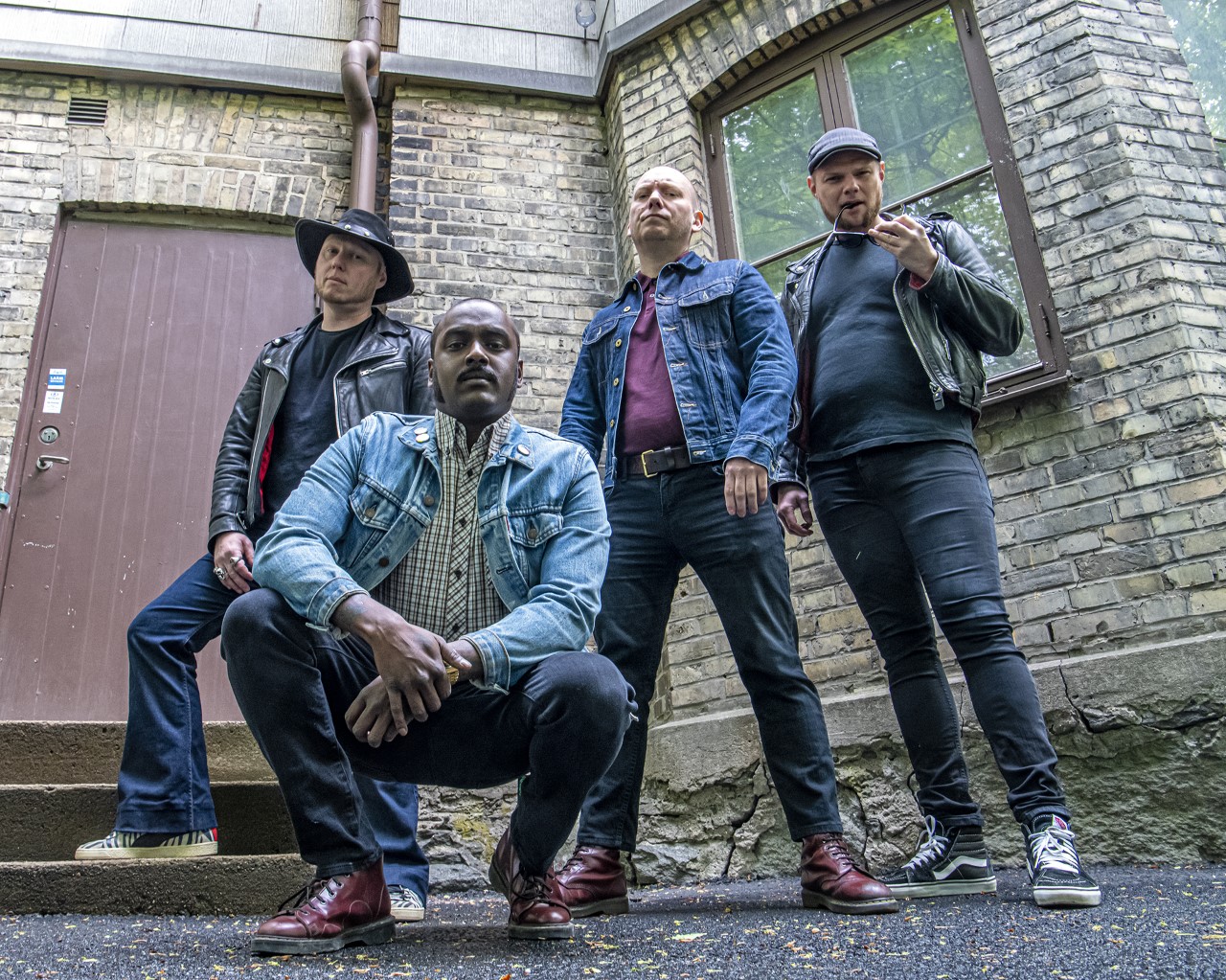 What's the most expensive record you've bought?
STEFAN: Recently bought a box set of Goblin's soundtrack to Profondo Rosso by Dario Argento. Used, but way too much money.
Gabbe: No idea.
Carl: Kiss "The originals II" for SEK 2,500
Are there many of your fans who have done some kind of tribute to you, like tattoo or similar? What's the craziest thing anyone has done?
STEFAN: I think I've counted seven tattoos so far. And the craziest thing is when people start making their own merchandise.
Gabbe: Well, tattoos have been seen a lot. Really fun! At the release party, we got a glass jar full of patrons with our logo instantiated in the glass.
Carl: We've seen several tattoos, which is insane but incredibly appreciated. The craziest thing was when a guy came up after a gig and insisted on buying my sweaty City Saints tank top that I was still wearing. Hope he washed it when he got home.
Tell us something really funny that happened during a gig with City Saints?
STEFAN: We came to a venue in Hameln where sound engineers were completely deaf. He just turned everything up to the max and then we played. The most crazy thing usually happens backstage after the gigs.
Gabbe: A classic is in St. Petersburg when the audience lifts Carl off the stage and walks away with him into the audience. Carl manages to cling to some railing and came back in due course.
Carl: I remember when I as a kid saw Sator at Liseberg in 1993 and got their autographs afterwards. Barely 30 years later, we played "I'd rather drink than talk" with Chips Kiesbye and Hasse Gäfvert during our tenth anniversary gig at Musikens Hus in Gothenburg. It was really fun.
Why are you called City Saints....hadn't City Makerels sounded better or don't you care about football ,-)
STEFAN: Named the band after a song by The Accidents called City Saint. Thought it sounded cool.
Gabbe: It was Stefan's suggestion taken from a song. Speaking of football, the name suits us well in that IFK Gothenburg's supporter club calls itself Änglarna. Saints and Angels, same same.
Did you have any name suggestions other than City Saints? If so, which ones?
STEFAN: No. Had both logo and band name before it became a band
Gabbe: No, it was clear from the start. It was good so further suggestions were not needed.
Will there be a lot of gigs with the release of the album?
STEFAN: Hopefully. Has about. 6 gigs booked so far, but we're hoping for more.
Gabbe: Yes, the interest in booking us is great now with the release.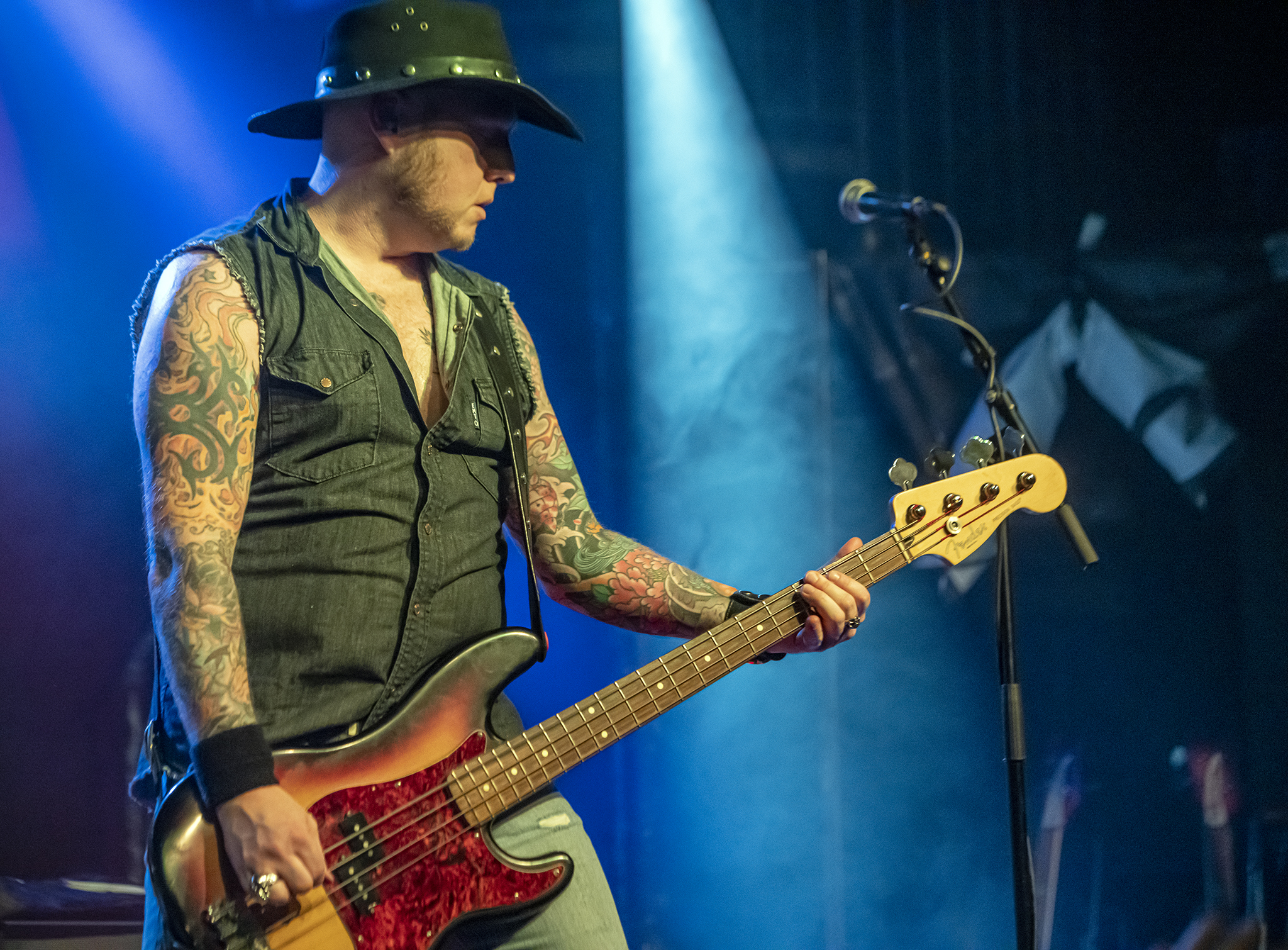 Is Sunnny Bastards Records, is it a good record label ?
STEFAN: For us, it's good. Because they are responsive and let us decide. But they also have extremely good quality of their products.
Carl: They're awesome. The quality of their LP releases is ridiculously high. Thick heavy vinyls and the covers have really stiff cardboard. They put an awful lot of care into making great products and they have (so far) never said no to any of our crazy ideas.
Future plans for the band?
STEFAN: Gabriel and I will probably start thinking a little bit on the next album, which will be more garage, which we're going to record with Chips Kiesbye, by the way. A bit of a mix of Göteborg Sound and the Stooges
Gabbe: The album is physically released but will be released digitally on December 23rd as a small Christmas gift. Next year there will be gigs around the country and the world.
For yourself?
STEFAN: Arild and I from Troublemakers are going to record a new album with Bastardes, and then there will be a release party when Outsiders release their vinyl this spring.
Gabbe: Going to record new album with my other band Satanic Overdrive and make sure to have a really good 2023.
Words of wisdom?
Gabbe: Buy new album "Punk & Roll". It will make you happy!
Anything to add?
STEFAN: Support the scene by going to gigs and buying the records. It means everything