History of the group?
STEFAN: Have known Magnus since the early 90s and we've been talking about doing something together where we have common models in punk. 2012, we made it happen when our bands went at half speed and with Gabriel and Carl, we recorded fast four songs that led to a record deal with the German Spirit of the Streets.
CARL: Stefan called me and asked if I would help him play bass in a new hobby band he had at once. To be nice, I put up, but when I then realized what treasures he and Gabbe put together - Slippery Joe and Gonna Ball were the first songs that they showed me - I felt I really wanted to be a part of this. I was hooked.

Band before or on the side?
STEFAN: Before City Saints, I played drums for 10 years along with Gabriel and Carl in Chillihounds and there before as a singer in a thrash metal band. Now, I play drums in a rockabilly band with guitarist from P-Nissarna.
GABRIEL: I played guitar in the 70's fragrant band Cherry Spot before I started Chillihounds and as said spent 10 years with Carl and Stephen. Then as the lead singer and guitarist.
CARL: I have played in several different bands in different genres. In 1997 I co-founded Abandon. We played a sort aggrometal, but when they wanted to go in a more sludge / doom-orientation, I jumped off in early 2001. I joined the garage rock band Rickshaw and released a variety of singles and full length album "Sonic Overload" 2003., I left the band later the same year and toured the next year as a stand-in bassist inTrigger. 2005 I joined Chillihounds who released three albums to the conclusion that we quit2013., I have also played live with goth band Lucy Fire, which consisted of members from Tiamat, Dark Tranquillity and Kingdom Come. I've even had a tribute band to the Ramones called Ramonia. The funny thing is that Stefan has told me that he was on one of Ramonias gig long before we knew each other.
MAGNUS: Ragnarök 90-91, Kängkraft 91-96, Bitistål! 96-96, Perkele 93-2012

Tell us a little about each member, age, family, work, interests, and something bad about every one?
STEFAN: Born the same year as Never Mind the Bollocks was released, have a girlfriend and has a Rottweiler named Freya. Has worked at SKF since '94 and, alongside the music, film greatest interest. Something bad? ... Gets nasty of spirits
GABRIEL: Come to the same year Elvis died, single with a little girl of 8 years named Isabella. Working on an engine company and beside the music, beer is a lot of interest. I drink it as often as I can. Something bad? I had a white month one time and in the same time ended the stereo function, it was awful.
CARL: Also born in 1977. Married with a young son. Writes for Sweden Rock Magazine and has authored the book "Kiss - Den osminkade sanningen." Like horror movies from the 70s, collects vinyl and is no longer a vegetarian.
MAGNUS: 38 years old, traindriver and father to five children.
I think you sound pretty much that you come from Gothenburg despite the fact that you sing in English, for punk bands here have always been a bit "simpler" form of punk or what do you think? .
STEFAN: Have listened very little on Swedish punk, but I think the most important thing in all of music's energy and turn. And especially in the punk. The most important is a good melody, then it does not matter how good you are.
GABRIEL: I've never really thought about how Swedish punk differ depending on where it comes from. But in our case, we have always tried to access the essence of the music and delivering it, keep it simple with no frills. You could say that we deliver the raisins in the cake.
CARL: I think it is related to working-class mentality - why complicate things? The only punk band from Gothenburg, I listened to a bit is Attentat. They have an eye on changing with memorable choruses simple, maybe it's the part of Gothenburg?

What have you heard the comparisons?
STEFAN: Rose Tattoo, early Status Quo, Motorhead, Sham 69, Dr Feelgood, The Boys.
CARL: Reviewers usually rattle off proto punk bands that I've never heard of. I wonder when they'll realize that we just stole everything from the Status Quo? Jokes aside, the fact is that it is mostly Americans scratch their heads when they try to pinpoint our influences. What makes City Saints is unique is that in addition to 70's punk also has 70's hard rock and fifties rock in the blood.
Fun also with a punk band that recognizes Status roots ... my old idols?
STEFAN: Love Status Quo and do you check into any gig from the '70s with "The Frantic Four" ie. Francis, Rick, John and Alan, it's a much higher pace than many of the contemporary punk bands.
CARL: It does not get more down to earth than the early Status Quo. Hats off to them.

In addition to punk what do you listen to then?
STEFAN: Most containing drums, guitar and bass. Right now a lot of 77-punk, ska and garage.
GABRIEL: There are a lot to take out of there. Trying to keep the width of the music so that the brain does not get stuck on repeat. Right now I'm going through a period of soul. Thus, 60 and 70s soul, not modern chute-soul. Then there is always the favorite band you always come back to.
CARL: Anything that sounds organic and swings.
MAGNUS: 70s rock and Swedish prog
What does punk mean to you, it's just a word or is it a lifestyle?
STEFAN: Well it's a lifestyle, although I've never seen myself as a punk or followed trends. But have always been working class and had to work myself to everything I own.
GABRIEL: Do not see myself as punk, think it's really boring with labels. But the point for me is that shit in standards and just go for it and do what you love to do.
CARL: For me personally, it is an attitude, daring to go their own way and shit in what others think.

What are the best bands right now in Gothenburg? Sweden? World?
STEFAN: Tough question. It varies enormously. Listening basically just the old music. But Jim Jones Revue is one of my recent finds. And the best band is still the same band that I grew up with. AC / DC, Motörhead, Pistols, Status Quo, The Ramones and Toy dDolls.
GABRIEL: Today? Also listens mostly old music. But Smash it Up is a great band from Gothenburg. Street Legal and Booze & Glory are also two great bands.
CARL: Gothenburg - Dream Realm. Sweden - The 2120's World: Clutch.
MAGNUS: City Saints in Gothenburg, the Nationalteatern in Sweden and the World, hmmm. Kiss has done the most hits.
Which was the first record you bought, the latest and the most expensive?
STEFAN: The first record I got was a collection of Beach Boys. The latest, The Damned's debut and the most expensive. A special import from Australia with Buster Brown. A band Phil Rudd from AC / DC had with Angry Andersson from Rose Tattoo in the early 70s.
GABRIEL: The first record I bought with my own money was a Little Steven plate. The most recent was Rival Sons and the most expensive was an imported specially commissioned LP I gave as gifts.
CARL: The first album - One Night in Bangkok from the musical Chess. Their latest album - Flaming schoolgirls with The Runaways. Most Expensive - Originals II with Kiss.
MAGNUS: My first. Kiss-Killers, Last, Ulf Dageby-Lata Rika. Expensive. Iron Maiden on vinyl.

The record you bought for the cheeky cover but was so disappointed?
STEFAN: I've never bought an album because of its cover.
GABRIEL: Discs are and has always been too expensive to buy just for the cover is cool.
CARL: Wolfmother "Cosmic egg".

Which band, active or inactive you waiting for a new disc with?
STEFAN: Should be interesting to see what AC / DC manages to accomplish without Malcolm!?
GABRIEL: That said AC / DC is one the curious.
CARL: Would be nice if Tokyo Dragons wanted to reunite and release again.
You release your records like real CDs, how come? (I like that because I'm collector)
STEFAN: Music for me IS physically. Vinyl or CD, there is no alternative
GABRIEL: We are well too old to understand how the development looks like. A disc for me is to be with booklet and everything, not files you download on your computer.
CARL: I want to be able to smell the scent of the wrapper while I listen to the disc.

What do you think of downloading etc?
STEFAN: Trying to self support the scene by buying all the music, but I can understand if you do not have near or money.
GABRIEL: It can be a great way for a band to reach out while I can see a little danger to the disc's future existence. A good idea would have been to reduce prices, everyone can afford to buy CDs with their favorite band. I think it's ridiculous that those who yell the most and are against is the artists who already have money in abundance.
CARL: What free streaming services and illegal downloading meant is that people do not value music anymore, in that they take it for granted. Call me old fashioned, but I liked more when you really took the time to listen to an album, because it was so bad it had in that one paid out for it. Now I think people listen more with only one ear.
Lyrically, what inspires?
STEFAN: It varies. Sometimes it's anger and frustration about how our society looks like. But even the joy of our freedom and live in a country where we actually have it pretty good.
GABRIEL: Would probably like to say everything. People around me, work mates, friends, family and their life situations. Stuff to read, things to see, news, etc.

Politics and music, how do you see on it? A necessary evil or a way to get what you think?
STEFAN: Have difficulties for obvious political music. It can turn very wrong. Personally think music is all about feeling. A sensory mood.
GABRIEL: It can get a little contrived if you decide that all texts must be political. But is it something you feel strongly about such as injustice I definitely think that you should write about it. Is it an opinion you feel strongly about getting the text very honest.

What do you think about the election this fall?
STEFAN: As long as we do not have a Tory government, I am satisfied
GABRIEL: I think it will be a 'red-green movement' that will win the elections.
CARL: European elections shows that the cold winds blowing in Europe, which frightens me before the autumn elections.
MAGNUS: A non-aligned Sweden
City saints, makes me think of angels and unsought football ... I myself am a loser and is really hard on GAIS but football is something you care about and in that case which team?
STEFAN: Is completely uninterested in sports. But I would support on a team, it would be Gais. Feels more working class.
GABRIEL: I was playing as young in Blåvitt but if I support them I leave unsaid.
CARL: In the late 90's I worked in the record store Bengans in Gothenburg. I was a colleague with Jönsson from Attentat that kept the newspaper Makrillenl (as I remember it was called) and released a record of punk versions of GAIS-lip songs. While also worked GAIS former goalkeeper Hakan (last name I have forgotten, it was Eriksson?) So it became insanely much GAIS-talk in the lunchroom. Personally, I think it's more interesting to watch paint dry than to watch football.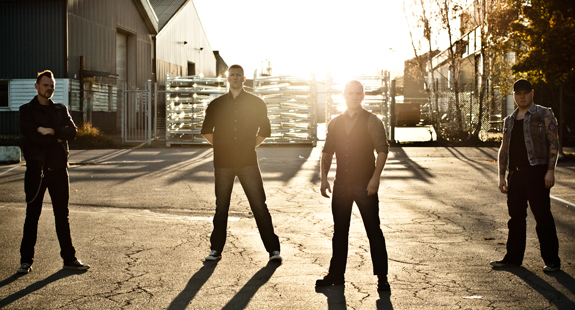 Is it important to have a good name that people will remember? Which is the best band name as you know?
STEFAN: Obviously, the band name is important. Personally thought the City Saints sounded good, and reflected our music in a good way. Sex Pistols and Motorhead are two of the absolute best band names.
GABRIEL: Yes it is important. The Stooges are good and even better is Iggy And The Stooges.
CARL: It has to be right in the mouth. There are many bands name is right bad but that still works. Guns N 'Roses, how brazenly it is when you think about it? The best band name is AC / DC. We understand in advance how your music sounds.

Is it many interviews? Is it boring?
STEFAN: Not so extreme. And it fulfills a very important function. Reaching out. So it's a necessary evil. Sometimes more or less.
GABRIEL: Interviews're not the most fun thing to do as a band, but to be asked would mean that there is an interest for us and it is good.
CARL: It's starting to become more and more. Most recently, a radio station in Texas who got in, which was incredibly fun. It can not possibly be boring to talk about City Saints with people who are interested in so much that they want to know more.

What is the question you want but never ask it and answer it?
GABRIEL: I am satisfied with the questions you ask.
CARL: What band do you actually borrowed advertisment from that is in the lurch to Gonna Ball? Status Quo.
Which is the biggest band you've played with?
STEFAN: Have played at some festivals and will play at the Rebellion Festival in Blackpool this summer. And there plays alsoUK Subs, The Dickies, Stiff Little Fingers, GBH and The Dictators. But previously we have shared the stage with bands like Cock Sparrer and Exploited.

How do you think it is to live in Sweden?
STEFAN: Do not have much to compare with. But I love Sweden and would not want to live anywhere else.
GABRIEL: I think that the climate became colder, more crap in other mentality in society now.
CARL: Cold.
MAGNUS: It's pretty good

What's the best and the worst of living here?
STEFAN: Live in Gothenburg, and the best part is the proximity to everything. And the worst is well on the political front. Which becomes an excessive outlay ..... and unfortunately not on fun.
GABRIEL: The best Gothenburg is that the city feels quite small and cozy despite the size. There is no flippant metropolitan mentality of people here. Then there is a working town and it feels the atmosphere. The worst is well-pig-sty of politicians with receipt cheats and more. Really bad role models for the residents of the city.
CARL: The good thing is that so far there are a good functioning social safety net, unlike in some other countries. The worst is that it's so damn dark most of the year.
MAGNUS: Still a decent welfare state, and the worst is that some are trying to destroy it.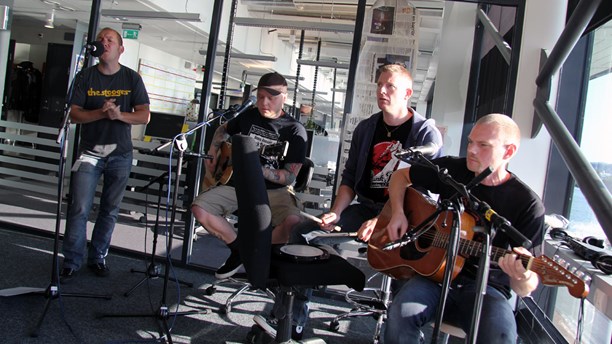 What are the future plans for the band?
STEFAN: A bunch of festival appearances, two shorter club tours in Germany and recording. The schedule looks packed out.
GABRIEL: We will also release a CD with City Saints gathered vinyl ep's and some new songs. It will be released in December.
CARL: Continue until we die.

For yourself personally?
STEFAN: To become better at what I do.
GABRIEL: To evolve and constantly contribute to City Saints will be better.
CARL: Get rid of beer belly. And maybe getting another tattoo. A last.
Words of wisdom?
STEFAN: Everything is possible!
GABRIEL: If you want something you have to work for it.
CARL: Where you turn the man ass back.
MAGNUS: Know your Enemies

Something to add?
STEFAN: Thank you for the support!
CARL: Through the years, I have participated in many albums, but I've never been more satisfied than with "Blue Collar Sons". Previously, I have always felt that one or two songs just kept passing level, but I am myself amazed that every single song on our last album is a tenpoint. I'm crazy proud of it and surprised at what we actually managed to accomplish after only three rehearsals and a beerdrowned weekend in the studio.