Circus Rhapsody comes from Germany, they mix a lot of styles but it all ends up in some kind of punkrock of course. Cool group anyway and now I have the luck to have been interviewing the group. This took place in January 2023..
Please tell me a little history of the group, members and what you do when you don´t play music, what do you work and which ages are you in?
-Hey there, sure thing.
Mahaze (the guitarplayer) and me (Michi ; Bass) started the band between 2008/09
A year later we found Erik for the drums. It was interesting to find each other especially musically. Mahaze is the Stray Cats Rockabilly kind of guitarplayer, Erik had a Metalcore band when he was younger and I was totally into Punkrock. NOFX, Misfits and that kind of stuff.
Well if you listen to our music you will find that we decided to not decide but do all the styles we like to do.
Nils joined the band a bit later for a few years and so he brought the ska into it. Since than we had a couple of guest musicians on different instruments like Trumpet, Sax or violin until KT joined the group full time in 2019.

Have it been the same members all the time, or have it been many lineup changes? Please tell me a little about every member?
-Mahaze, Erik and me are the crux. We had another drummer in the first year for a few gigs, but I guess you could say we really started 2010 when we three found each other.

Circus Rhapsody is the name, where did it came, from and you wasn´t afraid that some other group would be named so?
-I came up with the name and never really thought about that someone else could have the same name. When I moved to Berlin, I was clear to have a band with a Circus theme. The Rhapsody came when I fell in love with Queen. And besides Waynes World is my biggest childhood influence.

You call you record for Just Kidding….is it so it feels when you mix all your styles so not anyone can put in a special corner of music?
-Yeah right. The album before had kinda horror theme with the name Telling Horrorstories and we kinda liked the funny side of trash horror so. All our artworks including these two childs and so Just Kidding was a perfect name for this weird rollercoaster of an album. The artwork of Just Kidding is like a sequel of the album art before btw.

Is it important to give out the record as physical releases do you think? Would it feel like you have released a record if you only release it digital?
-Interesting question. Well, we toyed around with the idea to release it all just digitally song by song as the trend goes nowadays but we may be too oldschool and the whole thing as a piece of art. Our fans like it. They were happy when we finally release our music on vinyl. Between the last two album we released a 7'' we did not release digitally, and we really got best feedback for it.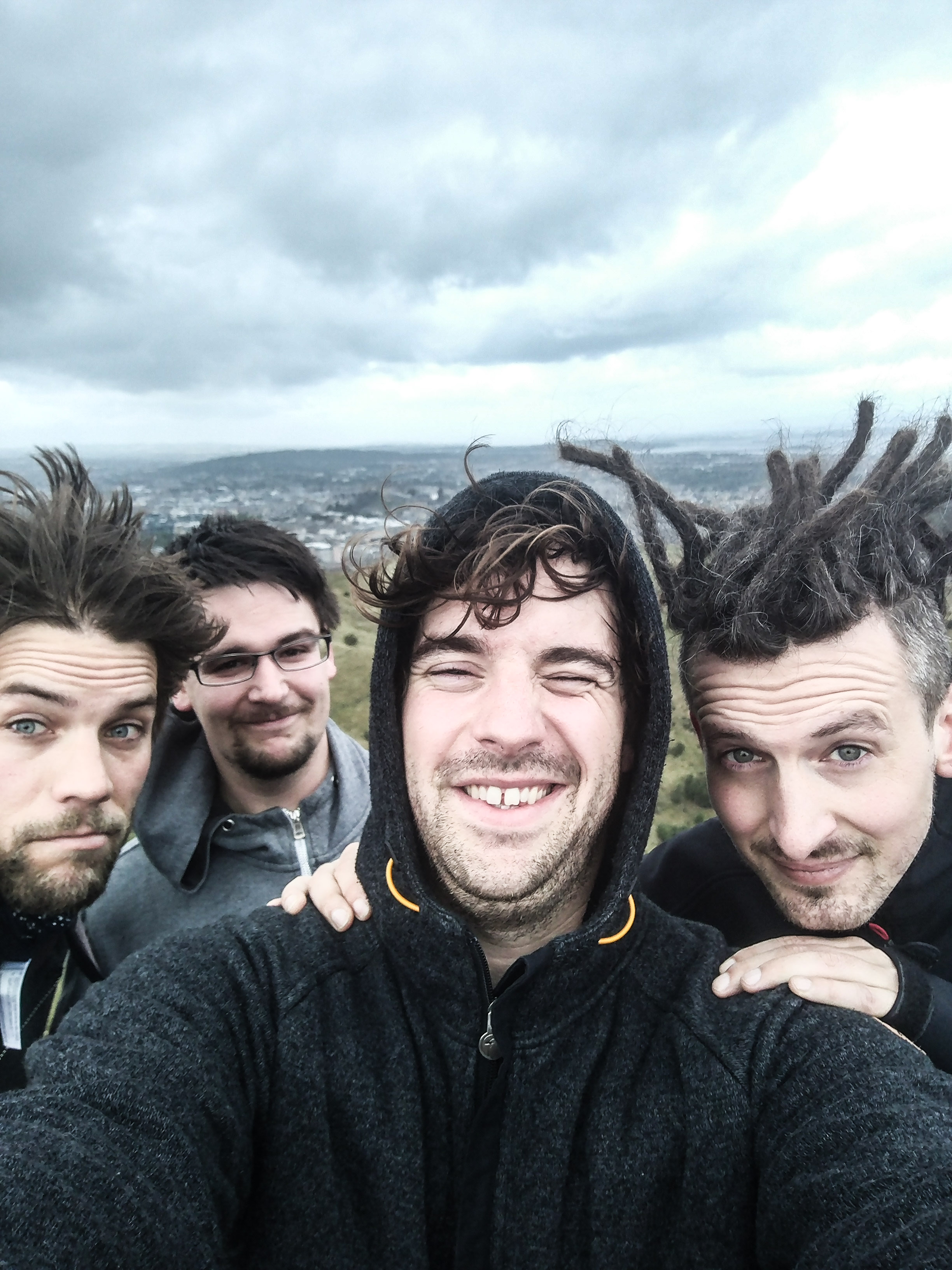 Do you play any covers when you play live? If you do, which then?
-We do occasionally. We mostly cover on tour when we have song that's on repeat during the drives. We had some old country and rock'n'roll stuff for a while.
When get an acoustic guitar in our hands at the after-show party we usually play stuff we like. Punk stuff or 80's like Billy Idol, Bon Jovi, Millencollin. We recently did one of those songs on a live session that will come up soon.

Please tell me a little about following songs
a) Invader Zim
Invader Zim is one of my favourite Nickelodeon cartoons. A funny alien that keep messing up conquering the world. In fact the lyrics I wrote is a story of Zim being successful. There are two sequel song. The second part is a song called 'Downtown is under fire' that didn't make it to the album. The third song is Revolution.
More fun facts. You can see the musicvideo of Invader Zim inside the video for Revolution. It was a teaser as Revolution came out first.
b) Avenging Angel
Avenging Angel is the bands favorite to play. We had a little Beatles phase and Erik came up with the song Ghost. So I felled like I wanted to do a song like that too. If you listen closely you can find some Beatles references.
c) Rise above
Rise Above is a song about the addiction to big wheels. Kinda funny lyrics about rollercoasters being lame. Every logo, artwork and merch gets a name and the Rise Above was a logo we used for a while on shirts and tot bags.

Is it important to get out your opinions in your music, and is it a good way to get out frustration too? Politics?
-Well, we are very political ourself and we have good discussions in the tourbus but we decided to leave it out of the music itself. We talk about stuff at the concerts, sometimes on stage but it never found its way to the lyrics. I find it good some bands do. Our friends of Antillectual do a great job but maybe I'm just bad in writing those lyrics.

Do you think that your lyrics can have effect on other people who listens to them…any example on it? Have you changed anyones mind?
-Again, I love writing. I have a fable for horrorstories and do short stories myself. I hope that our lyrics mean something to people but more important is that the music does.

How is it to play this sort of music in Germany and which type of bands are you having concerts with? Which is the most peculiar band you have been playing together with? I can imagine that you have played with a lot of different bands with different musicstyles because that you are doing it yourself?
-As we do very different kind of styles and can't really say if there is pattern to it. We play with a lot of different bands in different kind of genres. I always like when we play with funny bands like Kapelle Petra, Flying Bob or das Pack.
About the concerts, we are lucky to change the setlist every night so it can fit to all kind of events. And that is very thankful.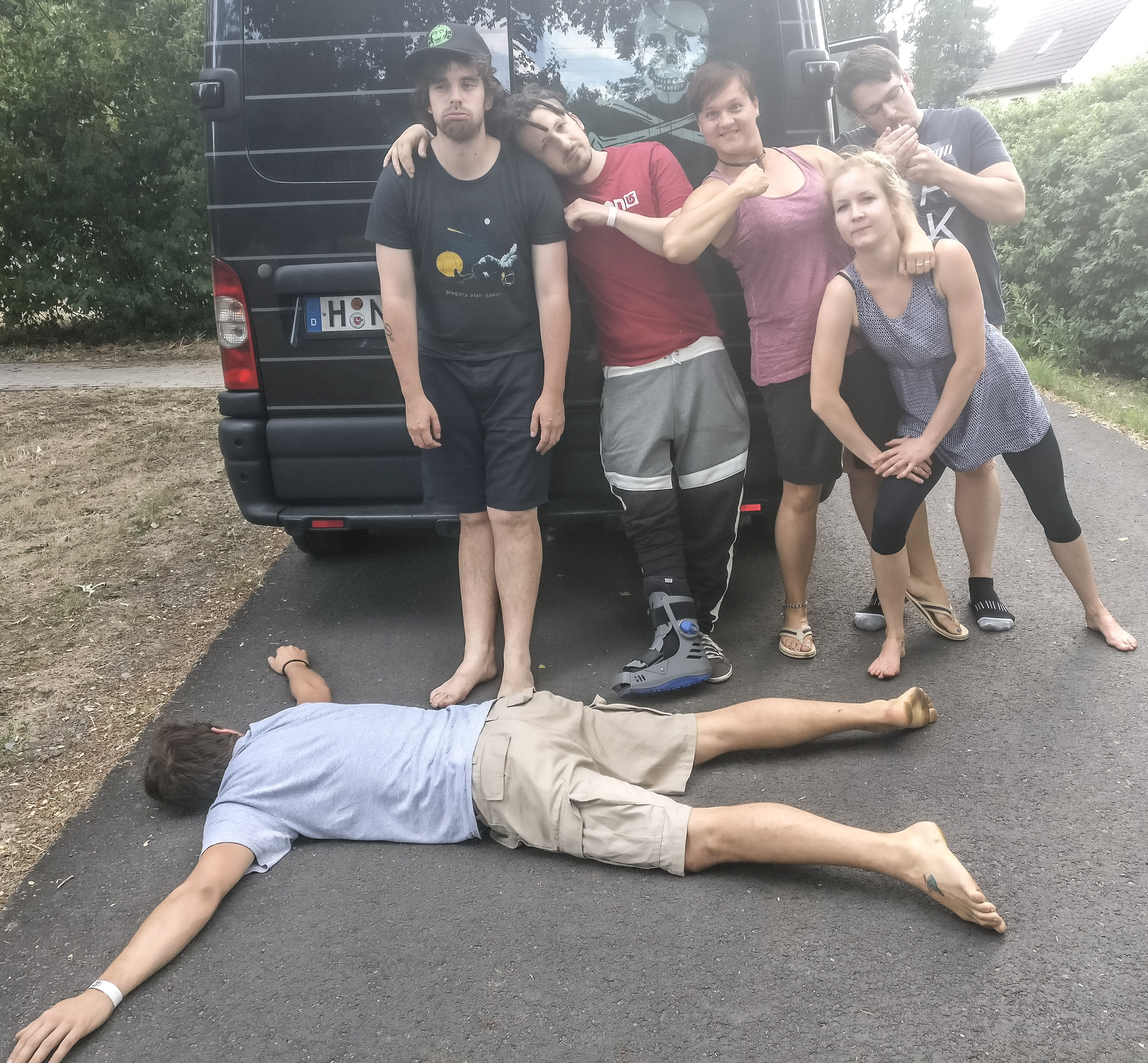 How would you describe your music in three words for people that haven´t heard you?
-Crazy Fun Music

I like beer and also make beer.. If Circus Rhapsody do a beer , what would it be named and which sort of beer would it be? Or maybe you´re straightedge?
-Actually we did a Gin once for a tour. It had the same name as the 7'' from the same tour. It's called 'Sexxy As Fuck! Yummie As Hell!' A big thanks to our friends from Elixier Gin for that <3
We joked about doing our own honey. Canola in german is 'Raps' so it would fit perfectly for Circus Rapshoney. This is also the current name of our whatsapp group.

And how is it to live in Germany now? Racists, Ukraina-war, covid?
-To be honest the last years were crazy. Covid didn't bring us down. We had a lot of projects during the gigless time. We covered our friended bands and labelmates and did little musicvideos for it. That was cool.
The real kick in the butt was that damn war that is going on for nearly a whole year now. Alla is the person who does the cotton candy on stage and she is from the Ukraine. It really wasn't and still is not easy to live with that fear and those images of this horrible thing.

Which is your own favoritesong among your own songs? And which song is the people choice?
-I pick Avenging Angel as best song to play. BUT All Hell Breaks Loose is my favorite to listen to. In fact it was a teenage dream of mine to make a song with one of the Misfits and for this one we were honored to get Dr. Chud. This is so rad!
The fan choice is very diverse but the song that goes best live is our Song Winchester from the Telling Horrorstories. We have live video on YouTube that has some pretty rad escalation in it.
What´s the biggest difference when you plays live nowadays if you compare when you first started to play in a band?
-hm… not sure. I guess I learned to talk slower and maybe a bit less on stage. As NOFX fan I am really into bad jokes and sketches on stage.

And have you opinion about punk changed through the years? What do punk mean to you, only a musicstyle or a lifestyle?
-Wow that's a big one. Musically punk changes as everything else does. But for me it was and still is a way of living, feeling and experience music. The easy way that makes it accessible to everyone always was my main reason for being into punk. It's world open with right amount of 'I don't give a fuck of what you're saying'
In my thirties now and still love it.

What do you know about Sweden? What is typical Swedish? Any good bands?
-Some of my favorite bands are from Sweden. No Fun At All, Satanic Surfer, Milencollin, Refuse and so many more. Such a scene. We have a friended Swedish pirate band called Ye Banished Privateers. We had some gigs, nice evenings and much rum together. They sang the Swedish verse in Revolution and taught me how to sing it live. Great mates.
I was in Sweden visiting friends last summer near Kalmar. They taught me Kräftskiva with some, the crabs and the schnaps.
HELAN GAR!
Your audience when you play live, which type of people comes, age?
-That really is diverse. We have teenage punks as well as my parents who are into our "lower" songs. We play punkhouses as well as village fair. We try to get people with what they know and then play music they might like as soon as they are open to listen.
What´s the best of playing live?
-The fun of being with friends. The positive vibe everyone has. The talk a lot of shit on stage and that really helps me trough my daily job. I have good luck to do what I love with people I can call family.
Please tell me a funny thing which have happened during a livegig with your band?
-We once played a show in a natatorium. That was pretty cool. The people stand inside the water while the band is playing. They did wall of deaths with jumping in the pool all together. The craziest in water circle pit and much more was going on. That was pretty funny.

Is there any good bands in Germany today? New bands which is good? Old bands which is still good?
-Slime are back with a new singer this album came out last year. Very good. I like it.
For newer bands I go with our friends from Hamburg 'Holly Would Surrender' great Pop Punk.

Which is the record that you always must have in the tourbus?
-That changes a lot but to keep me awake during long drives there is always some Ignite by my side.

Do you buy much records, or is it only Spotify and those type of things to listen to music? Is there any good record shop in your hometown?
-O My biggest weakness is my love to 7''. I love those little single vinyls. I am more into vinyl in general for some years but if I like an album I have to buy it. Spotify etc. is just for the drives.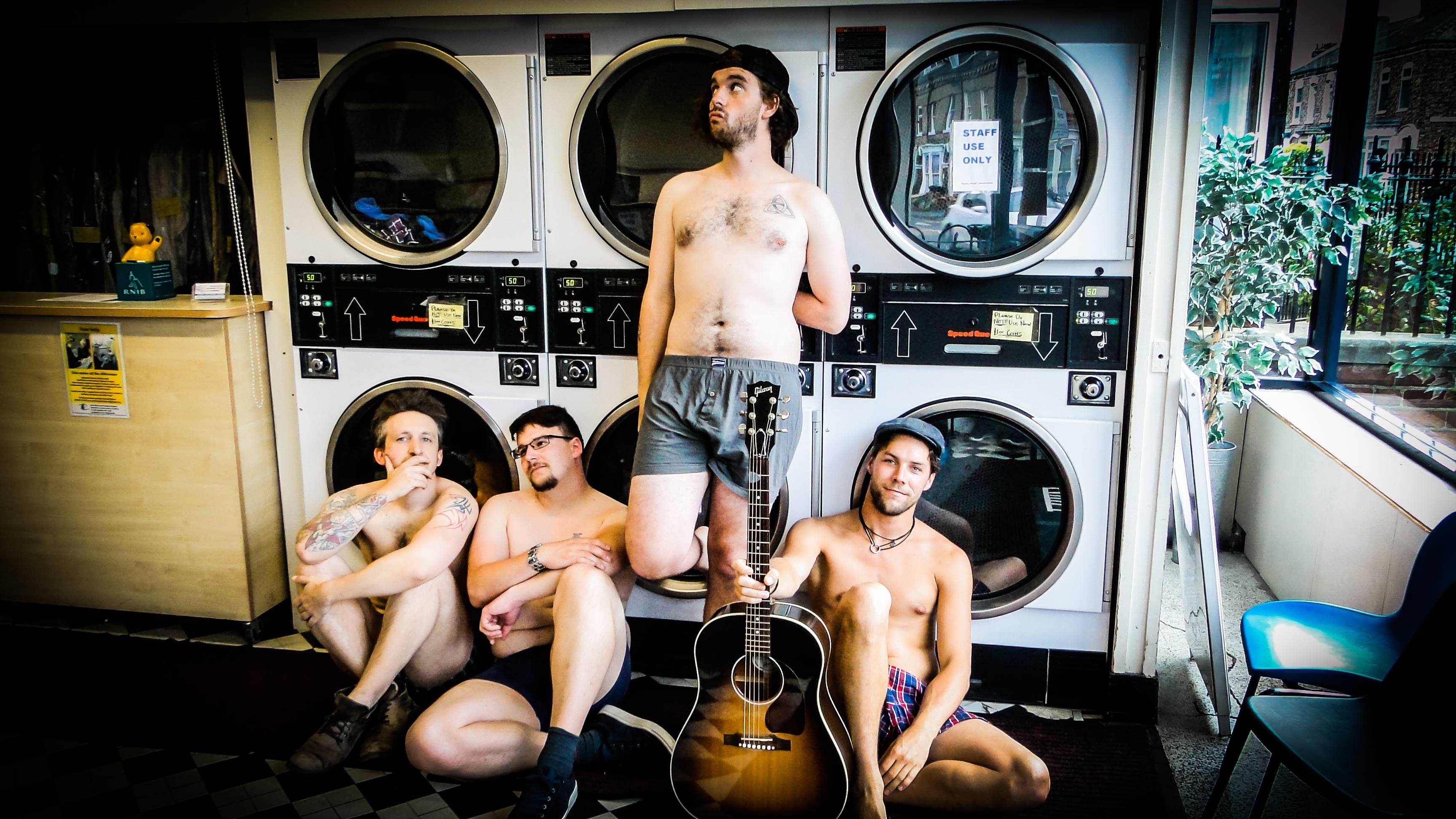 Which was your first record, the latest you bought and the most expensive you have bought?
-The first record I bought myself is an album from a hardcore band from the small town I come from called 'Hallo Kwitten' the latest I bought was… Maybe the Jerry Only solo record or the new Ignite. Not sure. I also bought a great anthology of Django Reinhard around the same week… damn we have to many good record stores over here (personal favorite: Coretex Records in Berlin Kreuzberg)
I spend way to much money to complete the old 7'' of the month of NOFX. They had this thing couple years ago where they didn't release an album but you could sign in to get twelve 7'' over a year. To get those is pretty rough.

Do you care about reviews? Which is the most peculiar you ever had, with this band or any other band you have been to?
-I like reviews in general. I always like to hear what people think who are not too deep in our music. But I also read some, where it was clear that the person just listens to the first or maybe the second song. I'm not angry or anything if people have the courage to say that they don't like us but to not giving us a chance by not really listening to it tells me that doing might not be the right thing for them.
When I am into an album, I really like to read reviews after hearing it to read what other people feel.

If you could choose five bands from the past and the history and nowadays and both dead and living bands to have a concert together with your band. Which five have you been chosen?
-Oh yes! When I speak for the whole band it'd be:
Misfits
Chuck Berry
In Flames
Iron Maiden
Die Ärzte

Futureplans for the band?
-We plan to do what we love. We have gigs coming up and looking forward to the festival season. This summer we will do our first US tour along the west coast.
We have an EP that will come up this year and we write new music for the next album.

Wisdomword?
-Always look at your Cotton Candy level. Better having one more than less.

Anything more to add to the interview?
-Thank you so much for having me and to the readers, have fun to discover the Circus universe. There is much to see on the Website, YouTube and the other social media. Enjoy the music