Cios comes from Ukraine and thatīs not so usual that I do interview with bands from that country. Itīs actually the first time around. This happened in October 2014.
Please tell me a little bit history of the group?
Punkrat: We started in fall 2011 in Khmelnytskyi, Ukraine. We already played in a local folk-ska-punk band Teoriya Gvaltu, so we took the members from there, because some of us decided to play oi!-streepunk at the same time. In 2011 we played the first gig and in 2012 recorded the album. After that our lead singer and guitar played emigrated to Poland. About a year we tried to keep the band distantly and played several shows in Ukraine and neightbor countries (Russia, Belarus, Lithuania, Poland, Estonia). But then we decided that the band should make progress, so I took the place of a singer and guitarist (played the bass-guitar before) and took Ruslan for bass. In spring 2014 we released new album with this members. Right now this is our only band, so we keep playing and plan to do it in the future.
Please tell me a little about every member in the group right now, age, family, work, interests and something bad about everyone?
Punkrat: I play guitar, sing and compose lyrics. Iím 28, I work as a freelancer. Not married. Drinking.
Vadik: play drums, anyway try to do it. Iím 27, work as a technician at a recording studio and a stageman at the gigs and lead healthy way of life. I like girls and think in Sweden they are as good as in Ukraine.
Ruslan: Iím 26, play bass guitar and this is the most awesome part of my life at the moment. Earn the money working as a mover at a warehouse for various household shit. My brother plays drums here and thatís great that we play in the same band.
Cios is your name , what does that mean??
Punkrat: That is Polish for ďpunchĒ.
Your influences goes way back in time, am I right? Which are your influences?
Punkrat: We listened to a lot of music, a lot of punkrock in its various forms and not only punkrock, we played in other bands, but found contact point in the music we play right now. And what about me I always wanted to play something of this kind.
Whatīs the best thing with playing live?
Punkrat: The good show is the one when you are not allowed to play and sing and as a rule something is being broken.
And where is best to play?
Punkrat: Itís nice to discover new places to play in, but actually we donít care about geography. The main thing is people and the atmosphere.
How is it to play this sort of music in Ukraine?
Punkrat: We have a few mates. Here we have stylish hardcore and punkrock of this sort doesnít attract a lot of people. We donít have big festivals, special labels, big bands donít come here, etc. But we donít complain.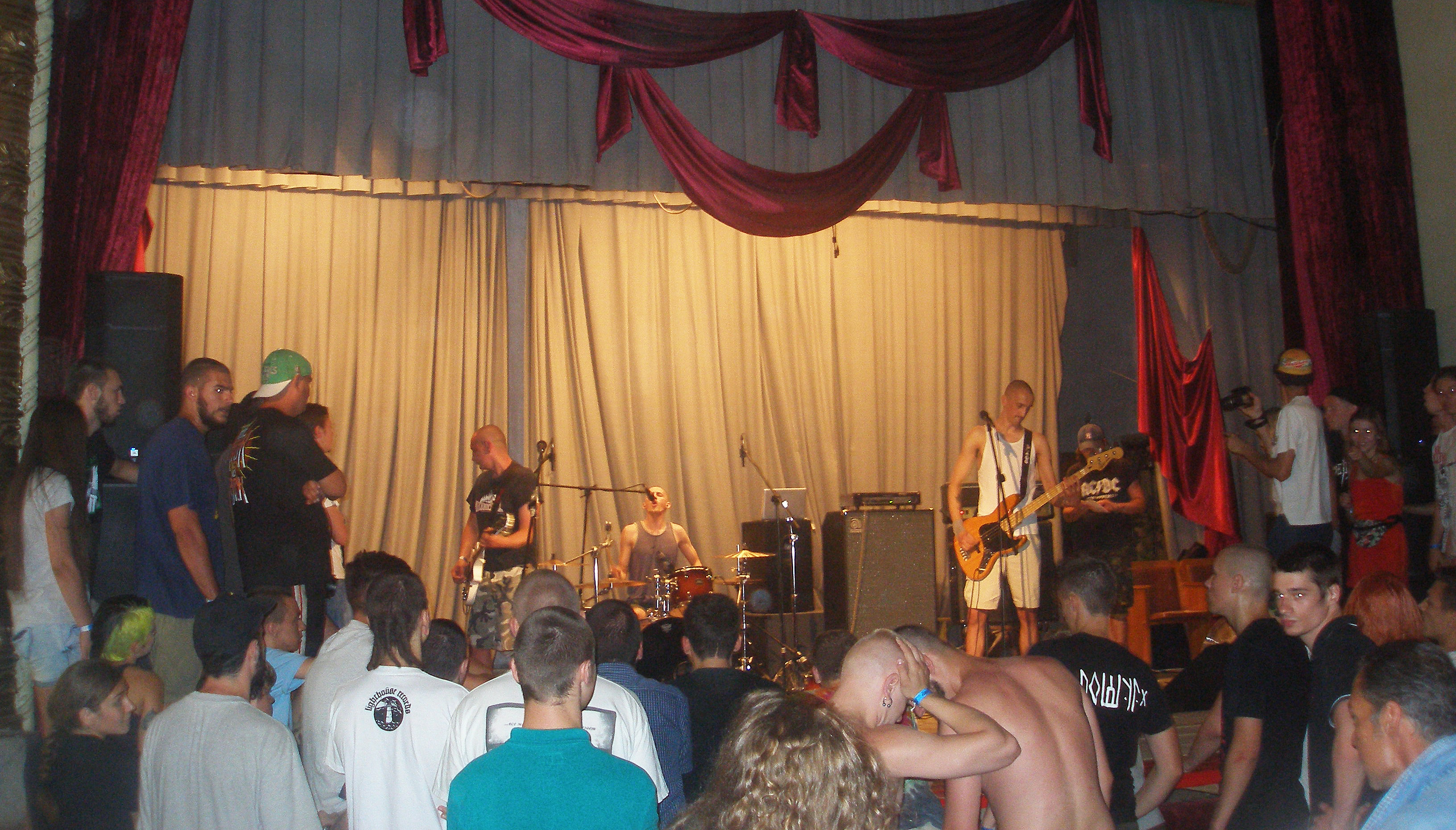 How would you describe your music in three words?
Punkrat: Vulichnyi punk rock Ė this is our Ukrainian equivalent for Streetpunk. But in our language this is exactly three words, like you asked.
What does punk mean to you, is it only a word or is it a lifestyle?
Punkrat: We play punk music and sing about the shit that we have to experience in life and this life isnít dolce vita. Our lyrics are tested on our own skin and experienced by us ourselves. So it turns out that our lifestyle is punkrock, but our punk music is our life. Something like that.
How do you see on downloading, mp3 and that stuff?
Punkrat: Positively. Those who want they can buy downloaded album on a recording medium. And furthermore in Ukraine all this authorís rights and commerce in punkrock is a rather uncertain thing. And no matter what we think all the records nevertheless will be uploaded to Internet. We upload mp3 in a free access even before we release CDs and donít think about it as a heroic thing.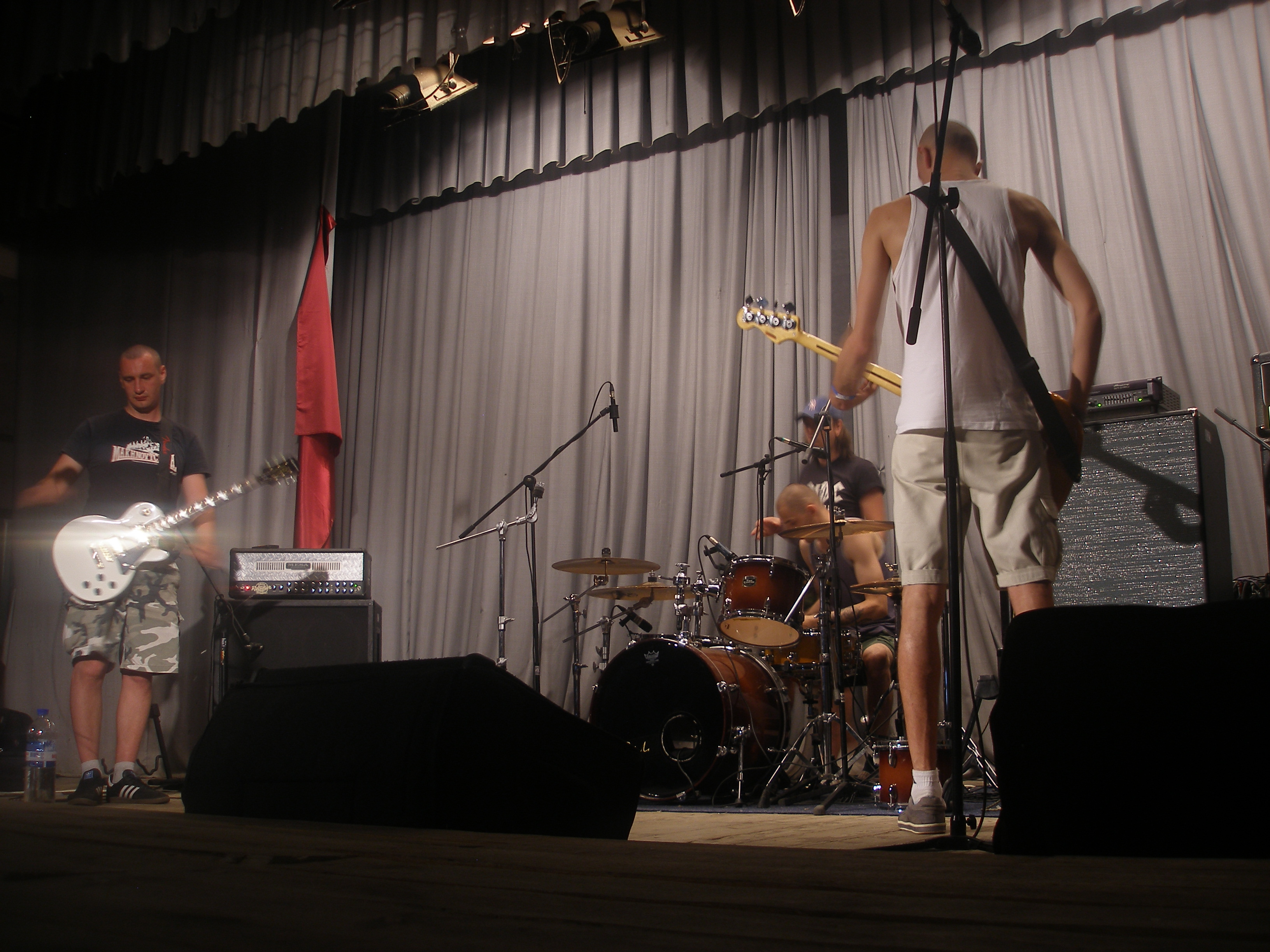 How is it to live in Ukraine now? Politically? I understand that itīs a real mess there?
Punkrat: I canít explain in three words. Right now in the south-eastern part of Ukraine the war goes on between Ukranian army and volunteers on one side and separatists supported by Russia at another. The number of dead, victims and refugees is dozens of thousands, the major cities are destroyed. And also the severe crisis, redistribution of power and the madness of people. It is a very hard time.
Is there any good bands from Ukraine now? Is the punkscene big??
Punkrat: As I have already said, we have a lot of modern hardcore, in which I donít understand anything. There are a lot of hardcore bands and there is no punk or skinhead scene. Itís hard for me to choose any bands, but here are some names that are worth checking to my mind: Rude Riot, Homesick, Stinx, Leviathan.
What do you know about Sweden?
Punkrat: Sweden is a center of Scandinavia, Vikings, north, blond-hair girls, the yellow and the blue flag (the colors are like in Ukraine). You like to drink, but Iíve read that the booze is quite expensive and it is a problem to buy it. Your country is rather wealthy, I think it is awesome there.
Ruslan: I can say for sure that I heard ABBA a long before punkrock haha. I also know the works of August Strindberg and Stieg Larsson, also one of my favorite football players in my childhood was Henrik Larsson!
Vadik: Volvo automobiles.
Have you heard any good bands from Sweden?
Punkrat: I like Agent Bulldogg, Guttersnipe, Gatans Lag. I also listen to Perkele, which are quite popular here. I also heard some other bands, but these are the first that I remembered first.
Vadik: Perkele of course, this band was a blast for me once.
Your lyrics, who does them and what influences you? Only in your own language?
Punkrat: We try to make songs on actual topics that surround us Ė this is a standard answer on a such question, but in our case we really try hard. We sing in Russian, Ukranian and a little bit in Polish.
Is there any subject that you never will write anything about?
Punkrat: No, there are no prohibited topics. We sing about things that matter for us right now, if anything else matters, we will about it.
Politic and music, does it goes hand in hand?
Punkrat :It depends on what to understand by politics. Punkrock is not just music. There were always social problems in punk lyrics and critics on political subjects. Itís normal. Whatís not normal is when a band agitates for some political party or support dirty government political forces, like some idiots in Italian band Banda Bassotti. Not to mention right-winged bands.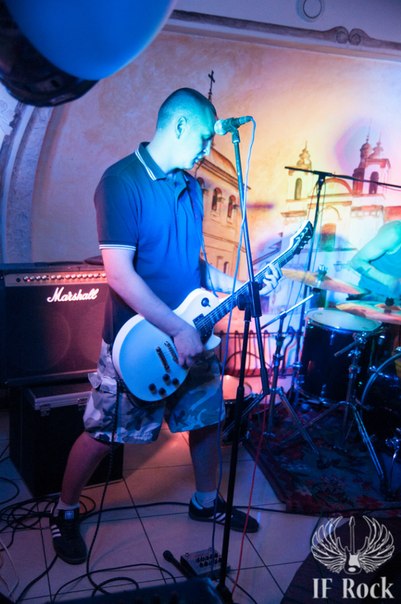 Best political band/artist ?
Punkrat: Surely The Clash
Ruslan: for me itís Dead Kennedys.
Vadik: I think for me such a band would be The Oppressed
Do you think that music(lyrics and so on) can change anyones life, I mean people who listens to music?
Punkrat: I think that music itself canít, but music can go hand in hand with some driving forces, it can be the sound of a new generation of a revolution. In this case the task of a music is to support the forces of changes.
Ruslan: I think it can, but we donít play grunge or death-metal))
I think that punk from the old eastern states is the only ďrealĒ punk, you have something to protest, we in the western have it so goodÖ.do you agree with me?
Punkrat: Yes, we have a lot of troubles in life Ė poverty, corruption, war, mean politics, mad cops, stupid society, severe authorities, etc. A lot of topics for protest and actual themes for punkrock. But in reality there are not many bands and those who exist, prefer to copy western bands than to cover our problems themes. Isnít it a paradox?
Is there any new material on its way?
Punkrat: We have a new material, we rehearse, not too fast, but the process goes on. Some time it will appear on the Internet.
Please tell me a funny thing which have happened during your career and under some gig?
Punkrat: Canít remember anything, maybe other guys will remember.
Ruslan: My first punk-rock gig. It was unforgettable experience. Didnít think that I would be a part of such gigs.
Vadik: Hard to remember, but I was drunk at that time Ė thatís for sure. Itís now that I donít drink, haha.
How does your audience look like? Which people do you miss on your concerts?
Punkrat: Mostly itís young people under 25 with a lot of tattoos and with hairdresses like Soviet enginees had. Bald heads are lacking.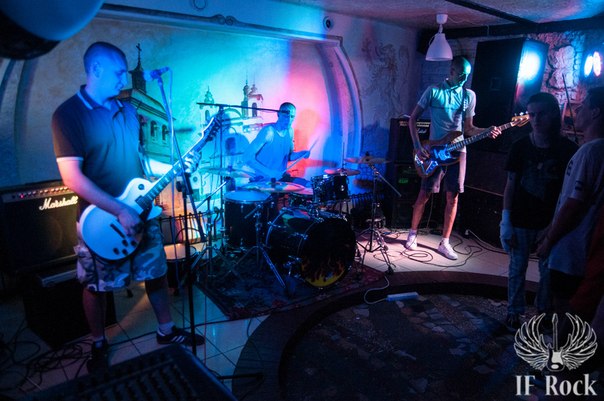 Please rank your five favoriterecords, five favoriteconcerts and five most important things in life?
Punkrat: It is very difficult for me, I canít answer this question
Ruslan: My first 5 punk-rock gigs. There was everything!
Is it boring with interviews? Which is the most stupid question you ever have got??
Punkrat: I canít say exactly about the most stupid, but this question is the most original one, ha.
Ruslan: This is my first interview and I think my answers here that are stupid.
Do you understand that reviewers always compare bands to other bands? Is that disturbing when you try to do something own?
Punkrat: I didnít understand the question.
Futureplans for the band?
Punkrat: To make new material, record, play shows. Shortly Ė to actively make those things that the band should make.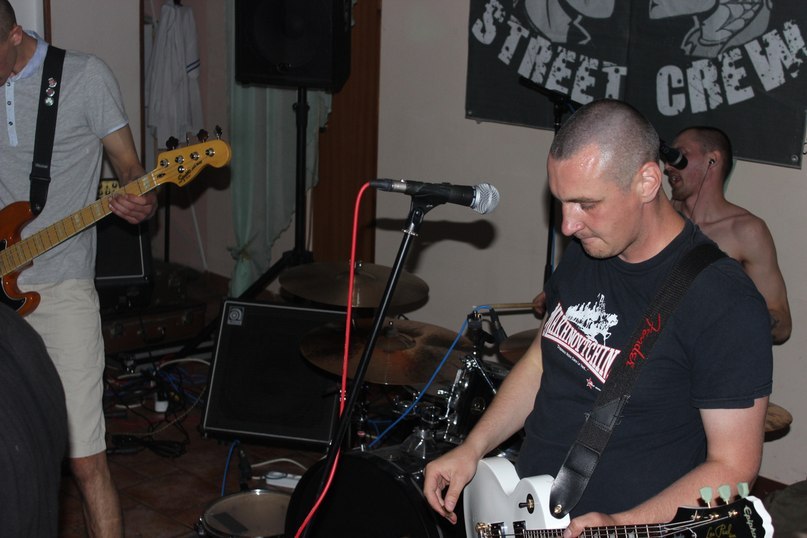 For yourself?
Punkrat: To pay the credit for the car.
Ruslan: To but a preamp and not to get to Club 27.
Vadik: To find a woman. And it would be great to go to Indonesia or Vietnam.
Wisdomword?
Punkrat: Wish happiness and a lot of health!
Something to add? Fanx in advance
Cios: Thanks for the interview and the interest for our band.