The singer Chuck Ransom was so kind and answered a bunch of questions from me about his group Chuck Norris Experiment and this happened a day in March ... 2015
Tell us a little history about the group?
-The band was started ten years ago as a side-drunken nightly projects by members of a bunch of other bands and the whole thing was that during the ten rehersals write and record an album, which was Chuck Norris Experiment selftitled debut album. Since then we have released six studio albums, a stack of collection records and one live album, and a grab fist full of singles and EPs.
Tell us a little about each member of the group right now, age, family, work, interests and something bad about everyone? Have you been in any other bands before?
Name: Chuck Ransom (vocals)
Age: Unknown
Family: Wife and son
Work: Ninja
Interests: Rock
Something bad: Have once listened to Eldkvarn and I chosed it myself.

Name: Chuck The Ripper (guitar)
Age: Unknown
Family: Groupie and two sons
Work: Superhero
Interests: Heavy metal
Something bad: Owns two pink t-shirts.

Name: Chuck Dakota (bas)
Age: Unknown
Family: Man
Work: Danceinstructor
Interests: Pop
Something bad: Drinks milk

Name: Chuck Buzz (trummor)
Age: Unknown
Family: Girlfriend, two sons and one daughter.
Work: Lover
Interests: Metal
Something bad: Listens to Foo Fighters when no one sees me.

Name: Chuck Rooster (gitarr)
Age: Unknown
Family: Wife
Work: Minister
Interests: Punk
Something bad: Have scarf and thinks that Henrik Schyffert is funny.

I can hear both Stooges SOOL and metal? Am I right? Favorites from the past?
Haha, yes, you can probably hear the most from great bands in us, we sprawl haphazardly in musical tastes within the band, some are around 30 and some are around 40, and some poor grew up in British pop. But yes, the Stooges, Motorhead, old hard rock and punk, we can fit everything!
Chuck Norris Experiment are you satisfied with the name? Why Chuck Norris? How did it come up? What is the best band name, you know?
Happy and satisfied! I'm thinking not so much of it. It was as I say not supposed to be a band that went on for ten years. A band name that is completely fell after ten beer is always cruel after ten beer! The best band name I know is Motörhead, you know how they sound before they heard them!
What is the best thing about playing live?
The best thing about playing live is the feeling of being in a well-oiled fucking machine that can rock apart any building whatsoever. As well as we are now, we have never been. And it usually able to drive a good party towards the night as a bonus, we're pretty good at partying.

And where is the best place to play? And the worst place?
I think it's best to play in the Ruhr region of Germany. Dusseldorf, Dortmund, Cologne, Essen mm. Always good crowd, great clubs and great people, fun as hell simply.
Worst place we played enough in a squat in Leipzig a few years ago, real fucking sunk, it was so crustpunks themselves did not want to go into. But we did it, and slept in separate pissed armchair. Everything for the gown!
How is playing this type of music in Sweden right now?
No idea. We play almost never in Sweden.
How would you describe your music in three words?
Cruel kickass rock.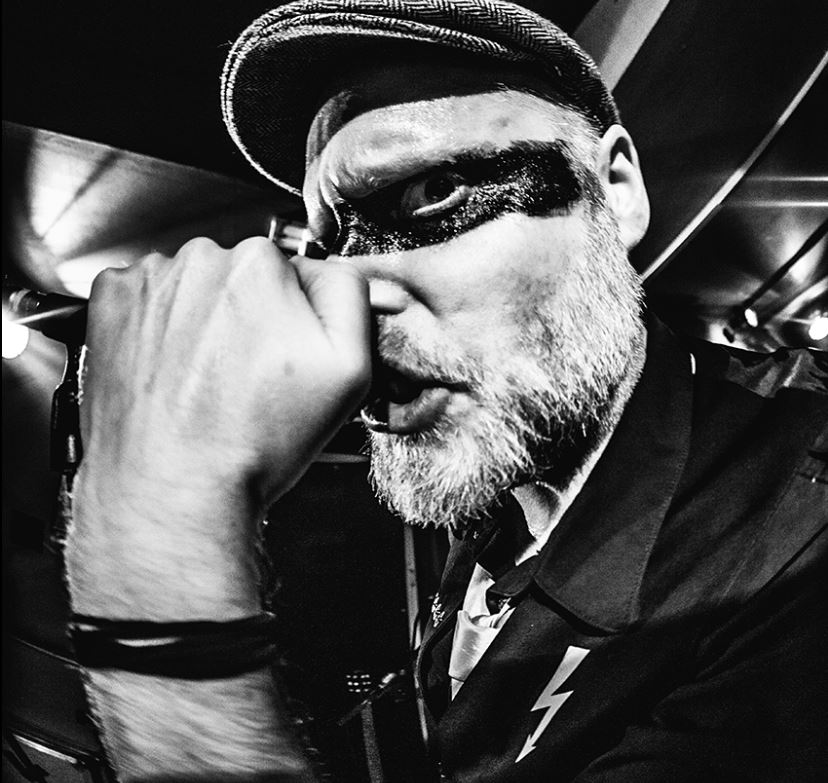 What does punk mean to you, is it only a word or is it a lifestyle? I know you do not play punk but you have a bit of that attitude?
Punk is a lifestyle. It does not matter what you look like, how old you are or what you do, once a punk, one is always a punk.
How do you download, mp3 and stuff?
I have no problem with it, there is no reason to mess with the development, people whined when it came cassettes, and even worse was when it came CDs, it was the end of the music industry. I think the younger generation will start buying CDs of the bands and artists they like to come.
What is it like to live in Sweden now? Politically?
I think it's just as normal, it's just that shit have the temporary boost and space in the media, it will pass soon.
Is there any good bands from Sweden? What is it like in your hometown?
Gothenburg has of course you know a plethora of great bands, Kendolls, Smash It Up mm. I live in Kungsbacka and where it does not happen so damn much. Manimal is a good power metal band from Kungsbacka if you fancy that!
You are difficult to put into something special style, why do you think?
I do not know, sometimes we are called punk, sometimes we are hard rock. Nothing makes us anything, it's only fun if many can appreciate what we do!
Can you imagine doing a tribute for example something special football or anything else you believe or you do not want to paint you into something special political tray etc?
We can absolutely imagine making music for example, a football team, we are blue and white all. (yikes then ... should never asked that question) ;-)

Your lyrics, who makes them and what influences you?
I write most of the time, but get some help of Chuck The Ripper and Chuck Dakota.
I most affected by the people around me, and the things that are happening in and around belt. Our latest album is almost exclusively about the tours we did the year before we wrote it.
Is there a topic that you will never write anything about?
Politics. I like to write about injustice and things I angers me, but we will not be partypolitics.
Politics and music, does it go hand in hand?
Yes, it makes it absolutely, it is great hand in hand, but not for us.

Best political band/artist?
Bob Dylan & The Clash.

Do you think the music (lyrics and so on) can change someone's life, I mean people who listen to music?
Yes, absolutely!
You have the fancy cover, it is important to have an album cover showing people what kind of music you play?
I think so. I grew up with vinyl and hard rock and definitely think you should be able to see how the records already sounds on the cover! And many thanks! We are very proud of our cover!
Is it important to get out physical discs? Why or why not?
Absolutely! I do not think you are if you have not got a "real" album, which sicko any time with a recording equipment and two hundred bucks could end up on Spotify. To give out real discs is to show that you care about their fans, giving fans the opportunity to take a piece of you and your band home to flick the room.
Tell us a funny thing has happened in your career and in some gig?
It happens so much fun and silly every day when we're on tour or set off on play, unfortunately I can not tell you 95% of these, then we strictly follow "the code of the road", but it was fun when we played Jake Starr from Adam West and he shat down on stage, or the giant full German girl who broke down and started fighting with our bass player because we did not play the song "Rats!" and she ended the evening with stealing our spirits, stealing a handful of discs and run screaming away.

How does your audience look like mixed, I understand? Which people do you miss on your concerts?
I miss supermodels and people handing out beer and money to the singer.
Rank your five favorite records five favorite things and the five most important things in life?
My five favorite records:
Ramones – Rocket To Russia
Sex Pistols – Never Mind The Bollocks
Turbonegro – Apocalypse Dudes
Nick Cave – No More Shall We Part
Slayer – Reign In Blood

MY five favorite things
My gramophone
My "Greatest Hits" LP with Alice Cooper
My wedding ring
My Iphone
My bed

My five most imprtant things in life:
Family
Love
Friends
The Band
Beer

Is it boring with interviews? Is it many interviews ??
No, it's not at all boring with interviews, rather the contrary. This interview is fun, but some new questions and not the same as everyone else usually set. It is becoming more and more interviews, as soon as I get let anyone dirty bassist start helping to answer questions.
If you could choose five bands from the past and history and today, and both dead and live band to have a concert with your band. What five had you chosen?
Ramones, Motörhead, Alice Cooper, OFF! & Nick Cave.

Music is a great way to get out of frustration and become a nice person outside of music?
We are probably the nicest band in the world, so we do not have that problem, but it sure is nice to stare off at times. A rehearsal should be like a workout, otherwise you might as well quit and go home and watch TV instead. People who sit down when they rehearse should get kicked!
Which is the oddest question you've got in an interview?
If I wanted to sleep with the somewhat wonderful German journalist who interviewed me in Berlin for a couple of years ago.
What is the question you want but never get. Set it and answer it?
- Would you go support Motörhead on their world tour?
- Yes!

Future plans for the band?
We shall write and record our seventh record in 2015 and then releasing it early in 2016,and with it in the back so we set out to conquer the planet, get a Grammy and somehow end up in trouble with the German intelligence service. And then we're back to the US and even make a long European tour.
For yourself?
I'm just honk and push myself to my son should be the happiest guy on earth.
Words of Wisdom?
Never trust a junkie!
Something to add?
Well, it feels like we emptied out most of the time here!
I thank you for the time and we wish you a nice summer!