Chemical X is a good group which is in the hardcorevein of old American groups. I really appreciate their music and I was "forced" to do this interview in april 2015.
Please tell me the history of the group.
-We were sitting around one day and we realized that we are really really good looking. We couldn't let our looks go to waste so after some brainstorming we decided to start a band of handsome men and here we are today. After all, looking good is all that matters, right?<![if !supportLineBreakNewLine]>
<![endif]>
Please tell me a little about every member in the group such as, age, work, interests and something bad about everyone? Have you been in any other bands before?
-Kalon (Vocals/Guitar):
Age: 21
Work: Sex Toy Distribution Center (This is actually true)
Interests: Titties and beer
Bad Trait: Too good looking
Other bands: THEE S.O.BS and Truckasaurus

Human Steve (Bass):
Age: 25
Work: Space Cowboy
Interests: KISS
Bad Trait: Addicted to eBay
Other Bands: THEE S.O.BS, The Kaotix, Sinnin' Saints and Captain Blood.

Tavo Skelebones
Age: 25
Work: Professional Tough Guy
Interests: Sluts and Comic Books
Other Bands: Sinnin' Saints and The Nica-Teens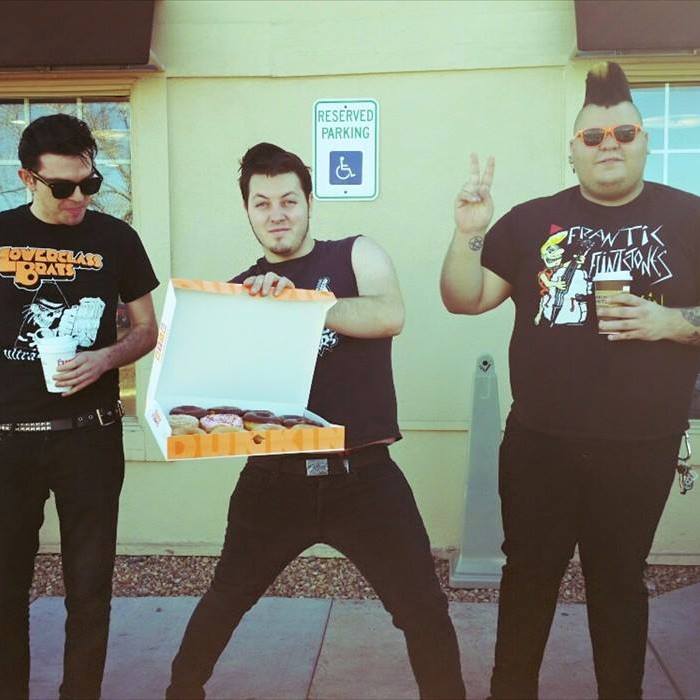 I can hear old American hardcore in your music, am I right? Favorites from the past?
Yeah, for sure. Some of our favorites are Negative Approach, Agnostic Front, SSD, -Minor Threat, Black Flag, and The Derelicts just to name a couple.

Chemical X are you satisfied with the name? Any deeper meaning? How did it come up? What is the best band name you know?
-The name certainly didn't come to us by watching The Power Puff Girls or anything...haha The best band name in my opinion actually comes from another Denver band, Lyin' Bitch and the Restraining Orders.

What´s the best thing about playing live?
-Playing really fuckin' loud and making people uncomfortable.

And where is the best place to play? And the worst place?
-We like playing anywhere that will have us, the only places we hate playing are the ones that have scumbag promoters.

How is it to play this sort of music in the USA right now?
-For the most part it's great! Punk isn't dead in America. There are tons of awesome bands constantly coming out, there's a lot of dedication to the scene and a lot of people still come out to shows (old punks and new punks)<![if !supportLineBreakNewLine]>
<![endif]>
How would you describe your music in three words?
-Aggressive, Sweaty and Erotic.

What does punk mean to you, is it only a word or is it a lifestyle?
-All three of us love punk, it's why we are still here after all these years. There is no real definition of punk, everyone interprets it differently. For us it is mainly a way of thinking, we question everything and speak our minds. We are just a bunch of angry weirdos who never fit in with normal people and I think it is an appropriate outlet for us.<![if !supportLineBreakNewLine]>
<![endif]>
How do you see on downloading, mp3 and that stuff?
-It definitely does not replace physical copies of music. Physical copies make you appreciate the work that goes into it more and you get to have the art work from them which is the biggest upside. Downloading can be great too tho, it's a good way to get an album you may not be able to find at record stores. The important thing is that you pay for the music you download. It's not about money (keep in mind we gave our album out for free) but bands need money to operate. Recording, merch, band equipment, touring etc... all cost a lot of money so make sure to support the bands you like by buying at least some sort of merch from them.

Is there any good bands from the USA now? Is the punk scene big? How is it in your hometown?
-There is always good bands coming out of the USA. A lot of people put forth a lot of effort to keep punk alive. Most of it is still underground too which is nice. Denver has a ton of rad bands. Denver has Havok, Speedwolf, The Potato Pirates, The Bad Engrish, MF Ruckus, 99 Bottles, 4 Minute Warning, Dead Temple, Truckasaurus, The Kaotix, The Pitch Invasion and the list goes on and on from there.

What do you know about Sweden?
-The leading export of Sweden is international super babes. That's about all we know. We know we want to tour there for sure! <![if !supportLineBreakNewLine]>
<![endif]>
Have you heard any good bands from Sweden?
-Perkele, Totalitär, Mob 47 and Anti-Cimex are the only ones we know off the top of our heads. We'd like to know more if you have any suggestions.

Your lyrics, who does them and what influences you?
-Kalon writes most of the lyrics. We write about conspiracies/the government a lot (probably too much) and whatever else pops into our heads. <![if !supportLineBreakNewLine]>
<![endif]>
Is there any subject that you never will write anything about?
-Not in particular. Everything is pretty much fair game. We have never written a song that has any positivity but it's not off limits. Maybe someday you will hear us say something nice in our songs (Probably not).

Politics and music, does it goes hand in hand?
-I think politics should be discussed in music for sure but there has to be a balance. Raising awareness about important issues in your songs is awesome and it does help people see your point of view. However every song cannot be politically driven, it gets very redundant. If you want your message to have a wider reach you have to get people interested with other topics as well.

Do you think that music(lyrics and so on) can change anyone's life?
-Yes, music can have a big impact on people. It presents thoughts and ideas on a platform that gets people excited and interested. It also gives people hope if they're going through a rough time. If it wasn't for music we would not be the same people we are today.<![if !supportLineBreakNewLine]>
<![endif]>
The cover on your CD looks really nice, is it important to have a record cover that shows people what type of music you play? Your favorite record cover? And how did the idea with the Punk Collector come up?
-It is important to have an album cover that attracts people to it. If I see a cool record cover I am much more likely to check out that band. I think as a band we can all agree that Destroyer by Kiss is the best album cover ever. There is a series of greatest hits compilations of old punk bands called The Punk Collectors Series, we just put the logo on the cover as a joke since we named our debut CD "Greatest Hits". If anyone would like to sue us we will gladly give you the 30 dollars we made on this album.

Is it important to get out physical records of your stuff? Why or why not?
-It is important to get physical records out. There are plenty of people who still collect Vinyl, CD's and Cassettes. Physical copies have tons of resale potential and they keep your band relevant (You don't see anyone paying over 100 bucks for a vintage digital download on eBay) If we can ever afford it, we would like to release our album professionally, but that shit is expensive.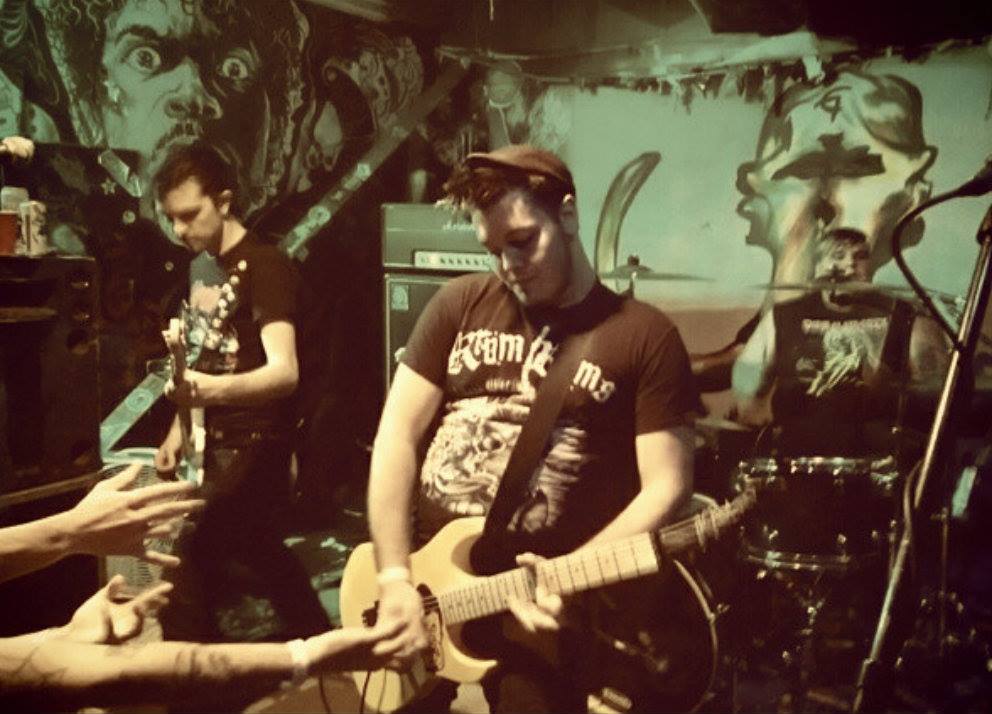 Please tell me a funny thing that has happened during your career?
-All sorts of funny shit happens at our shows, we just can't remember them (thanks alcohol)

What does your audience look like? What people do you miss at your concerts?
-Our audiences are very diverse, we have punks, drunks, skinheads, psychos, metal heads, big booty bitches etc... The only thing missing is strippers dancing in cages while we play...One of these days it will happen!

Please rank your five favorite records, five favorite concerts and five most important things in life.
-Kalon:
Albums: "The Scars We Hide" Noi!se, "Blood, Guts, and Pussy" The Dwarves, "The Chronic: 2001" Dr. Dre, "A Day Will Come" Lion's Law, "Massive Aggressive" Municipal Waste
Concerts: Lower Class Brats w/Clit 45, Fuck You We Rule OK? Fest, Hank 3, Subhumans, Teenage Bottlerocket
Important Things In Life: Naked titties, burritos, toilets, clean socks and Rock 'N' Roll.
Steve:
Albums: "Self Titled" Kiss, "Dressed To Kill" Kiss, "Hotter Then Hell" Kiss, "Destroyer" Kiss, "Love Gun" Kiss
Concerts: The Queers, Danzig with Doyle, The Adicts, Airbourne, Fear.
Important Things In Life: Good pizza, good beer, showers, vaginal intercourse, Rock 'N' Roll
Tavo:
Albums: "Earth A.D" The Misfits, "The Queen Is Dead" The Smiths, "London Calling" The Clash, "The Return of the Living Dead Soundtrack", "Cyclops Carnival" by Torment
Concerts: Morrisey, Long Tall Texans, Danzig/Doyle, Motorhead, Stiff Little Fingers
Important Things In Life: Comic books, vinyl, oxygen, fuckin', Rock 'N' Roll

Is it boring with interviews?
-Only if the people being interviewed are boring. We like to have fun with them.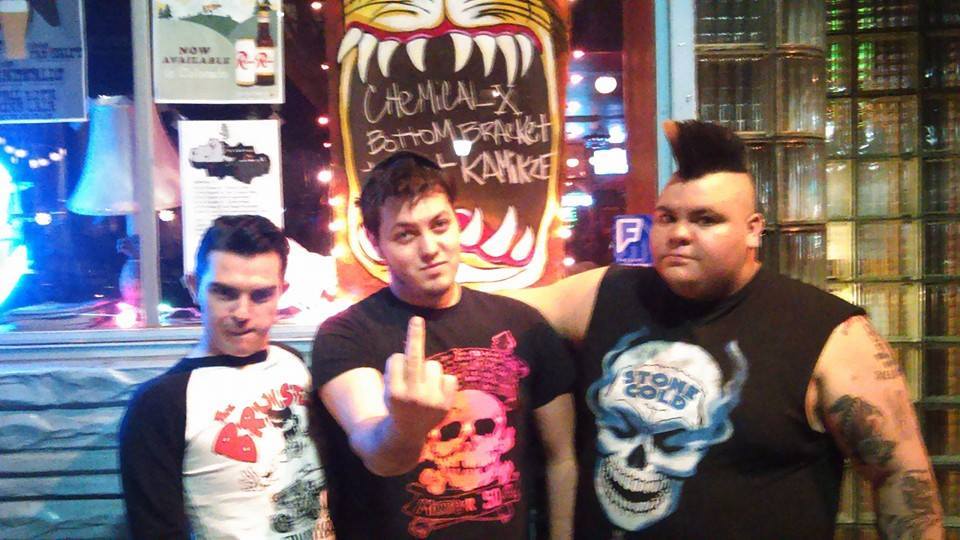 If you could choose five bands from the past and nowadays to have a concert together with your band, which five would you chose?
-Kalon: Dr. Dre, DMX, Xzibit, La Coka Nostra, Ice Cube.
Steve: Kiss, The Biters, The Lillingtons, Cock Sparrer, Oxymoron.
Tavo: Nerve Agents, Genocide, the Damned, The Dwarves, Hank 3.

Is music a good way to get out frustration and become a nice person outside the music?
-Yeah, it's nice to yell about things that piss you off while playing Rock 'N' Roll. It helps, we are all pretty solid dudes but we are still assholes most of the time. haha

What is the most odd question you ever have got in an interview?
-This is the first interview we've had, no odd questions but plenty of odd answers. haha

What is a question you want to have but you never get. Please ask it and answer it?
-Q: Is Chemical X as good in bed as they are on the stage?
A: Yes, yes they are!

Future plans for the band?
-We would really like to travel the world, it will most likely never happen but we can hope. We are going to keep playing and recording and see where it takes us.

For yourself?
-Have a good time all the time.

Words of Wisdom?
-Be excellent to each other.

Something to add?
-Find us on the internet. You can download our debut album "Greatest Hits" for free! We really appreciate any support we get. It was a pleasure doing this interview and thanks for the great review!