Chelsea is a group which have been in the punkmovement for a very long time. All old punks and new ones also remembers their song Right to work which is almost like a national anthem for punks around the world. They release a new album in december 2014. Hereīs an interview done with the group in the beginning of October 2014.
Have you been a playing band all the time since you started ?
-Yes we've been playing live since 1976, we've had a few line-up changes over the years but always kept the band going playing live and releasing albums.

Who are the members nowadays, please tell me about previous bands, bands on the side and so on?
-At the moment we have one of the best line-ups Chelsea has had;
Gene October - vocals, James Stevenson - lead guitar, Nic Austin - 2nd guitar, Mat Sargent - bass, Lee Morrell - drums.
James also plays with The Alarm, The Cult, Glen Matlock, Gene Loves Jezebel and played for Generation X and Kim Wild. Mat also plays for Splodge, Jennie Belle Star, Rock n Roll Gypsies and has played for Jimmy Pursey's Sham 69, The Beat and Honest John.

Whatīs the biggest difference of playing nowadays if you compare when you started to play?
-There's no big difference really, there are more punk festivals nowadays so we get to play in front of bigger audiences... a bit like the 'So What' tour in 1981 or the 'Christmas On Earth' show.
How is to play punk in England today? Is it hard to get gigs?
-It's always good to play in England, it's not difficult to get gigs but we are an original 1976 punk band... new bands that don't have a name for themselves find it harder to get gigs that pay.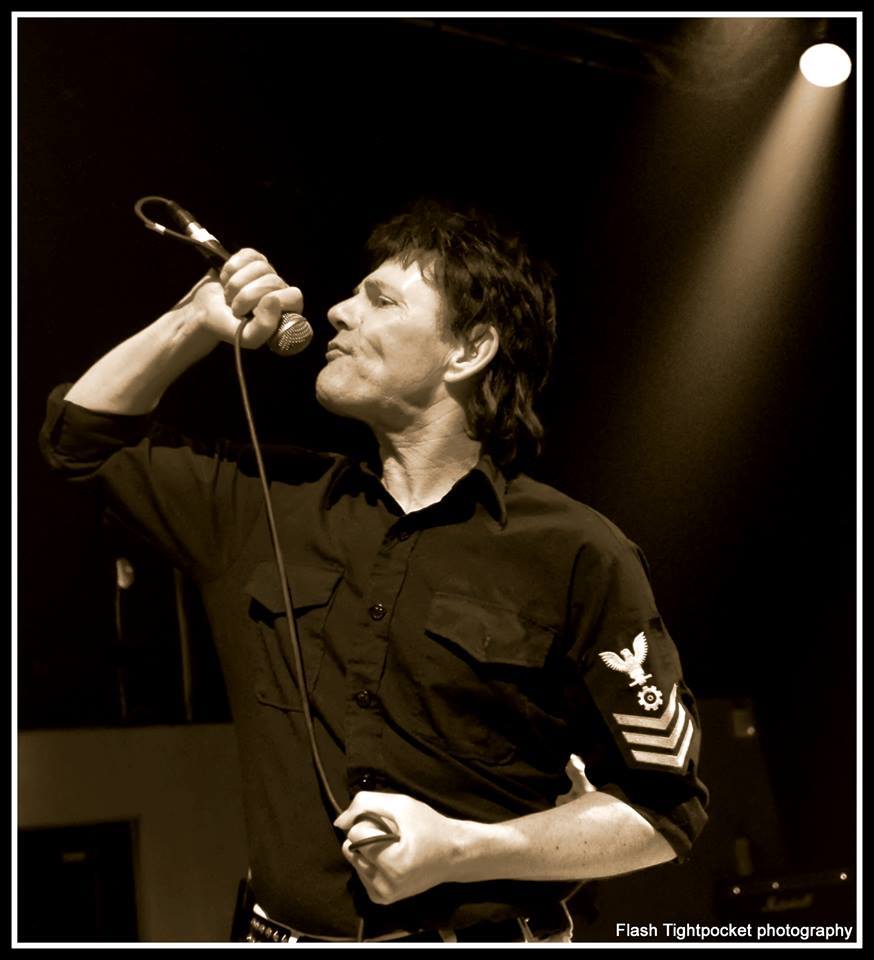 Many of the old punk groups still play today... any favorites from then which play nowadays ?
-We like SLF, UK Subs, 999, The Lurkers, The Damned, Members, The Boys, Anti Nowhere League, Eddie & The Hotrods, GBH, Buzzcocks, Leatherface, Ruts DC, Splodge, TV Smith, Die Toten Hosen, Vice Squad, Anti Pasti, Dickies, Jimmy Pursey's Sham 69, Vibrators, Angelic Upstarts.... probably a few we missed but these bands keep the scene alive.

Why did you take a name from a football team/part of the city or how did it became Chelsea?
-It wasn't from the football team, Chelsea is a place in London where punk started on the Kings Road, we played our first ever gig at the 'Chelsea Potter' Rolling Stone Keith Richards was in the audience.

Are you supporting Chelsea as a football team (I support Arsenal) or donīt you give a damn about football?
-Gene supports Chelsea football team.

Have you ever done any tribute song to a football team, animal rights, political party or whatever? Could you imagine yourself doing it?
-We donated a track to the 'Paul Fox' (The Ruts) tribute album called 'See You On The Other Side' Paul sadly died of lung cancer a few years ago.
http://www.foxyswebsite.com/shop-news.html

Gene did a solo album once please tell me about it?
-Gene's solo album 'Suffering In The Land' was recorded in 1983 and featured 'Menace' guitarist Steve Tannet and co-manager of The Police Kim Turner. Gene's 2nd solo album 'Life & Struggle' was recorded in 1995, Glen Matlock played bass and James Stevenson played guitar, it was a chance to do something slightly different to the Chelsea format.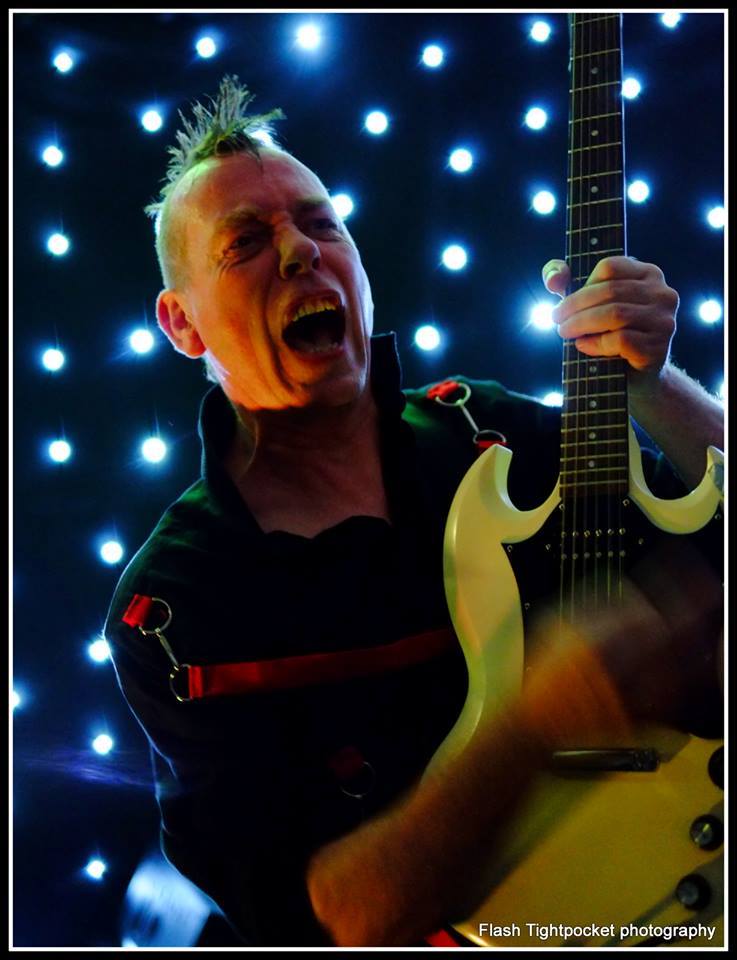 I only collect CD's nowadays and I miss a lot of your albums on CD, can I get them on CD like Underwraps, Rocks off, Original sinners, No escape, Traitors gate, Live and well?
-Most are available on CD, the only ones that are not on CD are
Underwraps & Original Sinners. No Escape is the U.S version of Alternative Hits, it was given a different cover as the U.K cover was banned in America.

Do you still buying records?
-I get most of my records from charity shops, sometimes I get records from bands merch stalls at gigs. The last CD I bought was last week - 'X Ray Spex The Complete Collection'... a bargain at Ģ2 from a charity shop !

What do you think about downloading and all that stuff?
-Downloads are the new way to sell music I suppose, I am still old school and like to hold the record/CD in my hand.

Is the new album coming on CD/LP?
-The New album will be coming out on CD, we may be getting a limited edition pressed on vinyl for the collectors who have been buying our records since the band started.

Which label?
-We haven't decided which label, we might put it out ourselves and do it punk style independently.
Is it important to release your albums on physical media?
-Definitely, when you record with a band like Chelsea it's like playing in a working museum and a physical copy is needed for our fans otherwise if it gets released just as a download it will get lost in the ether!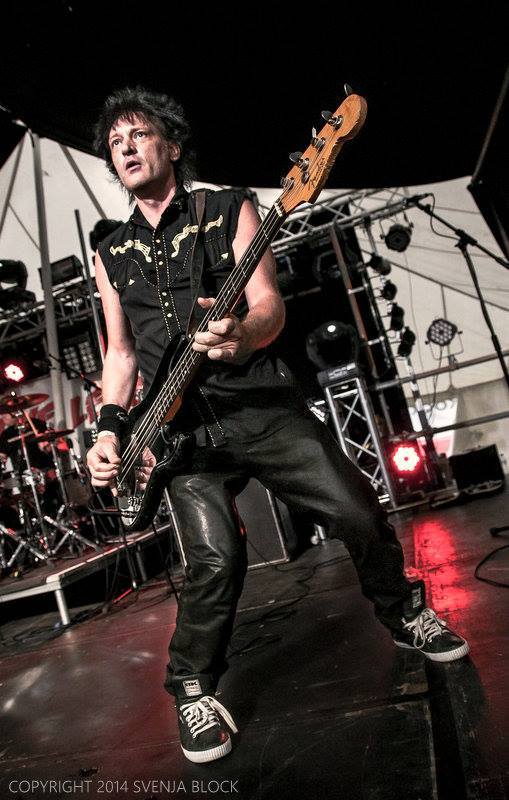 What does punk mean to you, is it only a word, or is it a lifestyle?
-Punk is a way of life, an attitude and movement that is still as relevant today as when it started.

Please tell me a little about the new album, how does it sound, how many songs, what is it going to be called?
-We will record 14 new tracks, we have all written songs for it and collaborated together. The last album was Faster, Cheaper & Better Looking which was released in 2005 so it's about time... One of the tracks is called 'It's About Time' so maybe that's what the album will be called. We are offering our fans a chance to pledge towards the new album. You can pledge to get your name printed in the album, get signed copies, sing backing vocals in the studio or even a night out with the band. Check the website http://chelseapunkband.com/Recording.htm for more info.

Have you been playing much outside England?
-Czechoslovakia, Germany, Scotland, Belgium and we did the 'Social Chaos' tour in the U.S a few years back which was fun.
Where is best?
-The last show we did outside England was in Belgium @ Excelsior earlier this year on our 'Bulldog Breed Tour' , it was a great night, fantastic venue, great vibe and luxury apartments for the band !

Please tell me some thing fun which have happened during your career, on stage or in the audience?
-In Freiburg, Germany on The Alternative tour there was a swimming pool outside the hotel. We stacked all the tables & chairs up in the swimming pool like a huge pyramid about 50ft high all the way up to Gene's room on the 1st floor. Gene went mental when he saw it... that was funny !
How does your audience look, is it very mixed?
-We have a very mixed audience, guys & girls, young & old. We have people as young as 18 writing to us telling us they have just discovered the band which is great.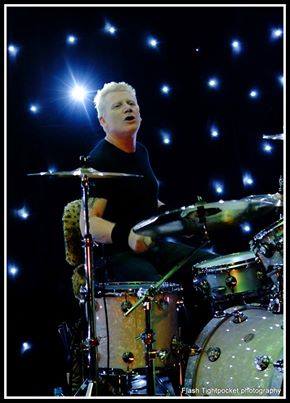 Is there any change to the audience if you compare it from when you started except that they are older?
-Not really, the attitude is still the same, old faithfuls who come to most of our gigs and new faces that come and see us for the first time. It's great they all get to know each other and it's like a punk rock family.
Are there any type of people you miss at your concerts
-No not really, sometimes when we play certain places where we know people and they don't turn up we miss them but other than that... maybe some rich people to buy all our merchandise.
How is it to live in England today? Politically?
-It's cool living in England, some places are better than others as is everywhere but it's OK. Politics stink as they always have done not only in the U.K but everywhere.

What do you know about Sweden? Have you been here?
-I don't recall Chelsea playing in Sweden, we played in Copenhagen in Denmark on 'The Alternative Tour 1993'.

Have you heard any good Swedish bands?
-The Backyard Babies, Noice, The Hives, Zero Zero, Abba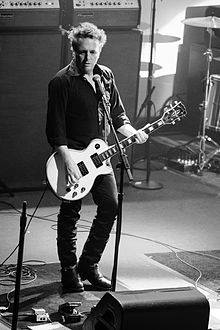 Are there any good bands in England today?
-Sure, lots, I think we mentioned most of them in an earlier question.

Except from the new album , what will the future bring from you?
-We plan a tour in April / May 2015 to promote the new album. We also plan to cut some old footage of the band from The Alternative Tour 1993 & the Traitors Gate Tour 1994 and make 2 movies.

And the future for yourself as a person?
-Promoting the Sex Drugs & HIV album, a huge music project involving over 200 musicians which supports 4 main charities.
www.sexdrugsandhiv.com

Wisdomword?
-Keep it real! .... sorry that was 3 words

Something more to add?
Thanks to our fans for their loyalty to the band, keep an eye on our website for up & coming shows and hope to see you soon !! http://www.chelseapunkband.com