The Italian band Cervelli Stanki is a band which really gives me positive vibes when I listens to them. I don´t understand so much but what I understand is that they love punk, Clockwork Orange and so on. This interview was done with Ivano with help from his girlfriend. It was done in the middle of august 2006. The English isn´t always right here but I hope you understand the interview.
History?
-CERVELLI STANKI BAND WAS BORN IN 1993 IN ALBISOLA MARINA,A SEASIDE NEAR ARE THE REASONS OF THE FORMATION OF THE BAND.GENOVA(ITALY).THE PASSINON OF PUNK MUSIC OF PISTOLS, CLASH, DAMNED, THE THEMATIC OF OI MUSIC , THE LOVE FOR REGGAE&SKA.
DURING THIS 13 YEARS WE HAVE PRODUCED 5 ALBUMS AND ONE OF THIS IS THE NEW "STREET ROCK N ROLL2,OUT LAST JULY 2006!
Please tell me about every members?
-ALESSIO,22 YEARS OLD,HE PLAY THE DRUMS WITH CERVELLI STANKI AND ANOTHER BAND,UGUAGLIANZA FROM VARAZZE(SAVONA-ITALY),HE RUNS A LOCAL RADIO PROGRAM WITH PUNK, ROCK N ROLL, HC , STUDY INGEGNERY AT THE UNIVERSITY AND IN SUMMER HE IS THE LIFE GUARD ON THE BEACH.
HE LIVES WIT HIS PARENTS AND WITH HIS BROTHERS. HE'S SINGLE(HE LIKE HAVE ALWAYS A GOOD TIME!)
FABIO ,32 YEARS OLD,PLAYS THE BASSAND HE WORK IN THE CAR REVISION CENTRE IN SAVONA. HE'S SINGLE AND HE LIVES ALONE. HE LOVES CINEMA, LITERATURE AND THE MOTORBIKE.
MASSI,32 YEARS OLD,PLAYS THE GUITAR. .HE ´S GOT A GOLD SHOP ,HE LIVES WITH HIS GIRLFRIEND ELISABETTA,HE WILL BE A DADDY SOON!
IVANO,31 YEARS OLD,IS THE VOICE OF CERVELLI STANKI! HE DRIVES A VAN FOR DELIVERY OF FOOD, HE WRITE SONGS AND POETRY, HE READ BOOKS ,COMICS, HE LISTENS TO MUSIC. HE LIVES WITH HIS PARENTS .RAFFAELLA IS HIS GIRLFRIEND!(IN THIS MOMENT SHE HELP HER LOVE TO TRANSLATE THIS INTERVIEW!!!)
You seems a little bit influenced of Clockwork orange,why?
-WE LOVES THE CINEMA AND LITERATURE, IN PARTICULAR THE FILM "A CLOCK WORK ORANGE" OF KUBRICK AND THE MASTERPIECE OF BURGESS. A HISTORY SPEAK ABOUT SELFCONTROL, LIBERTY OF OPINION ,THE MANIPULATION OF THE POTITICIANS AND RELIGIOUS PEOPLE,AND THE POWER OF THEM COMPARATED WITH THE YOUNG POWER LESS BOYS.WE RECOGNISE US IN THIS YOUNG POWERLESS PEOPLE,AND WE ADOPT THE CLOCKWORK'S LOOK,THAT IS VERY KARASHOV!
I think you mix both streetpunk like Business,Adicts, and those bands together with old italian hardcore,what do you say?
-YES,AT THE BEGINNING WE WAS INSPIRED OF SOME ENGLISH STREETPUNK BANDS LIKE ADICTS,ANGELIC UPSTARTS,COCKNEY REJETS,RED ALERT,COCK SPARRER.OF COURSE ANOTHER GREAT INFLUENCES ARE ITALIAN OI AND HC MUSIC,WITH GREAT BANDS LIKE NABAT,RAW POWER,NEGAZIONE,GHETTO 84,WRETCHED,SENZA SICURA.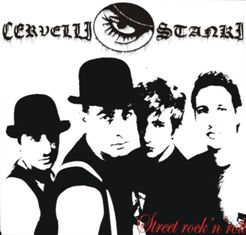 Other bands you will be compared to?
-EVERY SINGLE COMPONENT OF THE BAND HAS GOT DIFFERENT TASTE,BUT THERE IS ONE PASSION THAT JOIN US:: ROCK N ROLL!!! WE LOVE STIFF LITTLE FINGERS,CLASH,COCK SPARRER,ANTINOWHERE LEAGUE,THE JAPANISE COBRA AND THE GREAT OI ROCK MELODIES OF RED LONDON! CLOCKWORK BAND LIKE MOLODOI,BERURIER NOIR,MAJOR ACCIDENT AND ROCK BAND LIKE THERAPY?,MOTORHEAD ,WHO,STONES….METEORS AND MANY MORE!
Is there any good bands in Italy right now?
-FOR ME THERE IS A LOT OF GOOD BANDS IN ITALY OI AND STREETPUNK!!!!FOR OTHER MUSIC,I LIKE THE STP ,HEAVY ROCK N ROLL AND FORTY WINKS, ALTERNATIVE ROCK EMOCORE..THEIR LAST ALBUMS ARE VERY COOL!
How is it to play this sort of music in Italy right now?
-IN THE LAST YEARS THE SITUATION HAVE BECOME BETTER IF YOU COMPARE WITH A FEW YEARS AGO, THANKS TO THE SQUAT NEAR TO REAL PUNK. THE SITUATION IS DIFFICULT BECAUSE THE LACK OF PLACES WHERE WE CAN PLAY. THE PLACE PUT UP THE BANDS ONLY FOR OUT OF SELF INTEREST(TO HAVE A LOT OF PUBLIC).EVEN IN THE PUNK MUSIC THERE IS A MAFIA!
How about racism in this music,what shall we do about those racist?
-RACISM AND FASCISM IS OUTSIDE OUR MUSIC!THE FASCISTS ARE POLITICIANS,AS SOLDIER.
THE MUSIC IS LIBERTY OF EXPRESSION,REVOLT,CULTURE.IN MY OPINION THE MUSIC MATCH WITH RACISM OR FASCIST IS AN INSULT!
WHAT WE CAN DO? ONLY RESIST AND SHOW OURS IDEAS,FIGHT(WHEN IS NECESSARY)IN THE STREETS,IN THE SQUARES,ON OUR WORKS,IN EVERY PLACE AGAINST THESE DEVILS!!
Are you feeling good now when Italy won the world championship?
-OF COURSE!WE ARE EX FOOTBALLER AND BIG LOVERS OF FOOTBALL! WIN THE WORLD CUP,FOR US IT WAS A BIG EMOTION!
If you like it which is your favorite team?
-IN ITALY THE FOOTBALL IS ONLY A BIG BUSINESS (when there is a capitalism all will come to no good).I'M HAPPY THAT THE TEAM MANAGERS (OF JUVE,MILAN,FIORENTINA,LAZIO) WAS PUNISHED!
I'M A FAN OF THE MILAN TEAM(THE PRESIDENT OF THIS TEAM IS BERLUSCONI, THE EX PRESIDENT OF THE RIGHT PART OF ITALIAN CABINET..IT IS INCREDIBLE!!!) AND I'M AN ULTRAS OF THE TEAM OF MY TOWN,SAVONA SOCCER!
Your name CERVELLI STANKI,what does it mean?
-IN ENGLISH IT MEAN "TIRED BRAINS".IT WAS AN INSCRIPTION ON THE WALL IN OUR TOWN.FOR US IT REPRESENT:INTOLERANCE, RAGE, REVOLT ABOUT THE ONE THAT SURROUND US AND IRRITATE US!
Is it important to have a band which people remembers?
-EVERY PEOPLE THAT WAS HELP US OUR PROJECT,DURING THIS 13 YEARS,IS VERY IMPORTANT AND WE REMEMBER THEM ALWAYS! FOR EXAMPLE:DAVIDE, OUR DRUMMER FROM 1995 TO 1997,HE DIED IN A ROAD ACCIDENT; THE BROTHERS EMA AND MATTE FOUNDER MEMBERS;FRANCESCO,DRUMMER FOR 2000 TO 2003;A LOT OF CRAZY FRIENDS THAT WAS HELP US AT THE BEGINNING(1993)
How do you do your songs,is it most important with a good LYRICS,a good melody or is it to have a refrain that people remembers?
-I THINK THAT ALL OF THIS CHARACTERISTICS ARE IMPORTANT. PERSONALLY I DO MORE IMPORTANCE TO THE TEXT WHEN I WRITE IT .I LIKE A TEXT OF SOCIAL DENUNCIATION, POLICY DENUNCIATION, BUT I LIKE ALSO POETRY AND LOVE LYRICS..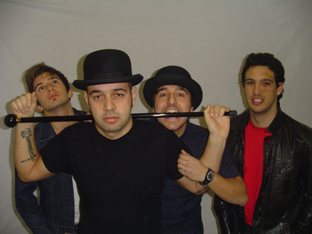 It stands that you Ivano is schizofrenic,how does this shows?
-YOU WILL SEE IT WHEN WE WILL COME TO SWEDEN!!!
I HAVE MULTIFACETED PERSONALITIES :GENTLE AND ROMANTIC,S EXUAL MANIAC, AS A SMALL BEAR, SPOILED CHILD, MARTYR IN A CROSS, VIOLENT, WEAK, STRONG, PARANOID….SOMETIMES MY MULTIFACETED PERSONALITY IT BECOME ALTERNATE DURING THE DAY!!!! IVANO "SKIZOFRENIC"IN AN HOMAGE FOR ONE OF MY FAVORITE BAND: THE "MAJOR ACCIDENT"
Please rank your five favouriterecords, five favouriteconcertsa nd five most important things in life?
ANGEL-THE ADICTS
SWAT HER-THE ADICTS
TOUGH GUYS-COCK SPARRER
LAW THE JUNGLE-COBRA
THE VIEW FROM THE AFTERNOON-ARTIC MONKEYS
L.ATIKEN+SKATALITES+MAROON TOWN IN SAVONA 1997
NABAT+GHETTO 84 IN MILANO 1995
ADICTS+COCKNEY REJETS+PETER&TTT BABIES at WINTHERTUR 2004
SHAM 69+VOODOO GLOW SKULL+AGNOSTIC FRONT+TOY DOLLS IN BOLOGNA 19997
SEX PISTOLS+BAD RELIGINO+SLAYER+MASSIVE ATTACK at MILANO 1996
MY PARENTS
CERVELLI STANKI
MY PASSIONS
MY PEACE
MY HEALTH
First, last and most expensive record ever bought?
THE FIRST-"THE BEST"-THE WHO
THE LAST-"LIVE"-POBEL GESOCKS
MOst EXPENSIVE-"SMILING MY LIFE AWAY"-THE CASE(EXPENSIVE 7" ON VYNYL BUT GREAT!!!!)
The most embarrassing record in your collection?
-WELL ,I LOVE TO BUY CD AND VYNYL ON LINE AND BY POST!
I LOVE TO OPEN PACKAGE THAT I RECEIVE..ONE DAY,IT BECAME WRONG,I RECEIVED A CD OF BRITNEY SPEARS,FUCKING BIG TITS SHE HAVE!
Is it many interviews?
-I MUST ADMIT THAT FOR NOW EVERY INTERVIEW IS SERIOUS AND REGULAR…WHAT A PITY! WHO KNOWS WHAT MY SKIZZOFRENIA"CAN BE DOING….
What do you know about Sweden?
-IN MY COUNTRY(AND IN EVERY ITALIAN SEASIDE) THERE'S A MYTH `OF SWEDEN'S GIRLS:TALLS,BLONDE ,BLUE EYES!AND I KNOWFOOTBALLPEOPLE:LIEDHOLM, ERIKSON, STRÖMBERG AND FOOTBALLER OF TODAY LIKEIBRAIMOVIC,LARSSON,LJUNGBERG AND SO ON
Have you heard any good swedish bands?
-I THINK THAT SWEDEN AND SCANDINAVIA HAVE ONE OF THE BEST PUNK/HC/SCENE IN THE WORLD! MY FAVOURITE BANDS ARE: THE HIVES, INTERNATIONAL NOISE CONSPIRACY, GUTTERSNIPES, TEENAGE IDOLS, BOMBSHELL ROCKS, VOICE OF GENERATION,59 TIMES THE PAIN,TURBONEGRO(NORWAY!!)GLUECIFER,RAISED FIST. I HOPE I'M NOT WRITE WRONG AND THAT ALL THE BANDS ARE ALL SWEDISH OR SCANDINAVIAN!I THINK THAT FOR CERVELLI STANKI IT WILL BE GREAT TO PLAY IN SWEDEN!
What does punk mean to you, is it only a word or is it a lifestyle?
-ONE OF OURS SONGS SAY:"IS NOT A FASHION,IT´S A LIFE STYLE!"FOR ME PUNK IS REVOLT,ATTITUDE,SOCIAL DENUNCIATION, FREE EXPRESSION, GOODWILL TO BE A REBEL.FOR ME PUNK WILL NEVER DIE!
Which are the futureplans for the band?
-WE WILL PROMOTE THE NEW CD "STREET ROCK N ROLL",WHICH CAME OUT IN ITALY THE LAST OF JULY ,WITH GIGS IN ITALY AND IN EUROPE. AND IN 2008(THE ANNIVERSARY OF 15 YEARS OF ACTIVITY) WE WILL RECORD AN ANTHOLOGY CD WITH MORE SONGS(FROM 1993 TO 2008!)
For yourself?
-I WILL SEARCH FOR MY PLACE IN THE WORLD….
Wisdomword?
-IF I WOULD BE ASTEMIOUS I BE A MILLIONAIRE(RICH)!!!!
Something more to add?
-I SAY HELLO AND THANKS TO PETER FOR THE INTERVIEW,CHRISTIAN AND ANFIBIO RECORDS FOR THE CONFIDENCE,RAFFAELLA FOR HELP TO TRANSLATE.GREETINGS FOR EVERY DROOGS, DEVOTCHAS, PUNK, SKINHEAD, REBELS WITH ONE REASON IN THE WORLD!!!!!STaY REBEL!!!!!!!
CONTATTI:
CERVELLI STANKI C/O
BELTRAME IVANO
VIA LUCCOLI 17
17012 ALBISOLA MARE
SAVONA-ITALIA