Cash Registers have a name which smells 77-punk and so do their music also. Here they have been so kind and given me some time. End of September 2016.

Please tell me a little bit history of the group?
John: I started the band in '91 in NYC with my friend Neil who played bass. Neil was friends with Mark B. a drummer and it started from there. We all loved English punk and NYC punk. Mark Z. & Rick joined a couple of years ago.
Rick: I started the group and wrote all the songs. John begged me to play with him and then he drugged me and stole all my songs.
Mark: I kept running into John & Rick in New York back when we were all in different bands. It took about 20 years, but they finally tricked me into playing with them.
Please tell me a little about every member in the group right now, age, family, work, interests and something bad about everyone? Earlier bands? Other bands on the side?
John: I played hardcore in Pittsburgh, PA where I grew up. My first band was Poisoning, a band with my two brothers. We played shows and recorded some songs for compilations. I formed Savage Amused after that. Mind Cure reissued our album recently.
Rick: I am old. I am an international civil servant who enjoys mockery and gardening. My one bad habit is passing gas in public and blaming it innocent bystanders.
Mark: I played in a couple of NYC punk bands, Viva La Wattage and Wig Hat. Rick farts a lot and John snores like a drunken rhino in a motel room. I have no faults. Except for stealing from the tip jar at every bar we play. Is that wrong?
I can hear much different influences but mostly punk rock from the past etc? Favorites from the past?
John: I love all kinds of music: Ska, 60's girl bands, garage, 50's doo wop, early glam rock.
Rick: Molly Hatchett and Gong
Mark: I've been listening to a lot of terrible Kraut Rock lately. Can I say Kraut Rock? Is that an insult? Please edit that out if I'm going to receive death threats.
Cash Registers are you satisfied with the name? How did it came up? You weren't afraid that some other band would be named like this. Which is the best band name you know?
John: We were drunk in the Bowery and I looked up there was a Cash Registers sign, We needed a name because we had a show. So I said Cash Registers we laughed and it stuck.
Rick: Cash Registers IS the best band name I know. Second best is Gert Jonnys.
Mark: Best band names? Butthole Surfers, We've Got A Fuzzbox And We're Going To Use It and Teenage Jesus and the Jerks.
What´s the best thing with playing live?
Rick: Smashing things with drum sticks
John: Messing up and riding out the mistakes and see where it takes us. That's fun.
Mark: Watching John & Rick trying to remember the song we're supposed to be playing.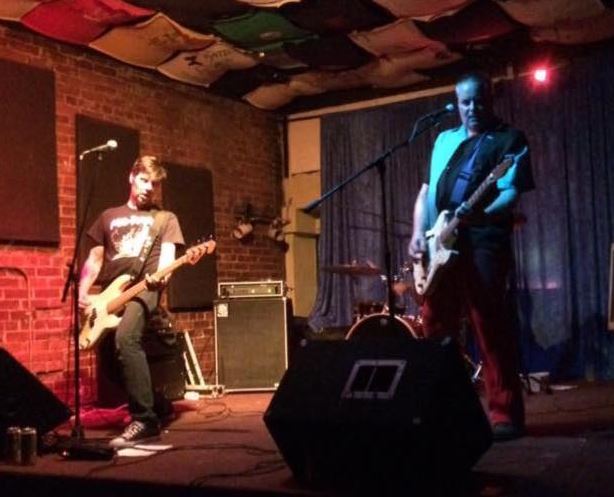 And where is best to play? And the worst place?
Rick: Best place: DIY spaces. Worst place: Trump Rally.
How is to play this sort of music in USA right now? Which types of bands do you have concerts together with?
Rick: Every time we play, at the end of the show, the crowd lifts us up on their shoulders and carries us around chanting our name and buying us beer and telling us how pretty we are. It's awesome.
John: It can be tough sometimes. Clubs are closing down, so it's back to the basement and garages. That's ok. Those are usually better shows.
Mark: We usually play with sloppy and loud punk rock, garage, rock & roll and hardcore bands. It's always fun.
How would you describe your music in three words?
John: High energy punk.
Rick: Ramones Ramones Ramones.
Mark: Plug your ears!
What does punk mean to you, is it only a word or is it a lifestyle?
John: DIY
Rick: Punk? It's more of an odor.
Mark: It's about having a good time and not caring about how bad you smell.
How do you see on downloading, mp3 and that stuff?
John: I don't care.
Rick: Downloads? Go ahead, I'm not a cop.
Mark: If you like someone's music, please throw them a little money. Or pretend that you're broke so the band can preserve some of their self respect.
How is it to live in USA right now? Politically? What about the election?
John: Really bad.
Rick: We're fucked.
Mark: Can we move to Sweden? Is there any room left?
Is there any good bands from USA now? Is the punk scene/hardcore scene big? How is it in your hometown?
John: The Tracys, Bedpan Fight, Jane Lee Hooker.
Mark: The scene around here is good. There are always a ton of great bands, you just have to look. I love The Tracys, Bedpan Fight, The Piggies, The Bloody Muffs, Pepper Kings, S/cks, GET IN THE VAN and on and on…
What do you know about Sweden?
Rick: Everyone is drunk from November to March and every single citizen is gifted with the innate ability to write a catchy pop melody.
Have you heard any good bands from Sweden?
John: Ernst and the Edsholm Rebels --Nordic Hardcore and the fantastic ABBA!
Mark: Hellacopters, Hives, The (International) Noise Conspiracy, Nomads and Leather Nun.
Rick: Eggstone!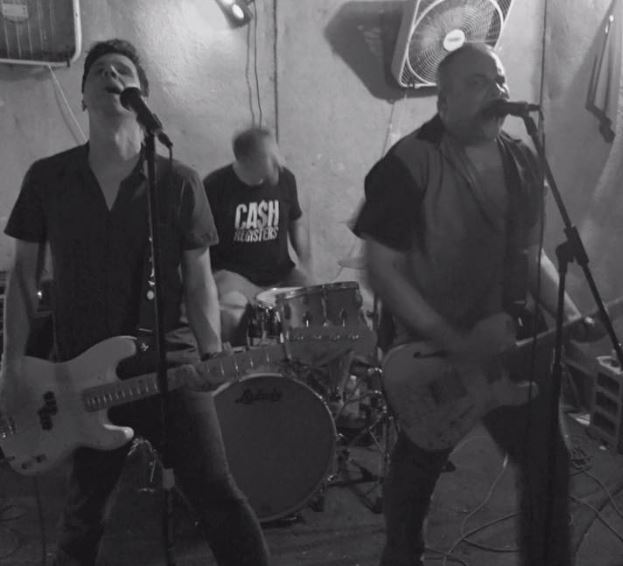 Your lyrics, who does them and what influences you? Is it easier to do lyrics now or was its easier to do it when you was younger? Songs like Stripping for Christ and You got too big for your Doc Martens, have they any deeper meaning, if they have please tell me?
John: Me and Mark write the lyrics. For me, it's easier now to write. Stripping for Christ is about a punk who became a born-again Christian. She knocked on my door when I was living in Charlotte NC. She told me she was saved, but then talked trash about everyone she knew. Doc Martens was the first new song I sent to Mark. That song is about trying to be something you're not.
Rick: I write ALL the lyrics and THEY cross my name off and write in THEIR names. It's still a sore subject for me. I can't discuss.
Mark: Rick told me to say that HE writes all the lyrics.
Is there any subject that you never will write anything about??
Rick: Adult Diapers.
Politic and music, does it goes hand in hand? Which is your most political song?
John: Yes and No. I like it when it's done right. "Guns Of Walmart" is one of our new songs. It's a murder ballad punk song. When I read about how easy it was to buy a gun at a department store, I went crazy.
Best political band/artist?
John: The Clash
Rick: Jello Biafra
Mark: New York Dolls
Do you think that music (lyrics and so on) can change anyone's life, I mean people who listen to music?
John: Yes I do. Music saved me and changed my life.
Rick: Absolutely. I am still greatly influenced by The Name Game and The Twist.
Mark: We'd probably all be less broke if we didn't love music so much.
Your cover on your CD looks really nice, is it important to have a record cover which shows people which type of music you play? Your favorite record cover? Who does your covers? And do you have any good record stores in your hometown?
John: Mark did the cover. It's great. But I never judge a band by its cover.
Rick: The cover is important. We all wear absolutely stunning eye makeup for every show. The cover art of the girls eyes and the title 20th Century Eyes reflect that aspect of the band and our commitment to advancing eye enhancing makeup techniques.
Mark: The Ohio Players album covers got me through childhood. The best and cheapest record stores in the US are in Pittsburgh, PA.
Is it important to get out physical records of your stuff? Why or why not? Vinyl, CD, cassette, what do you prefer if you could choose whatever ?
Rick: You can't roll a joint on an MP3.
Please tell me a funny thing which have happened during your career and under some gig?
Rick: I fell backwards off the stage at CBGB's. It was funny to everyone but me. Then, the bass player fell. Now that was funny!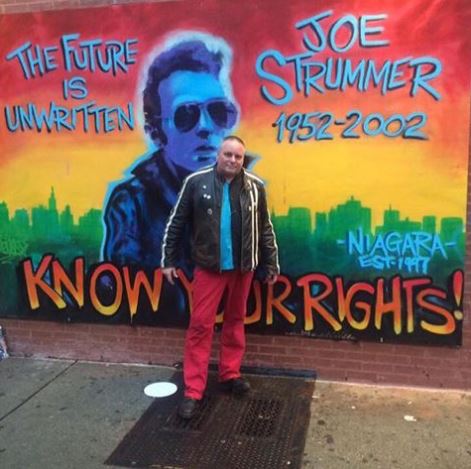 How does your audience look like? Which people do you miss on your concerts? Which is the biggest band you ever have played together with?
Rick: I played Lollapalooza. Second stage. To ten people.
Mark: Our audience is very good looking. They paid us to say that. One of my old bands opened for Goo Goo Dolls. They sounded like Journey or Europe.
Please rank your five favorite records, five favorite concerts and five most important things in life?
John: Ramones-Rocket To Russia, The Clash 1st Album, Black Flag Damaged, The Damned--Machine Gun Etiquette, X-Los Angeles. Live: The Clash, DEVO, Black Flag, Husker Du, Samhain.
Rick: Albums: Dickies/ All This & Pupppet Stew, Wipers/ Is This Real, Empire/ Expensive Sound, Redd Kross Teen Babes from Monsanto, Doggy Style/ 2. Concerts: Hed, Foxy Shazam, Cheap Trick, Cardigans (I'm not pandering), Todd Rundgren's Utopia. Life: Sleeping, Fucking, Eating, Drinking, Sleeping
Mark: Fav records: X: Under The Big Black Sun, Ramones: Leave Home, The Replacements: Stink!, Rolling Stones: Exile on Main Street, The Harder They Come soundtrack. Live: X, Husker Du, The Buzzcocks, The Ramones, Black Flag. Life: Do what you love, NOW.
First, last and most expensive record ever bought?
John: First: I Love Trash, Sesame Street Last: Mott The Hopple, Live. Most Expensive: The World According to the Clash
Rick: First: Kiss Alive / Last: The Spinners / Expensive: John Gavanti $25
First: KISS Alive that my mom bought for me. Last: A used copy of The Godfathers: Birth, School, Work, Death. Most Expensive: My wife bought me a reissue of Husker Du's Zen Arcade that was 30 bucks!
Is it boring with interviews? Is it much interviews??
Rick: All we do is interviews. Interviews and private jets. It's exhausting.
Mark: Wow. This is a long interview. Do you mind if I take a nap?
If you could choose five bands from the past and the history and nowadays and both dead and living bands to have a concert together with your band. Which five have you been chosen?
John: Germs, The Clash, Ramones, Dead Kennedys, X.
Rick: The Mattoid, Public Enemy, The Kinks, Winky Surfy and KISS
Mark: Buddy Holly backed by The Damned. It would be incredible! Uh, 3 more? Elvis fronting The Misfits. And Johnny Lydon as MC.
Is music a good way to get out frustration and become a nicer person outside the music??
John: I don't know. We kinda conjure up the devil in rock and roll…
Rick: No, it's a good way to become more frustrated than you were before. It makes you mean and bitter and partially deaf. I highly recommend it.
Mark: I do enjoy banging on things. So yes.
Which is the most odd question you ever have got in an interview?
Rick: This one.
John: What's your favorite Potato Chip? Answer It's Utz BBQ Chips!
Mark: If we hired you for this position, would you quit for a higher paying job?
Which is the question you want to have but you never get. Please ask it and answer it?
John: Question: What's your favorite potato chip? Answer: UTZ Barbeque Chips!
Rick: Question: Why do you think you everyone thinks you are so smart and handsome? Answer: Genetics
Mark: Question: Is it difficult being the smartest, funniest and most attractive person in the band? Answer: It is, but that is my cross to bear.
Future plans for the band?
John: Play more shows.
Rick: Longer songs, more outlandish outfits, guitar solos where the guitarist switches guitars in the middle and maybe some pyro.
Mark: Try not to cry onstage. Or wet myself.
For yourself?
John: Get better on guitar.
Rick: Breast implants
Mark: Travel to Sweden. Ask the locals how to write pop songs.
Words of wisdom?
Rick: Keep it stupid, simple.
Something to add?
Rick: 1,078 + 337
John: Cheers Peter! This has been fun!
Mark: I'm terrible at math.