Jörg from Case 39 have completed the interview now. He thought it was a long interview. Read and enjoy…..march-2019.
Please tell me a little bit history of the group?
-We founded Case 39 in October 2016. After a few months of creating songs we were ready to hit the stage and we played our first gig in Spring 2017. Since then we played many shows all over Germany.
Please tell me a little about every member in the group right now, age, family, work, interests and something bad about everyone? Earlier bands? Other bands on the side?
-Jörg (JJ) – 53, Guitar + vocals. Likes: Everything about Rock music and his dogs. Something bad: choleric when awake and snoring when asleep
Matze – 35, Drums. Likes: Horror Punk and cars. Something bad: forgets everything… keys, his wallet ....
Freddy – 32, Bass. Likes: Video games and Skate Punk. Something bad: Mr. Know-it-all
I can hear much different influences but punk and oi seems to the most influence ? Favorites from the past?
-Punk is probably the biggest influence to our music, but we also get influenced by other styles of rock music, just like Rock`N`Roll or 80s Metal. Faves are too much to list.
Case 39 are you satisfied with the name? How did it came up ? You weren't afraid that some other band would be named like this? Which is the best bandname you know?
-Actually there is a movie named Case 39. That is where the name came from. We don´t think some other band is named like this. We like the name because there another bands named like horror movies or criminals like The Bates, Lizzy Borden..... etc.
What´s the best thing with playing live? Or don´t you play live?
-We love to play live it´s great to party with the crowd. You know the magic smell of sweat and beer... hahaha! The best thing is when you see the people dancing in front of the stage and having a good time.
And where is best to play? And the worst place?
-Luckily there are many good venues in Germany where we can play. One of our favourite places is the Rider´s Café in Lübeck, our home town. And playing live in Berlin is always nice, too. Last summer we had a show at the famous Wild At Heart and 50 people showed up, even though it was Wednesday. But once we had a show in a bar in a very small town and no one showed up. It was very frustrating, because we drove 600 km. That was probably the worst gig ever.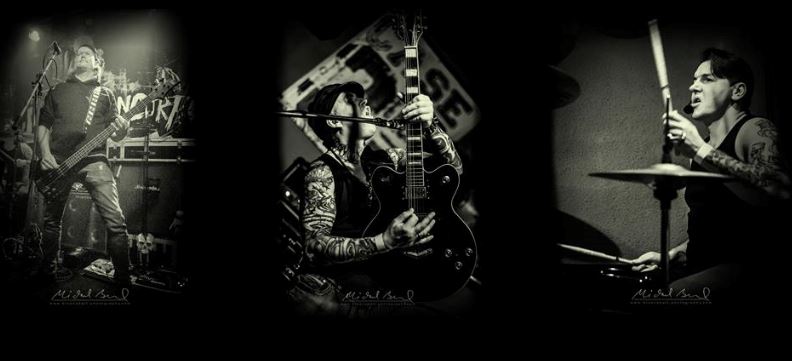 How is to play this sort of music in Germany now? Which types of bands do you have concerts together with?
-The punk rock / hard rock scene in Germany is still very active. Many people that listen to this kind of music have their own bands, which is very cool. We played with many bands and some got good friends of us, like "Jamey Rottencorpse And The Rising Dead" which is a fantastic horror punk band from Bremen.
How would you describe your music in three words?
-Motherfucking Kickass Rock´N´Roll
What does punk mean to you, is it only a word or is it a lifestyle?
-For us punk is a lifestyle. We always try to think out of the box and make things in a different way.
How do you see on downloading, mp3 and that stuff?
-Downloading and streaming songs from the internet makes it much easier to get a worldwide audience, but the best way to support new bands is to go to their shows and buy their records. In the past it really was easier to sell records. Now there are a lot of bands but we have more possibilities to promote our music by ourself, like social networks, youtube and so on.
How is it to live in Germany right now? Politically? Fascists?
-Most people in Germany have a good life. They have a warm bed, a fridge full of food and are free to do whatever they want. Most Germans are very open-minded but nevertheless there are some idiots who want a 4th Reich. Right now this idiots are getting more and more....
Is there any good bands from Germany now? Is the punkscene/ metalscene/ hardcorescene big? How is it in your hometown?
-There are many good bands from Germany. For example, we all loved The Bates but sadly they don´t exist anymore. The metal scene is really huge in Germany. You will find metalheads in every small town all over the country. The punk and hardcore scene in more concentrated in the bigger cities.
What do you know about Sweden? Have you been here sometime?
-The only one of us who has been in Sweden is Freddy - I think for a holiday.... Sweden means to us good Rock and Roll Bands, beautiful girls and surely lots of woods hahaha. We would love to go on tour In Sweden .
Have you heard any good bands from Sweden?
-We love The Bones, Millencolin, Backyard Babies, Hardcore Superstar and many more. It´s incredible how many awesome bands come from Sweden.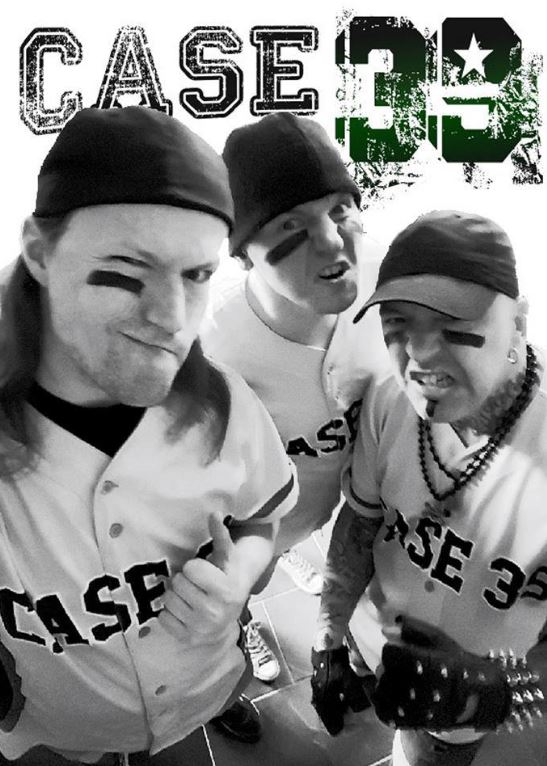 Your lyrics, who does them and what influences you?
-Jörg is writing our songs. He is writing about what ever is on his mind. Sometimes about a love story from the past or political news or just about how drunk he was last weekend.
Is there any subject that you never will write anything about? Never in german which I love?
-All of us played in bands with German lyrics before, but somehow, we all like to hear songs in English. Maybe because It sound more melodic than German. Maybe we would never write such epic stories like Wihtin Tempation, Avantasia..... hahaha ... this stuff really makes no sense to us.
Politic and music, does it goes hand in hand? Which is your most political song? I hear that you take a stand against extreme right in Proud Idiot, am I right?
-Yes you´re right. We always take a stand against fascism and racism. But we wouldn´t describe us as a political band, because we have only a few political songs. Most of our songs are about the positive things in life. Maybe "Man in a boat" (unrealeased) is our most political song, it describes the death of an African refugee.
Best political band/artist?
-Bad Religion and Anti Flag
Do you think that music(lyrics and so on) can change anyones life, I mean people who listens to music?
-Of course. Music can help you through hard times or make good times even better and it also can make you sensible for things you didn´t even think about before. That´s why lyrics with a message are important.
Your cover on your record looks really nice, is it important to have a record cover which shows people which type of music you play? Your favorite recordcover? Who does your covers? And do you have any good recordstores in your hometown?
-The cover of the Full Speed EP was inspired by the cover from The World Is Ours LP from Motörhead. Just like the song Full Speed it is a tribute to this awesome band. R.I.P. Freddy and Matthias are doing the covers. Unfortunately the record stores are disappearing more and more. Best cover maybe AC/DCs "Powerage".
Is it important to get out physical records of your stuff? Why or why not? Vinyl, CD, cassette, what do you prefer if you could choose whatever ?
-Yes it is .... the more the better. We´ve got a message or better a mission, and it´s called "keep rock and roll alive". Think we would prefer cds. Vinyl is too heavy to carry.... hahaha!
Please tell me a funny thing which have happened during your career and under some gig?
-Once we played a show in Bamberg in Bavaria. So, we were 7 hours in our car and when we arrived Matze had to take a shit. But it was so big that it has blocked the drain and when Matze tried to flush he flooded the complete bathroom. When he came out of the bathroom he just said: "Don´t go in there. And don´t tell anyone it was me!"
How does your audience look like? Which people do you miss on your concerts? Which is the biggest band you ever have played together with?
-Last summer we played a sold out show with Cockney Rejects in Hamburg. We miss everyone who stays at home before the blue tube. If it´s a cool gig our audience looks a drunken crowd of punk rockers and metal heads... if it´s bad it´s a bunch of housewives or teenagers who only listen to "fucking" german rock bands .
Please rank your five favoriterecords, five favoriteconcerts and five most important things in life?
Jörg: Records - 1. Motörhead - Ace Of Spades 2. AC/DC - Highway to Hell 3. Deep Purple - Live in Japan 4. Scorpions - Lovedrive 5. Judas Priest - Unleashed in the East (Live in Japan) Concerts: 1. Judas Priest /Saxon (Point of Entry Tour) 2. Scorpions (Blackout Tour) 3. Gipsy Kings 4. Nashville Pussy 5. Anti Flag Important things: Family, Band, Sunshine , good drinks, good food
Freddy: Records - 1. Good Riddance - Peace IN Our Time 2. Bombshell Rocks - Frome Here And On 3. Millencolin - True Brew 4. Anit Flag - For Blood And Empire 5. Rise Against - Revolutions Per Minute Concerts: 1. Terror ( at Logo / Hamburg 2. Social Distortion 3. Bad Religion 4. Madball 5. No Use For A Name (togethe with Only Crime Important things: 1. Freedom 2. Music 3. Beer 4. Good food 5. A smooth running computer
Matthias : Records - 1. Tiger Army - Music From Regions Beyon 2. Hardcore Superstar - Split Your Lip 3. Misfits - Famous Monsters 4. Whitesnake - Same 5. HIM - Love Metal Concerts: 1. Bad Religion 2. Backyard Babies 3. Marilyn Manson 4. Tiger Army 5. Whitsnake Important things: Family, Music, Sex, Porn and Netflix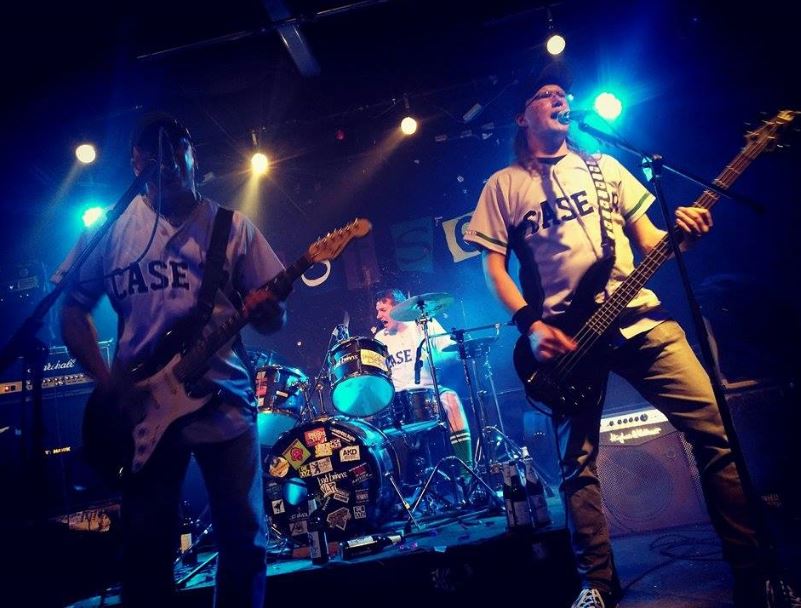 First, last and most expensive record ever bought?
-Jörg- First : AC /DC - Dirty Deeds / Most expensive: Don´t remember / Last: Backyard Babies - Silver And Gold
Matthias - First: Bon Jovi - Slippery when wet / Most expensive: Don´t remember / Last : Crossplane
Freddy - First: Donots - Amplify the good times / Most expensive: Bigwig - Reclamation / Last : iIllencollin - SOS
Is it boring with interviews? Is it much interviews?
-No it´s a pleasure if someone is interested in what we are doing. Not really many interviews, think this one is the second we do, the first was for an internet radio station.
Do you care about reviews? Which is the most peculiar you ever had, with this band or any other band you have been to?
-Of course we care , but as we got only a 5 track demo ep released we don´t have any reviews for it. We were playing for a band contest to get a gig at a festival but we didn´t win, later they wrote about this contest that we are playing a mix between Jimi Hendrix and Motörhead. Imagine: They kicked out a band playing like Hendrix and Motörhead..... crazy hahahaha!
Which bands do people compare you to, is it boring that people compare you to other bands or is it understandable?
-Sometimes it´s understandable, sometimes it´s strange..... when people come after a show to tell you "hey you sound like Lemmy" ... you think "okay it´s because of the voice" .... but when they compare us with bands we don´t like.... "what the fuck???"
If you could choose five bands from the past and the history and nowadays and both dead and living bands to have a concert together with your band. Which five have you been chosen?
-AC/DC with Bon Scott and Malcolm, Bad Religion, Motörhead with Lemmy, Philthy and Eddie, Ramones, and Rise Against
Is music a good way to get out frustration and become a nicer person outside the music?
-Hard rocking music is a good way to let loose bad agressions, some surely will get better persons but I fear it dosen´t work for everyone.
Which is the most odd question you ever have got in an interview?
-Like I told you in question up above..... We would like to do more interviews. One of our hopes for the future ...hahaha
Which is the question you want to have but you never get. Please ask it and answer it?
-The meaning of Rock and Roll? To us it means come together, freedom, love and wild life..... best religion you can have.
Futureplans for the band?
-Record our first album - find a good label - play a lot of great shows - touring with fantastic bands
For yourself?
-Jörg: Have a great time with my wife, kids and dogs Travel to sunny places Write a heartbreaking ballad
Matthias: Carry on
Freddy: To build a Armageddon machine
Wisdomword?
-Stay tuned everybody and be a part of the CASE 39 family let´s rock this goddamned fucking planet!
Something to add?
-Thanx for the interest