Enea from the italian punkgroup Carry-All gives us here the whole history about the group. This happened some day before Christmas 2008.

History?
-Carry-All are seven friends who live in a shitty small town forgotten by God in the north east of Italy and music is the only form of communication and comparison they have. The project begins a long time ago, but only in 2002, when horns join the band, they found the right feeling.
In summer 2002 the band goes in a recording studio for the first time and they record "Pet Friends" , their first E.P. Although the album has been released by any record label, it has sold more than 500 copies at their live shows. The record has been well reviewed from many Italian and European webzines and from the famous Italian magazine "Rock Sound". The single "Pet Friends" appears in many punk/ska italian compilations.
In 2004 they join NoReason Booking (now NoReason Live) and live shows around Italy begin to grow up, also because of the release of their second record "NoReason Split Vol. 1(2005). It's a split cd with their booking mates Garretti, Killjoy and Out Of Date. Four songs which point out the artistic grow of the band and even a small change of style, now more heavy and stroppy. The record has been produced by NoReason Booking and went out for five italian labels (Panc Records, Chumsley Records, Rolling Anarchy, San Martin e Growing Down).
In December 2004 the band plays at Jack Daniels tour with Africa Unite and The Hormonauts; the show is broadcasted by Rock TV, an italian famous music tv. Meanwhile Carry-All begin to play shows out of Italy; they play in Austria, Germany and Slovenia where they found a cool audience that have fun and always appreciate their funny attitude on stage.
In July 2006 the band signed with Warner Brothers Cinema for three songs that will appear in some famous TV series such as The OC, Smallville, Veronica Mars, ecc.
In 2007 they cover "With Or Without You" (by U2); the song appers in "Punk Remake Compilation", a compilation of cover songs by Ammonia Records with bands like Vanilla Sky, Heideroosjes, BeerBong, ecc.
Europe again in January 2007, exactly Spain, together with BeerBong; a tour that hits France too. No doubts, live shows are definitely their point of strength.
In September 2008 the band's first full-lenght "EMOTIVHATE", has been released in Itlay by Wynona Records/Sin Records; in Germany, Austria and Switzerland by Rockhit Records.
In 2009 the record will be released in Japan (an exclusive version) by Fried Rice records / In-n-Out Records.

Please tell me a little about every member, age, interests, work, family and something really bad about every one?
-Oh my god...this one is out of my range!!! :)

Punk in Italy how is it to play it?
-Not so good...

Have it been any good bands back in time in Italy, any favourites? What do you like the old HC-bands like Wrteched, Indigesti and so on?
-I really BeerBong, The Hormonauts, Extrema; about the bands you mentioned being honest I've never heard about them...sorry.

Never thought of singing in the italian language?
-Not a whole record...just some songs. In fact in the last record there's a song in Italian.

I wish this never ends, what do you mean?
-I was very happy when I wrote those lyrics and I hoped I would have kept on being happy for so long...nothing else.

My review sounds like this , CARRYALL-EMOTIVHATE(CD-ROCKHIT RECORDS RHR OL002) Here I become really happy anyway. Fast punkrock with horns here and there and it..s not so much ska as I thought and I think more on a LP with Stiff Little Fingers where they used horns just to do the songs stronger and they did it really good. Sure here..s some skainfluences but the focus is on punkrock and then I mean good old-school punkrock and these Italians should be really big because it swings as hell about this group. Does this sounds interesting?.....it should sound interesting because this sort of music you don..t hear so often….fuck how happy I become….(EIGHT) 31/10-08 Comment about that?
-...what to say?...Thank you!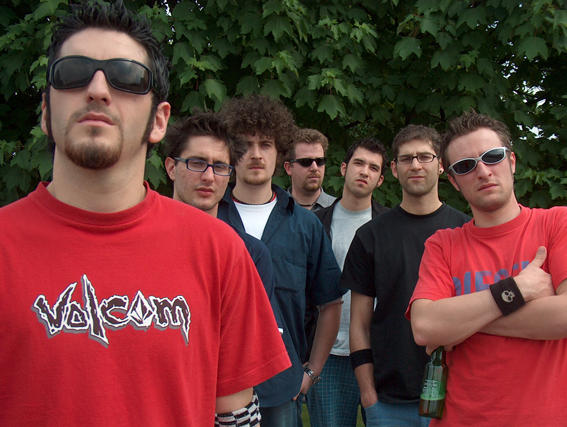 Which type of people comes to your concerts?
-Mostly punk/ska people.

What does punk mean to you, is it only a word or is it a lifestyle?
-To me punk is a lifestyle which means to do always whatever you want, respecting the others, and don't caring about what people think of you.

How would you describe your music in three words?
-Funny, Milkshaked and...cool! :)

How is the reviews you have got for the new CD?
-We had a lot of reviews in Germany, less in Italy (because scene sucks here) and all of them are pretty good...we're glad about that.

Do you care about reviews?
-Yes, we care, but not so much. We think fans have always the last word.

How is it to live in Italy, I mean politically?
-Can we pass over?...a total bummer!

The best and the worst of living in Italy?
-The best thing here is food...definitely!
For the worst just look and the previous question...

What is typical italian? What is typical swedish?
-Italian: Pizza, Spaghetti and mandolino :)
Swedish: Hot chicks and cold :)

What do you know about Sweden?
-Not so much...regarding music I know there are a lot of good bands and labels...Millencolin and Burning Heart über alles!

Any good bands from Sweden you like?
-Millencolin, Liberator, The Hives (they are swedish right?)

Is there any good bands in Italy right now?
-Personally I like BeerBong, The Hormonauts and The Fire.

Much interviews? Is it boring?
-No it's fun...but this one is tooooo looong!...Hey man, I'm just kidding! :)

The question you want to have but you never get? Please ask it and answer it?
-This one is definitely too difficult...

Please rank your five favourite records, five favouriteconcerts and five most important things in life?
-Records: Punk in Drublic (Nofx) - 10000 Days (Tool) - Duck and Cover (Mad Caddies) - Anthem (Less Than Jake) - Nevermind (Nirvana)
Live Shows: Tool (10000 Days Tour) - Nofx (So Long And Thanks For All The Shoes Tour) - Less Than Jake (Anthem Tour) - Ska-P (Que Corra La Voz! Tour) - Sepultura (Roots Tour...'96!!!)
Life: Respect - Peace - Friends - Beer - Chicks

First and last and most expensive record ever bought?
-First: Nevermind (Nirvana)
Last: GNV FLA (Less Than Jake)
Most Expensive: I don't remember

Most embarrassing record in your collection?
-None...I choose well usually :)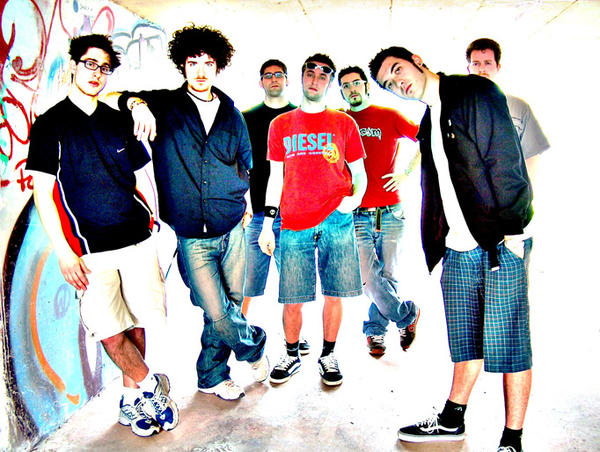 Your record label is it good?, what have they released more?
-We have got three labes: Rockhit Records for Gemany, Austria and Switzerland; IN-n-OUT Records for Japan and Sin Records for Italy.
Rockhit: They are really cool!...they trusted in us at the first listening...much respect to them! They have released Brainless Wankers, 5 Bugs and more
IN-n-OUT: Our new label from Japan!...they are going to release the record there on February 4th 2009. They have released a lot of bands...the most famous is New Found Glory
Sin Recors: A small label...Italy punk scene is very small.

New stuff like My space, Facebook and so on.... is it good or how do you see on these things?
-They're good, definitely. You can meet new friends, fans and you can promote your band by your own...I love them!

How do you see on Mp3 and downloading and so on? is it good or bad for smaller bands?
-I don't really know...I guess for small bands the most important thing is to gain fans and no matters how the get in touch with you. Probably for bigger bands this is a problem.

Which is the biggest band you have played with on a concert?
-Less Than Jake!..just a few days ago!...It was amazing!

And which band do you really like to support if it's possible?
-Nofx and Less Thank Jake (again!)

Is it a dream you have to unite all the world punks, do you see that there is many different styles of punks which don't go so well together?
-I've never thought about that...

Futureplans for the band?
-We're going to be on tour in Germany in February and in May. We are now writing new stuff...

For yourself?
-Carry-All

Wisdomword?
-Have fun!

Something more to add?
-Do you really think I should add something more? ;)


<![if !supportLineBreakNewLine]>
<![endif]>



<![if !supportLineBreakNewLine]>
<![endif]>