Carpettes have been on the road for a while and they´re really playing 77-punk. here´s an interview with the middle aged George Maddison and please read on kids because here does a real punkrocker speaks.

History of the group?
-We formed at the start of 1977 in Sunderland in the NE of England. 2 singles on the Small Wonder Label in `77 and `78 were followed by several singles and 2 albums for Beggars Banquet between 19-79 and 1981.During this time we toured in the UK, Holland and Italy as well as appearing on "The Old Grey Whistle Test" for the BBC.The Carpettes did`nt play as a band for a number of years , although I kept in touch with Neil throughout this period, until we decided to play again for the Holidays in the Sun gig at Blackpool in 1996.We have played every year since, in the UK, Germany and are about to visit Japan for the first time.
You played at Holidays at the sun, wasn´t you, how was it?
-It was OK, we went down quite well, although we wer`nt regarded as a "true punk band" by a certain section of the audience, who probably were too young to actually know what was going on in 1977.
Are you playing nowadays or was it a one-timer only?
-Yes, as I stated earlier , we have played every year since 1996. We played in Dusseldorf a couple of months ago and fly out to Tokyo on 18th of October for a short tour of Japan.
Do you have any new songs?
-We do have a small number of new songs. We recorded two of them for a single , which has yet to be released and we play the "A" side, "It Does`nt Matter" at some gigs,
I have only The best of Carpettes and Frustration paradise/Fight amongst yourselves, have you done anything more?
-There are a number of tracks which were released as B-sides of singles. The only one I think you could get, which is`nt on the albums you mentioned is the B-side of our second Small Wonder single. It`s called 2NE1 and it`s on The Small Wonder Punk Singles Collection Volume 2 on Anagram Records.We also recorded a live version of The 101`ers song "Keys to Your Heart"(a song we always perform live) which was released as part of the double single package for "Johnny Won`t Hurt You".
You have been in the punkmovement for a while, was it better back then or how as it?
-In the late seventies it was new. There were hundreds of bands playing gigs and releasing records on small labels. I`m not saying that you can`t get exciting music and good bands now, but any musical movement is at it`s most exciting period at the start. You only have to look at the career of Elvis to understand what I mean.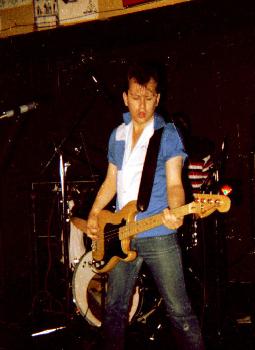 What does punk mean to you?

-Well for one thing it does`nt mean Mohican hair do`s, tatoos and nose studs ! OK back in the late seventies there was a certain fashion aspect to the movement, but to mosy people it was all about exciting, simple , direct music that tried to do away with the pretentious, boring crap that was predominant at the time.

You never looked like any punkband, did you get many comments becaus of that?

-I think I`ve touched on this in previous answers.I can`t deny that we did`nt have the strongest image of the bands at the time, but if you look at photos of bands from that era, most look relatively "normal" when compared to modern so-called punks. Look at The Lurkers, The Jam, Gen X, ATV, Sham 69 etc not a Mohican or any part of their bodies pierced. These things came later. For us the excitement was in playing our music live, recording records and having a good time. We were not a fashion statement. We may have lost out because of this, but that`s life.

How would you describe your music with three words?

-I`m going to cheat here. Here is a quote from ZigZag magazine in 1980 , which I think answers your question(but uses more than 3 words!!!)

"No pose, no image, just honest exciting music which must dome under the all enveloping title of 'New Wave Rock'..going to a Carpettes' gig is always a guaranteed high, whereas at other gigs the hope in your heart is rarely fulfilled.Their give 100%"

What do you know about Sweden?

-Mountains, high standard of living , very expensive beer and Stefan Schwarz, top footballer, Swedish international and mid-fielder for my team Sunderland AFC.(Sorry, it`s not a lot )

Have you heard any swedish bands?

-If I said ABBA you would think I was taking the piss, so I won`t.

Is there any good bands in England right now?

-I`m sure there are but I don`t really get to here them. There is always the occasional record that excites, but I must admit that a lot of the music produced today sounds a bit tame. I get wrong for playing my Ramones records by my teenage daughter. She says it`s just a noise and they all sound the same. It`s the reverse of what happened with my parents !

If you could choose five bands from the past and from now to play a concert with Carpettes which five would you choose?

-The Ramones (before Joey died)

The Clash

The Sex Pistols

Jerrylee Lewis

Herman Asteroid and the Wailing Witnesses ( A hugely talented friend of ours who never madeit unfortunately.)

Do you have any other bands beside of Carpettes and before and after Carpettes?

-Neil and myself played together in a punk/rockabilly hybrid band called The Stingrays for a while and I have done a number of things locally over the years. Neil however has had a second band going since the early eighties - The Only Alternative, which had an album released and have more recently had releases on a German label.

Please tell me a little about every member, age, family, work and something bad about every one?

-George Maddison

A decrepid 44 years old - married with one daughter.

I`m a teacher believe it or not as well as a Carpette. If that`s not bad enough I now have no hair!

Neil Thompson

42 years old - I think!

Makes a dubious living playing music and buying and selling records.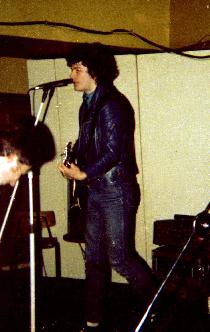 So many bad things I don`t know where to start.

Paul Thompson

35 years old( approximately)

Neil`s brother and our latest drummer.

Has grey hair and a huge sexual appetite !

Captain Oi puts out many good records, what do you think about his work with the records?

-Well I was really pleased that he released ours. I think it is great that records from this period can be released now to a new audience. Not many of them got into the charts at the time and it seems now that some bands , due to these reissues and the way things can spread on the internet, are actually more well known now than when they were originally active.

First,last and most expensive record you have bought?

-First

The Ballad of Bonnie and Clyde by Georgie Fame. A Christmas present in the sixties when I was very young.

Last

The Ramones Anthology - one of the few CD`s I own.

Most Expensive

Jerrylee Lewis - The Sun Years

A boxed set of about 12 albums.

Idols when you were small?

-Musically - The Beatles

Sport - Charlie Hurley, centre half for Sunderland AFC from 1957-1968

Do you read any fanzines on the net or on paper worth to mention?

-Not regularly. I do read various band sites and record company sites , to keep in touch regarding The Carpettes and out of general interest.

What do you think about the new way to communicate with email and internet?

-It`s great. We would`nt be playing in Japan if it was`nt for e-mail, it was all arranged online. We have an official web (http://carpettes.free.fr )site which is run by a guy in France , who I have never met. We send information to each other by e-mail and I would`nt be doing this interview without it !!!!!!!!

Any favoritesite yourself?

-Not one in particular. Apart from music sites I spend most time on sites concernrd with old video games.

What´s the bad and what´s the worst thing with internet?

-Too slow for me at the moment.This should change soon in the UK with faster systems.

What´s the best and what´s the worst of being in a band?

-Best

Playing in front of a good audience. Give us a decent crowd and we will always come up with the goods and have a good time into the bargain.

Worst

Hanging around, sound checks and all the boring bits that have to be done to put a gig on.

Which is the most peculiar which have happened in your career on stage or in the audience?

-At an early gig at Middlesboro Rock Garden, with Penetration, part of my bass broke off and flew into the packed crowd, making 2 of the 4 strings unplayable. I somehow managed to get through to the end of the gig and we went down a storm (everyone was very drunk I think). When I left the stage I was handed a much neded glass of beer by a member of the audience, together with the missing guitar part which had landed in the glass !

How is /was a good concert with you?

-We always put a lot , physically, into our gigs. It lives you feeling really high,very knackered ( especially at our age !) and a bit sweaty.

Do you play many covers except of Fan Club?

-We have played "Keys to Your Heart" by Joe Strummer`s old band The 101`ers for many years as part of the live set. We also like to do the odd punk cover such as "Fan Club"as an encore. The latest has been "Suzi is a Headbanger" by The Ramones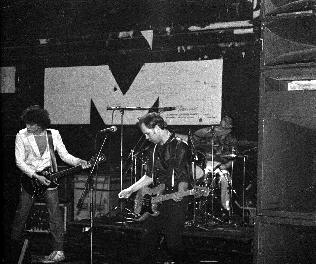 What does a cover good, and why do bands plays covers do you think?
-Some big acts release covers because it is an easy way to get a good song on record if they are having problems writing thier own (I think). Bands like ourselves just do it for fun. We have always messed about playing covers in rehearsals and soundchecks. If any of them sound good we might do them live.
Which are your futureplans?
-Continue to enjoy life.Immediate plan is to jet off to the Mediterrenean on Sunday and soak up some sun.
And the bands futureplans?
-As long as people ask us to play worthwhile gigs we`ll continue, especially in other countries , where the audiences seem more enthusiastic than in the UK. (How about Sweden ?). It would be nice if we got the chance to release nem records, but the re-releases are nice. Our first 2 singles are about to be re-released in Japan by 1977 Records !
Wisdomword?
-It`s hard to grow a mohican when you`ve got no hair !
Something more to add?
Nothing really- jusy thanks for your interest .
"It`s been emotional".