Careless Drinkers is a two-piece band from Denmark. They sent me some flexicards with their songs and I really liked their style. March-2023
Please tell me a little history of the group, members and what you do when you don´t play music, what do you work and which ages are you in?
-The Careless Drinkers are:
Kenneth Maj - Drums.
Ibu Geertsen - Guitar Bass/vocals.
It started with Ibu making instumental surf music back in 2015 as a side project. Later on… about November 2018 it turned into a band. Because our guitarist in our other band (The lime Slices) didn't have the time to rehearse and do the band.
We work with children, adults and people with social needs as social educators.
When we're not playing music or working, we love going to shows. We also love skateboarding, longboarding and paddle boarding in our spare time.
We are both 41 years old.
Have it been the same members all the time, or have it been many lineup changes? Earlier bands? Never any thoughts in being more members?
-Just the 2 of us. We like the idea of trying to benefit from just being bass and drums. But if we were to try something new it wouldn't be a guitarist. It probably be keys or a saxophone.
We do still play in the other band The Lime Slices with a guitarist (we play a skate-punk style).
Earlier bands:
When we were teenagers we both played together in a reggae/ska-punk band called Majambazi (we made a 7" vinyl).
Ibu played in a instrumental band called Sueus. They played a mix of dub/stoner rock/punk/surf/ska.
Ibu also played in a emo/pop punk band called Third Person Me.
You will find most of the bands on Bandcamp or YouTube.
Careless Drinkers is the name, where did it came from and you wasn´t afraid that some other group would be named so? What do you mean with that name? Are you caresless drinkers?
-The name comes from one of our friends (Clint) band from San Jose (US). They had a song called "Careless Drinker". The band was called Whiskey Avengers.
No we weren't afraid to use it. We haven't come across another band by the name.
To us it has 2 meanings:
<![if !supportLists]> 1. <![endif]> You can be a party type of person having a good time getting really drunk with out a worry.
<![if !supportLists]> 2. <![endif]> You are the person who try to drink your problems away like a alcoholic.
That's also mostly what we sing about in our songs, besides love, surfing and skateboarding.
We both come from a past with alcoholic relative problems in our familys. So we have both perspectives in our life's. That's also why our logo is a beer bottle with a skull(it's often used as a symbol for something you shouldn't take) on it.
You sent me two records Flexirecords as a postcard with songs? You have never been doing some "real" records?
-We made a 7" vinyl called The Lime Slices back in 2018. There's 100 copies floating around.
But it's really expensive to put out your own vinyl nowadays.
To people out there: if you love what we do and work at a record label then we gladly put some vinyl or cassette tape out with your help.
Is it important to give out the record as physical releases do you think? Would it feel like you have released a record if you only release it digital?
-We love the idea of putting something out physical. That's why we stumbled upon the flexi vinyl postcard thing, it's physical, cheap to make and it's just cool that we have something people can take with them home from a show.
Releasing digital is a great and fast way to get your music out to the world, but we still really like to put out some more physical releases in the future.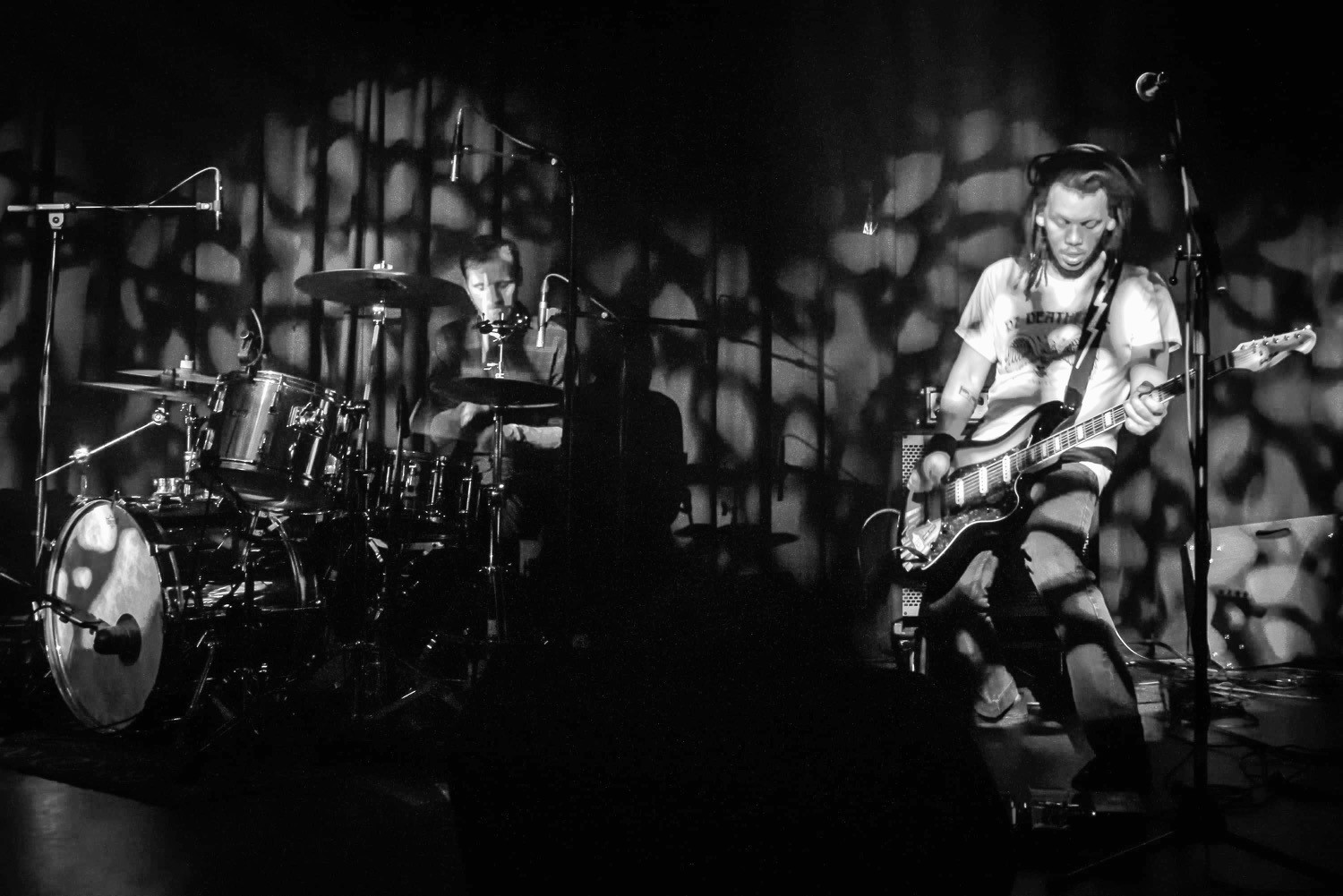 Do you play any covers when you play live? If you do, which then?
-Yeah… we play:
Territorial Pissings by Nirvana.
Skinhead Girl by Symarip.
Greed, Money, Useless Children by Jay Reatard.
One of these days by Operation Ivy.
It's the End of the World as We Know It by R.E.M.
Please tell me a little about following songs
a) Bar fight
b) Tears in my beer
c) At the pub
-Bar Fight is a instrumental song that's fast and have a punky attitude with a surfy backbone. We really like opening our shows with this song. The title is a reference to the energy in the song.
Tears in my beer is a pop punk song about falling in love with the wrong type of person and afterwards drawing your sorrows with alcohol.
At the pub is a fast uptempo pop punk song about being a alcoholic at the pub drinking your problems away.
Is it important to get out your opinions in your music, or do you only sings about bars, pubs and booze? Which is your most political song or shouldn´t you put politics into music?
-We don't have any political songs. But it's ok to put politics in to your songs, as long as it's informs you about what we can do better against racism, poverty, greed and so on in the world.
The closest we come to the subject is singing about personal problems like alcoholism and what it does to the people around you.
Do you think that your lyrics can have effect on other people who listens to them…any example on it? Have you changed anyones mind?
-Maybe they will… we haven't come across a person who told us so yet… maybe in time someday.
How is it to play this sort of music in Denmark and which type of bands are you having concerts with? Which is the most peculiar band you have been playing together with?
-Is an ok scene, but small. A cool thing is that there is a lot of connection between bands around the country here. We played with a couple of cool foreign bands like: Moving Targets (US), The Cynics (US), Nestter Donuts (ES), Weird Omen (FR), Trophy Jump (CRO), Western Settings (US), Zoketes (ES), Baby's Blood (FIN/US).
Danish bands like: The Courettes (BR/DK), Ass Bastard (members of Dr. Know/Pleasure Squad) (US/DK). Forever Unclean (DK), Stöj Snak (DK).
Do you have any footballteam that you support?
-Kenneth is a big supporter of West Ham United.
How would you describe your music in three words for people that haven´t heard you? Do you call it surfpunk or only punkrock?
-Maybe..? Fast, poppy and surfy?
We call it Surf punk, cause we play a couple of instrumental surf songs, and there is a lot of surf beats and echo noisy sounds on some of our songs. Besides that we mix it up with garage rock and pop punk.
I like beer and also make beer.. If Careless Drinkers would do a beer , what would it be named and which sort of beer would it be? Or maybe you´re straightedge?;-)
-We love beer. It would probably be a Pilsner or an IPA.
Name: 'the car-less drink' (because it would be a strong one)
And how is it to live in Denmark now? Racists, covid, the cost of living, and what about peoples reaction to the Ukraine-war?
-DK is still a nice and chill place to live, but the innocense is gone somehow, with the likes of Rasmus Paludan and more rightwing politicians getting louder. Same pace as the rest of Europe sadly.
Everything is expensive nowadays, which concerns more than the Covid situation as we don't mind it here anymore (we guess). But a freaking war in Europe was so far beyond any belief, still crazy to comprehend.
Which is your own favoritesong among your own songs? And which song is the people choice?
-We like playing 'Shame on You', the song is a childs perspective on growing up with a alcoholic dad. A too familiar thing among our teen friends.
The people's choice probably be the first song we wrote as a band, it's called 'Wasted'. We really like playing that song, it has a great surf styled intro and a catchy chorus.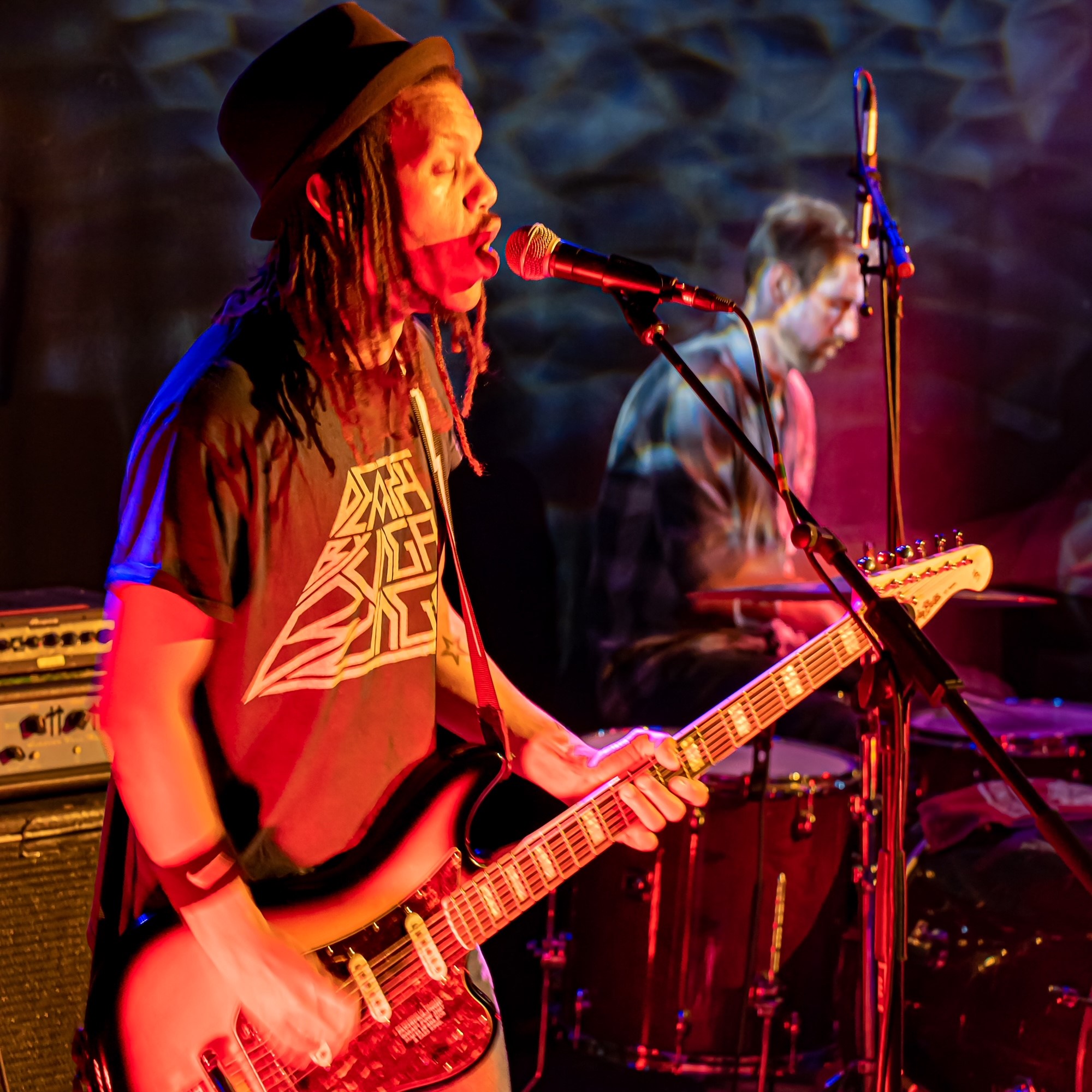 What´s the biggest difference when you plays live nowadays if you compare when you first started to play in a band?
-Getting a show to start with!😄… when we were younger it was hard to get a gig. We started playing music in the mid nineties…
And have you opinion about punk changed through the years? What do punk mean to you, only a musicstyle or a lifestyle?
-It's probably more a lifestyle… it gave us a feeling of being someone, and socializing with other people who have the same feeling. Political it gives you a way to understand the world as an outsider and learning about racism, poverty, greed, homophobia and other subjects like it.
You do your song in english, never in danish?
-We think it's easier to get a song through to people in English. But that doesn't mean that we won't try it sometime in Danish.
What the best with being out on pubs?
-Getting a fresh pint from the tap and being alone among other People.
I can imagine that a livegig with are a really sweaty one? What´s your biggest livegig youhave done this far?
-Probably the show we played with The Courettes… it was just a couple of days before the second Covid lockdown in Denmark… it was strange because people were sitting down on chairs, there might have been about 150-175 people attending that show.
Normally we play for about 45-100 people pr. Show.
What do you know about Sweden? What is typical Swedish? And what is typical danish?
-Great Country north of Denmark. A lot of forest, lakes and mountains.
Typical Swedish is probably a summer crayfish party.
Typical Danish is probably roast pork with crispy rinds at Christmas time.
Have you ever been here? Any good bands from Sweden that you like?
-Ibu spends his summer holidays with his family in Sweden every year and have been doing so since around 2008. Near the city of Gamleby (Kalmar Län).
Every now and then we go to shows in Malmö, is only about half a hour by train from Copenhagen where we live.
There's so many good Swedish bands, to many to name them all… here are some of the bands we like: Millencolin, Stoned, Fireside, Refused, Buck, Satanic Surfers, The Hives, No Fun At All, Randy, Last Days Of April, The Barbwires, The Bitchwaves, The OhNos, Fuzzstainz, The Hellacopters, Chickenpox, The High Hats, KVLR(Kevlar), Liberator, Rotten Mind, Sonic Surf City, Sator, Final Exit, Abhinanda, 59 Times The Pain, Bombshell Rocks, Monster, Ditches, Ariel Kill Him, Tomma Intet, Mando Diao, The Dahmers… and the list goes on and on…
Your audience when you play live, which type of people comes, age?
-From 15-55 years old.(Fuck I´m too old/editor)
What´s the best of playing live?
-Hearing the audience applauds and seeing them dance to your music.
Afterwards when people comes up to you and tells you that they weren't suspecting a show like that, and telling you that is was great, and they glad they went early to the show.
Please tell me a funny thing which have happened during a livegig with your band?
-Ibu:
At the Covid show we played with The Courettes… people were sitting close to the stage… and some of them started making comments about the fact that they could see my zipper in my pants was open, in between songs… so everyone could hear it… it was funny and embarrassing at the same time.
Is there any good bands in Denmark today? New bands which is good? Old bands which is still good? And old favorites?
-Yes there is a lot of great bands. Some of them we already mentioned.
Here are some new and older bands:
The Courettes, Forever Unclean, Stöj Snak, Omsorg, Big Mess, Motorsav, The Preachers, Indre Krig, Systemfejl, Hævner, Hernia, Smertegrænsens Toldere, Hola Ghost, Atom Chris Dall, Strawberry Slaughterhouse, Pestigor, Pleasure Squad, The Tremolo Beer Gut, Rival Leaders, Glow Kit, The Lost Loves, Napoleon Solo, Fall Back Down, Dungeon Days, El Ray, OK Satan, Stormtroopers Of Love, Earn Your Scars, Yung, Java Skull, Riverhead, The 20 Belows, Tommy and The Rockets, Yu-Gun, Kalik, Vægtløs, Pissed(PSD), Nicotine Nerves… and so on… sorry if we forgot your band, but there's a lot of great bands in Denmark.
Here are some old favorites: Skurk, Hul, Duck Soup, The Untamed, The Good The Bad, The Playoffs, Cola Freaks.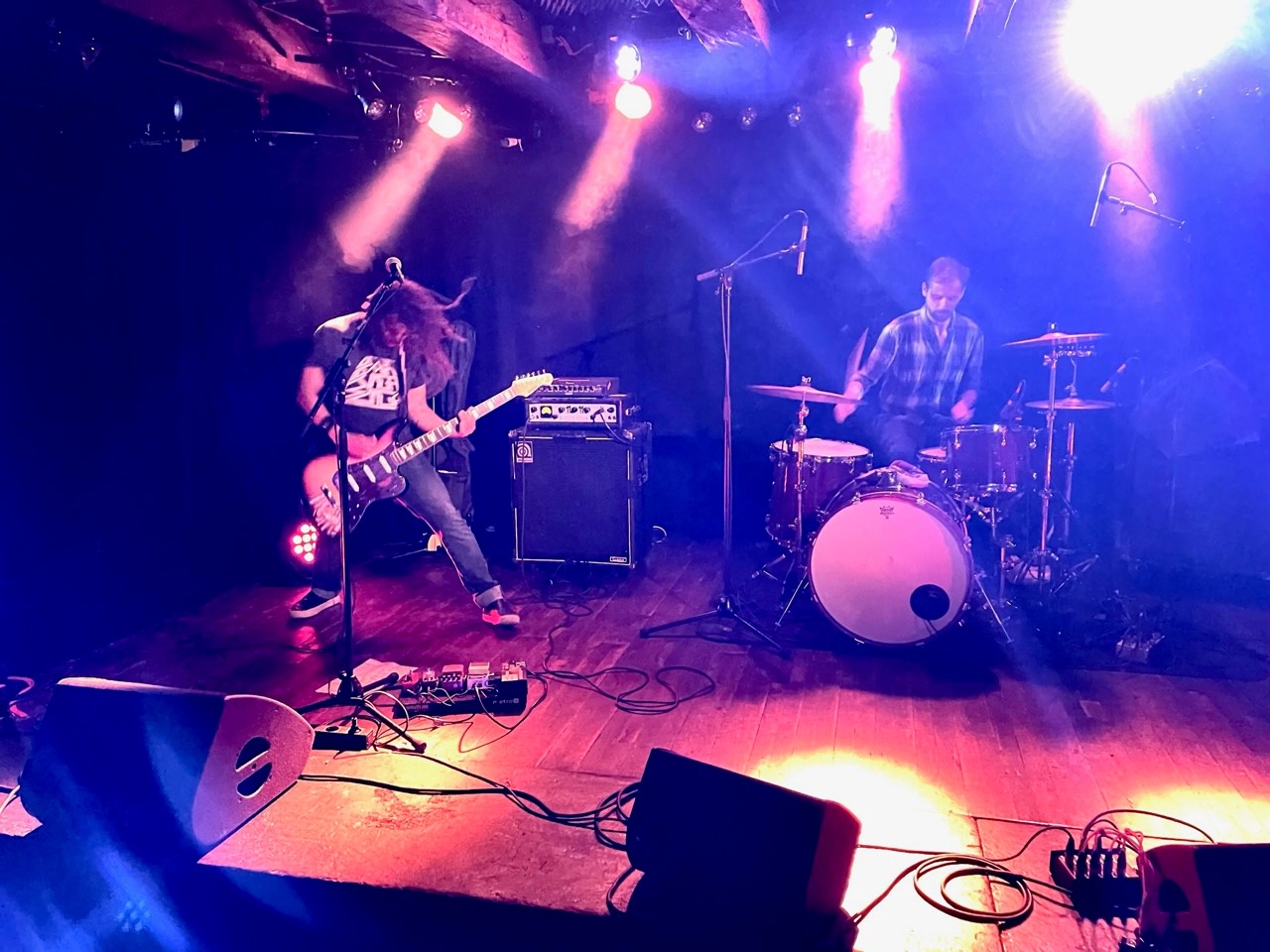 Which is the record that you always must have in the tourbus(tourcar)?
-Me First and the Gimme Gimmes - Have a ball.
Do you buy much records, or is it only Spotify and those type of things to listen to music? Is there any good record shop in your hometown?
-We love buying records. There's a lot of record stores in Copenhagen, to name some: Sound Station, 6 beat records, Route 66, Ooh Aah records, Sound, Beat records.
Which was your first record, the latest you bought and the most expensive you have bought?
-Ibu:
First:
Can't remember… think it was a CD with Bob Marley, Smashing Pumpkins or Ugly Kid Joe?
Latest: Dehd - Blue Skies(LP).
Most expensive: Sweet Baby - Is A Girl!(LP).
Kenneth:
First: 2unlimited (CD).
Latest: a LP at a 'The Selectors' concert.
Most expensive: NOFX - Pump up the valium(LP).
Do you care about reviews? Which is the most peculiar you ever had, with this band or any other band you have been to?
-It's always cool to hear what people think about you band… but in the end, we play our music for us, cause we love playing these songs… but our first band 'The Majambazi' got a (our first) review and it Said we were all over the place - ska, punk, emo.. and it was true because we eamted to do it all loving the scene in our teens. to be honest we haven't gotten that many reviews. But we been played on different radio stations in Denmark and England.
If you could choose five bands from the past and the history and nowadays and both dead and living bands to have a concert together with your band. Which five have you been chosen?
-Rancid, Dead Kennedys, Sublime, Ramones and The Clash.
And if you been paid for do a cover-record with four songs,which four songs have you done then?
-We don't know. That's a hard one to choose?
We probably do some songs from the 1960's: Jamaican Ska, Motown or British Invasion.
Bands/artists like Toots & the Maytals, Prince Buster, The Ronettes, Martha and the Vandellas, The Small Faces, The Kinks, The Zombies…
Something in that style with a punk vibe over it.
Futureplans for the band? And for yourself?
-Just keep doing what we do… play as much shows as we can… so if you like our music and want to do a show please just be so kind and contact us… we like doing shows for gas/food/beer.
Put out new music on cassette/vinyl/digital.
Wisdomword?
-Always have your P.M.A and keep the D.I.Y style alive… make a show, get out there, don't stay to long in the practice room… make new contacts and friends.
Anything more to add to the interview?
-Again… if you like what you hear… don't be scared to ask us to come play your show… we fucking gladly do it…
And thank you Peter for the interview.