Please tell me a little bit history of the group?
-Dugg and I have played together since high school in the '90s. We got Rawn on guitar in 2007 and Braden on second guitar in 2012. We've released 3 albums and a handful of 7"s. We've toured in the US several times, and Europe once.

Please tell me a little about every member in the group right now, age, family, work, interests and something bad about everyone? Earlier bands?
-I'm Jeff, I play bass and sing. I'm 34, and I'm an aspiring graphic designer. Dugg plays drums. He's 35 years of age, he does landscaping, and his main joy in life is his beagle, Daisy May. He was in Wild America and the Nuclear Addicts, and he's currently in Prince. Rawn plays guitar. He's 34, he's a bartender, and he enjoys going to shows and watching cartoons. He was in the Anchor and he's currently in Old Pony. Braden is our other guitarist. He's around 23, he works at a pizza place, and he is in one million bands. His main project is Dahling.

I can hear much both old English punkbands and American surfpunk in your music? Am I right? Favorites from the past?
-Yeah, that's probably accurate. We love the Buzzcocks, Stiff Little Fingers, new-wave stuff like Elvis Costello and Squeeze.

Capitalist Kids are you satisfied with the name? How did it came up? Which is the best bandname you know?
-If I had it to do over again, I would pick a name that rolls off the tongue a little easier, and fits well on a t-shirt, poster, sticker, etc. It was just something that I felt sounded kind of political but also kind of fun, which I guess is kind of our thing.
Some good bandnames: Born Against, Pansy Division, the Pointed Sticks, Agent Orange, the Undertones. You just made me realize that I dislike most bandnames, ha ha.

What´s the best thing with playing live?
-If there are people watching you, and they are enthusiastic, you feed off their energy and then you give a more energetic performance, and it can be beautiful.

And where is best to play? And the worst place?
-San Antonio, TX is probably the best. Not sure about the worst.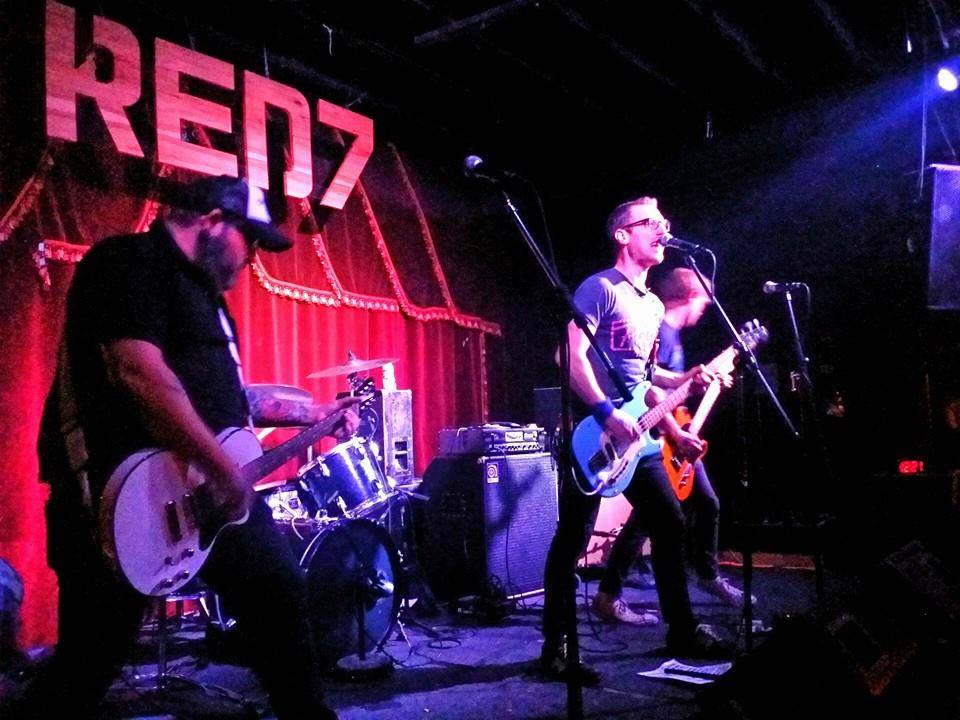 How is to play this sort of music in USA right now? Which types of bands do you have concerts together with?
-There aren't a ton of bands in the US playing our style of music. Most of the bills we end up on are fairly eclectic. Whenever a band like Big Eyes, Masked Intruder, or the Dickies come through town, we try to get on those shows. We've been lucky enough to play festivals with bands like the Copyrights, Kepi Ghoulie, the Spazzys.

How would you describe your music in three words?
-Power-fighting power-pop. That's two hyphenated words.
What does punk mean to you, is it only a word or is it a lifestyle?
-To us, punk is making music underground for the love of doing it, with no aspirations of fortune and fame.

How do you see on downloading, mp3 and that stuff?
-Downloading is great because it opens up access to an infinite amount of music. The downside is that everyone gets used to the idea of not paying for anything. I personally download music all the time to see if I like it, and if I do like it, I try to buy it (unless it's really old stuff that's out-of-print). But I know I'm guilty of forgetting to pay for some of the stuff I've enjoyed. Part of the problem is, there's so much great music--who has that kind of money?
We tend to lose money on everything we do, and we work with small labels that don't make any money either. So I hope people realize that stealing music from Metallica is not the same as stealing music from a band like us. But we want people to have it if they want it. We try to keep our prices as low as we possibly can.

How is it to live in USA now? Politically?
-The USA is always politically divided. If you poll people on individual issues, they tend to be more progressive than they realize, but the way the 2-party system is set up, they end up voting against their own interests. Bernie Sanders' presidential campaign is very exciting right now.

Is there any good bands from USA now? Is the punkscene big? How is it in your hometown?
-There are always good bands. Probably my favorite band in Austin right now is Basketball Shorts. The punk scene doesn't feel as big as it might, but that's because it's divided into sub-genres. Austin is a great town for garage punk, but unfortunately those people don't come to our shows.

What do you know about Sweden?
-I know the unit of currency is the krona. I've never had the privilege of visiting Sweden, but I think of it as a Social Democratic country where the citizens have a high standard of living and high levels of happiness. (I just checked, Sweden is ranked the world's 5th happiest country in one study.) I hope we get to play there one day.

Have you heard any good bands from Sweden?
-Yes, I was just introduced to the High Hats on our recent European tour. Of course Millencolin kicks ass. Dugg is partial to Skitsystem, Skitkids, DS13, Regulations, and Abba. I personally love Ace of Base, no joke.
Your lyrics, who does them and what influences you?
-I write the lyrics. I just write about what's on my mind. As far as political songwriters, I'm influenced by Billy Bragg and Phil Ochs. As far as clever rhymes, I'm hugely influenced by Dr. Frank of the Mr. T Experience.

Is there any subject that you never will write anything about?
-A lot of them. Writing songs is hard.

Politic and music, does it goes hand in hand? Which is your most political song?
-Some people don't think so, but I don't see why they shouldn't. Songs can be about anything, and if certain issues are important to you, it's natural that they would end up in your music.
It's not possible to say which is our "most political" song. We have tunes about income disparity, racism, gender issues, torture, cops, and more. We have a pretty forceful anti-war song called No Flowers for the Liberators.

Best political band/artist?
-If we're talking about all-time, then I gotta go with Phil Ochs. Honorable mention: Stiff Little Fingers, Propaghandi, Bad Religion, Desaparecidos.

Do you think that music(lyrics and so on) can change anyones life, I mean people who listens to music?
-Lyrics can be pretty powerful. I think they can change lives, especially in one's formative years.

Your cover on your CD looks really nice, is it important to have a record cover which shows people which type of music you play? Your favorite record cover? Who does your covers…
-I think it helps to have a good cover that sort of maybe captures the vibe of the music inside, yeah. That's one thing that the kids are missing out on today with all the downloading. I've done all of our covers except for Too Big To Fail, which was done by the wildly talented Bill Pinkel (www.frowningbill.com/).
Some record covers I like: Descendents Everything Sucks, Queers Bubblegum Dreams, Screeching Weasel Major Label Debut, MTX Love is Dead,

Is it important to get out physical records of your stuff? Why or why not? Best record label?
-It feels like much more of an accomplishment when you put out a physical copy. A lot of punks are vinyl purists, so records are important. There are a lot of great record labels out there. Most of the labels we deal with are just run by one or two people. It's basically a mostly thankless labor of love, so these people are the true heroes of the punk community. The labels that have been kind enough to waste money putting out our stuff are Hang Up, Toxic Pop, Rad Girlfriend, & It's Alive.

How does your audience look like? Which people do you miss on your concerts? Which is the biggest band you ever have played together with?
-I think our audience is fairly diverse. We could always use more female fans. I think the biggest band we've ever played with would have to be the Dickies. That was a life highlight for me. We've opened for the Queers, the Arrivals, Off With Their Heads, and one of the best shows we ever played was opening for Bomb the Music Industry.

Is it boring with interviews? Is it much interviews??
-I'm always honored when anyone wants to interview us, so I don't find it boring. You end up getting asked the same questions a lot, but it's cool.

If you could choose five bands from the past and the history and nowadays and both dead and living bands to have a concert together with your band. Which five have you been chosed?
-The Mr. T Experience, the Ramones, Alkaline Trio, the Muffs, Elvis Costello and the Attractions

Is music a good way to get out frustration and become a nice person outside the music??
-It probably helps your overall happiness, which helps you to be a nice person, so yes. I can tell you that when I have more stress than usual in my life, I look forward even more to band practice. It is a great outlet.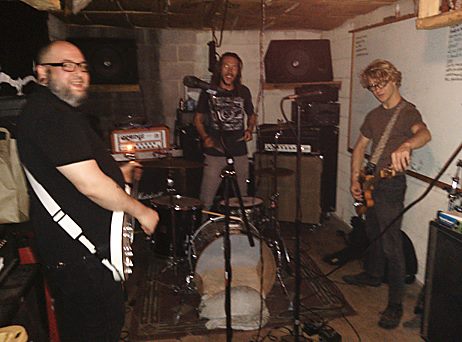 Which is the most odd question you ever have got in an interview?
-This one.

Which is the question you want to have but you never get. Please ask it and answer it?
-I'm not going to do your job for you, ha ha.

Futureplans for the band?
-Right now we're working hard on writing new songs for a split 7" with Hospital Job and for our next full-length record. We think this next album is going to be our best yet. Hopefully we'll be doing more touring soon.

For yourself?
-Try to get my life together.

Wisdomword?
-"If I should say that I am in any thing wiser than another, it would be in this: that not having a competent knowledge of the things in Hades, I also think that I have not such knowledge."
--Socrates
"All I know is that I don't know nothing."
--Operation Ivy

Something to add?
-Thanks for taking the time to interview us. To anyone reading this, thanks for caring. We will probably never make it to Sweden, but anything is possible.