Capace is a spanish punkgroup which is first out in 2010 on my interview list. Itīs the guitarist Cleve who answers the questions 11/1-10
History?
-The Capaces was born in 1999,since then,the band have played more than 100 gigs and toured Europe last april 2009.
Discography: "Born to punk" 2003 cd
"Amplifired" 2005 cd
"The restless breed" 2008 Lp
"Whatever it is,I'm against it!" 2010 cd/Lp
and various 7" & splits.
Please tell me a little about every member, age, family, work, interests and something bad about every one ?
-We work to live & live to rock,Martillo is an artist(painter,sculptor,designer...), and the rest of the band are a bunch of rednecks who loves beer,wine & zombie movies.
something bad...?,ask Dominik,our manager & confesor
My review of your record goes like this :CAPACES-AMPLIFIRED(CD-SONIC REDUCER RECORDS SRR 002)
Really wild music is it in the beginning because this group can really play fast. They donīt let us rest anything between the songs and itīs not much space between the songs either. Iīm maybe a little bit coloured of Martillos t-shirt where itīs written Zeke because itīs not so far away from their music but with a little bit more hardcore in the music. 14 sons in a tempo which gets even a used punkfan to wonder how they can sound so much but it feels like a really good energykick anyway….wild Spanish and itīs fun that itīs so many good punkbands around the world.
What about it?
-Well,I have no words...but I think your english is a little bit better than mine... haha
Is there any other bands youīre being compared with?
-Yeah,but only with the greatest ones!
Do you care about reviews?
-Sure,it's quite funny to read about our band
Which is the most peculiar review you ever have got?
-Hell,I can't remember.
How would you describe your music in three words?
-PUNK'n'ROLL DISCHARGE
How is it to live in your homecountry?
-It's o.k.,it could be better but sure it could be worse,at least we have a lot of sun.
Do you think that music and politics goes hand in hand?
-Sometimes
Best political band?
-Dead Kennedys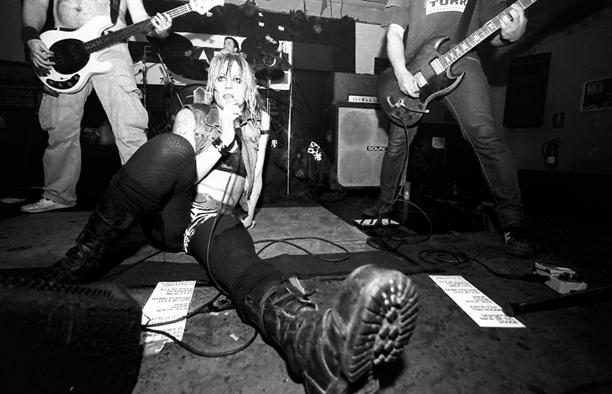 What about the government?
­-FUCK them,politicians are the biggest shit
Is there any good bands in your homecountry now?
-Of course!,Fuckland,Black Panda,Telephat Boys,Horror,Seņor No,NCC,Discipulos de dionisos,Vietnam jakuzzi,Sexty sexers...are some examples

What do you know about Sweden?
-Everybody knows that swedish girls love the guys from our country
Have you heard any good swedish bands?
-Most of my favourite european bands are from Sweden:Genocide SS, Totalitar, Avskum, Uncurbed, Meanwhile, Wolfbrigade, Puffball, The Ruling class, The Don'tcares(please,send us material!), Anti-cimex, Mob 47, Gluecifer, Hellacopters...
What does punk mean to you, is it only a word or is it a lifestyle?
-It's a lifestyle
Please rank your five favourite records, five favourite concerts and five most important things in life?
-It's hard to tell you just 5 records,but this five are sure among the best:
The Dead boys - Young,loud & snotty
The Damned - Damned,damned,damned
Black Flag - everything went black
Discharge - Hear nothing,see nothing,say nothing
Poison idea - Feel the darkness
Last 5 good gigs:the Exploited,the Dwarves,Jim jones revue,Valient thorr,the Bulemics
5 great things: Honesty,friendship,love,music & fun.

First, last and most expensive record ever bought?
-Elvis presley (rock&roll), The Damned (7" pack), TheVarukers (Killing myself to live)
Most embarrassing record in your collection?
-"The shape of punk to come" from Refused.
You don't have many seconds between the songs and I'm totally exhausted after listening to your CD??
-Excellent!that was our purpose,you have the rest of the day to breathe!
Which type of people comes to your concert?
-Punks, rockers, freaks, pinups,...
Is it many interviews? Is it boring?
-Not boring enough
Which is the question you never get, please ask it and answer it?
-Q:I can't believe,are you really from Barcelona?
A:Oh,no,we're from Portland (Oregon)
Is it any chance to see you in Sweden soon?
-I hope so,next march 2010 our 4th Lp is gonna be released by Social Bomb records (a german label),and we want to kick asses around Europe,it would be great to play in Sweden.
Where is the best place to play?
-A full little(50 to 300 people) & horny club
Which is the biggest band which you have played with as a support act? And which is the biggest band which have been support act to you?
-Poison idea,theDwarves,GBH,Zeke,DOA,...
The name where does it comes from?(yeah itīs a boring question but itīs interesting)?
-It could be translated as the Almighty
What shall we do about all racists?
-Launch them to mars!
The best band in punkhistory?
-It's impossible to say,there are plenty of great bands

The most important punksong?
-Same answer as above
Futureplans for the band?
-To play at Sweden festivals!
For yourself?
-Health
Wisdomword?
-Whatever it is,I'm against it!
Something to add?
-Best wishes for swedish punk-rockers from theCapaces,hope to see you soon,stay punk & keep on rockin'!!!