Derek from the new interesting band Burnthe8track have been in the group Guy Smiley before and now hés coming with a new group. They´r e on an underlabel to Century Media which is called Alveran Records. Here he gives me some answer to all my questions. February 2004
History?
A) The band formed about 3 years ago in Winnipeg, Canada. We spent the first year working on songs and then started to do some touring around North America. We then headed out to L.A to showcase for a number of Record Labels and decided to work with Century Media. We did a fair amount of touring and focused hard on writing "The Ocean". Since it's release in North America we have been on the road all the time. Know that the album will be out in Europe we expect to spend a lot of time on the road in your area as well.
Please tell me a little about every member in the band, age, work,
interests, family and something bad about every one?
A)Derek, I am the vocalist and have been playing in bands all my life. Touring in Europe with my former band Guy Smiley(Epitaph). We tour pretty hard, but, when I am not on the road I study Anthropology through Distance Education at the University of Manitoba. I spend a lot of time Skateboarding and playing hockey. I am a big hockey fan and the fine folks in Sweden will be happy to know that my favorite hockey player is in fact Mats Sundin.
Jason is the Guitarist. He just graduated with his masters in Architecture and keeps busy with that when he is not on the road. This is Jason's first band but he has been playing guitar since we were kids. He got me into music when we were younger. Jason also skateboards.
Sam is the Drummer. He is a master sound technician and keeps busy mixing live bands and engineering other bands albums. He also skateboards and is a video game junkie.
Mike plays bass guitar. He is a graphic designer. You can see his fine work on our album artwork and the website. He is into hockey, snowboarding and many other outdoor activities.
You are going to get me into trouble by asking me to say something bad about each member so I would have to say that we all think we know everything. Just come check us out when we are in the studio.
I am a germaphobe. That is about it.
What drives you to play music?
A) We love to write songs and record music but most of all we really enjoy playing shows in front of people. It is an amazing feeling to get on stage and play in front of your fans and friends.
How would you describe your music in three words?
A) Intense, Melodic, Passionate
I think it sounds like a mix of Refused and emocore, what about that?
A) Well, that is the first time I can remember us being compared to Refused. We take that as a huge compliment because Refused were such an important band. I don't know if we are emocore, but everyone takes something different from music.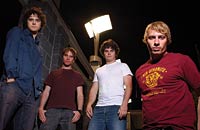 What other bands are you being compared to?
A) We seem to get a lot of comparisons to bands like Hot Water Music, Dag Nasty, and Thursday. I don't know if we do sound like any of them but we take that as a serious compliment because all of these bands are phenomenal. As well, we have had some really strange comparisons ranging from Iron Maiden to U2.
Do you care about reviews?
A) We would be lying if we said that we didn't read them. We have been lucky enough to get quite a few good ones, but the bad reviews always sting. You have to realize that everyone has different opinions about music, so we try not to take them to heart. As long as a review is fair we are fine with it.
Which is the most peculiar review you ever have got?
A) One review said that we were best described as White Noise. Honestly though, that reviewer did seem like a brainless moron so we didn't care.
Have you ever changed anything after a bad review?
A) No way!! We write our songs as they come to us. We are proud of the way we write music and we refuse to let people influence or writing style because they dislike our songs.
Have you done anything more than The ocean CD, if you have that , hwo can
I get it?
A) We released an e.p a few years back. We will eventually be releasing it in Europe but for the time being it is only available on our website and at shows. We expect to release it in the near future with a few other songs.
Alveran Records, how does it work?
A) Not sure what you mean. They are releasing our record in Europe and we are really excited about it. They are a great label and work their bands very hard.
The CD is coming out 21st of february, are you nervous?
A) Not nervous at all. Really psyched and looking forward to touring in Europe a lot. We love Europe so much that we intend to spend a lot of time out there.
Where did the name come from on your band?
A) The name comes from a situation that happened in the 1980's. Their was a record label that filed for bankruptcy. They decided to burn and bury all of their remaining 8tracks instead of paying the artists royalties.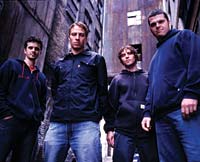 How does the average fan look like?
A) Every fan is different. We get a lot of girls and guys at our show these days. It is good to see when the girls get right into the show like the guys. I find we have a wide variety of people at our shows.
How is a good concert with you?
A) Any time we play a show we try to play with as much intensity as we can. If there are 5 people or 5 thousand we will still play extremely hard. We love to see the crowd get into the shows.
Is it many interviews, is it boring?
A) Actually it may surprise you but we all really like doing interviews. Especially with people from different countries. It is always great to meet people who are music fans.
Which is the question you never get but you want to have?
A) Would you like 5 million dollars.
Any favoruitezine on paper or on the net?
A) there are a few that are mostly based in North America because we are still unfamiliar with most European zines. We really like www.punkhardcore.com .