An interview with the danish punkrockers Burnouts. It was done 8/8-2000 with Helle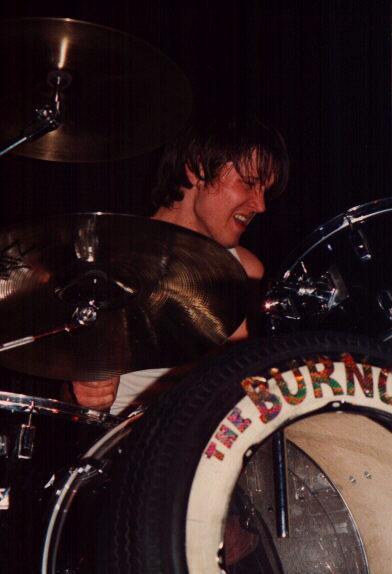 History?

-March ´98 three rockers decided to form a band, where the love of punk, noize and rock´n´roll was the basic ingredients. Things moved on surprisingly fast for The Burnouts. We put out a 5 track cassette "Pure action baby, action" and in February ´99 we released a 7" split single together with Hellroute 16 (DK), all on our own label "Hellburn Records". Realizing that we needed a more experienced drummer, we got in contact with the energetic Mr. Bondo and JT left the drums to focus on the screamin´ and howlin´ situation. Everybody was happy with this line-up and The Burnouts was now complete: JT shouts and performs, Lars Loco molestrates the noizy guitar, Helle Hellcat beats the bass and Mr. Bondo swings the beat. In Oktober ´99 we released a 7" "No Erection – No Love" on Bad Afro Records and in March 2000 our debut album "Go Go Racing" was out on the street on the same label.
Please tell me a little about every member, age, work, interests, family and so on?
-JT: Your typical goodlooking frontsinger with a big ego under the cowboyhat. He always forgets his tambourine on stage and is often seen drunk in the middle of the day. He´s a popculture addict, has a brown belt in karate and does graphic layout for a living. He´s 22 years old and not married.
Lars Loco aka Lars Vegas: A selfmade guitarist who wish he was Swedish. Has a strange taste for noizy sounds and tries to minimate every song into two chords. He´s a total carfreak with more than 6 american cars in his garage and some of them can actually drive. He´s a Ford and Coca Cola addict and is an electrician in the real world. He´s 22 years old and not married.
Mr. Bondo: A ladiesman who lives for his drumming. He´s crazy about guns and loves to go fishing and hunting. If you call him on his mobilphone you can be sure to catch him standing in a lake fishing somewhere. He´s hyperactive and drives everybody crazy on tour. He´s becoming a carpenter and is 22 years old and not married.
Hellcat: The ultravixen of the band who has named her Rickenbacker bass "Ib". She loves fishnetstockings, make up and to dress up for endless nights at the rockclubs. She´s also often seen drunk in the middle of the day. She preferes "White Russians". In the real world she studies Nordic Language and Movie Science at the university. She´s 22 years old and not married.

How is to be a rockband in Denmark? Do anyone care?
-What have amazed us the most is, that we have had very fine album- and live reviews, pictures and interviews in almost all the major newspapers in Denmark. I mean, they normally NEVER write about punkrock and least of all punkrock from Denmark. This doesn´t mean that we can sell any records in Denmark though– only to our friends and grandmas´s (did I say "sell"?). Our music is too wild for the Danish national radio so almost no one knows we exist! We have worked hard for two years now, trying to put Denmark on the rock´n´roll map but the Danes are ignorant. They only listen to what the tv commercials tell them to buy: "Absolut Euroshit # whatever". But it´s okay – we´re on a kind of mission and can play a lot of gigs anyway. I think the Danish "garagepunkrock´n´rollsurf scene" counts about 100 persons. That´s why we like touring outside Denmark in countries where people actually LIKE punkrock!


How is it to be a girl in this sort of mansdominated world?
-It´s no problem. I have always been wild and "one of the boys" and I´m not afraid to open my mouth. We´re really good friends and we like the mixture of both girls´ and boys´ approach to the music and whatever comes with being in a band. I don´t understand why the few women in rock always have to play in straight "girlbands". Why don´t they mix? It´s seldom that I meet guys (or girls!) around at the punkrockscene who treat me like a stupid bimbo but of course it happens. I don´t give a flying fuck for these kind of sexistic ignorants. I can only think that it is their own problem if they don´t know how to pay respect to other people no matter sex or race. I do wish that there were a lot more girls in this business though…
How is it to live in Denmark overall?
-Like everywhere else I guess. Sometimes it sucks - sometimes it´s allright.


Whats the best and whats the worst of living in Denmark?
-The best part is that people are friendly and you don´t get arrested for drinking beers on the street. The worst part is that when you finally get a little succes with your music, you´re immidiately accused of "having sold out" or "just riding the Scandinavian wave" and stupid shit like that from folks who used to be your friends. There´s quite a lot of backstapping which is a pity since the scene is so small and therefor fragile. Some people in other Danish bands seems to think that we now earn a lot of money. HA Ha Ha! Big laugh….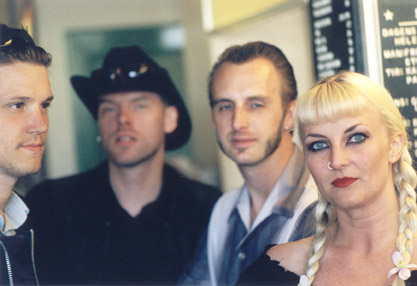 How is a good concert with Burnouts?
-Fucking loud, fast and with naked people crowdsurfing up front. Sweat and beer on the stage and Hellcat shaking her ass.


What does their average fans look like?
-As if they don´t get enough sleep. They´re probably staying up all night listening to The Burnouts, drinking beers and wondering how their lives became so miserable and pathetic?

What do you know about Sweden?
-Everybody is in a rockband and princess Madeleine is better looking than princess Victoria.


Do you know any good swedish bands?
-Sure, there is a bunch of good bands and some of them are our good friends too. In random order: Nomads, Union Carbide Productions, Thåström, Hellacopters, A*Bombs, Puffball, 69Hard, Sewergrooves, Robots, Weeping Willows, Turpentines, Coffinshakers a.s.o.

What is the difference between Sweden and Denmark do you think?
-If you mean difference rock´n´roll wise then what departs these two countries is, that in Denmark we´re all victims of "Janteloven" (You know: Don´t think you are anything, Don´t think you´re better than us a.s.o.) and this makes it very difficault to create a serious rockscene. Also nothing is prohibited here so we don´t have anything to rebellion against! In Sweden you just live it out, it´s a lifestyle and it is a natural thing to say: "I wanna be a rock´n´roll star". Sweden is the land of rock – Denmark is the land of Aqua!


Bad Afro is it a good label?
-Headhoncho Lars Krogh is a drinking pal and a very good friend of us and it´s nice when you can do business and still be friends. I think Bad Afro has put out a lot of good records and we´re proud to be in his stable. (Even though we always have to find Don K´s glasses for him when he gets drunk!). Of course it´s always a problem when you are on a label this size that the marketing- and promotionbudget is almost non-existing. This means a lot of feetwork and DIY which is ok with us. Also our booking Gearbox Agency has been a great help to us setting up gigs, European tour a.s.o. But being frank I don´t think we´ll be millionaires in a very near future. But then again: this was never the aim of punkrock music, was it?

Any other bigger labels who wants you? How much must you have to leave Bad Afro?
-No big labels yet. We have only existed two years goddammit! We have had some interest regarding a couple of 7"s on different labels in fx USA and Italy but we haven´t had the time (or the money) to record any new material yet. The last question I can not answer.


Is it many interviews? Is it boring?
-There is a lot of interviews but no, it is not boring. It´s fun and e-mail makes it very comfortable and easy. We´re still surprised that some people actually want to hear about our deadbeat low lifes and our small snotty punkrockband. Liveinterviews on the radio can be horrible though, ´cause we alwaysend up saying a lot of crappy jibberish which makes us look like complete idiots.

Which is the question you want to have but you never get. Ask the question and answer it?
- " Would you like to have a billion dollar conctract and a red/white Plymouth Fury ´57?"
- "Yes!"
Do you like fanzines, any favourites on the net or on paper?
-Personally i looooove fanzines and all kinds of magazines. Also glittered stuff about famous people, fashion and popmusic is fine. It´s relaxing after a long and absolutely boring day at the university. My favourite zines are: SKRUTT (of course), Moshable, Chrome, No Rule Zine, Deadbeat, Gearhead, I Wanna (even though it´s in Spanish!), Daily Riot, The Thing (Thank God it´s not in greek anymore), Earpollution #2 and more.


What shall a good zine contain?
-Interesting interviews with interesting major bands or bands on their way to stardom. Relevant reviews of both vinyl, cd´s and demos. Storys about people living that fat life in fame you always wanted yourself but never will (talk about escapism!). Music and movie retro stuff and a lot of pictures of goodlooking rock´n´roll boys like Mike Ness and Eddie Spaghetti.

You like getting drunk, what´s the best and the worst part of being drunk?
-The best part is, that you rule the Universe that night. The worst part is, that probably everybody - including yourself - hates you the next day.

What does punk mean to you?
-To me punk is a state of mind which includes: Chaos, taking control and responsability with your own life, creativity, booze and drugs, smelly rehearsalrooms, the feeling of being alienated in a fucked up society. Punk, or Rock´n´roll, was and still is a way of giving the conservative establishment the finger. The music generates the feelings of the unadjusted wildhearted folks who like to party and obstruct against repression from "the right-thinking masses". Punkrock is wild, entertaining, funny, sexy and dirty.

Any good bands in Denmark right now? Outside Denmark and Sweden then?
-In the punk/garage/surf scene we dig Danish bands like Hellroute 16, Powergrill, Defectors, Colombian Neckties (ex. Shake Appeal), Nekromantix, Screaming Eric and the Erections, President Fetch and Heatfarm. You´ve probably never heard of them?
Outside Denmark and Sweden we all like a lot of different bands. Here´s some of them: Turbonegro, Iggy Pop, Elvis, New Bomb Turks, Supersuckers, Oblivians, Hasil Adkins, R.L. Burnside, Nick Cave, André Williams, Sonic Youth, Zeke, Zen Guerilla, Motörhead, Countdowns, Nashville Pussy, Cramps and so on and so on…
Do you like any other music than punk/garage and that sort of music, something really different?
-Personally I like sentimental stuff like Weeping Willows and some country music from the dark end. Ennio Morricones spaghetti western soundtracks also does it for me. Favourite popact must be Garbage.


What is the most peculiar that have happened at a concert with Burnouts on stage or in the audience?
-We were playing in Århus last year. At the same time Nina Hagen was playing for free just around the corner so only 25 rockers showed up to our gig. But Jeeezuz – did they go berzerk!? They entered the stage all 25 screaming, singing and dancing like crazy. They tried to take over the instruments after the show. Afterwards some crazy guys formed Miss Hellcat´s unofficial fanclub and danced naked while they were singing Johnny Cash` "Ring of Fire" letting it all hang out doing "The Helacopter". (C´mon – you know what that is…) That was a weird night.
Idols when you were small?
-Susie Quatro, Blondie and David Bowie.


First and last record you bought?
-First record I ever bought was a german compilation from K-tel called "Disco Action". My newest records are The Hives´ wonderful lp "Veni Vidi Vicious" and The Maker´s "Rock Star God".

Why do you play music, what do you want with it?
-Of course we all wanna become major rockstars.


Do you have good contact with your fans? In which way?
-Yes, we always have good contact. We´re friendly, we don´t spit in people´s faces during concerts and we like to hang out in bars with fans. Well, most fans are our friends anyway, so…


Do you have an own homesite, why and is it important to have it?
-We have our own site but unfortunately we´re not able to update it ourselves. We´re still working on fx some more text and pics when we have the time. It´s fun to surf around on the net and read band´s homepages. It increases the feeling that you´re not the only drunk punk loser in the world. So step into our world my friend: www.theburnouts.dk

What do you think about the new way to communicate with email and internet and that sort of things?

-We all love the internet. Only man not connected to cyberspace yet is Lars Loco. But he will, believe me, he will…Computers are cool and can be very punkrock if you want. You can get information and visit other bands´ guestbooks and read netzines. You can send messages and get replies real fast, so you can stay in touch with punkfriends all over the world. Most tours are arranged via e-mail. Let´s face it: No one writes oldfashioned letters anymore – sad but true. Also some of us use computers and internet in our work and studies, but hey – we are NOT nerds or anything
Any favouritesite except Skrutt?
-One of my new favourite site is the "google" searching robot. It´s fast and it brings all the punkrocksites and more right to you. Try it on www.google.com

Do you buy many records yourself? Which is the most expensive record you have bought?
-No, I don´t buy that many records as I am a poor student. I have never bought a really expensive record. I like to buy them cheep instead. But I have two valuable records I like very much. It´s the original "Raw Power" lp with Iggy and The Stooges from ´73 and a live bootleg of Oblivians with the ugliest cover I have ever seen. It´s a lot of naked and VERY hairy ladies in rather…arhm…sexual positions.


Any record you really want but you don´t find?
-Nope! I have good musical contacts and can usually get what I want.


Anything more to add?
-After 36 questions? Jeeeezuz - I don´t think so!


Wisdomword?
-"Sometimes you´ll have to loose yourself a little to find anything at all"
(Burt Reynolds in "Deliverence")


Futureplans for the band?
-Our plan is to play as much live as possible, put out a couple of 7" wax on Bad Afro and Hellburn Rec. and prepare material for the next fulllength album. We´ll be playing at Motormania in Berlin and Popkomm in Cologne this year and we´ll be touring in Norway, Denmark and Finland. It can be a problem being away for too long as we are all sore losers with everyday jobs and we can certainly not make a living from playing punkrock music! Otherwise we concentrate on hard work in our greasy rehearsalroom but also on having a lot of fun together. Maybe Mr. Bondo will catch a fish some day, Loco will for sure buy yet another car, JT will perhaps get the black belt in karate and Hellcat will marry Eddie Spaghetti from The Supersuckers. It´s as simple as that.
Futureplans for yourself?
-Soon I will be writing my memoires on a beach in California, drinking White Russians in the shadow of a coconut tree.


Take care and thanx for the interview