Bulbulators is a polish group which sounds ireally interesting(except the name which I have difficulties to remember ;-)) October-2014 (B) - is "Burak", guitarist (Ig) - "Iglak", vocal
Please tell me a little history of the group?
(B) On February '83 UK Subs played in my town. After the concert, with the few friends we decided to start a band. It was then, when we came up with the name Bulbulators. No ability to play instruments discouraged my colleagues, but not me. Between 84-89 I played in two punk bands and then in '89 with a new line-up I decided to resurrect the idea of re-creating the group.
Members, which are they, age, work, interests and have they been in the group all the time?
-(B) - Artur "Burak" - guitar, age 47, interests: music and old VW, working in the profession of locksmith-welder. - Piotr "Iglak" - vocals, age 44, working in a car factory - Krzysztof "Lotos" - second guitar, age 22, interests: music, creation of it and sound engineering. Currently studying. - Jacek "Jaca" - bass, age 38, working in the ambulance service - Damian "Pachol" - drums, age 26, the automotive industry Line-up of the band was changing very often. Burak is from the beginning, Iglak since 1996. We were changing the drummers frequently, for example, while writing this interview It is interesting that Lotos is the son of Burak.
Do you have any bands on the side of Bulbulators?
-(B) Pachol plays in "Skunx", Jaca in "Tife Tife!".
What does the name mean?
-(B) The name does not mean practically nothing. It is a term of thing that has unknown origin, appearance and use.
I haven´t heard so much punk from Poland but Dezerter is a band I really love, is there any other good bands except from them and you?
-(Ig) Actually, you mentioned all the best ... I'm kidding, though punk is shrinking, there are a lot of good bands: Karcer, Zmaza. 77 punk: Po Prostu, Sexbomba, Cela Nr 3. Street punk that's: Analogs, Bachor, ADHD Syndrom. Hard core: Castet, Eye For An Eye. Younger bands like: Warsaw Dolls, Pils, Lazy Class.
Which type of people comes to your concerts?
-(Ig) Our audience consists mainly of punks and skinheads in the age group 20-50.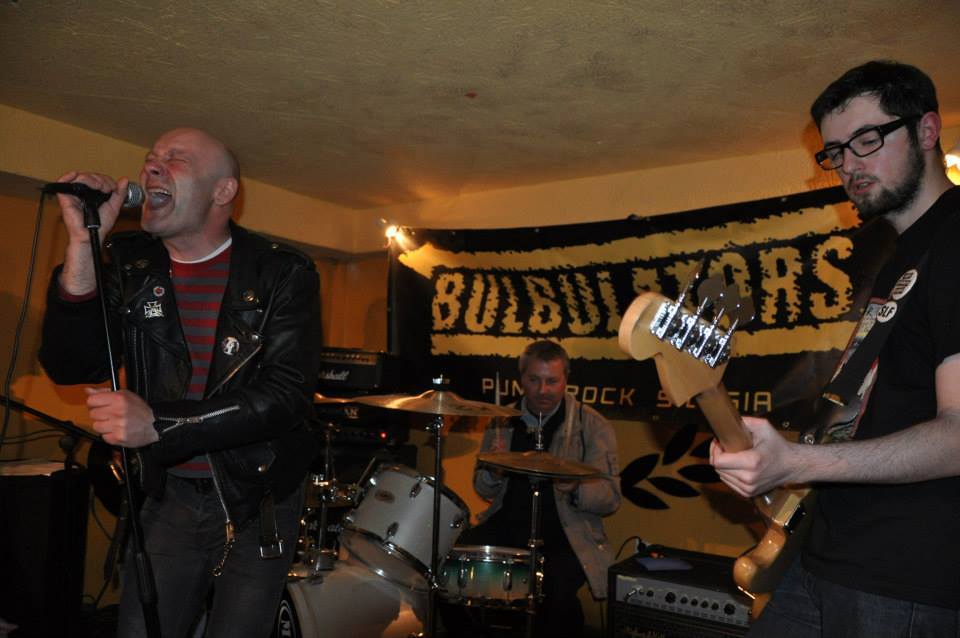 Which type do you miss at your concerts?
-(Ig) I think the lack of young blood, the audience is aging with us. Generally, in Poland, attendance at punk concerts decreases, the audience becomes a lazy and comfortable. Few years ago, crews were able to move the concert even across the country. Today, rarely churn out beyond their city, and in the largest metropolitan environments punk crews are divided. Some people ignore concerts of the bands they like because they don't appreciate certain clubs. Many punks & skins left Poland in search of a better life.
How is to play punk in Poland today (I understand that it was forbidden back in time)?
-(B) Now you can play and sing what you want. But punk rock music always will remain underground. Glorious years of punk in Poland is the second half of the 80s. Punk bands were releasing their music on vinyl, aired on the radio. Of course everything was censored.
What does punk mean to you , is it a lifestyle or only a musicstyle?
-(Ig) Punk is our way of life. We didn't avoid collaboration with the system We have homes, work, pay taxes, have bank accounts but our belief and attitude to life is close to punk ideals. (B) I do not even remember me doing something other than being a punk. It was so long ago ...
What do you know about Sweden?
-(Ig) You mess a little bit in the past, but for a long time Sweden is a liberal and neutral country which cares about the environment, respect human rights and punks living on benefits being able to calmly deal with the music.
Have you heard any good swedish bands?
-(Ig) We played once with Perkele, On The Job and Agent Bulldog and in the fall we'll play with Toxic Lab Rats. I have at home records of Asta Kask, Voice Of Generation and Ultima Thule. I like Rude Kids and Warheads.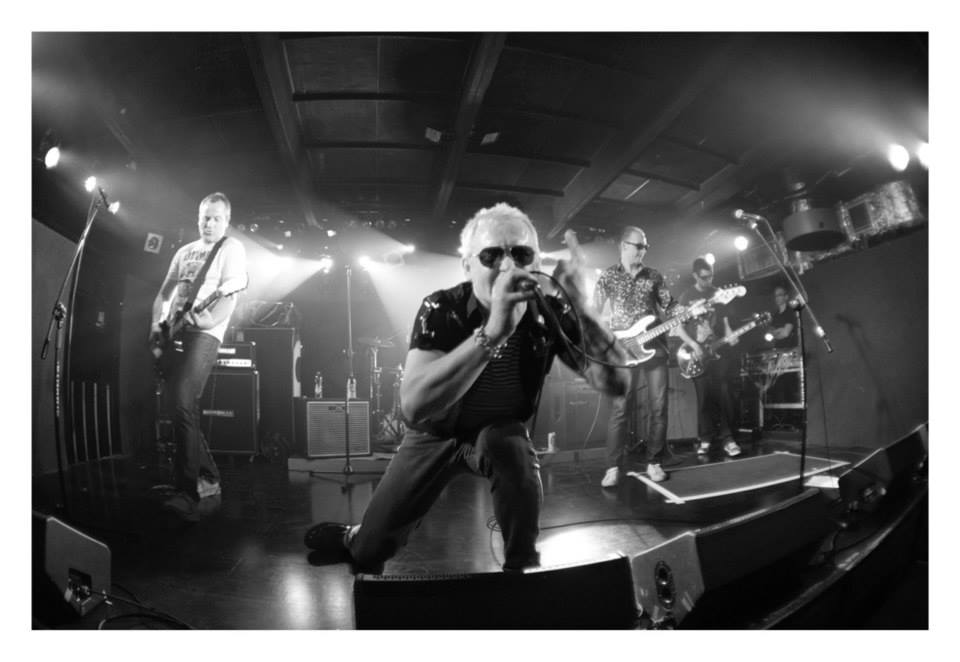 It seems like the polish language is a good langauge to sing in, I really love it...you have never been thinking of singing in english?
-(Ig) Well you surprised me! I always thought that the Polish language is a little singing, a lot of it rustling sz, cz, ż, ś, ć Apart from a few cover songs I do not sing in English, my English is at the level of English 5 year old
What are your lyrics about?
-(Ig) Our texts say about life, about the problems with which man struggles every day, about things that bother us. They have no great philosophy. As the author, I do not try to be a mentor, do not give guidance on how to live ... I rather describe reality that surrounds us. We have several serious lyrics... about war, religion, poverty, unemployment and the dangers that modern civilization brings. We also have lyrics brushed against the perversion and nihilism, and fun lyrics about having fun, girls and beer.
Politics and music does it goes hand in hand?
-(Ig) Politics is a shitty thing, splits and conflicts within people. Unfortunately, it can not be completely avoided, like it or not, it affects us every day ... every man has some views and beliefs that consciously or not consciously presents with his attitude. Music can be a great way to promoted political views, but whether it is good? I don't think so.
Best political artist/band around the world?
-(Ig) Joe Strummer / The Clash
The song Solidarity with Angelic Upstarts...was/is that popular in Poland among punks?
-(B) "Solidarity" maxi single came to me and to my friends in the same year when it was released in the UK thanks to a friend who had a family in England. I remember that we played it over and over again until the vinyl scratched . We were touched that someone abroad interested in our fate. It's about our crew punk, for the rest of Polish, I do not know.
How is it to live politically in Poland today? Can you say what you want etc?
-(Ig) For several years it is a scuffle between the ruling pseudo-liberals who are making police state and national-Catholic fanatics, who do not like any otherness. So we are in opposition to the government and the opposition Of course we have a democracy, we can say and do what we want... or so we think.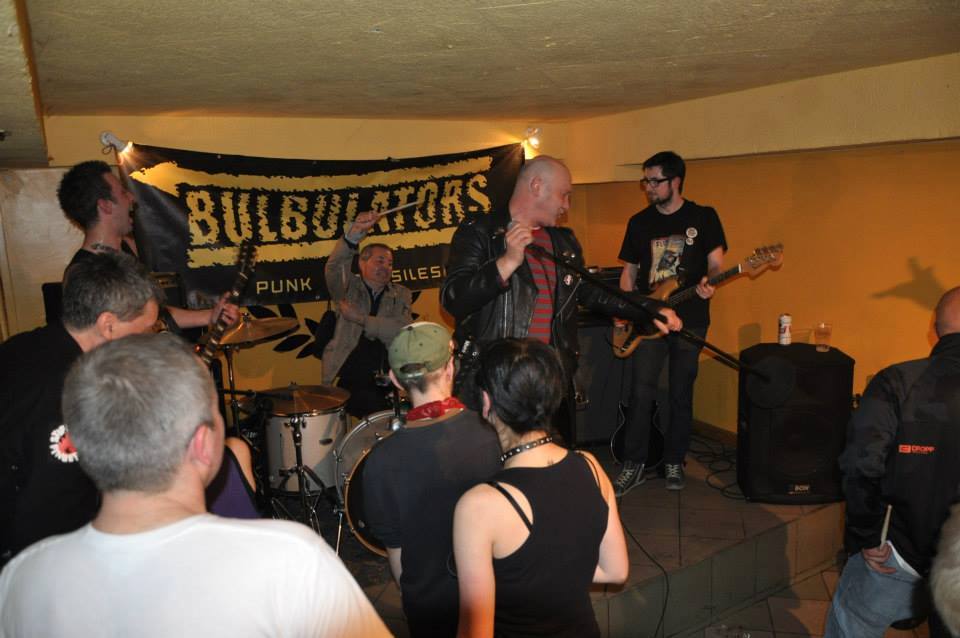 Have you been outside Poland and played? if you have where?
-(Ig) Due to our place of residence (Upper Silesia) we frequently play in the Czech Republic, Slovakia and Hungary. We played also in Germany, France and England.
What is the most weird which have happened during a concert with your band?
-(Ig) Bulbulators attracts storms!!! Already twice during outdoor concert we had to evacuate from the scene
Please rank your five favorite records, five favorite concerts and five most important things in life?
-(Ig) Albums: The Clash "The Clash" / Ramones "Rocket To Russia" / Damned "Machine Gun Etiquette" / UK Subs "Endangered Species" / Stooges "Stooges". Gigs: Ramones (1994 Praha) / Sex Pistols (1996 Praha) / Buzzcocks (2000 Warszawa) / Damned (2003 Warszawa) / The Boys (Bratislava 2008) / Die Toten Hosen (2010 Kraków).
(B) Albums: Ramones "s/t" / Sex Pistols "Never Mind..." / Damned "Damned,..." / Undertones "s/t" / DK "Fresh Fruit...". Gigs: Ramones (1994 Praha) / UK Subs (1983 Jastrzębie Zdrój - my home city). The most important for me is my family and old Volkswagens
First, last and most expensive record ever bought?
-(Ig) My first punk vinyl was V/A "Back Stage Pass", album was released in Poland in '86, thanks to it I reached for the full albums of UK Subs, Angelic Upstarts and Slaughter. Last one I bought was "Aftershock" by Motorhead. Most expensive album was "Wet za Wet" by Polish group Abaddon, released in '86 in France by New Wave Rec.
(B) I will mention only vinyls, because I'm collecting only them. My first album was "The Jam", the last was "All Wrapped Up" by The Undertones. The most expensive that I bought was "Cyanide" from 1978.
The record you bought only for a nice cover and you become so disappointed on?
-(B) I do not buy CDs for cover. 90% of my records are from 1977-1983. Before I started to buy I already knew the content of these albums
Futureplans for the band?
-(B) Despite the sometimes unexpected changes in the band, Bulbulators always did well and will be so for sure in the future. Now, there's nothing else to do but play and play.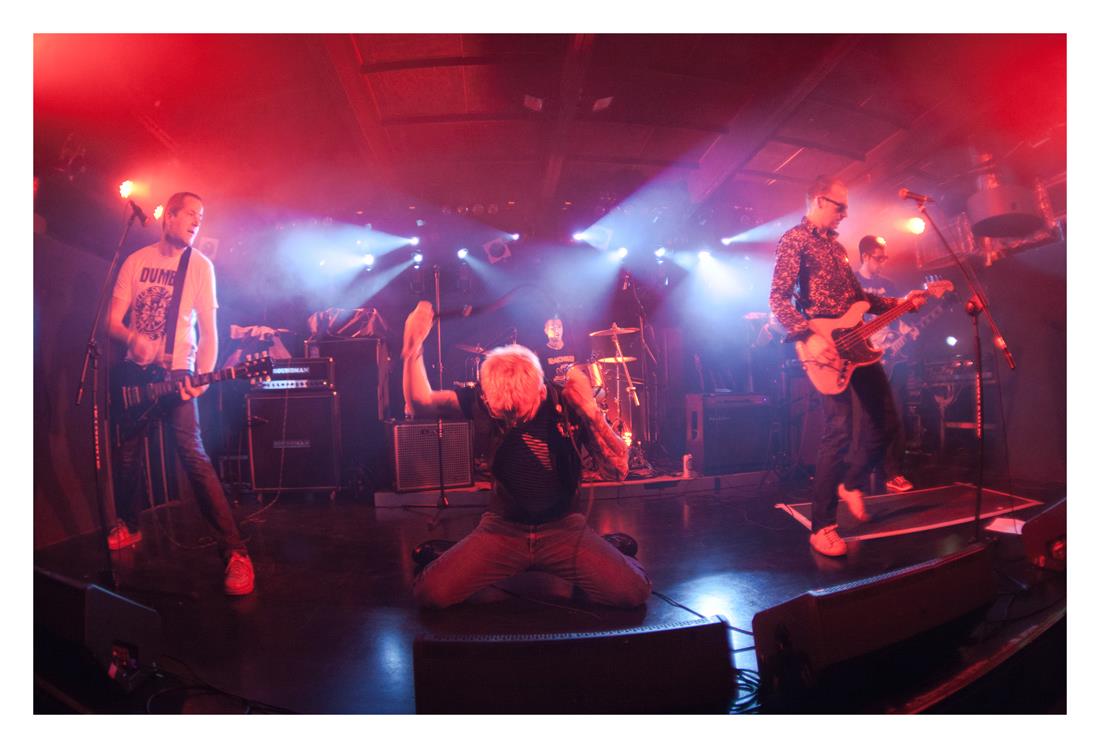 For yourself?
-(B) Play in a band, work so as to keep yourself and family, because I know that you cannot make a living from playing. Among the musicians, not only punk, there's saying: "He wanted to make a living by playing, he died of hunger."
Wisdomword?
-(B) "Live and let live"
Something more to add?
-(B) Greetings to all old punkrockers and skinheads in Sweden. (Ig) Thank you for interest in our band. Who knows? Maybe someday we will be able to play in Sweden and expand our conversation over a glass of the Swedish beer!