Norwegian Brillejesus is a really good and welcome to a new group that I Haven´t heard. I really like their music and I had to interview them. Jon is the one who is answering the questions. November-2021
Please tell me a little bit history of the group?
Jon: The band started a few years ago. In the beginning it was Ebbe on acoustic guitar/vocals, Kevin on electric guitar, and me on drums. After our first gig we realized that we needed a bit more low-end and recruited Espen on bass. After the release of our first album, Ebbe bought a Philichordia-organ, and his brother-in-law Ådne liked the organ so much that he just had to join the band! After we recorded our second album, Ebbe wanted to focus less on playing and more on singing, so I was promoted to guitar, and was replaced by a much better drummer, Simen.

Please tell me a little about every member in the group right now, age, family, work, interests and something bad about everyone? Earlier bands? Other bands on the side?
Jon: We don't talk trash about each other, so I'll mention something good about everyone instead of something bad
Ebbe (guitar/vocals) is a father of four in his mid-forties who works as a librarian in a small town called Riska. He has played the guitar since he was a teenager and has released records with Arthur! and Teeny Grownups before he started Brillejesus. Ebbe founded the band and writes all our songs. Ebbe is also co-founder of our record-label Kari Recordings. Positive thing: Ebbe bought a dog during the pandemic, and he has written a song about it.
Jon (guitar, backing-vocals, and drums on the albums) is Ebbe's cousin. He is in his mid-thirties and works as a bouncer at one of Stavanger's best concert-venues, Folken, and as an assistant at the local hospital. Jon has previously played with Ebbe in Arthur! (he played the drums), and is also one of the co-founders of our record-label. Positive thing: Inspired by Ebbe and Joe Strummer, Jon picked up running during the pandemic, and can now run 10 km even though he has asthma and has smoked for twenty years.
Kevin (guitar) is a father of two in his forties who works as a physics-teacher at the local international school. Born in New Jersey, he had never really been in a band before we started Brillejesus. Kevin is the bands designated snack-dad (he brings candy and Pepsi Max to rehearsals) and has built his own guitar amp. Positive: Kevin has a degree from Cornell University, one of the world's most prestigious universities where he claims to have studied "something about water and poop and stuff like that".
Espen (bass and backing-vocals) is in his mid-twenties and runs his own recording-studio in the outskirts of Stavanger's city centre. Espen is from the borough of Tasta, which has given Stavanger some wonderful experimental bands for the last ten years, and Espen has probably played in (or produced) half of them. All of our records are recorded in his studio, and he does the engineering and production while recording the bass live. Positive: Espen has been to a production-class/workshop with Steve Albini!
Ådne (organ and backing-vocals) is a father of two in his early forties. Ådne has a bachelors' degree in church organ and a master in opera and is by far the best trained musician in the band. He works as a music teacher at the city's best high-school and has formerly played with bands who have toured internationally, such as Thomas Dybdahl and Purified in Blood. Ådne has had Lasik surgery, which has given him the nickname "brillejudas". Positive: Ådne has bought a cabin and loves doing DIY stuff at the cabin in the weekends.
Simen (drums, drums, and more drums) is in his early twenties, and is both the newest and youngest member of the band. Simen studies drums full-time at the local university and does some session-work on the side. Like Espen, Simen is from Tasta, and is therefore in a lot of interesting experimental bands. Simen used to play handball when he was younger, but he doesn't have time for it any more because of all the bands. Positive: At our last show, Simen played a drum-solo with one of the cymbals placed on Ådne's head, and everybody survived!

I can hear much different influences but mostly punk and some indie, I say Wedding Present, Pixies and White stripes, what about that? ? Favorites from the past?
Jon: You sort of hit the nail on the head there. Ebbe is an old indie-guy and loves bands like Herman Dune and Neutral Milk Hotel, but he has one foot in the punk-camp as well, and there is A LOT of Ramones in me and Kevin's guitar-playing. In this band he has also taken a lot of inspiration from Norwegian bands such as deLillos, Raga Rockers, and Stavangerensemblet. Ebbe is also of the opinion that the Norwegian radio-station NRK P1+, a radio-station that aims to please senior citizens, is the only radio-station that plays any good tunes these days, which probably influences his songwriting in some way.
But we are a six-piece band with six very different members, so you can probably find inspiration from every genre since the baroque if you look close enough.

Brillejesus are you satisfied with the name? How did it came up? What does it mean? Is it a common phrase to call someone with glasses or what? Which is the best bandname you know?
Jon: We are very satisfied with the name, it's a great name! It is and old derogative name for someone who wears glasses, kind of like four-eyes in English, but it has the bonus that it makes a lot of people ask if we are a "christian" band. A question there are many answers to, such as "some of us are", "we don't have a religious agenda" and "None of our members are named Christian".
The best band name is probably The Bonzo Dog Doo-Dah Band. Or Iwrestledabearonce. Or Ramones.

What´s the best thing with playing live? Have you done any since the covid came? What is your strength in playing live?
Jon: The best thing with playing live is of course the audience! Nothing beats a good audience! We played six gigs while Norway had Covid-restrictions, three acoustic shows and three with the whole band. Our strength is probably our energy, and the fact that the audience can notice that we love doing this. We like to joke around, both with each other and with the audience.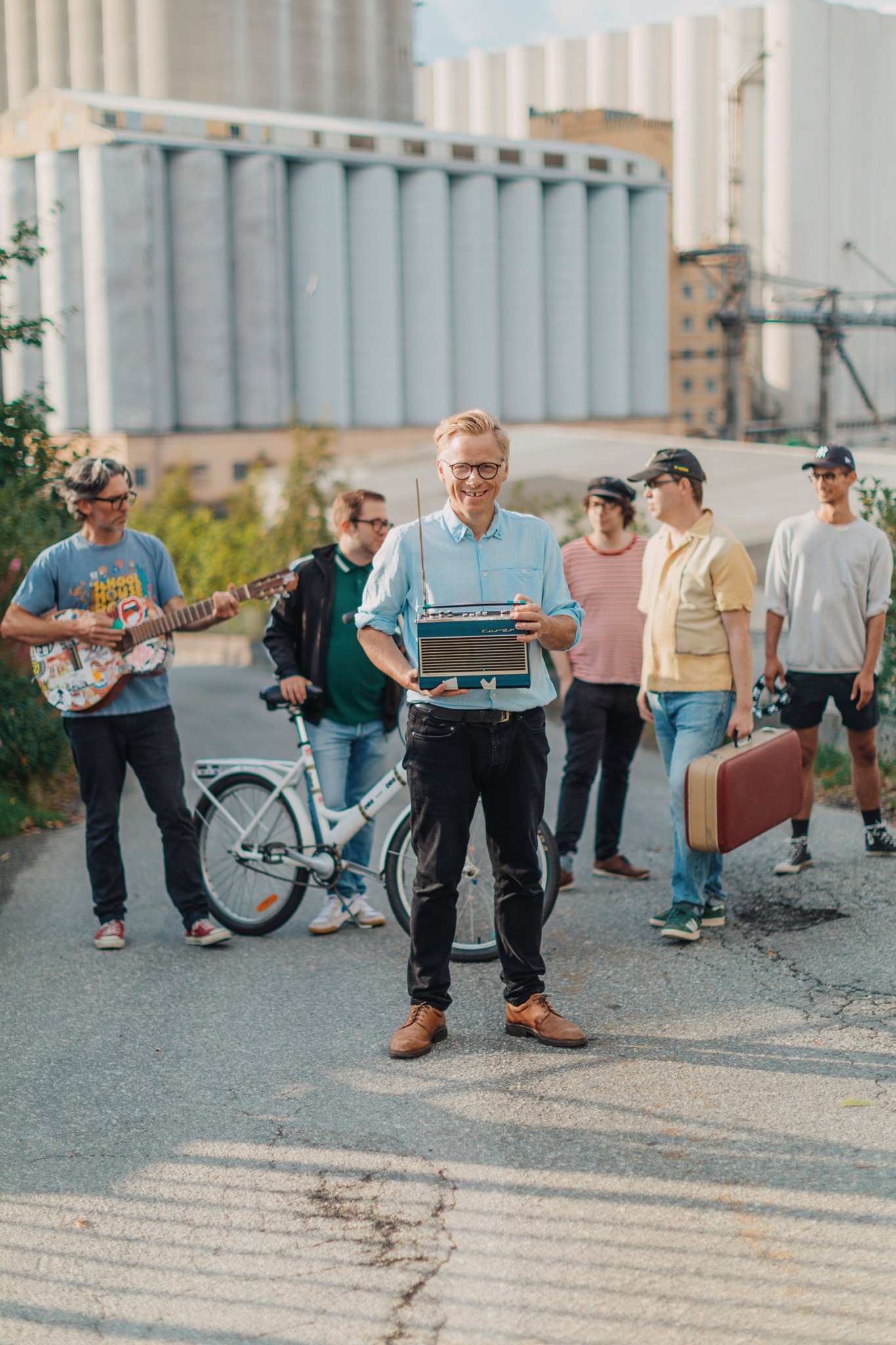 And where is best to play? And the worst place? What does a place bad?
Jon: We haven't really played at any bad venues. We've played large rock-venues and small café's, and if you have the right attitude, a good chemistry, and some good tunes, even the worst storefront can be like Madison Square Garden, The Cavern Club, or CBGB's.

How is to play this sort of music in Norway right now? Which types of bands do you have concerts together with?
Jon: Well, I guess all rock-bands walk around hoping that bands are going to the next big thing any time now, but you can get quite far in Norway if you have a good network and are willing to invest some time and effort into it (and maybe some money). But this isn't a career, this is for fun. What I can say is that we were able to play a festival out of town during a worldwide pandemic, and that's a good thing.
We usually play with local punk-bands. We could play with other types of bands as well, like rock, new-wave or hardcore, but it's usually punk-bands. This summer we played at a folk-festival, and some sort of techno-hippie-rock-festival, so it varies a bit.

How would you describe your music in three words?
Jon: Indie punk surprise!

What does punk mean to you, is it only a word or is it a lifestyle?
Jon: Joe Strummer once said "In fact, punk rock means exemplary manners to your fellow human being". On one hand, punk is a fashion designed by Malcolm McLaren and Vivienne Westwood in London in 76. But punk is also everything The Clash and Joe Strummer did from 1977 to 2002, which is standing up for peoples' rights, not just your own, and making the earth a better place for everyone (but not in a hippie way), and with a kick-ass soundtrack! I don't think we're going to change the world on our own or anything, but it would be great to make an effort and maybe inspire a couple of people along the way.

Which song/album or group was it who took you into punk/hardcore or to play music anyway?
Jon: I started singing and playing in bands when I was eleven. At that point I mainly listened to The Beatles, Radiohead, and Fountains of Wayne. When I was thirteen Ebbe gave me Ramones Anthology for Christmas, and that was when I discovered punk rock. After that it was The Clash and Ebba Grön.

What shall a young guy do today to shock their parents as the way we did when we were young? They have already seen everything?
Jon: Wear button-down shirts, straight jeans, Nike running shoes, and do his homework? I think the best way to rebel is to educate yourself and look kind of square and take people by surprise. If you have a studded leather jacket and a green mohawk you're not surprising anyone, not even your grandparents.

How is it to live in Norway right now? Politically? Fascists?
Jon: Well, we just kicked the conservatives out of government, so that's good. The radical left and the Green Party is growing, and has a sizeable block in parliament. Which is good. We don't have an SD here, but we do have small right-wing organisations such as NDL (Norwegian Defence League) and SIAN (Stopp Islamiseringen av Norge) but they are always outnumbered 30-1 at every demonstration. Norway is the best country in the world to live in, but there's still room for improvement: We can treat refugees better, we can treat the climate better, and we can decrease the gap between the rich and the poor. But the left has been playing defense for eight years, so hopefully things will get better now.

Is there any good bands from Norway right now? Is the punkscene/indiescene/hardcorescene big? How is it in your hometown?
Jon: One of the biggest Norwegian bands at the moment is Kvelertak, which has roots in the punk/hardcore-scene in our hometown. So that's cool. We're from the Norwegian Oil-capital, Stavanger, and where you have power and capital, you get punk rock, just look at Washington DC and New York! In general, Norway has a lot of punk bands, both 70's-inspired bands, 80's-inspired bands and a large scene of 90's and 00's-inspired bands in Oslo. The Stavanger-scene also has a great 00's- inspired band called Prikkedöden, who we have played a couple of shows with. Some of my favorite Norwegian punk and hardcore bands at the moment is Rødt Kort and Dangerface from Stavanger, and The Good, The Bad & The Zugly from Oslo/Hadeland.

What do you know about Sweden? Have you been here sometime? What is typical Swedish? What is typical Norwegian?
Jon: I lived in Trondheim in my twenties, so I used to go to Åre every other week to buy cigarettes and snus. Norway and Sweden are quite similar, but we are different as well: I think that you think that you are a bit more borgouise than us, because you used to have nobility and stuff, but I think time has catched up on that difference, because now a lot of Swedes move to Norway to get steady jobs.
I think trends used ti come to Sweden faster, so you got punkrock before us. But you also got neo-conservativism before us, with the Reinfeldt-government stripping down your welfare-state. So when the Solberg-government tried to do the same thing here, we were prepared.

Have you heard any good bands from Sweden?
Jon: Some of my favourite bands are from Sweden! Refused, The Hives, Hellacopters, Ebba Grön, Stilett, Backyard Babies… Your country has had a huge influence on my life, at least when it comes to music.

Your lyrics, who does them and what influences you? Never in english? Please tell me a little about the following songs
-Dine kommentarfelt
-Bibliotekerblues
-Når detta er over
Jon: Ebbe writes the lyrics. He's written in English before, but I guess Norwegian feels more natural. Someone once said that writing lyrics in English when it's not your native tongue is like writing lyrics with your left hand if you're right-handed – you're just making things more difficult for yourself.
Ebbe writes observational lyrics, he writes about whatever is around him. Our latest single is a chant for his kids football team. But when protesters who protested Norwegian road tolls were being d*cks he called them out on it and wrote "Bompenger, bompenger", which is our most popular song.
"Dine kommentarfelt" is about the comments-sections in newspapers and on social media, and how sick Ebbe was of reading them. People can't seem to control themselves once they get access to a keyboard and a platform to write on.
"Bibliotekarblues" is a song about a librarian who spends all his time at work around books, but never gets time to read any of them. It's a simple observation from Ebbe's job, but you can probably interpret some deeper, hidden meaning from it if you want. Like a bartender who never has time to sit down and have a drink. This is (as far as I know) the third song he has written about libraries.
"Når dette er over" is our Covid-song. It's about staying in during lockdown, feeling nostalgic about how things used to be while dreaming about the future.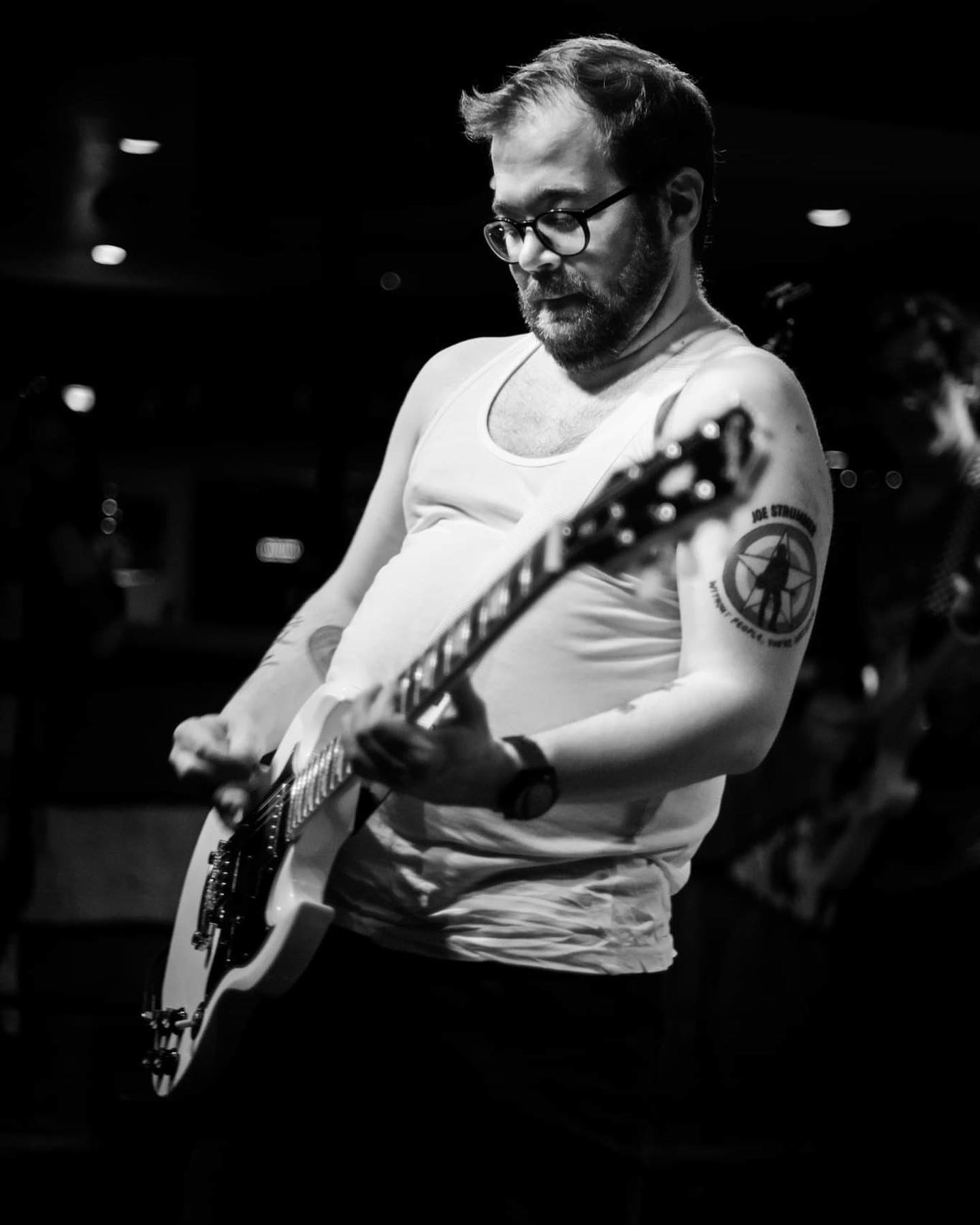 Is there any subject that you never will write anything about? Or isn´t anything sacred?
Jon: Like I said: Ebbe is an observational writer, so he writes about whatever's on his mind. If he's going on interrail with his family, he writes about it, if it's two days till payday and he dreams of what he's going to do with his paycheck, he writes about it. Sometimes he writes political songs that can be provoking, but I don't think he means to offend anyone, that's not the point of the band.

Politic and music, does it goes hand in hand? Which is your most political song? Is it important to get out your opinions in music? Or is it OK to play music and not sing about politics?
Jon: First thing first: It's okey not to write about politics. Some of our songs are not about politics, but about going on holidays. But then again, a lot of songs can be political without being obviously political, like our song "Gjenbruksbutikk": That's just a song about a trip to a thrift-shop. But going to thrift-shops can be very political! Buying used stuff instead of new, not contributing to societies pressure to have the newest, hippest stuff, etc.
Our most political songs are probably the ones on our first album, like "Vi har det for godt" and "UDI".

Best political band/artist?
Jon: That is a tricky question, because a political band can have great lyrics but crappy music, or vice versa. But my top three are probably The Clash (1), Refused (2) and Manic Street Preachers (3).

Do you think that music(lyrics and so on) can change anyones life, I mean people who listens to music?
Jon: Yes, it can. Both sonically and lyrically. When I was five years old I heard "Did I Ever Hear You Say You Love Me" by Stevie Wonder for the first time, and that was also the first time I danced. I had never noticed rhythm to that degree before, and it completely changed my life. And music has continued to contribute to small and big changes in my life, the same way literature has. The first time I heard "100%" by Sonic Youth was probably one of the most important days in my life, because I had never experienced something as loud as that before (another record Ebbe gave me for Christmas, btw).

Your favorite recordcover alltime? Who does your recordcovers? And do you have any good recordstores in your hometown?
Jon: Sgt. Pepper, maybe? Or Abbey Road? Or maybe London Calling? There are too many iconic album covers out there.
Our first album cover was designed by a former co-worker of Ebbe called Benjamin Hickethier. According to the myth, the design we ended up using was not a serious suggestion, but just something he made for fun. Our second album cover was designed by Ebbe's mum, and is an actual embroidery that she made, which Benjamin then scanned or did some graphic thing with.

Is it important to get out physical records of your stuff? Why or why not? Vinyl, CD, cassette, what do you prefer if you could choose whatever ?
Jon: We are record-collectors, and we collect all formats: Vinyl, CD, cassette, maybe even MiniDisc. But Vinyl is our favourite, and in my opinion the best format to physically distribute music these days. But some of our songs are only distributed digitally, because vinyl is expensive and because it takes a lot more planning to release a vinyl record than it does to release something digitally.

Please tell me a funny thing which have happened during your career and under some gig? I can imagine that you´re a fun band to see on stage?
Jon: I won't reveal Ebbe's banana-trick, you will have to see that for yourself, but that's a real crowd-pleaser. But yeah, there's always a bit of banter between ourselves and with the audience. My favorite moment was the aforementioned episode at our last show where Simen played a drum-solo with one of the cymbals placed on Ådne's head.

How does your audience look like? Which people do you miss on your concerts? Which is the biggest band you ever have played together with?
Jon: Our audience is usually between 25 and 50 (the same age as the members), mostly highly educated people who's a bit alternative. A lot of teachers, or people who should have been teachers. And librarians. So I guess we could have more people under 25, and more working-class people.
Jon: We haven't really played with any big bands yet, we mainly play support for our friends, or let our friends play support for us.

Please rank your five favoriterecords, five favoriteconcerts and five most important things in life?
Jon: FFS! This is a tough one!
The Beatles – Rubber Soul
The Clash – Give 'Em Enough Rope
Refused – The Shape of Punk to Come
Ramones – Anthology
Trojan UK Hits Collection
Concerts:
Silver VS Amulet, Folken
Kvelertak, Folken
Bruce Springsteen, Telenor Arena
Beastie Boys, Quartfestivalen
Refused, Øyafestivalen
The last list is hard to understand, do you mean things or life-events? I'll go with "things"
Love
Hope
Community
Music
Fast-food

First, last and most expensive record ever bought? And the most embarrsing record in your collection?
Jon: First record: D.D.E. – Det går likar no (if I still had it, this would be the most embarrassing record in my collection). Last record: Dangerface – Get Loud! (I bought it at a show the other day). Most Expensive: Probably "A Poet's Life" by Tim Armstrong, the white limited edition RSD-version. I'm not really embarrassed by my records, but if I still had that D.D.E-record, that would be quite embarrassing.

Is it boring with interviews? Is it much interviews?
Jon: No, and no. We don't get interviewed very often, and I find it interesting.

Do you care about reviews? Which is the most peculiar you ever had, with this band or any other band you have been to? Have you ever changed anything after a bad review?
Jon: I think a healthy approach to reviews is to care about the good ones, and not care about the bad ones. That's my approach. One review said that one of our songs (Jeg kjøpte meg et orgel) should have sounded more "Christmassy" or something, that was kind of weird. So I suggested that we should put some bells on it and release it as a Christmas-single, but we never did it.

Which bands do people compare you to, is it boring that people compare you to other bands or is it understandable?
Jon: I'm not really sure who people compare us with, it's very easy to be compared to other Norwegian bands when you sing in Norwegian, especially bands from Oslo (Ebbe speaks and sings in the Oslo dialect), and I think people compare us with some bands from over there. I don't find comparison boring or anything, it's good to be compared with other bands. Like when you compared us to the Wedding Present.

If you could choose five bands from the past and the history and nowadays and both dead and living bands to have a concert together with your band. Which five have you been chosen?
Jon:The Beatles
The Clash
Beach Boys
Ramones
Sonic Youth
I bet A LOT of people would come to that show, that would help us a lot.

Is music a good way to get out frustration and become a nicer person outside the music??
Jon: Drumming was definitely therapeutical for me, and guitar-playing to, but in a less aggressive way. But music can also have a negative effect: Good rehearsal = good Jon, bad rehearsal = not so good Jon.
<![if !supportLineBreakNewLine]>
<![endif]>
Which is the most odd question you ever have got in an interview?(Except this one)
Jon: Ebbe once got a question about the t-shirt I wore in a band-photo, that was kind of a weird thing to ask about.

Which is the question you want to have but you never get. Please ask it and answer it?
Jon: "What gear do you use?" To which the answer is "Epiphone SG through a Boss Stagetuner, EHX Soul-Food, MXR GT-OD, some reverb-pedal, EHX LP-1, and then into a VOX AC15."

Futureplans for the band?
Jon: Record and release some songs, play some gigs (both home and out of town), and then, who knows? World Domination?

For yourself?
Jon: Get a full-time job (instead of various small jobs), fall in love (hopefully for good), and play some rock n' roll.

Wisdomword?
Jon: "Without people you're nothing" – Joe Strummer (and every word ever uttered by Johnny Cash)

Something to add?
Jon: I think that covers it.

One last question. Many rockbands do their own beer, if you would do one , which type of beer have it been and what have it been called?
Jon: Well, we usually drive to gigs and I'm tea-total, so it would be something that you could make a non-alcoholic version of as well. It would have to be something easy, with it's own special taste, so maybe a Czech pilsner or an American Lager? Both with and without alcohol.