Briggs must be one of the punkworlds most interesting and best bands right now and one of the best ones. So I´m very happy to present an interview with the group here. January 2007.
History?
-The Briggs were formed by brothers Joey and Jason LaRocca about 5 years ago stealing there drummer Chris from another local band at the time. Soon after forming they played a show with the Hunns and Duane Peters saw the show, loved the band and signed them to Disaster Records. After countless tours including Warped Tour, Flogging Molly, the Casualties, 7 Seconds, to name a few, we got picked up by SideOneDummy Records. After our original bass player left the band in 2003 we couldn't hold on to one. We've had 7 bass players in all. We just finished our 3rd record, did our own headlining tour and a tour with the Living End and here we are.

Please tell me a little about every member, age, family, work, interests and something bad about every one?
-Joey LaRocca: 25, very handsome, vocals and guitar, I do guitar and drum lessons in my spare time for kids, I like fussball or you might call it "tablesoccer" or "kicker", I'm married and I'm a very bad husband because I leave my wife at home 9 months out of the year.
Jason LaRocca: 27, not as handsome, guitar and vocals, works as a producer and sound engineer, likes to annoy his brother by calling him 20 times a day and forget what he needed to say, Married, and looks in the mirror a lot.
Ryan Roberts: 26, Bass, works at a guitar shop, has a girlfriend, likes to got a reggae/ska shows all week, talks constantly about music equipment and has some obcession with some guy Chris Murray.
Chris X: 25, quite unattractive, drums, doesn't work at all he's a lazy Mexican, likes to do absolutely nothing, watches lots of movies, takes a shit about every 2 hours so it takes for ever to get from city to city




My review of your record is like this BRIGGS-BACK TO HIGHER GROUND(CD-SIDE ONE DUMMY SD 1311-2/SOUND POLLUTION) Briggs hadn't heard before but do you look at the cover so can you almost understand which type of punkrock they play and comes out of my stereo. I had almost right and streetpunk seems to be the thing for Briggs and that with really good backgroundvcoals and the singer sounds sometimes like the singer in Psychedelic Furs and that voice I like really much. 12 singalong songs and the critics would surely say that they have sold their soul and plays punk like the other bubblegumpunkbands but I cannot say that they´re doing that. This type makes me only in a good mood and I don´t give a damn if they have done this to have commercial wins or not …good music is it anyway and it makes me happy.(EIGHT) 8/1-07
What about it?
-Thanks that's very nice of you.

Is there any other bands you´re being compared with?
-Clash, Rancid many other bands people think we sound like, I guess.

Do you care about reviews?
-I prefer not to bother with reviews because there is really no point to reading them, good or bad.

Which is the most peculiar review you ever have got?
-The one's in different languages that I couldn't read, they could be saying we sound like Backstreet Boys on crack for all I know.

How would you describe your music in three words?
-Folk punk rock

How is it to live in your homecountry?
-It's great, I love where I live. In LA it's almost always warm and sunny and it's where my family and friends are.

What about the government?
-It will always need to improve, right now not so great.

Do you think that music and politics goes hand in hand?
-Not really, I think for some bands yes but not in general.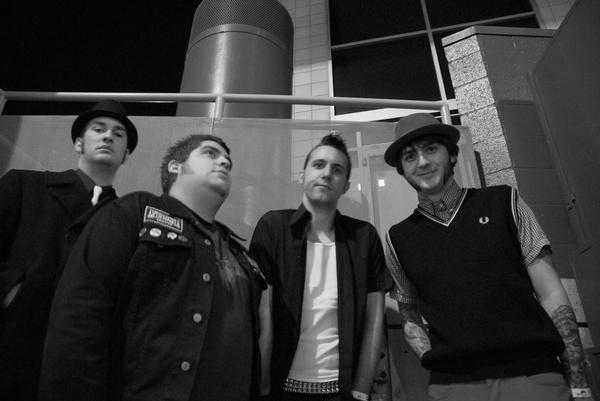 Best political band/artist?
-Bob Dylan

Is there any good bands in your homecountry now?
-Sure, Against Me!, AFI, Dead To Me, Bright Eyes. I like a lot of stuff

What do you know about Sweden?
-I've been there once I thought it was beautiful. I don't know much about the country though.

Have you heard any good swedish bands?
-ABBA, that's about it. hahaha Not that I can recall but there might be a band I didn't know was from Sweden

What does punk mean to you, is it only a word or is it a lifestyle?
-For some it's a lifestyle, I don't really give a shit about all that. I like music, I don't care how you live your life, it doesn't make you cool.

Many people will surely say that you´re another band in the same style as Good Charlotte, Green Day and so on, what will you say to them??
-Are you mad about that or do you don´t care? I don't care, what can you do. Most people don't know enough about music to tell the difference between it so, fuck 'em

Please rank your five favourite records, five favourite concerts and five most important things in life?
-Billy Bragg - Worker's Playtime
The Clash - London Calling
Elvis Costello - My Aim is True
The Beatles - Abbey Road
The Clash - Self-titled

First, last and most expensive record ever bought?
-First Record was Metallica Master of Puppets when I was 9, last record was Against Me and most expensive was the Misfits boxset.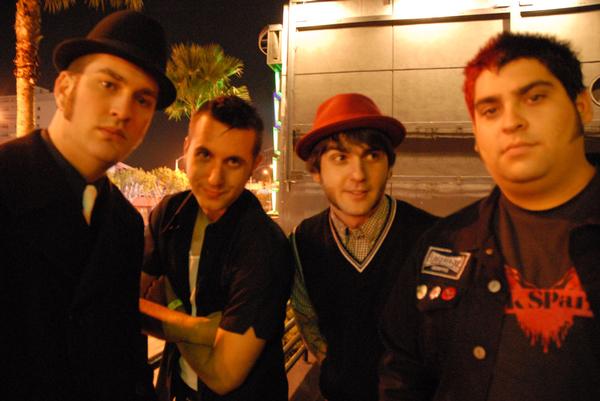 Most embarrasing record in your collection?
-The Briggs

Do you do any covers on stage? Why or why not?
-Yes, we've done many different covers over the years. The Clash, Cock Sparrer, Adicts. It's fun to do covers.

Is it many interviews? Yes Is it boring?
-Most of the time, but I just got myself a stiff drink and I'm making a fool of myself so it's pretty fun.

Which is the question you never get, please ask it and answer it?
-Do you find squarrels sexually attractive, answer Yes

Is it any chance to see you in Sweden soon?
-Yes as a matter of fact we are playing on August 3rd in Lindesberg at Augustibuller and probably a couple others.

Have you ever been here before?
-Yes, we played 3 shows with Flogging Molly there.

Where is the best place to play?
-It's hard to choose one place, but playing in Chicago, IL USA is cool

How is a good gig with you?
-When everyone had a good time and the crowd just went crazy.

Which type of people comes to your concerts??
-Mostly grandmas older women in their 70s. It's pretty hot.

What shall we do about all racists?
-Teach them to read, and maybe if they have an education they will realize how stupid they look when they can't even construct a sentence well enough to make a point

The best band in punkhistory?
-Clash

Futureplans for the band?
-Do lots of interviews. We're not even gonna play anymore, we're just gonna talk about our band.

For yourself?
-Make sweet love

Wisdomword?
-In the music industry, don't trust anyone

Something to add?
-Hot Chocolate