I have never interview a band from Hungary what I know. Brigantik become the first one to be interviewed from this country. It is Laszlo who have answered the questions October-2022
Please tell me a little about every member and the history of the band
-Brigantik has always had 3 members. The guitarist/vocalist is Gyula Korcsmár, the bass player is Attila Horváth and myself - László Somogyi -as the drummer, singer and the songwriter. All three of us have been playing music for decades. I have always played punk, but the guitarist came from the world of metal music and got familiar with punk through the band. Our bass player has played in a punk band before, but metal also had a big impact on him. Next to punk I'm also into punk ska and oi music...
Your music is a style which came foreward many years ago, how come that people plays this sort of punk today?
-Punk music has lost it´s glory but it still represents great social matters such as social injustices and inequalities, political excesses, and anti-fascism. In my opinion a punk musician shouldn't sing about love. Sing about how bad a war is, why there is hunger, how the planet is being destroyed, and why exclusion remains a part of our life. Love, party, alcohol should stay with pop artists.
The name Brigantik where did it came from? What does It mean…
-When the band was founded, I suggested about 40 band names but none of them were liked even though they were damn good. :-) Then finally the guitarist came up with the idea to name the band as Brigantik. I needed some time to fall in with it. :-) The meaning of the name is a bit negative, it translates as persistent villain. But this does not indicate us, we are good people, we just like the sound of the word. :-)
Is it still important to release physical things? Or can you feel that you have done a record if you only release it digitally? Or are you only release digital stuff?
-We have released two EPs so far.
The album cover of the first one (Working Class) was made by Navila Net Grafika. It was a professional quality print. Inside you can see the portrait of our dear friend Attila Illek, a former proud miner.
The second one is called Current Rage. This turned out to be a real DIY project. It was published with the help of our guitarist.
You can reach us and find our music on YouTube. Currently we are not active on any other music sites, but we are planning on it.

You have never been to Sweden and played or been here as tourists? If you not have when do you come?
-I've never been there. I would love to visit Scandinavia, I just hate freezing. It's even better to be cold there than at home :-) But if you invite us to play we won't hesitate :-)
Which countries have had the pleasure to be hearing the band live?
-Until now, there was one foreign gig a thousand years ago in a small Slovakian club, but I don't even remember its name. Unfortunately, we haven't been anywhere else outside of Hungary so far.
When you do songs, how do you do, are you jamming together or do someone comes with a lyric and some with the music or how do you do your songs?
-UsualIy I write the lyrics and the three of us create the music based on that. But in some cases the guitarist is sharing the song first and either I wrote a text for it or got one from my secret reserve that matches the melody. The three of us are working on the song until it gets ready.
It seems like your lyrics are important, is there anything you not will write a song about?
-As I have already mentioned, I will never talk about love, trivial things or ordinary nonsense. Except for drinking beer together as quite a few oi songs are about it.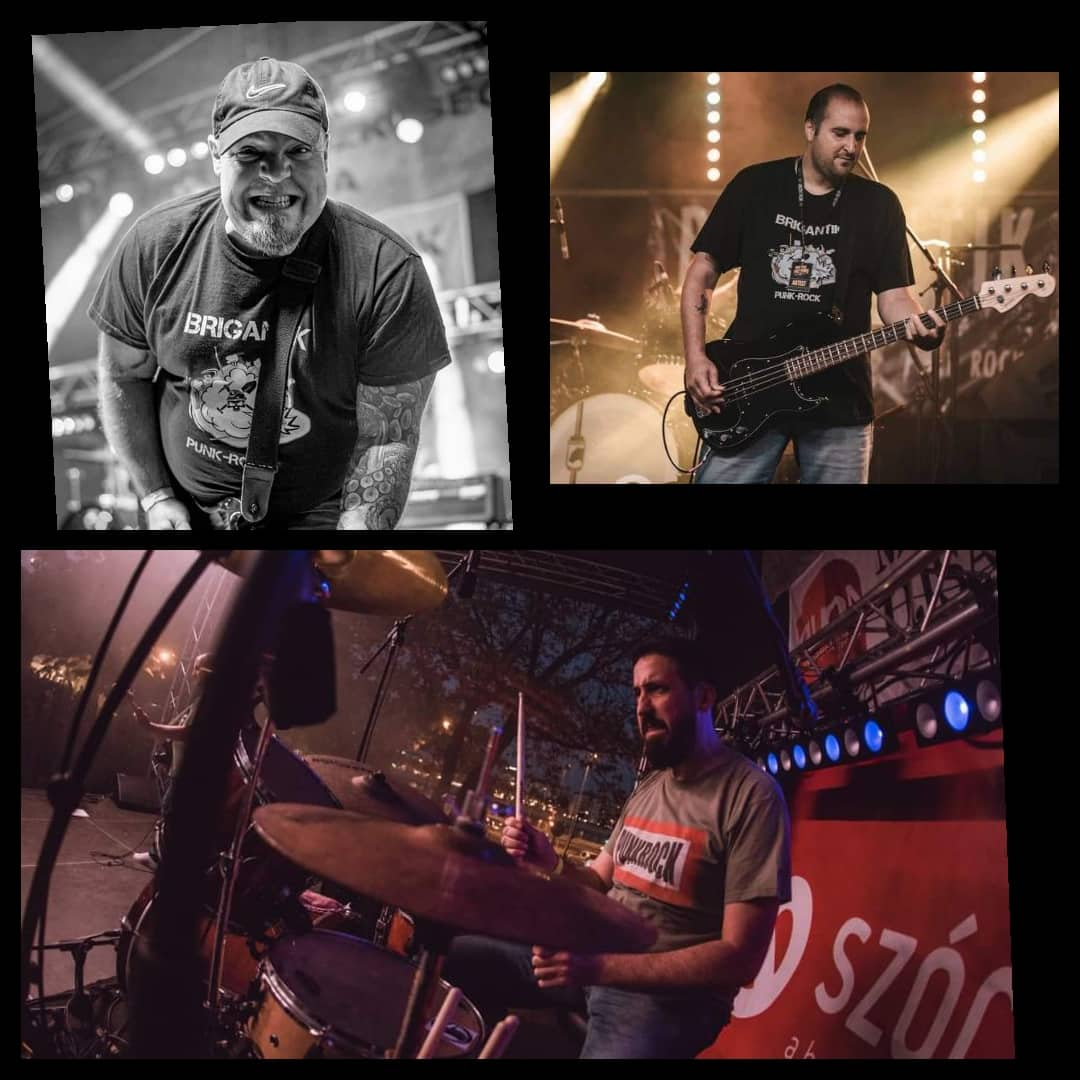 Please tell me a little about the following lyrics….you don´t have a lyric sheet your CD, why not? Amerika Diktatura Korrupciirszag Nem jo itt semmi
-The lyrics book was not included in the CD simply because our financial resources were limited.
Amerika Diktatura (American Dictatorship): Perhaps one of the first songs of my life. I wrote it together with my fellow musicians in a garage that was also our rehearsal room back in the early 2000s. It criticizes the fascist American state.
Korrupciirszag (Corruption Country: It is about the corruption of the current government which has been in power for more than a decade. It is also about the guilty politicians and their lies.
Nem jo itt semmi: It's about general dissatisfaction. We work, eat, drink, pay the mortgage and try to live on what's left.
How is it to live in Hungary nowadays, racists, politics,covid, etc? How is it to be a punkband there?
-Social differences have never been this big from billionaires with luxury cars and yachts to people living in deep poverty. However we always hear that everything is good and beautiful but people are getting more frustrated and tense. Politics polarize society, even divide families. Racism is all over the world. Covid has put a lot of people in an irreparable financial situation. In my opinion punk music and punk bands can help to highlight these types of issues around us.
Are you calling yourself a punkband, hardcoreband, or just call you a rockband? Is it important to mention punk in the same time you talk about your band? What is your thoughts about punk when you started and if you compare with punk today?
-I prefer to call ourselves a punk-rock band in terms of music and lyrics. As a kid I always dreamt of being in a band and hoped that one day I would be an acknowledged musician. There are a lot of bands -which is not a problem at all- it is just really hard to prevail and stand out. Small bands can only do gigs in small clubs. The Hungarian punk scene is critical and divided, there is no real cohesion. But there are some really good initiatives such as Punkmaraton that help small bands to perform. We take every opportunity to play music in pubs and festivals. There are many bands and people we like to share the stage with and I hope life will bring us together many more times. Domestic punk life sometimes has its shortcomings and flaws, but I'm not complaining at all. We are doing our best to keep our head over the water.
Do you have any favorite football team(I support Arsenal(England) and a Swedish team called GAIS myself)?
-I'm not a big football fan, but I am a Kispest Honvéd supporter due to my father, and a big fan of the Hydro Fehérvár AV19 hockey team I often go to home games. Outside of Hungary I sympathize with West Ham United because of its history in the iron industry and shipbuilding, but my favorite sport team is the local Miner Handball team.

Beer is expensive in Sweden. I have a very big interest in beer and brew myself? Your favourite beerstyle ? You don´t have an own Brigantik-beer? Or maybe you are straightedge?
-We are beer lovers. We are too small a band to have our own branded beer, and I consider it totally unnecessary. Personally, I like Czech, but especially Polish beers. There is no rehearsal without beer. :-) I´m vegan but not straightedge.
Is there any good bands from Hungary worth to mention? And how is punk living on in Hungary right now?
-There are many Hungarian punk bands that have had a great influence on me such as Punk-Tum, Lecsa-Punk, CAFB, Enola Gay, Elit Osztag, CPG, Hétköznapi Csalódások, AMD, Barackca, old Auróra. Still active old bands that I like, even though they are not kids anymore, are Sidol, Fuck Bad Things, Nemecsek, Qss, Don Gatto, Ati Edge and the Shadowbirds, (although they are a rockabilly band) but I also like ska and alternative bands.
Punk's not dead, however we are getting older everyday. New generation is also here to follow in our footsteps.
What is your strength when you play live?
-Our biggest show element -nothing pompous or egoistic- that the drummer is also the singer. Plus, all of our concerts are interactive, we joke a lot and we don't keep distance with the audience like big bands.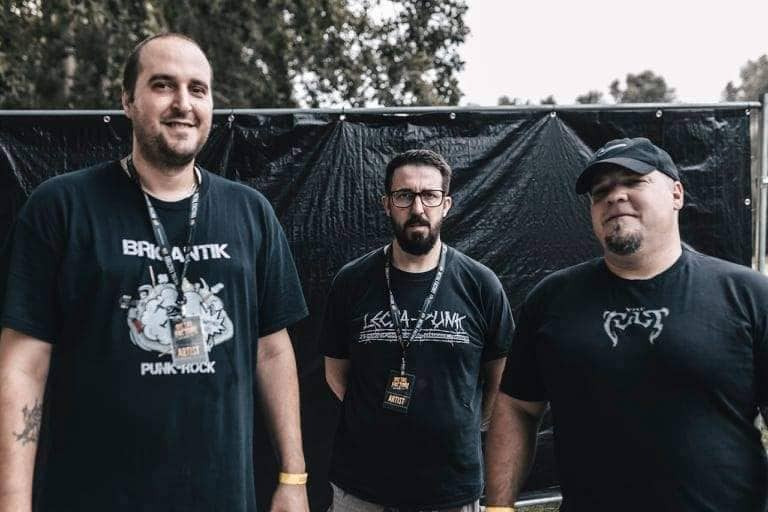 Which type of people comes to your concerts? Which type of people do you miss?
-Different age groups are coming to see us from teenagers to elderly people, even kids with their parents, old punks or people who are not into punk etc. A surprisingly large number of generations are presented at our concerts. But more punks and skinheads could come too... :-)
Do you buy much records, or is it only Spotify and those type of things to listen to music? Is it possible to buy records in Hungary? Any good record store?
-When I was young and got into punk, I always came home from punk festivals with a stack of tapes. I loved holding it and excitedly flipping through the cover and smelling it. Then the same happened in the CD era. I couldn't wait to play the CDs at home or in the rehearsal room. I have always supported the bands I liked by buying their records and T-shirts. There were and still are many good record stores here. My favourites are Káosz Székesfehérvár (here I bought the tapes of many Hungarian and foreign punk bands), Wave, Headbanger, Budapest Vinyl, Musicland, Trottel records...)
Are you selling any merch on your gigs, do people buy it? What sells best?
-We have sold a lot of CDs and recently we are giving the new EP as a gift to the fans at the end of the concerts. T-shirts are also sold well, too. We can always sell everything we make. Roughly 150-200 pieces. All the income from the merch will go to the studio-work to release albums, make CD copies and t-shirts. We put all the money back into the band.
Which is your own favoritesong among your own songs? And which song is the people choice?
-Climate change and the '80s are my favorite songs. Everyone has different favorites though. At the end of the rehearsal everyone's favorite is played :-) I have noticed that the marching song of of the local handball team is the most popular.
What´s the biggest difference when you plays live nowadays if you compare when you first started to play in a band? Or is this your first band maybe?
-The biggest difference is that we learned to play music on some level, however we always thought we could :-) I think this is the 5th band I play with. But there won't be any more, the Brigantik will be a part of my life until I die.
Which is the most peculiar gig you ever had, with this band or any other band you have been to?
-The most special gig was on Ne gyere el festival, in 2015 which was a real punk festival. Before that we only played in clubs. After that more and more people got to know us and we got more invites to festivals such as Fezen and Metal Factory festival. It's a damn good feeling waiting backstage for the concert at a festival. It is slightly different from playing in a small club but we also like to perform there as well. We love to play everywhere. :-)
If you could choose five bands from the past and the history and nowadays and both dead and living bands to have a concert together with your band. Which five have you been chosen?
-The Clash, Toten Hosen, Uk Subs, Rancid, Motörhead... (But I could list many more oi, punk and ska bands)

Is music a good way to get out frustration and become a nicer person outside the music?
-Music is therapy, solution, medicine, escape, drug, passion, way out, and love. If music wouldn't be a part of my life, I wouldn't feel like a whole person.
Are you only sing in Hungarian , never in English?
-One of my former band called The Riots, I sang in english and learned the lyrics. It was a band covering punk classics and anthems. We played the songs of my great heroes. From English and American oi and punk bands from the 70s. ( Cock Sparrer, Pistols, Clash, Kennedys, 999, and many more ) Anyway, I only sing in Hungarian, because we only play music at home and I don't speak English. :-)
Any good Swedish bands you like?
-Perkele is one of my favorites. (I was listening to them while writing these lines anyway :-) ) I love them. I used to listen to Backyard Babies - sometimes I still listen to them and also The International (noise) Conspiracy. I used to listen to Charta77 a lot as well, they were on a casette with Riistetyt. The power in these bands is brutal.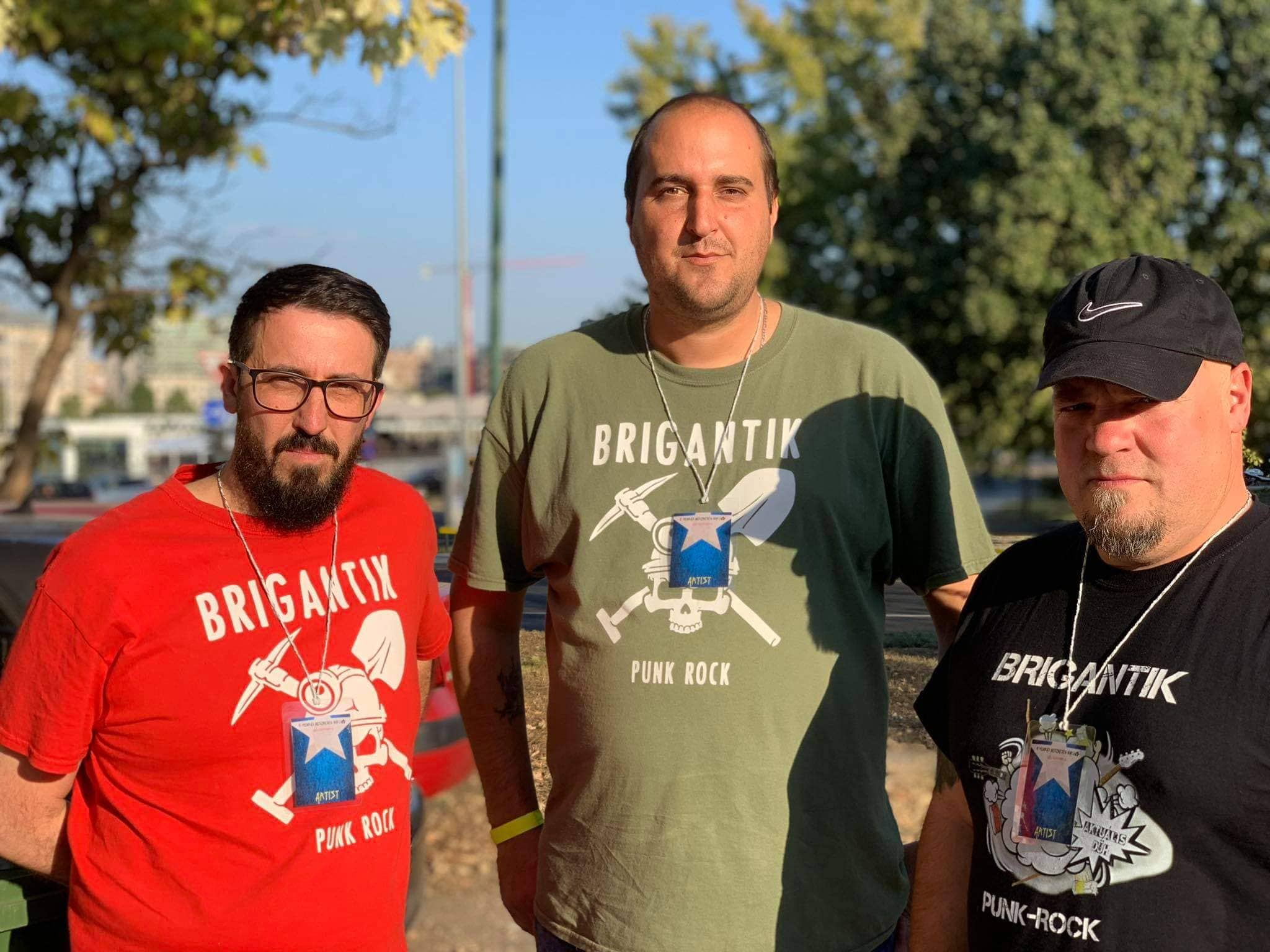 Is it boring with interviews? Is it much interviews? What do you prefer Telephoneinterviews, face to face or as this one via e-mail?
-There have been a few interviews like yours, Peter. There was also a live radio broadcast and an online news website (Munkások Újsága). I am honored when such an invitation comes. This is the first foreign interview we have for which we are also grateful to you. Maybe it means that people are noticing us even outside of our country. This makes me and the whole band proud.
Futureplans for the band?
-Just the same as before, perform and give concerts in as many places as possible and entertain whoever wants to see us. Writing as many songs as possible, working in the studio, shooting music videos, printing CDs and T-shirts, because it is inspiring to see the logo of your band on someone. It's also a huge thing when someone puts us on their playlist. Yes.....A gig with Perkele organized by you in Sweden would be a great deal for us. J
Futureplans for yourself?
-Solving all personal and family problems. Creating and maintaining harmony within the band. But I never looked out for my own interests. I have always thought on a global scale, ever since I was a small child. I've been vegan since January, and I'm also trying to do my best to make our planet more sustainable. I wish all wars would end. No child should be hungry. no woman or animal should be abused either physically or mentally. There should be no domestic violence, the law should judge all dirty criminals. Let racism disappear forever. May the earth survive human frailty and destruction.
Wisdomword?
-The world is beautiful and colorful because it is not only our skin, but also our heart, our brain, our soul, and our opinion about the world and everything within it. Don't hate, don't judge hastily, don't harm anyone, and if you have done something wrong or harmed, have the strength to ask for forgiveness and make amends.
Something more to add?
-Let there be beer, punk music, peace, and a livable future for our children and grandchildren. I am grateful to you, Peter, for reaching out to us and seeing a perspective in us. If you liked the band, then look for us on our Facebook page or on our YouTube channel. Old punks never die. Good luck